A study done by ReputationUP has analyzed the online reputation of the top business influencers in the world.You might thoroughly examine a ranking showing the online image of these influencers in the business sector.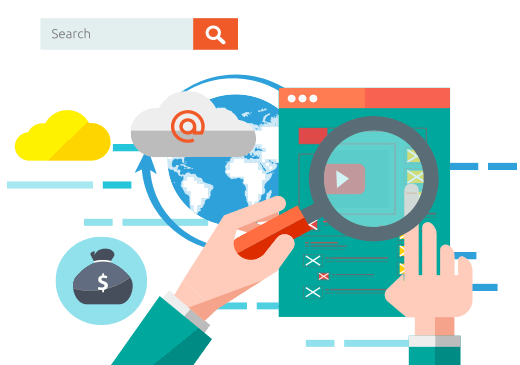 Do you want to spy on your competitors and their strategies?
Access the RepUP Monitoring Tool platform and find out how to beat the competition.
Business Influencers
Influence marketing has an essential role in social media networks.
In this field, influencers can influence and attract an audience that belongs to the business sector. Thus, they motivate their followers by providing information on a cause in which they believe.
Forbes: business influencers
Forbes magazine periodically rolls out a list of the top influencers globally divided into several topics to measure followers and interactions.
The Forbes list includes ten tech business influencers. Let's see in which sectors they operate and the number followers among Instagram, Facebook, YouTube, and Twitter.
Lewis Hilsenteger
Lewis Hilsenteger's ideas are original and simple. His YouTube channel, Unbox Therapy, showcases the 'coolest' tech products on the planet.
In just one day, his videos get one and a half million views.His YouTube channel has almost 18 million followers. And a total of 23,661,400 followers on social media.
Marques Brownlee
Marques Brownlee runs the YouTube channel MKBHD with currently 14 million subscribers.
In one week, his videos are watched by about 2,500,000 people.
The tech contents he creates concern tablets, smartwatches, smartphones. Thus, he had the opportunity to interview celebrities such as Bill Gates or Elon Musk.
His portfolio, including all social media accounts, has 22,134,492 subscribers.
Gary Vaynerchuk
He is one of the pioneers in influencer marketing for the corporate sector.
He turned a family business into an online opportunity by increasing Internet sales.
Gary Vaynerchuk regularly uses social networks and offers a series of documentaries on YouTube. He has a total of 17,860,006 followers.
Linus Sebastian
Linus Sebastian started his career as an influencer by chance. The owner of the computer store where he worked asked him to make videos about their products.
Today, his Linus Tech Tips channel has over 14 million subscribers
His contents include hardware and PC build guides. His social accounts have a total of 17,500,000 followers.
Justine 'iJustine' Ezarik
Justine Ezarik, known on social media as iJustine, is an original influencer.
She began creating content like blogs and videos on Apple products very early.
She is one of the most influential women in tech.
The influencer has 12,036,942 followers on the four social media platforms.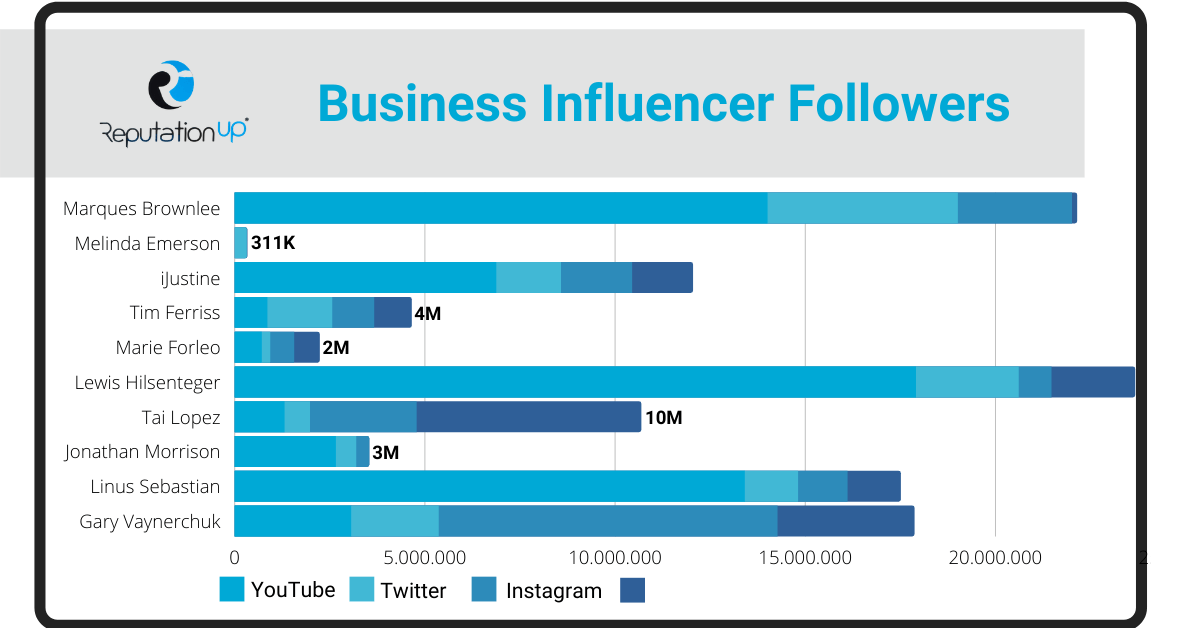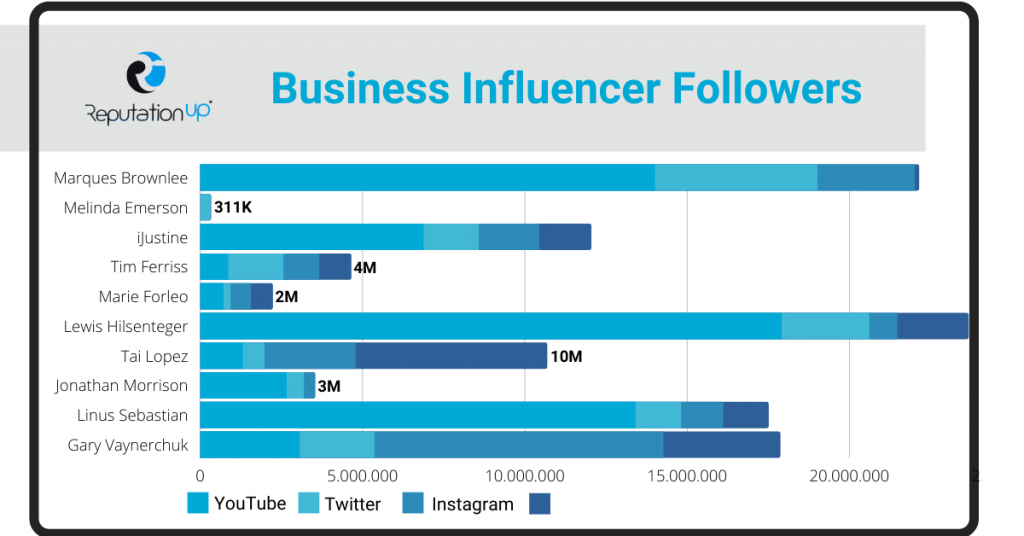 Tai Lopez
Tai Lopez is a guru of business. In 2008 he started on Facebook, using it as a marketing tool.
Years later, his video shot in a garage in front of a Lamborghini went viral.
He advises his followers to use the new social platforms to achieve their goals. He has 10,678,100 followers.
Tim Ferriss
Tim Ferriss is an entrepreneur, blogger, investor, motivational speaker, etc.
Thanks to his skills in all these fields, his blog has become more authoritative than New York Times or CNN publications.
The so-called "Tim Ferriss effect" has become popular on social media. He has reached 4,643,048 followers.
Jonathan Morrison
Jonathan Morrison uses his social networks to share reviews and previews on tech devices, such as smartphones. The YouTuber reaches 3,526,700 followers.
Marie Forleo
Marie Forleo started her career on the New York Stock Exchange.
Later on, she used her knowledge and expertise to create a show, MarieTV, to help people grow a business. The entrepreneur has 2,225,700 followers.
Melinda Emerson
This businesswoman uses social media to advise businesses on how to grow through her SmallBizLady brand.
She uses the Twitter hashtag #SmallBizChat, like a forum. Melinda Emerson has a total of 311,889 followers.
Business influencers: the analysis
This study will help find out if the number of followers is directly proportional to the online reputation of these influencers.
Using the RepUP Monitoring Tool software, ReputationUP Study Center has analyzed the online reputation of the top 5 business influencers. The period of analysis was the week between May 1 and May 6.
The following parameters have been examined:
Results;
Sentiment;
Positive and negative themes.
Results
The performance trend refers to interactions over a given period. We have considered the following concepts:
Mentions;
Like;
Reviews;
Shares;
Pictures;
Videos;
Articles;
Tags;
Hashtags.


As for the five influencers, a total of 18.900 results came out in one week.
Marques Brownlee's results are far superior to those of the remaining business influencers. 57.7% is about him.
iJustine ranks second, with 19.5%.
Sentiment
In monitoring the online reputation of influencers, we looked at the sentiment, which measures the percentage of positive or negative sentiment generated by users on social networks.
The ReputationUP Study Center also calculated the net sentiment generated by the influencers on the Internet.
This data refers to the net percentage measured on a scale between -100 to 100. Such data appear on the following graphs.
The positive sentiment towards Lewis Hilsenteger is 14,9%. In comparison, the negative one is 2,6%.
Thus, the net sentiment is 69,9%. Almost all results refer to May 5.


Marques Brownlee has a positive sentiment of 36.2% and a negative sentiment of 13.4%.
The net sentiment towards Brownlee is 45,9%.


As for Gary Vaynerchuk, the positive sentiment (12,5%) and negative sentiment score (15,2%) are almost the same.
Most results refer to the research made on May 5 and 6.
The net sentiment is -9,7%.


Linus Sebastian also has a very similar positive (17%) and negative (16.8%) sentiment percentage. For him, the net sentiment is 0.6%.


Finally, iJustine has the highest positive sentiment (47.7%) among the five.
The negative sentiment is 12.3%, while the net one is 58.9%.


Conclusions
The Study Center of ReputationUP, a leader in online reputation management, has analyzed the online reputation of business influencers with the most followers on social networks.
We may draw the following conclusions from this analysis:
Except for Lewis Hilsenteger, the other influencers generate almost the same negative sentiment;
The negative sentiment towards Lewis Hilsenteger is only 2,6%.
iJustine is the business influencer with the highest positive sentiment (47,7%);
Lewis Hilsenteger, Marques Brownlee, and iJustine show the highest net sentiment scores. The winner is Lewis Hilsenteger.
Among the five business influencers, two of them stand out for their excellent results in terms of sentiment.
On the one hand, Lewis Hilsenteger comes out for his net sentiment. On the other hand, iJustine has an excellent net score and positive sentiment.