If you want to know what is said on Google about you or your brand, the solution is Google Alerts.
It is a free tool that notifies you via Google of the results that show your name or that of your brand. Read on and find out what Google Alerts is, how it works, how to set up and activate it and why it can be useful for your reputation.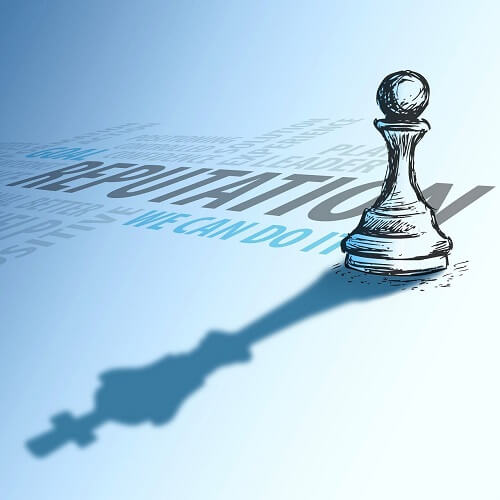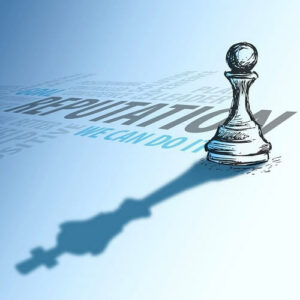 Need help managing and improving your online reputation?
60% of users say they don't trust people or businesses who receive negative comments or reviews
What is Google Alerts
If you need to know what is said about your online reputation, probably you have already heard of Google Alert.
What is it for?
Google Alerts is an application developed by the Mountain View giant: it allows you to monitor the web and find the pages that contain specific keywords and search term you set.
Whenever someone mentions the subject of the notice you entered, or rather the query, the service sends notifications and alerts to your e-mail address. So, you receive all the web pages that contain your keyword.
This way you can stay up to date on your favorite topics.
Or be notified when your brand is mentioned on the net (brand monitoring).
It is important to specify that the information is retrieved from websites, blogs and searches within the Google network.
Social media, forums, deep web and dark web are not considered.
The application is the result of the commitment of the Indian engineer Naga Kataru, whose name is on the three Google Alerts patents.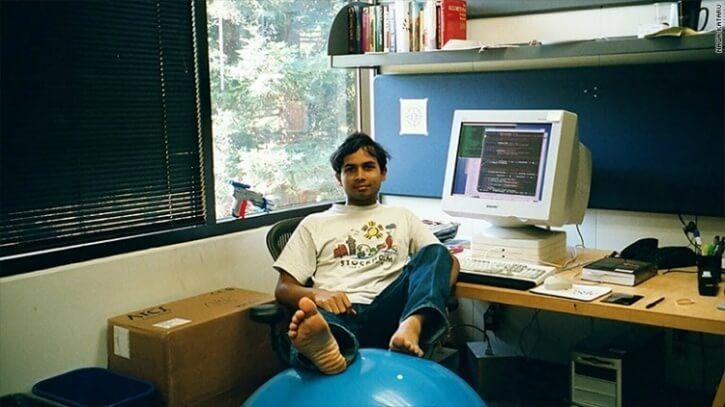 This dates back to February 2003.
Kataru who was sick and tired of checking the news on the imminent US war with Iraq, decided to develop an application.
Objective: pushing notifications and alerts corresponding to specific keywords and search term via email.
The engineer showed his prototype to Google's co-founders, Sergey Brin and Larry Page, who immediately fell in love with it and launched it in August 2003.
How it Works
Now let's go into more detail to understand how Google Alerts works.
You have the possibility to set the following search parameters:
Frequency of receiving alerts
Types of sites you want to use as a source
Search language
Research region
Amount of results (only the best or all)
Remind that the application is usable only if you have a Google account.
So, in case you do not have any, immediately create one.
Once registered, connect to the official website home page and start setting up the various search queries.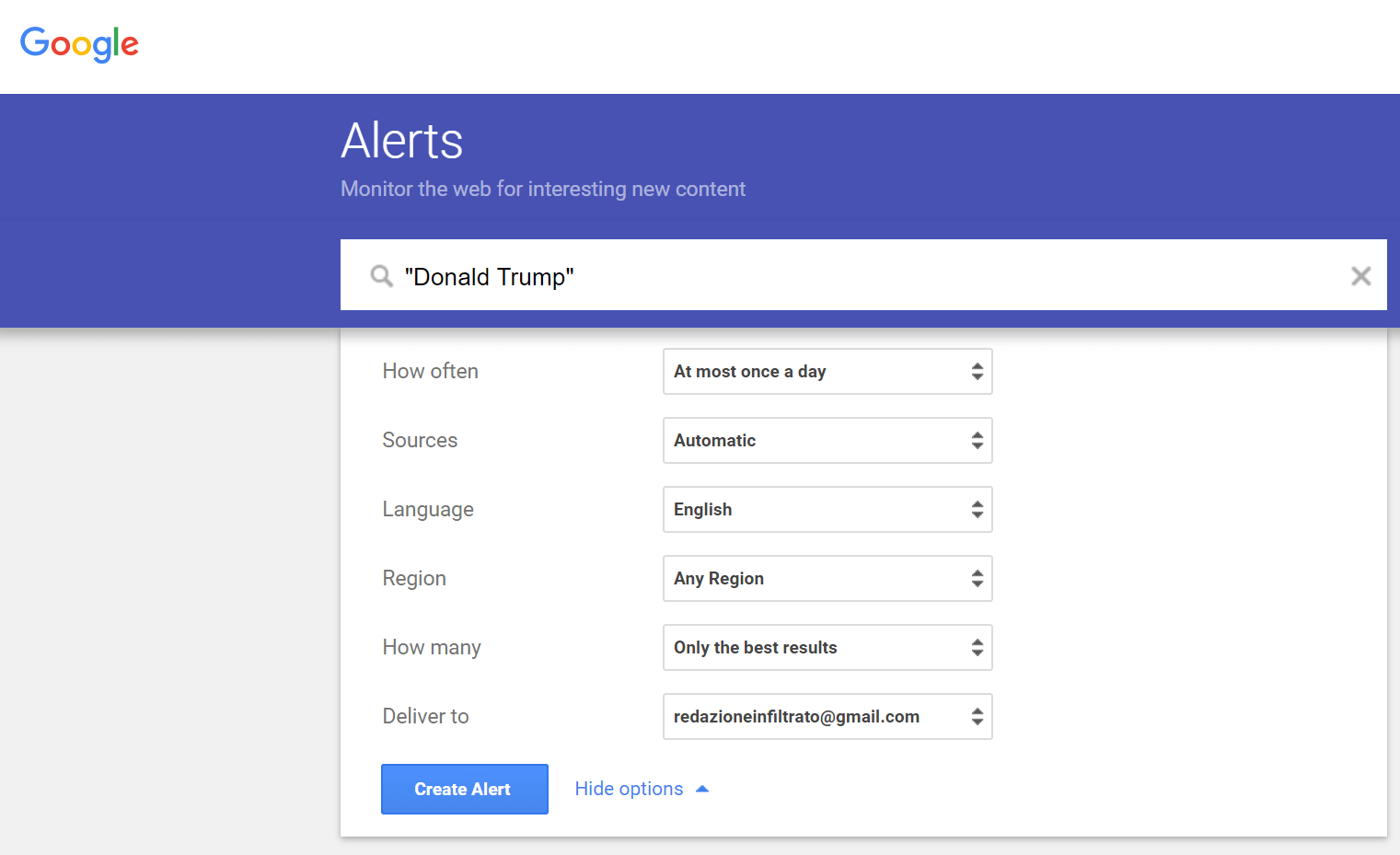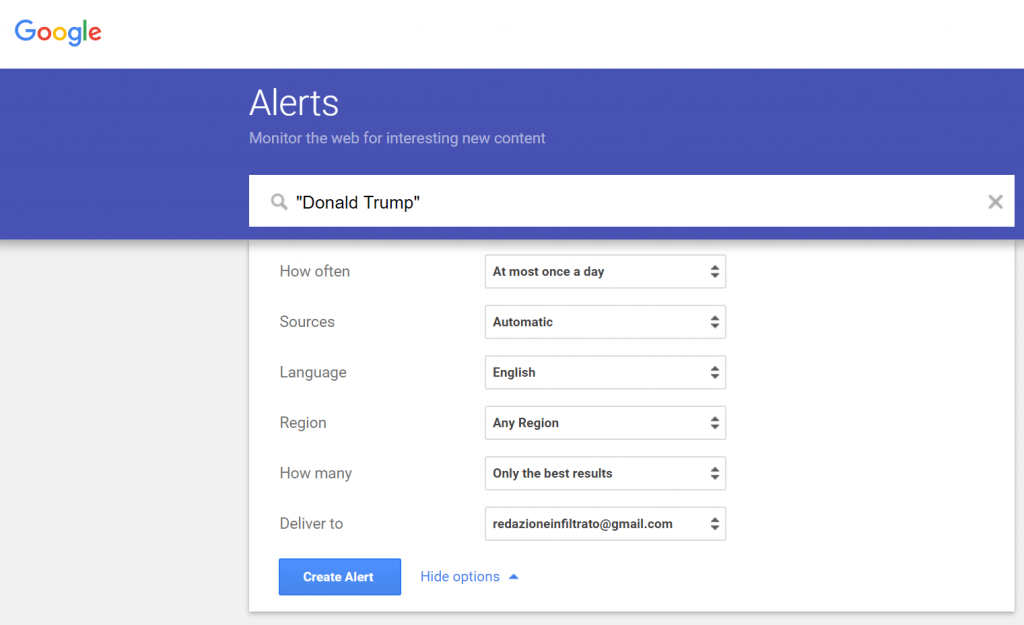 It is very simple:
Type the keyword you want to monitor (for example your name or your brand name) in the "Create an alert button", located on the top of the page. Tip: use quotation marks ("Donald Trump").
Then check the results in the Alert preview.
If you have not found any result of your interest among the suggestions, create an alert.
In the example in the picture we set an alert on "Donald Trump": so we received by email the list of results on Google that contain the search "Donald Trump".
What is it for?
Using Google Alerts brings a number of benefits, related both to entertainment – for example, it saves yourself the trouble of looking for topics of interest on the web, doing it for you and sending you updates via email – but above all related to online business.
The main advantage is to monitor what is said about you or your brand on Google.
It is therefore a very useful tool for companies, professionals, politicians and media exposed people.
For example, if Google indexes a link that talks badly of you or your brand, you can act immediately and understand how to clean up your reputation and prevent crisis management plan.
How to set up Google Alerts
Once you enter the search query, Google Alerts gives you the opportunity to customize the settings to refine the results.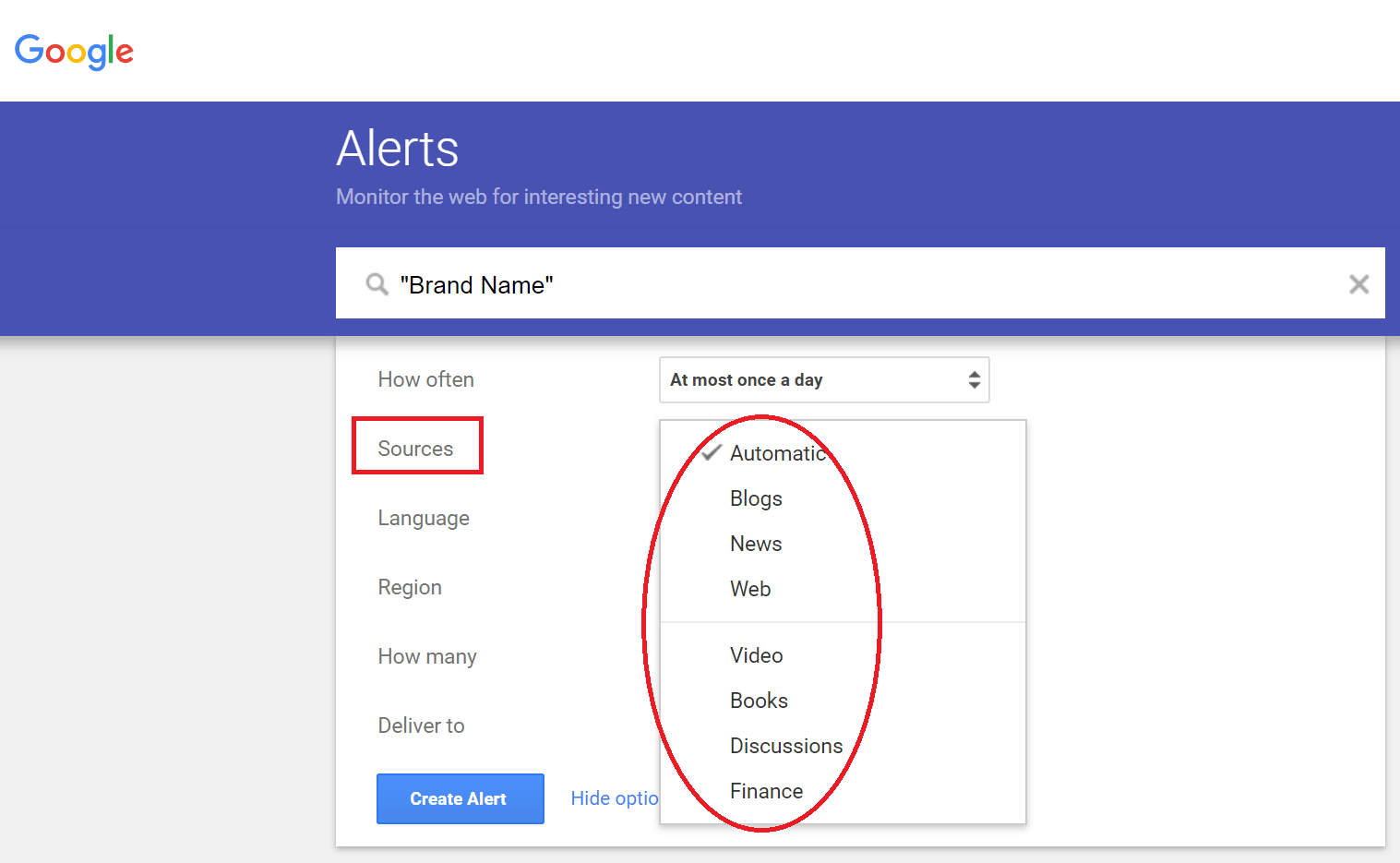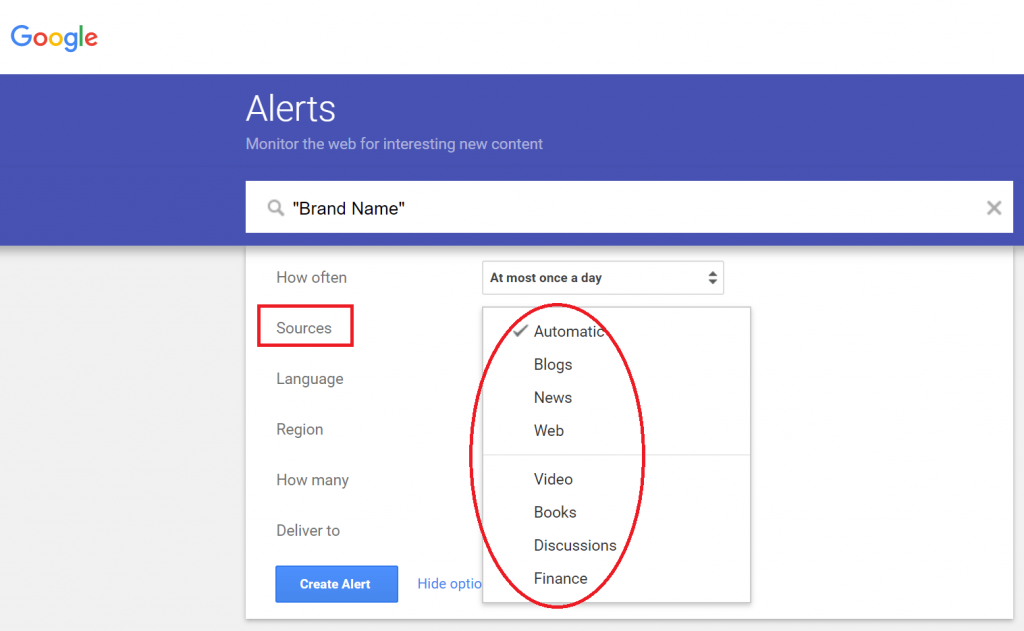 To set up Google Alert, start by selecting how often you want to be notified of new reports.
If you want to be alerted urgently, choose As soon as possible; otherwise set at most once a day or at most once a week.
Then indicate whether to show results from all sources or only from certain search operator sources (Google News, Blogs, Web, Videos, Books, Discussions, Finance).
As you can see, Google News Alerts does not include monitoring of social media, which means cutting out of your monitoring strategy a very useful tool to probe customer sentiment.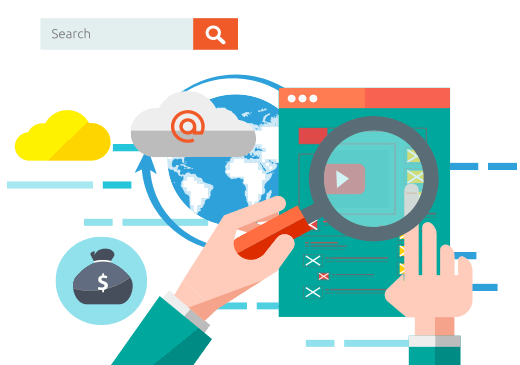 Do you want to spy on your competitors and their strategies?
Access the RepUP Monitoring Tool platform and find out how to beat the competition.
At this point specify the language and the geographical area and choose the amount of alerts you want to receive.
Finally, before confirming by pressing the Create Alert button, type the email address to which you want the alerts to be sent.
How To Create An Alert
As you type in the keyword you want to track, Google displays, in real time, a preview of the results corresponding to your query in the area below the search box.
To create a Google Alerts, once you have set all the parameters that allow you to customize the results, press the Create Alert button.
From now on, every time Google finds results relevant to the keyword set, it will send you an email with all Google notifications.
Keep in mind that what you find on Google.com/alerts has a limit: you can set up 1,000 alerts per gmail account.
How to Activate the Alert
Probably, at this point, you are wondering how Google Alerts is activated.
If you are not yet logged in to your Google Account, enter your email address and password on the login page and click Next.
You will be redirected to the home page of the service where, to start monitoring, you will have to press the blue button Create Alert again.
If, on the other hand, you are already logged in, the alert will be created immediately. Thus, every time Google intercepts a new result concerning the keyword you are interested in, you will receive an alert to your email address.
Each alert can be modified at any time: to modify the alerts already created you need to access Google Alerts and, in the event of an alert, click on the pencil icon.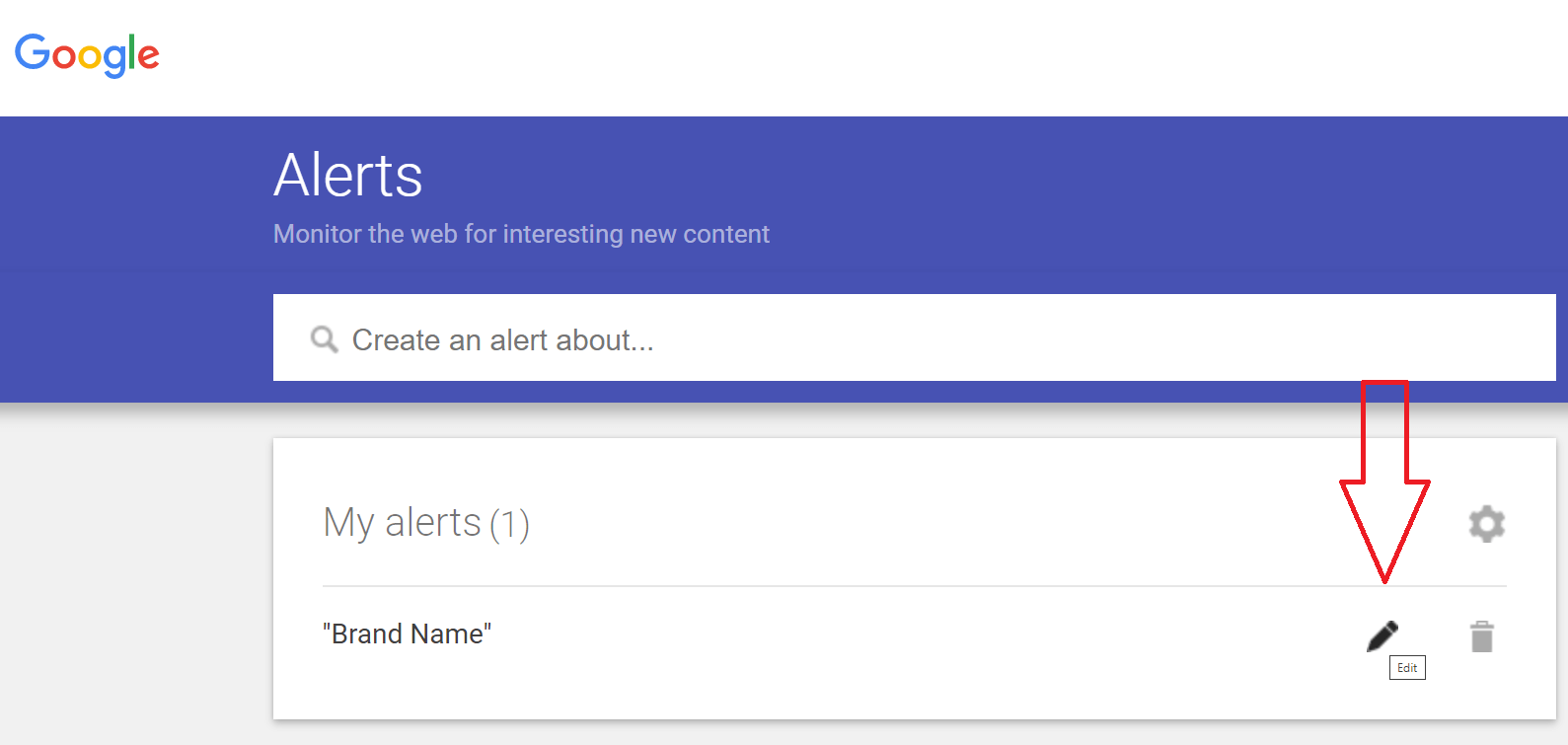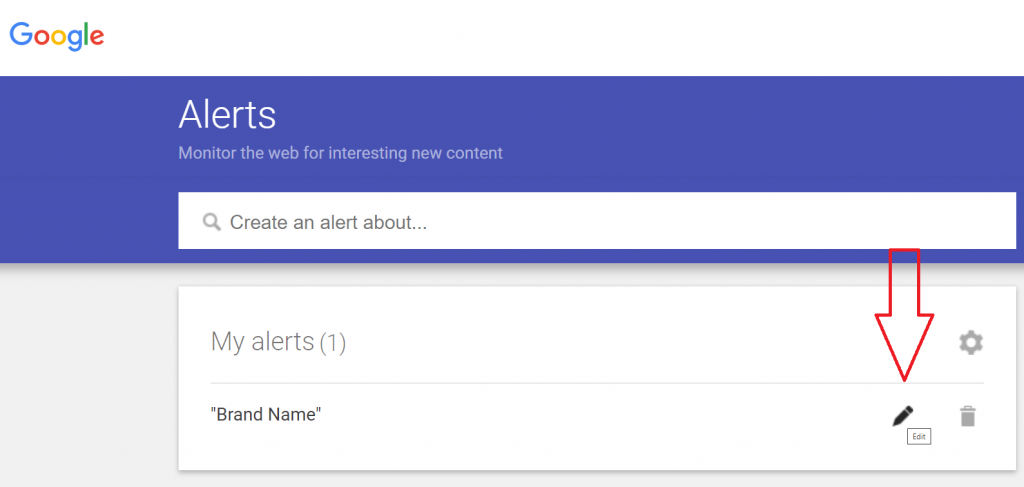 At this point you are free to make any changes you like.
If you don't see the options, press Show options to expand the field and display all the drop-down menus.
Once you have made the desired changes, confirm them by clicking on the Update Alert button.
How to use Google Alerts
Now that you know how to create alerts, the next step is to understand how to use Google Alerts.
Those who have a Google Account can use the Alert service to monitor the mentions relating to the brand. With the same purpose, you can monitor your name in case of personal branding.
In this sense, Google Alerts is an effective tool to control and defend web reputation. It allows you, in fact, to intervene promptly and manage inappropriate comments, criticisms or negative reviews.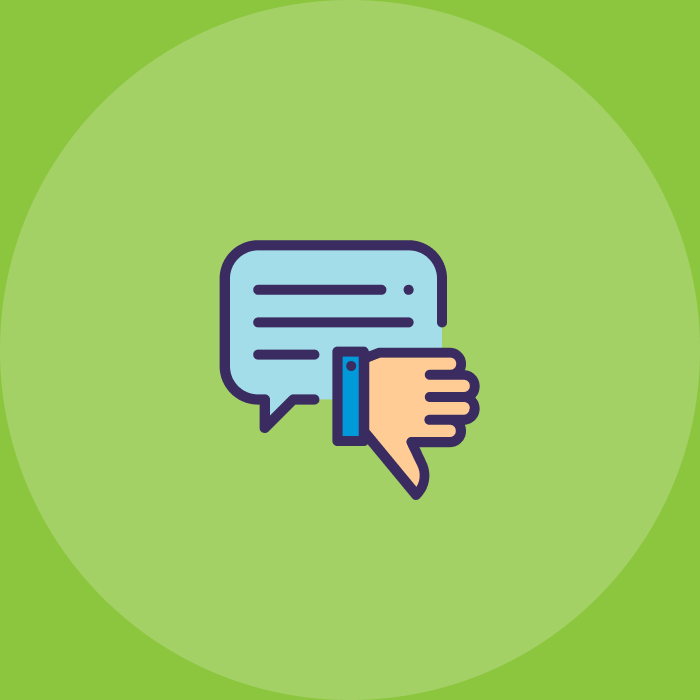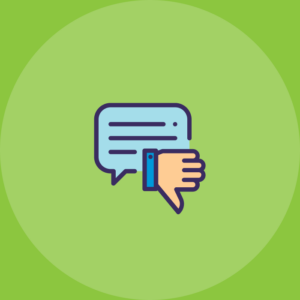 Need help deleting negative reviews?
ReputationUP guarantees the elimination of any false or defamatory negative reviews from any platform
And you can also use it to monitor what competitors are doing on the web.
Do you want to know if they have launched a new product, what content they publish or if they are talking about them?
Simply set the name of your competitors as a search query to keep up to date on the situation.
Google Alerts is an excellent tool for content creators too. It allows you to discover new trends on a certain topic and draw inspiration from it to create traffic-generating texts.
The options are limitless: new technological advances, novelties in digital marketing, literature, graphics and video marketing, just to name a few.
How to disable it
And now let's see Google Alerts limits.
First of all, it only monitors the Google network, cutting off social networks, forums, other search engines such as Bing or Yahoo, Deep Web and Dark Web.
It also only shows the results that are in the top Google positions.
If you want to stop following updates concerning a query for which you have activated the alerts, I will explain step by step how to disable Google Alerts.
To eliminate the already created alerts, just access the service and click on the trash can icon corresponding to the alert to be removed.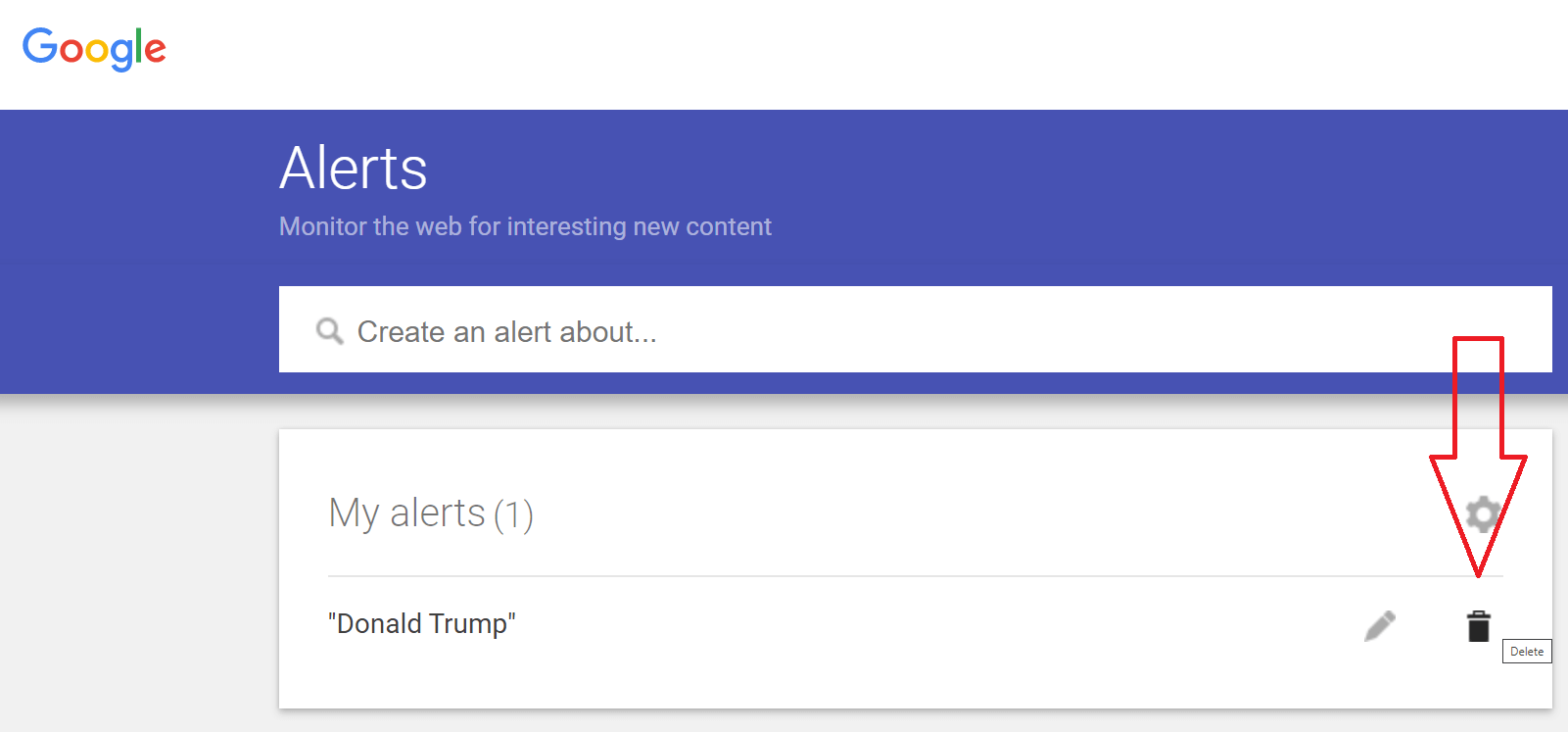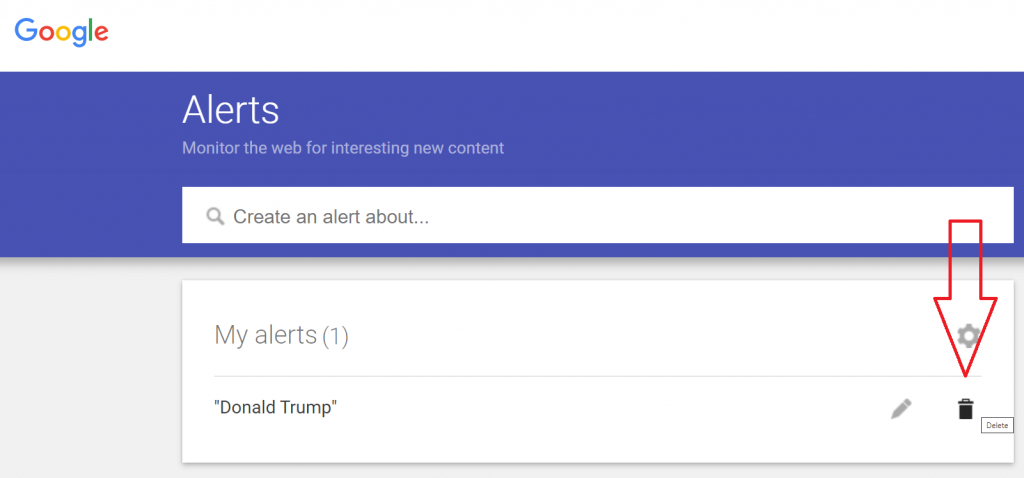 Alternatively, to stop receiving alerts, you can click on Unsubscribe at the bottom of any alert email.
However, it is still an excellent free solution.
But if you really want to carry out a complete analysis of your Web Reputation, we invite you to test RepUP Monitoring Tool demo: it is the ReputationUP software that monitors the entire internet in real time!
How to Create Google Alerts Without a Gmail Account
To use Google Alerts and other Google services, you don't need a Gmail account.
In fact, it is possible to use an e-mail address of any provider. Basically, you can have a Google account different from Gmail.
So, how to create a Google Alerts without a gmail account?
The procedure to follow is very simple: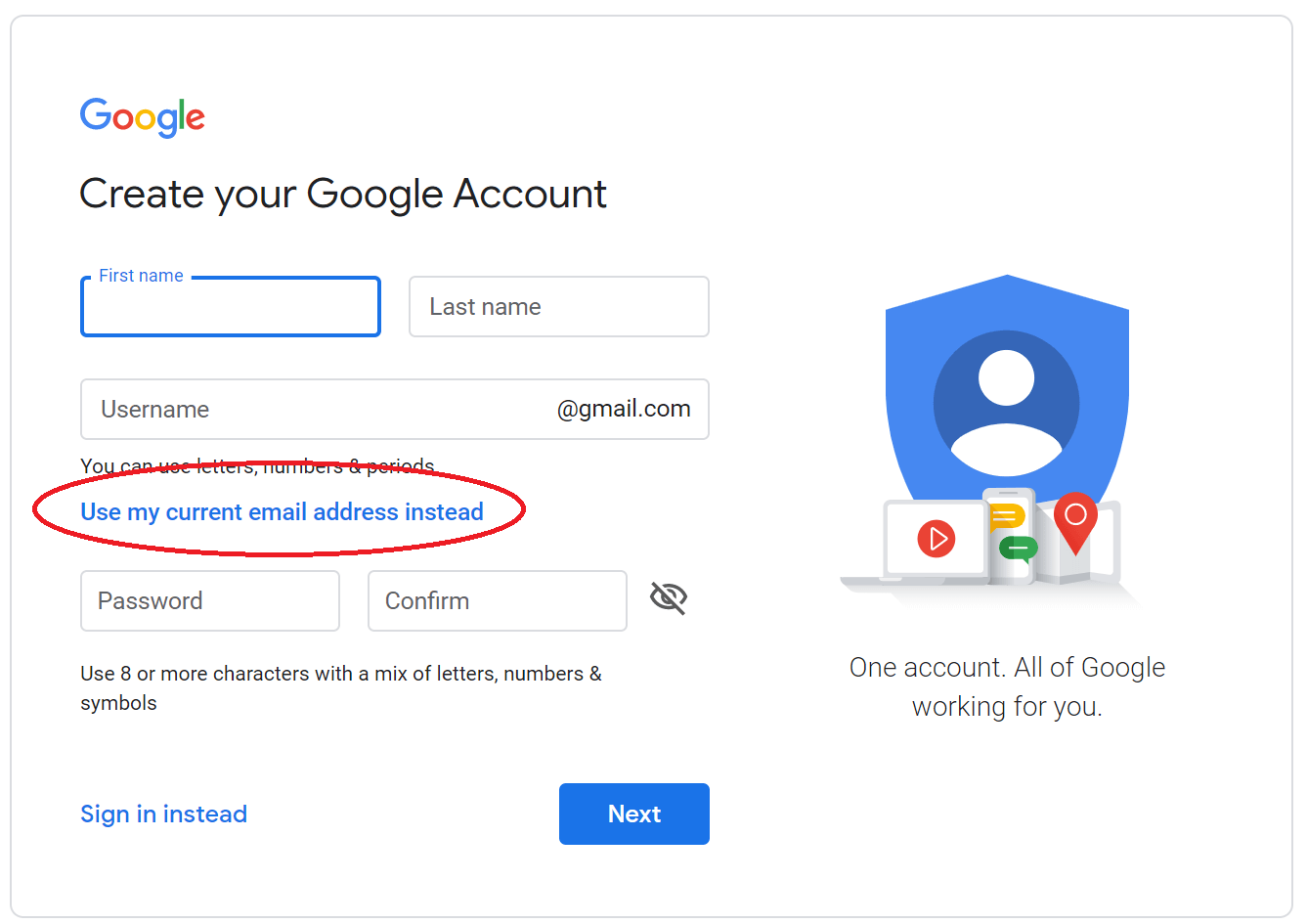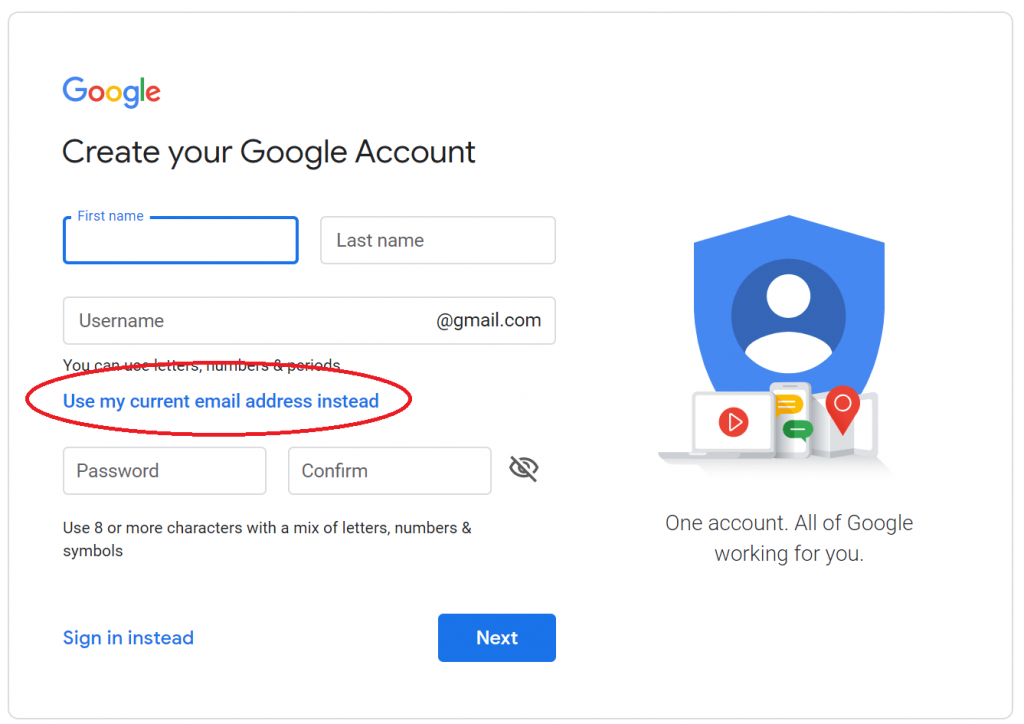 Connect to the registration form
Create your Google Account
Click on Use my current email address instead
Enter, in the appropriate field, the email address managed by another provider (for example, @ outlook.com, @ hotmail.com, @alice .it, @ tiscali.it, @ yahoo.com, and so on).
Click on next and then enter the verification code received via email.
Once the configuration is completed, your e-mail address will be associated with the Google account that you can use for Google Alerts.
And now tell me: what's your favourite monitoring tool?
FAQ
How to use google alerts?
This tool detects content related to the phrases or keywords that users use to perform a search.
Therefore Google Alerts sends you an email informing you of all the relevant words.
It all depends on the concepts you have used to activate Google Alerts.
How to set up google alerts for companies?
Once you are in the Google Alerts tool, you must configure the alert options according to your objective.
You can create alerts on any topic in general and consider the keyword you use to know what is related and how users search for it.
In this way, you can also be informed on how to improve your company's positioning, marketing, or advertising strategy.
How to set google alerts for news?
This tool lets you alert the terms according to your interest.
When you are inside Google Alerts, you must choose the frequency of the alert and also the type of source you want to receive notifications; in this case, if you want to know what the news is saying, you can select it.
You can also choose language, location, and delivery method.
Is Google Alerts safe?
Google is an excellent option to keep abreast of the rhythm and topics relevant on the network.
And not only that, but it also helps you protect your online reputation and notify you in the face of any crisis.
Therefore, we can say that Google Alerts is a reliable site for a marketing strategy.