The Online Privacy Report 2022 reveals figures on data sharing, reliability, media exposure, and reputation.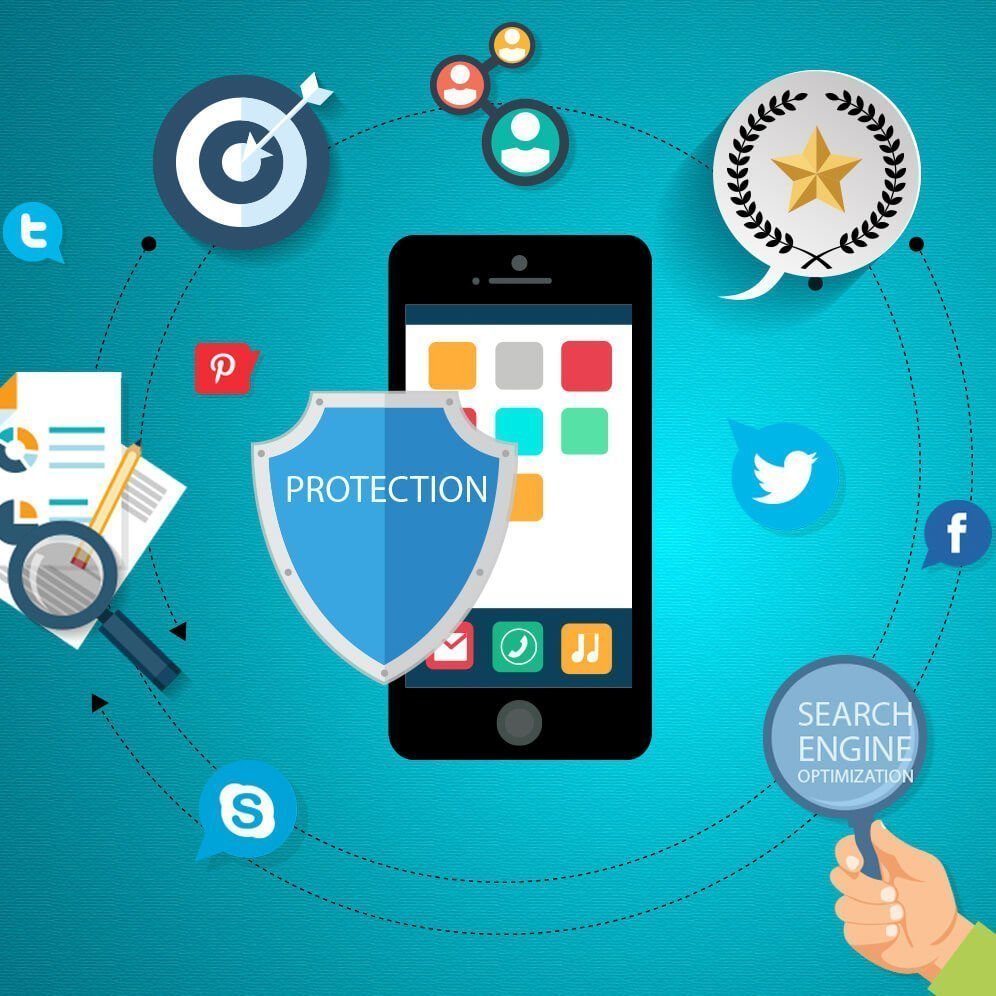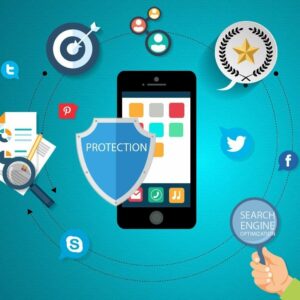 Need help protecting your online privacy?
ReputationUP guarantees the elimination of any private and personal information (name, number, address, photo, video) from any Internet platform
Consumer awareness for sharing privacy
Ignorance is the first step toward personal data vulnerability. Indeed, only 33% of users know the privacy laws that apply to their country.
There needs to be more awareness about personal information on the Internet and the reputational risk of third-party publications.
Only 50% trust their data are secure, and 99% agree that privacy is paramount.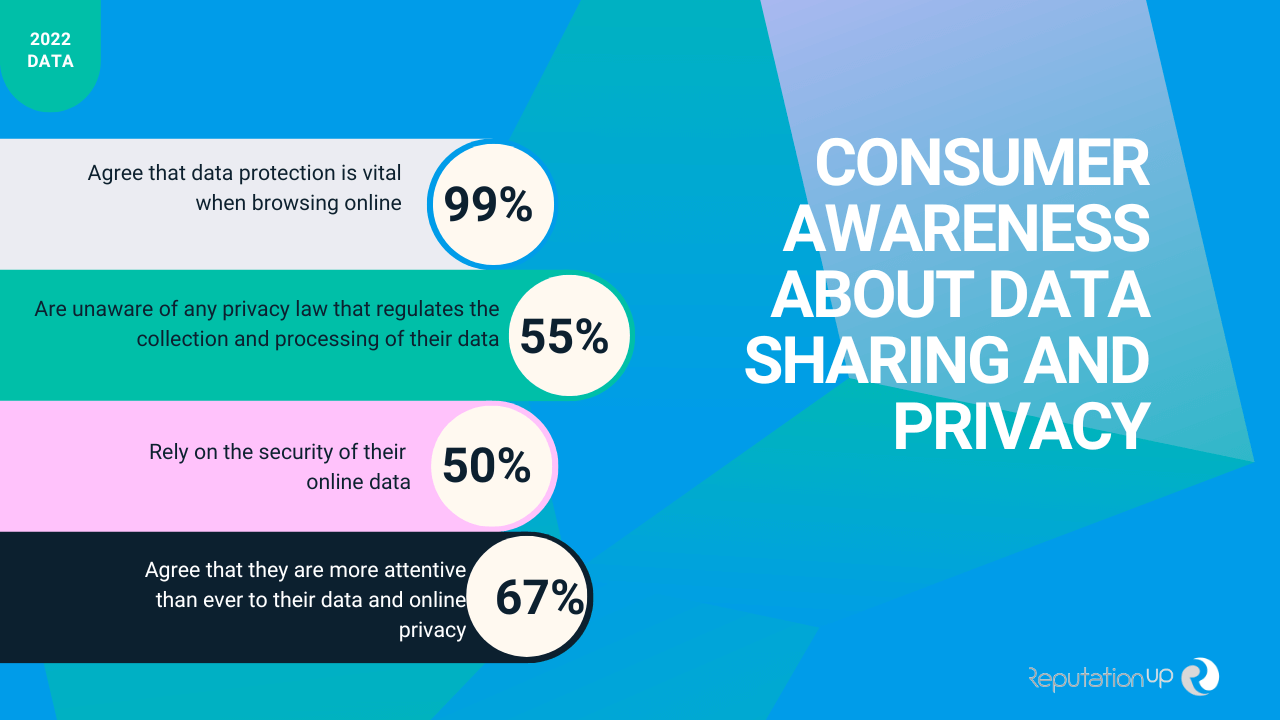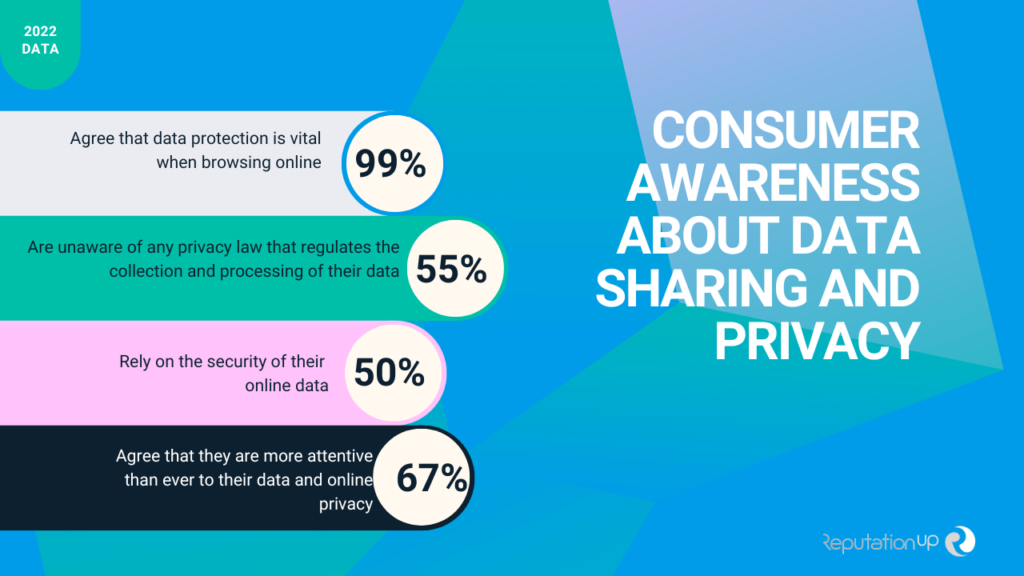 ReputationUP has produced a comprehensive report on online privacy in 2022.
The Online Privacy Report reveals, among others, the most critical data for this year in terms of:
Privacy laws;
Consumers' awareness about data sharing;
Transfer of personal information to companies;
Most reliable industries.
Moreover, it shows the link between privacy, online reputation, and media exposure.
'The data managed online constitutes a second life. But many users need to learn that this double life has become public on the Internet.'
Andrea Baggio, ReputationUP CEO EMEA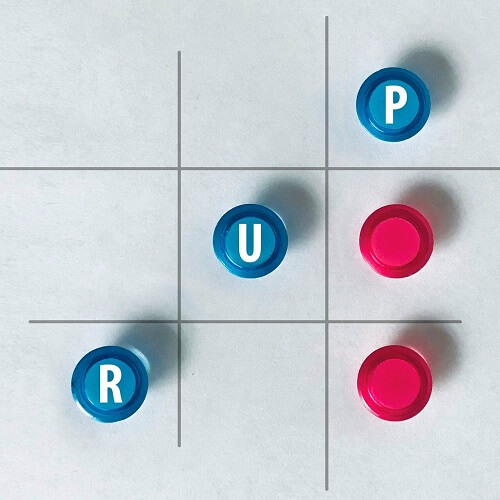 Do you want to grow your brand's online reputation?
97% of entrepreneurs say online reputation management is the main key to success for their business
ReputationUP has taken various sources of information to produce the Online Privacy Report, such as the Google Transparency Report or the US Federal Trade Commission.
Online Privacy Report: Laws
137 countries out of 194 have data protection and privacy legislation, a fundamental human right.
71% of the world's countries have data protection laws.
15% of nations, such as Venezuela or Libya, have no legislation.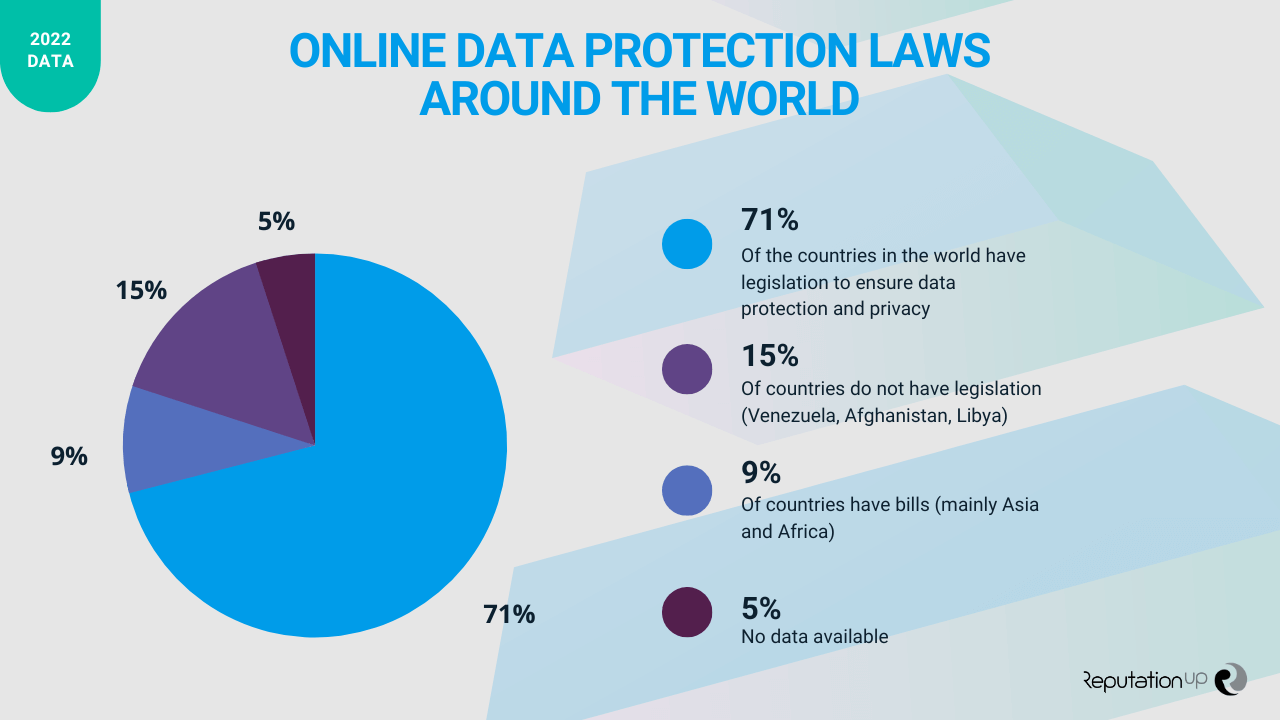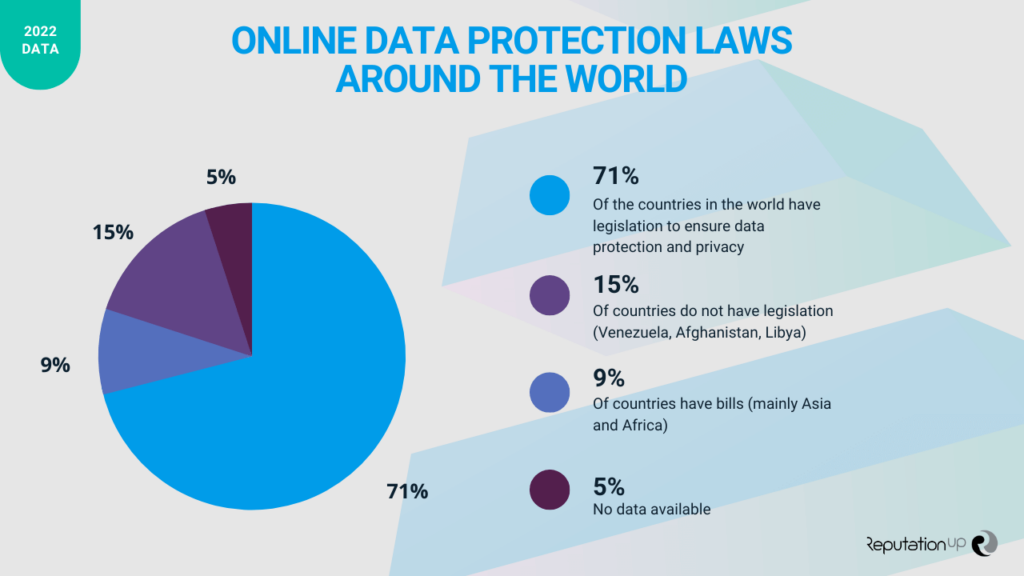 Removal of URLs from Google
Online users can exercise the Right to be Forgotten and GDPR to de-index outdated, harmful, or defamatory content from the search engine.
The following image shows that Google examines only 50% of the removal requests.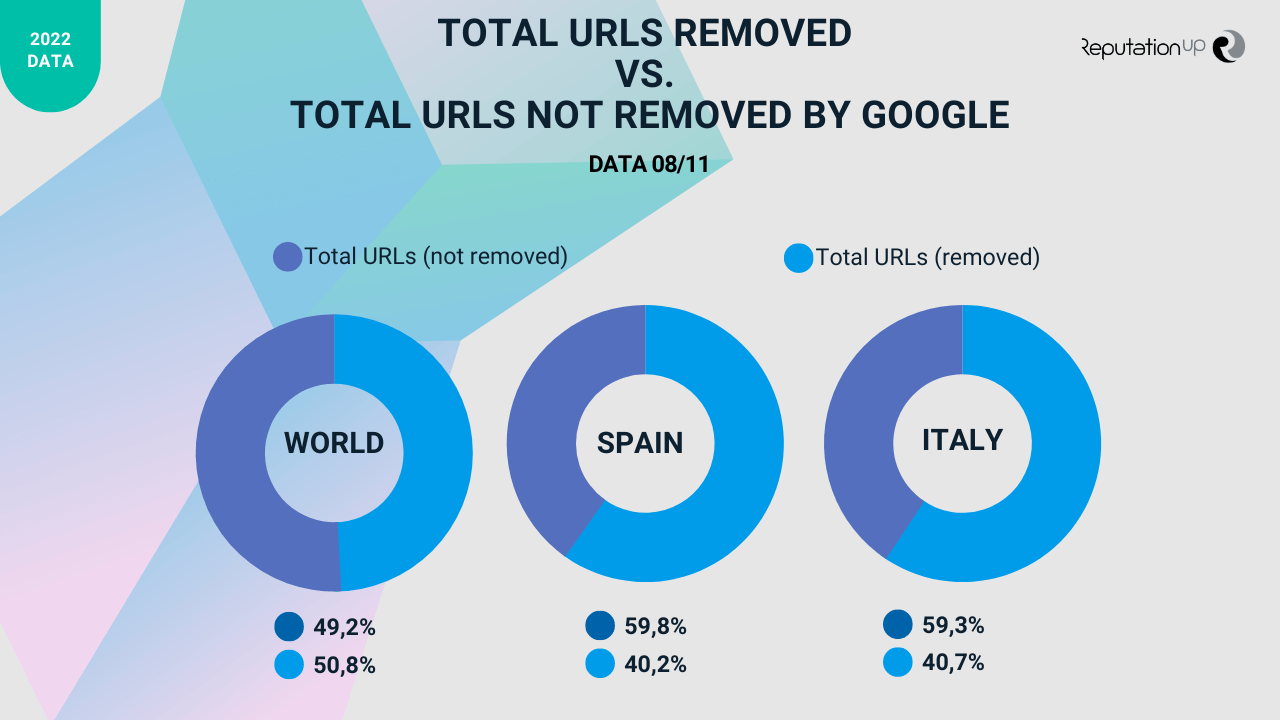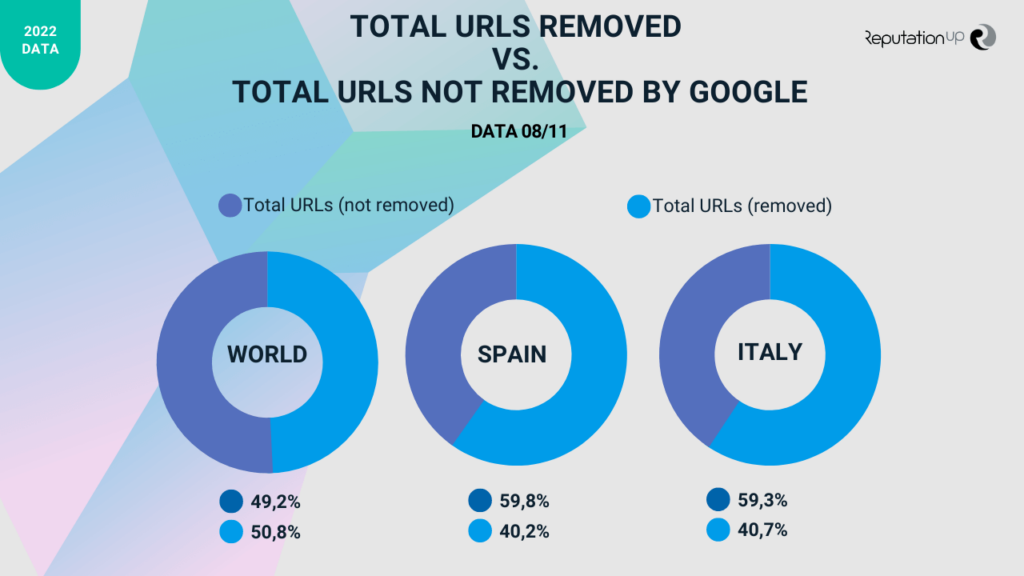 Indeed, it takes a long time for Google to analyze de-indexing and harmful links removal requests.
And as you can see in the previous infographic, 50% of the responses are negative.
Protecting privacy is a right, and the fastest and most effective way is to contact a company that specializes in de-indexing and deleting information from Google.
ReputationUP, a leader in online reputation, guarantees the Right to be Forgotten and digital privacy.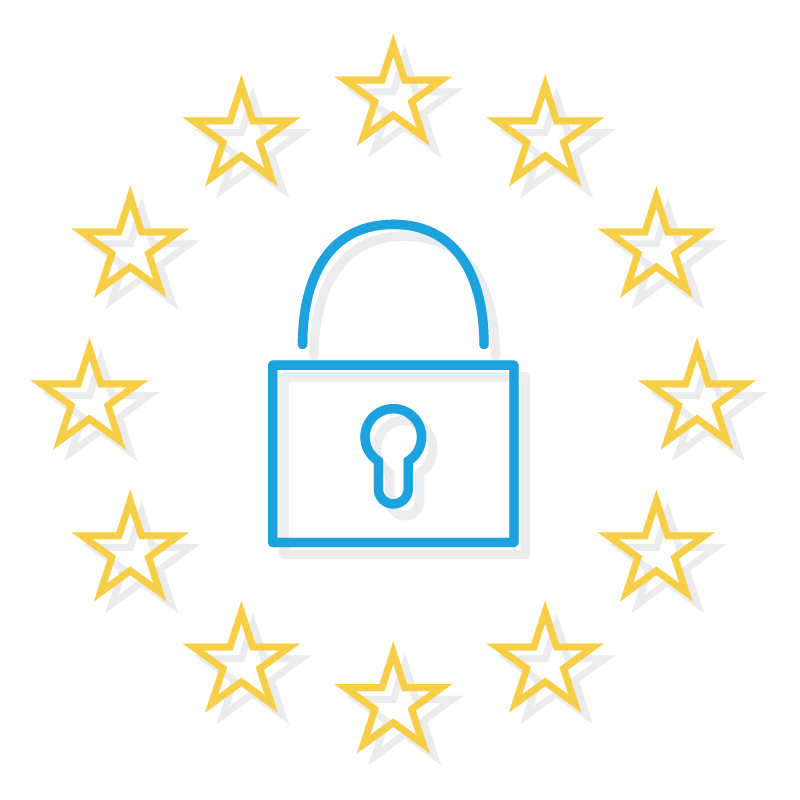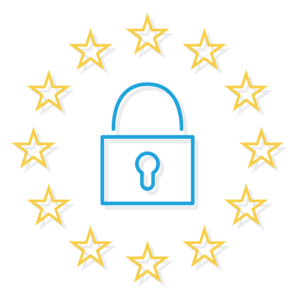 Do you want to exercise your right to be forgotten?
ReputationUP eliminates any obsolete content (links, photos, videos, comments, content, reviews) and guarantees your right to be forgotten and digital privacy
Online Privacy Report: data exchange for businesses
49% of global consumers are more comfortable sharing data with companies than in previous years.
That sentiment has grown by 19.5% from 2018 to 2022.
53% agree that the exchange of personal information is essential for the smooth running of modern society.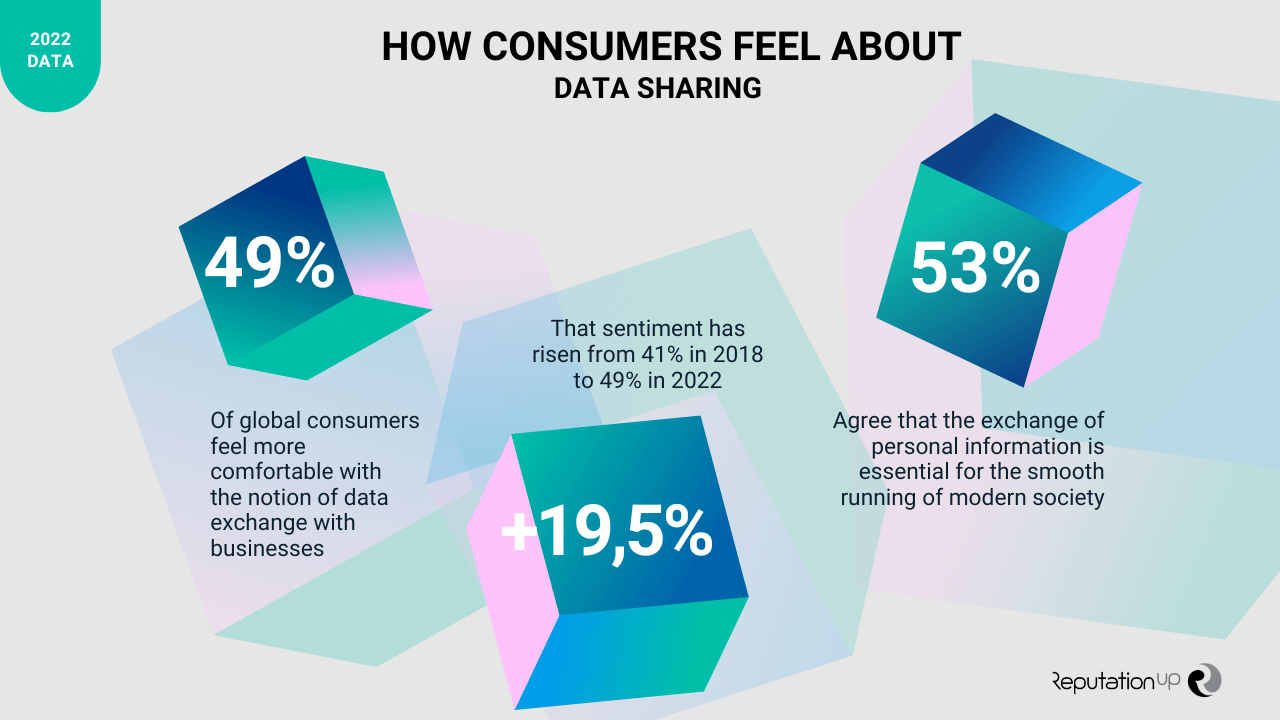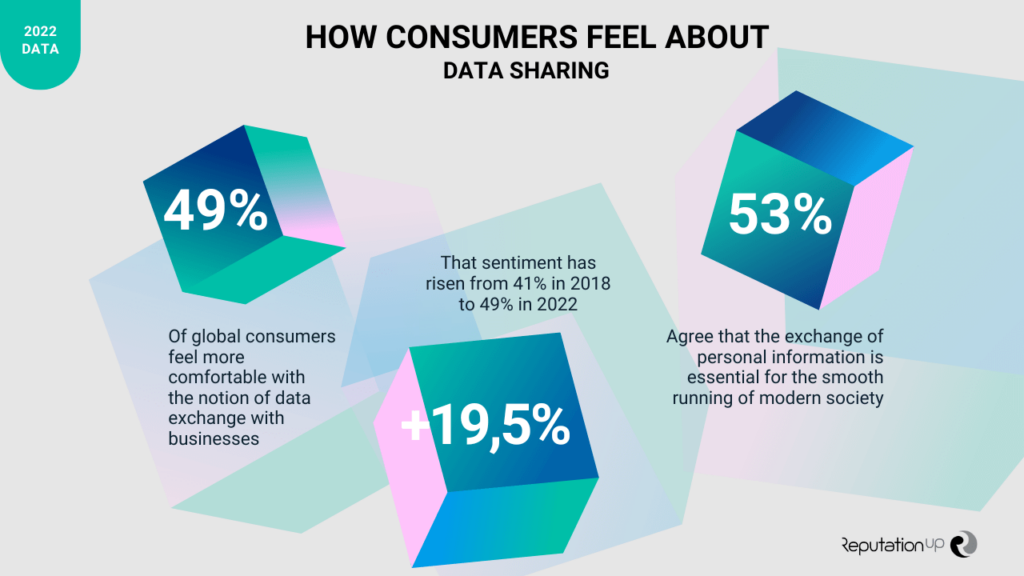 However, 82% want more control over the personal information they provide to companies. 
Sharing information according to the website
41% of users are not willing to share their private information online.
Indeed, they do share data on the following websites:
34% of users on e-commerce sites;
26% on video streaming sites;
24% on social networks;
20% on music streaming sites;
18% on travel sites.
However, these rates are far below the 41% we mentioned previously.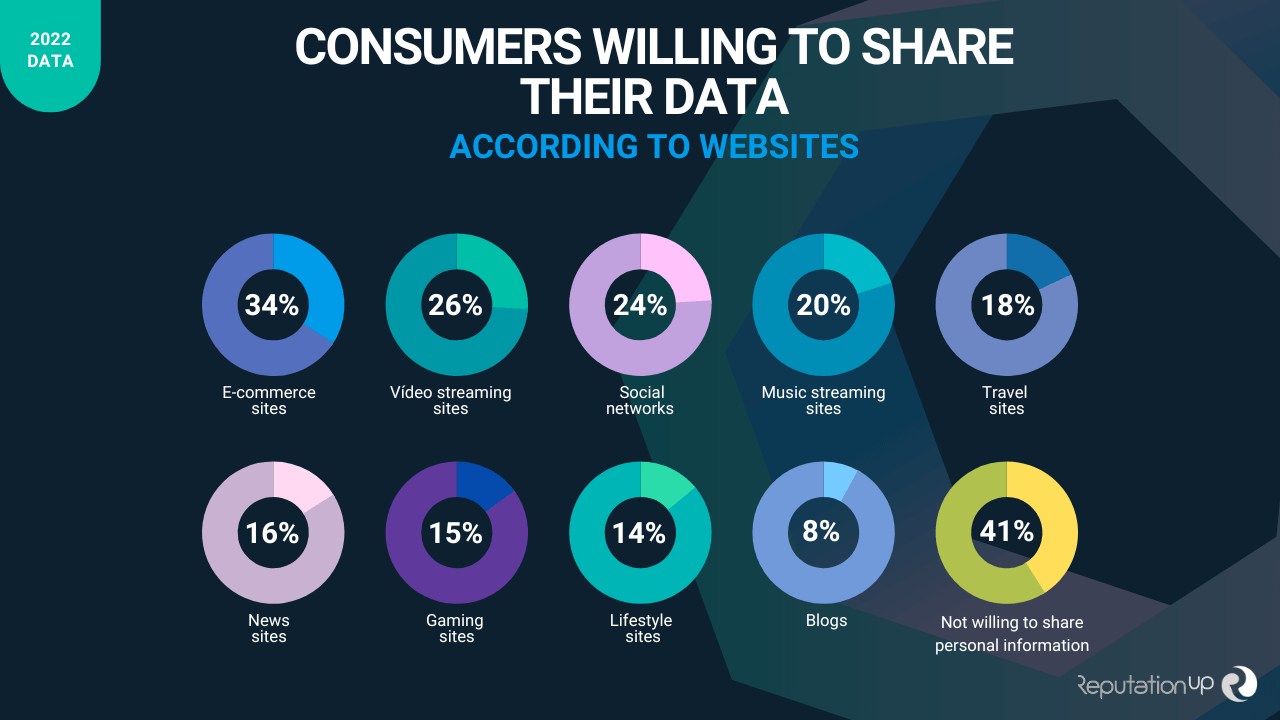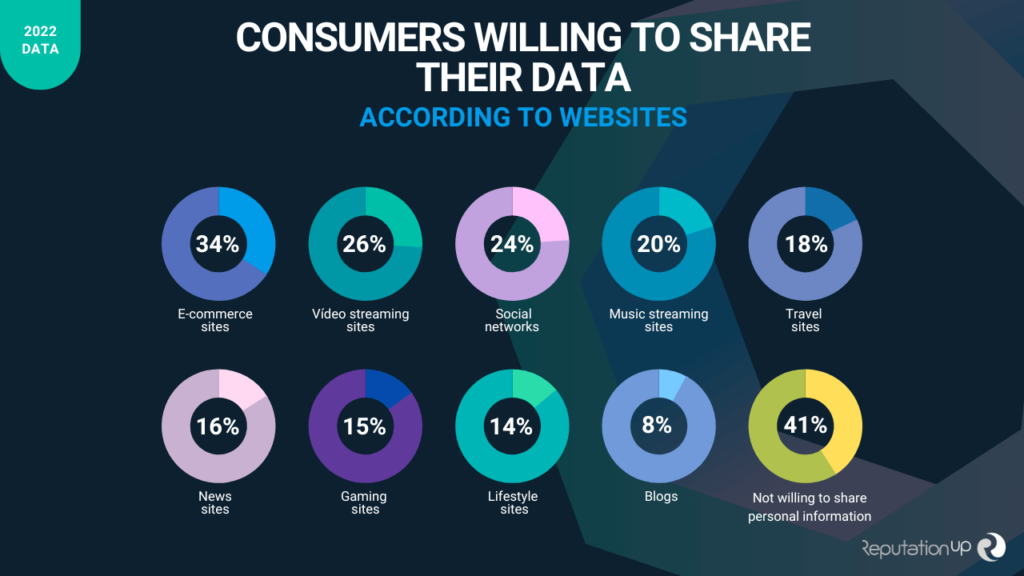 Markets in the face of data exchange
8 out of 10 companies are happy to share personal information with organizations.
The document also states that companies expect a 5.9% budget increase for data protection.
Online Privacy Report: most reliable industries
In 2022, the most trusted industries for online privacy were finance (42%), healthcare (37%), and technology (32%).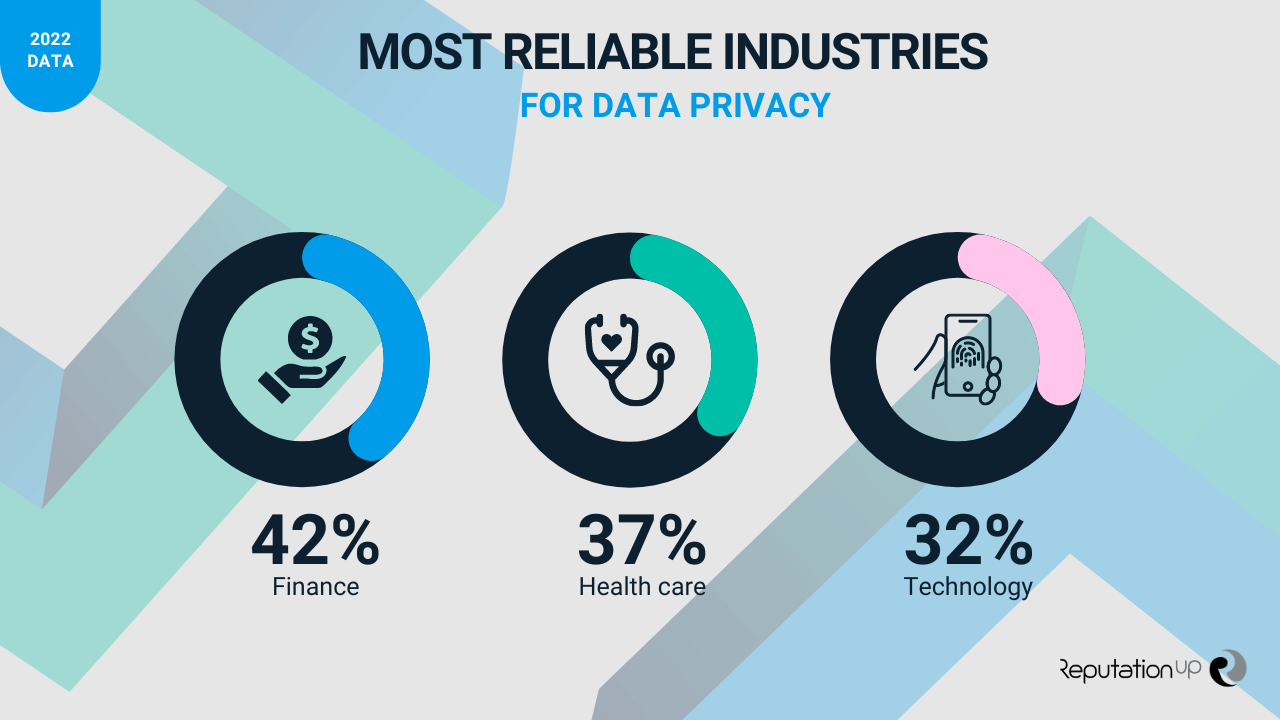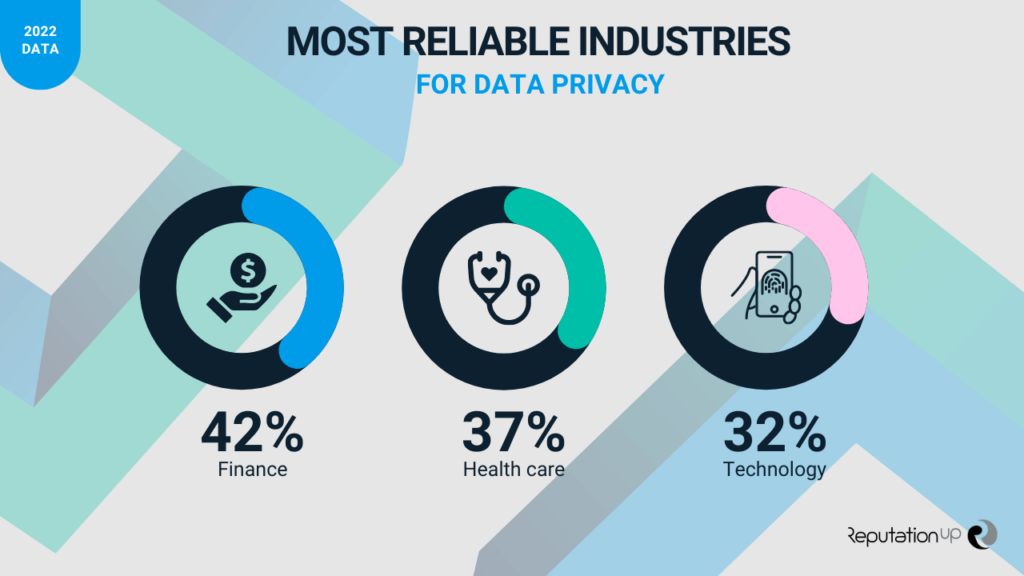 Only 14% of citizens trust governments regarding personal data protection. 
18% rely on social media, and 12% on media and entertainment.
Online Privacy Report: data breaches
In 2022, 82% of personal data infringements involved individuals, including social attacks, bugs, and misuse.
The United States, Russia, and China had the highest data breaches.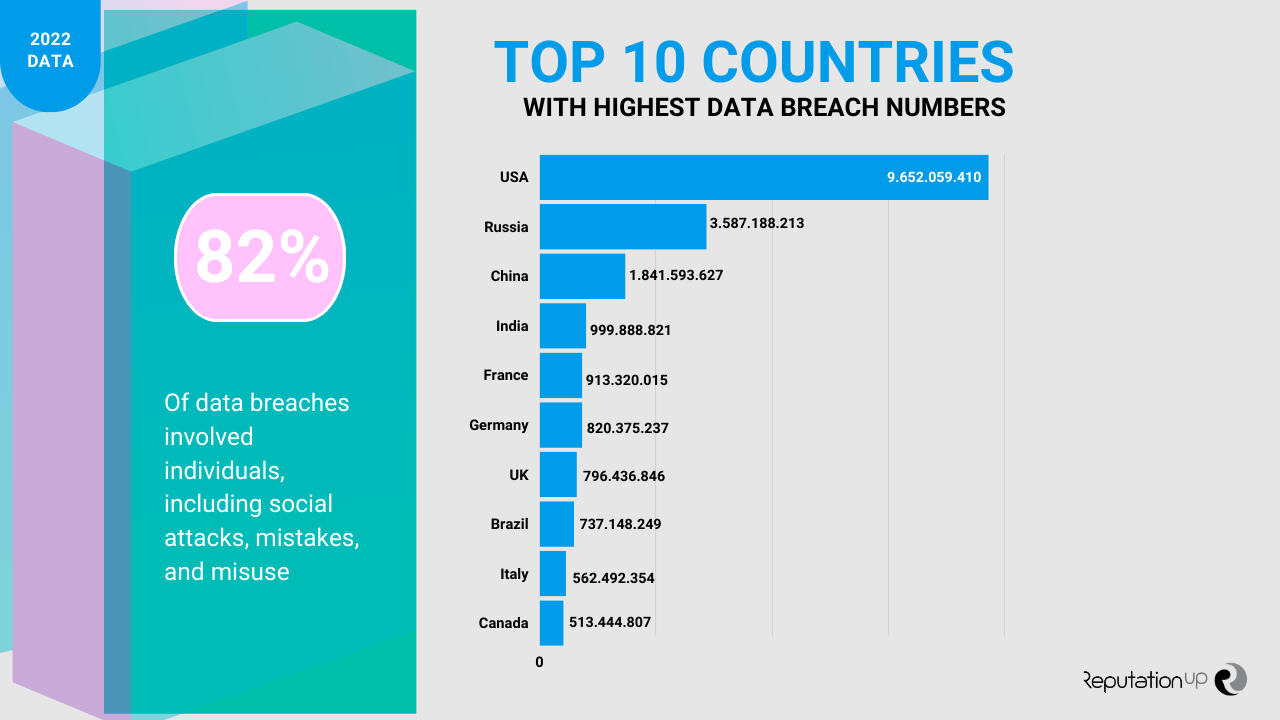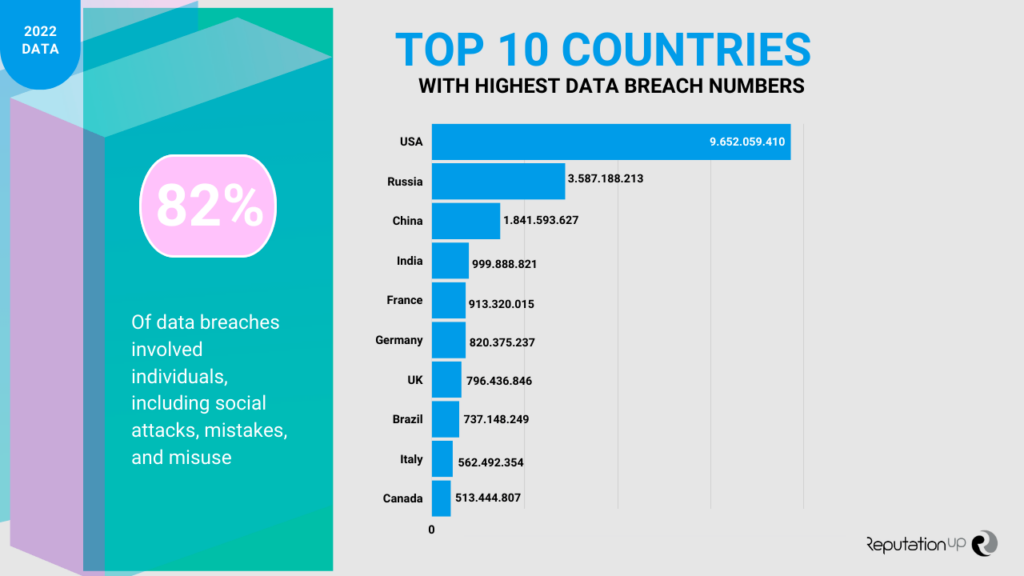 A shocking percentage of data leaks is the global average cost of a data breach: $4.35 million.
In healthcare, it reaches $10.10 million.
For the 12th year in a row, healthcare had the highest average cost of data breaches across all industries.
Conclusions
We can draw the following conclusions from this brief article, a summary of the ReputationUP Online Privacy Report:
Only 33% of users know their country's data privacy laws;
99% believe privacy is paramount;
Google considers only 50% of the requests for removal they receive;
49% of consumers are more comfortable with sharing data with businesses;
41% of users are not willing to share their personal information online;
In 2022, the most reliable industries for online privacy were finance (42%), healthcare (37%), and technology (32%);
The global average total data breach cost is $4.35 million.
Digital privacy and online reputation are strictly intertwined.
Inaccurate, outdated, or harmful brand information immediately points to personal or corporate reputation.
Repairing or rebuilding an image is a long and complicated process.
ReputationUP, a company specializing in digital reputation, protects companies' and individuals' online privacy.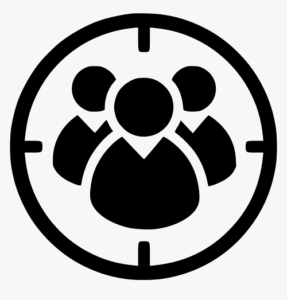 Do you want to delete personal and private information from the web?
ReputationUP guarantees the elimination of any personal and private information from any Web platform
FAQ
What is privacy on the Internet?
Internet privacy refers to our ability to control access to data and how it is processed. It also includes the right to be informed about how organizations collect and use data. 
How to maintain privacy on the Internet?
Users need to protect their passwords and understand how companies use their data. Protecting themselves from the rise of data breaches and cyberattacks is essential. 
Why is my online privacy important?
It is vital to counter data breaches, cyberattacks, or identity theft. Awareness and action are the first steps to preserving and securing data.
What are the pros of Internet privacy?
It helps prevent data from being exploited by malicious actors, providing security when browsing the web. It also allows you to explore the web without fear of your interests and activities being monitored.
What is a privacy breach?
It consists of personal data sharing without consent, control over online activities, or hacked devices without the user knowing.