We'll share six tips for protecting your company's online reputation and avoiding a crisis that negatively affects your image.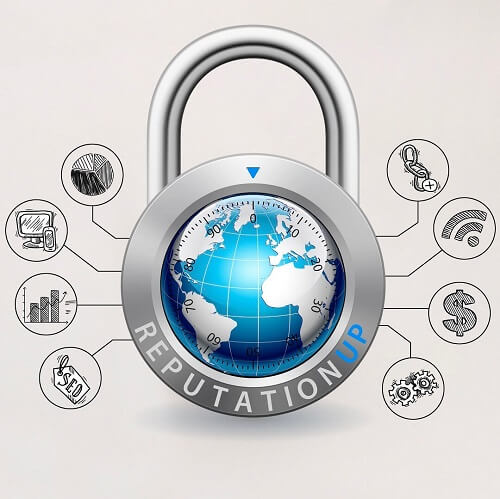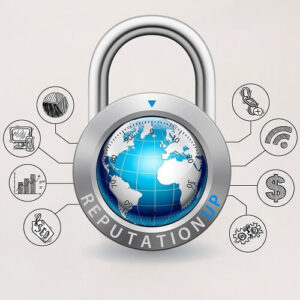 Need help protecting your reputation?
Remove all negative content against your brand and publish positive content that re-launches your digital image
Have you ever heard the following quote?
"It takes twenty years to build a reputation and five minutes to ruin it."
Its author, investor, and entrepreneur Warren Buffett captures the fear of all companies: a single click may undo their hard work and efforts.
ReputationUP, a company specializing in Online Reputation Management, reveals six tips to protect your company's online reputation in this article.
Remove negative and defamatory content
Let's start the process with tips to protect reputation by removing negative, defamatory, and obsolete content.
Nowadays, everyone and even competitors can post a fake image, video, or news online about your company.
When we talk about negative content, we mean something that harms your company and can cause online defamation.
Obsolete content means outdated data which is no longer relevant to the public.
They all have the same effect: they tarnish the brand's image.
As a business, you should be aware that you have three options for harmful links removal from the internet:
Contact the website's owner;
Contact the search engine such as Google;
Trust an online reputation company.
Contact the website's owner
The first option is to contact the owner of the website that contains harmful content.
If the webmaster removes the information, Google will delete the content from its search results.
Contact the search engine
Because Google is the most popular search engine, we'll use it as an example.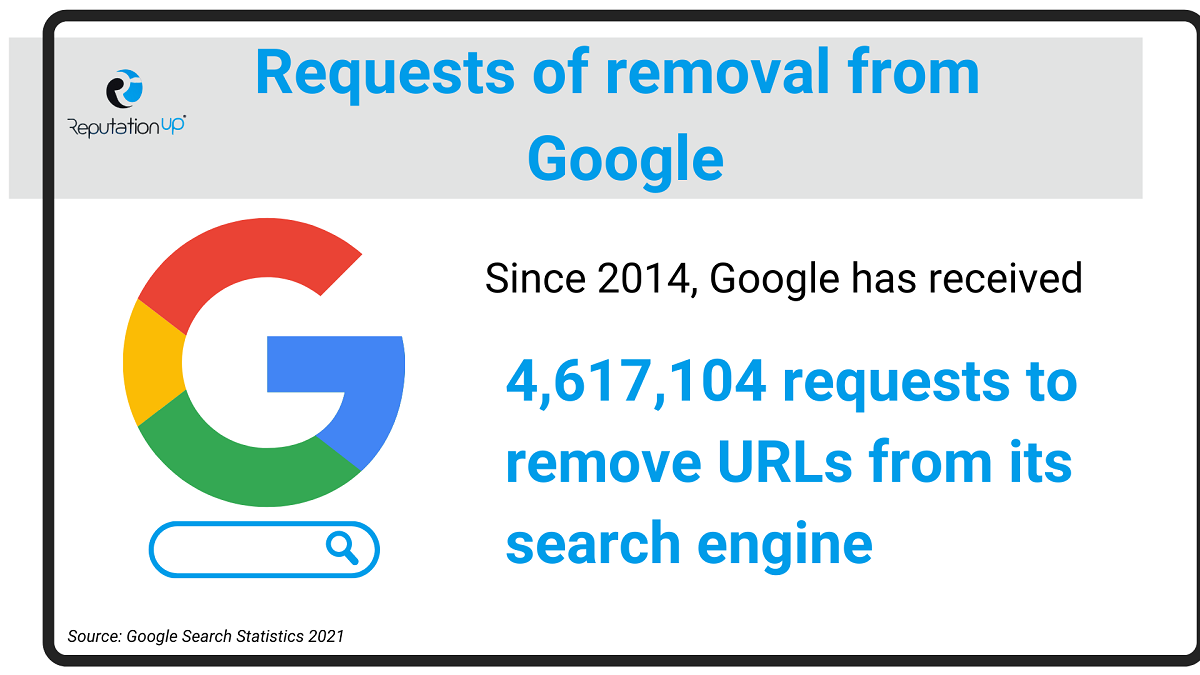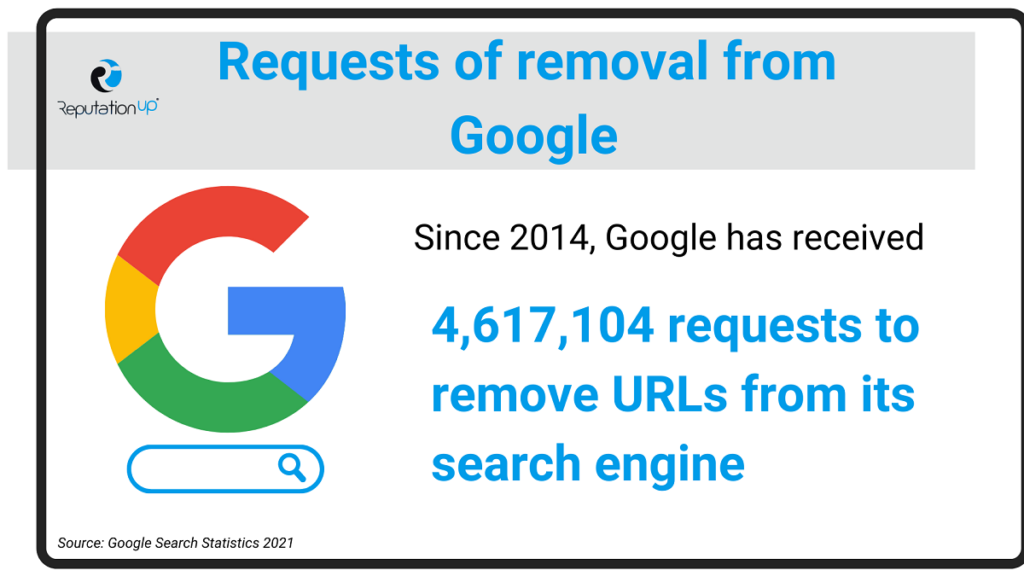 Since 2014, the company has received 4,617,104 requests to remove URLs from its search engine.
You can submit your request to Google by selecting the linked product, entering your personal information, the URL, and explaining why you want to delete it.
If there are multiple platforms, you must submit one request for each media.
Even if a page does not appear in Google results, it will still be displayed on the web because the search engine has no control over the content.
Also, the tip to protect reputation is the elimination.
Trust an online reputation company
Any defamatory link related to your business is monitored, intercepted, and removed from any platform in real-time by ReputationUP.
The team of online reputation experts employs cutting-edge techniques that comply with international regulations.
Furthermore, we identify the IP address of the person who published the content.
Manage negative reviews and criticism
Reviews are popular, and most users write them and, of course, consider them when purchasing.
Remind that reviews and comments are a way to interact with customers.
One of the tips to protect reputation is: dealing with negative online reviews:
Analyze the message and determine the usefulness of the negative comment;
Provide an immediate response in a sincere and professional tone;
Maintain a respectful and courteous attitude at all times;
If the company made a mistake, apologize and thank the commenter: this communicates confidence;
Demonstrate discomfort for your error: the community will notice, and clients will perceive it as a stimulus to improve services;
Find and offer a concrete solution: ask for the contact information so that you can begin the repair process privately.
However, we recommend that you contact a specialized company, such as ReputationUP, to assist you in removing negative reviews.
Control Google's first page
Understand that controlling Google's first page is akin to having your brand displayed on a billboard.
Also, keep in mind that 92% of users do not visit Google's second page.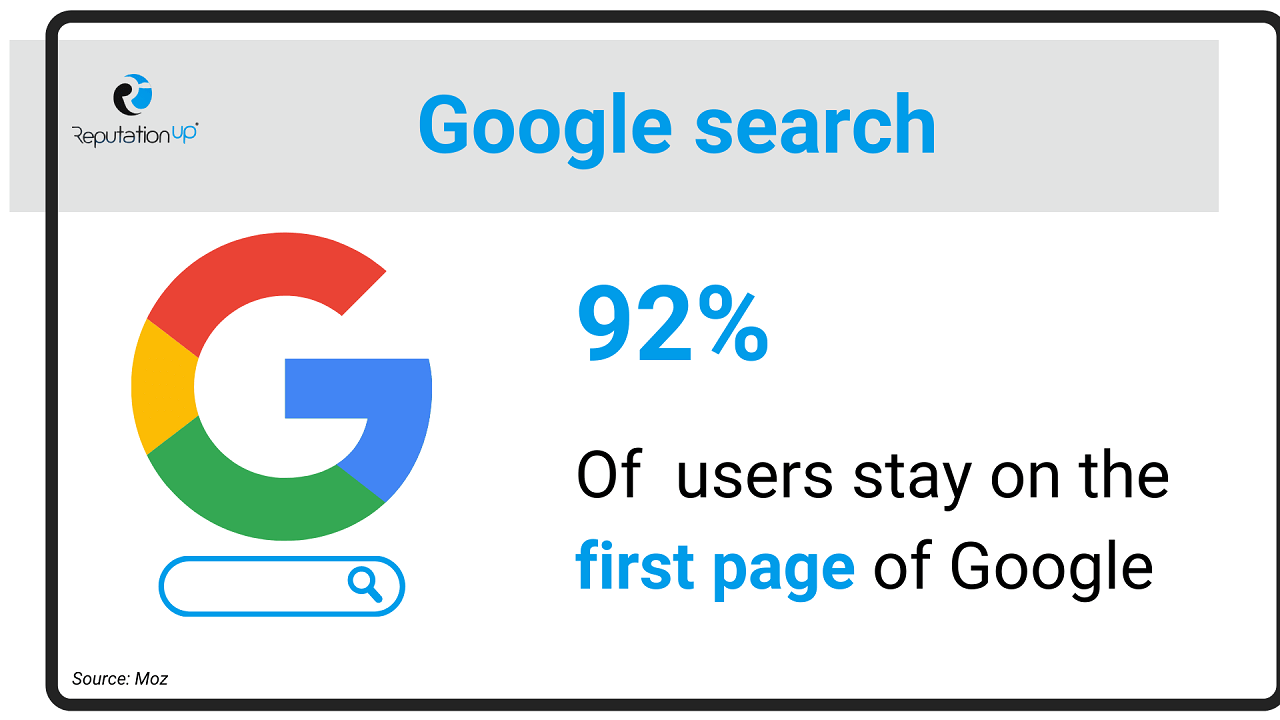 Ranking on the second or third page will not assist your brand in building a solid online presence.
If you don't generate enough clicks, your potential SEO investment will be wasted.
When customers search for your brand, ranking on Google's top positions is equivalent to showcasing a brilliant business card.
According to Google statistics, users conduct 3.5 billion searches per day.
As a result, companies rely on Google and its organic traffic to improve their ranking, brand awareness, and brand protection.
Generate positive content
The term online content refers to videos, photos, or data that do not belong to the company but rather to the majority of the users.
A blogger, for example, can write and post positive articles about your brand.
Well, what matters is that the links are on the first page and that your URLs are well-managed.
The tip to protect reputation is creating new high-quality content is an excellent way to establish a company's brand.
Writing and blogging on the web, for example, is a proactive technique that provides additional service to the customer or any other user.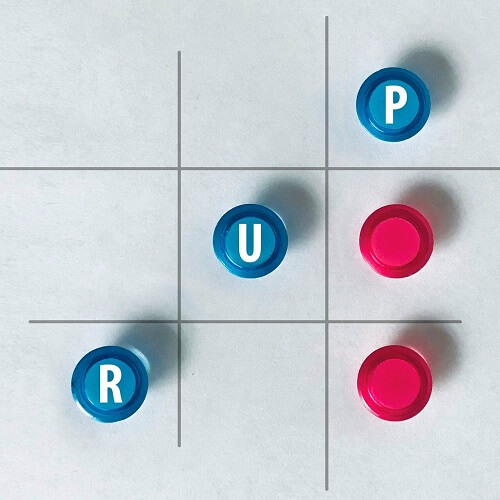 Do you want to grow your brand's online reputation?
97% of entrepreneurs say online reputation management is the main key to success for their business
In a nutshell, this strategy assists your company in establishing a positive digital reputation and becoming an authoritative web reference.
Assume control of your digital assets
Why are your social platforms referred to as digital assets? Because they are a valuable source of information for your brand and your corporate reputation.
After following a brand on social media, users engage as follows:
91% visit the company's website or app;
89% buy the company's products;
and 85% recommend it to their circle.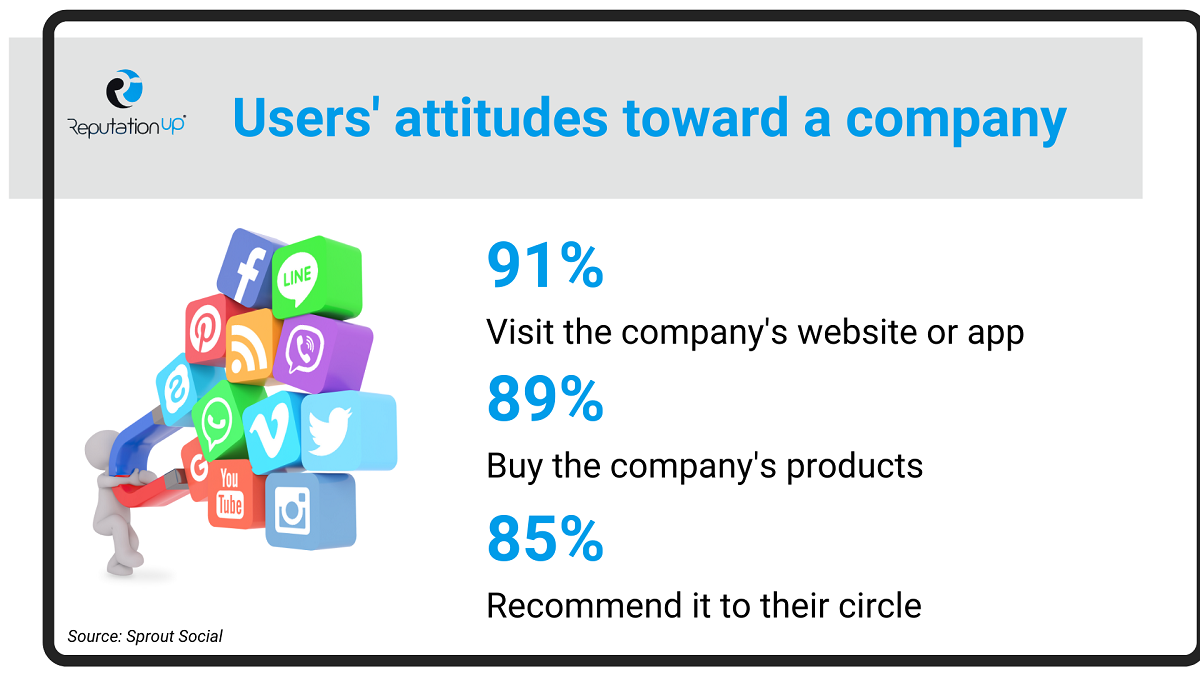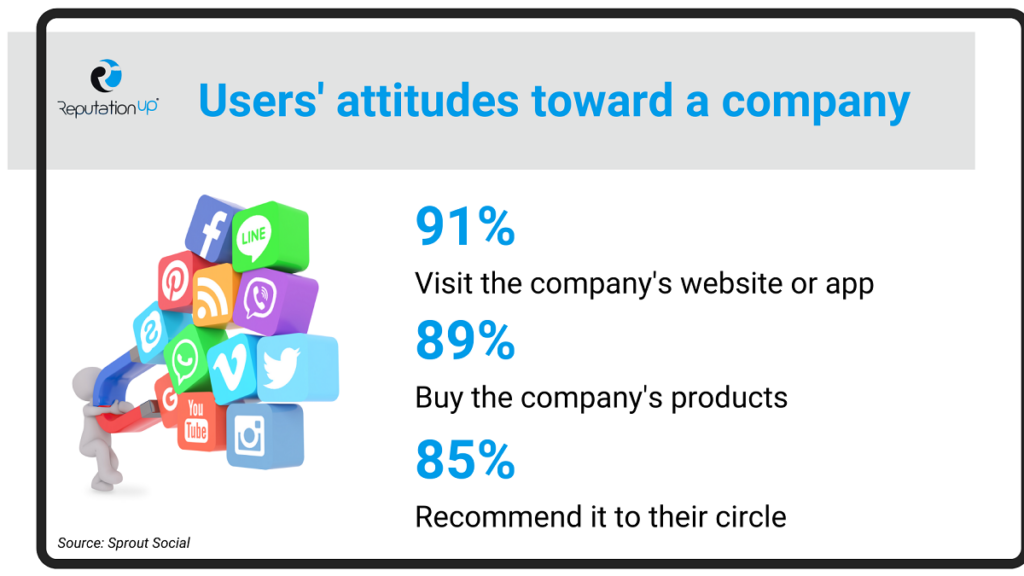 You can communicate with your clients and the general public using these platforms.
Together with the website, digital assets form the online company's brand.
It is vital to develop them, optimize them, and control them, just as with all other tools, this is other tip to protect reputation.
Social networks are tools for removing negative information from the internet.
Connect your digital assets to other tools
On the one hand, social media are linked to negative comments.
Answering every criticism on social media is one of the tips to protect reputation, because disregarding creates a bad image.
On the other hand, you should also link social platforms to your blog.
Sharing blog posts on your social network improves website optimization.
It is a strategy for promoting your business through various channels.
Real-time monitoring
Protecting your corporate reputation is viewed as a puzzle, the pieces of which must fit together for everything to function correctly.
And monitoring is just the missing piece that justifies the other tips to protect reputation.
Why? Web scanning will help in the control of the following:
Negative content;
Google's first page;
Digital assets.
This activity allows you to maintain control over the data and keep it up-to-date by monitoring what people say about your company in links, news, videos, photographs, etc.
Another tip to protect reputation is to use free tools, such as Google Alerts, send email notifications every time someone searches your brand on the internet.
The objective is to know which data has been released online without your consent.
Consider the case of a fictitious Facebook profile that identifies your company while you are unaware of its existence.
Some monitoring technologies, such as ReputationUP's proprietary software, can detect potential threats in real-time.
Given that the internet never sleeps, this service enables you to avoid any online reputation crisis.
The ReputationUP RepUp Monitoring Tool assesses the sentiment of online brand discussions in search engines, social networks, forums, the Deep Web, and the Dark Web.
Our reputation monitoring strategy works well because it combines the analytical skills of our data experts with the artificial intelligence of our algorithms.
Here's one more tip: protecting your online reputation requires time and dedication.
However, good protection prevents what businesses fear most: the rise of a digital crisis management.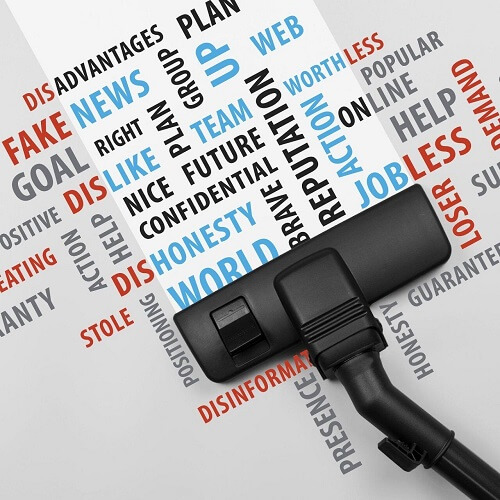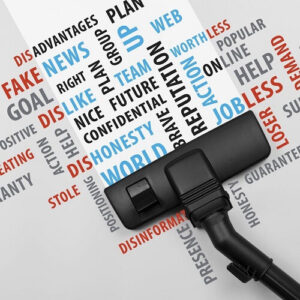 Do you want to protect your reputation from haters and fake news?
You risk losing 22% of your revenue if potential customers find a single negative link on Google's first page
FAQ
How do you protect your reputation online?
Andrea BaggioCEO of ReputationUP states that your brand risks losing 22% of revenue if potential customers find a single negative link on the first page of Google.
Therefore, we recommend you:
1. Have good content on your website so as not to lose credibility;
2. Faced with negative comments, respond positively and provide solutions;
3. Have a reputation management plan in the event of a crisis;
4. Social networks are an essential means of communication with customers, so having them updated and with relevant information helps your brand grow and maintain its reputation.
Why is it essential to protect your online reputation?
Remember that 97% of entrepreneurs say that online reputation management is the key to business success.
Therefore, protecting your online reputation is essential since it is the concept that users have of your company or brand.
How to protect your personal reputation online?
We give you three crucial aspects to protect your reputation online:
1. Monitor the web: it is vital to have a complete picture of your reputation; search Google, social networks, photos, etc.
2. Eliminate harmful or outdated links: exercise the right to be forgotten if you have information that could affect your reputation.
3. Protect your personal data: do not reveal confidential data that could compromise your reputation.
What are seven ways to protect your reputation online?
1. Intensify your digital presence; the goal is for people to know the positive things about your brand or you;
2. Respond to negative comments in a natural way, solving doubts or problems;
3. It has professionals who can monitor your presence on the web and take action on the matter;
4. SEO strategy for Google to put you in the first positions with positive content;
5. Quality information both on social networks and on the website;
6. In case of having obsolete content, exercise your right to be forgotten;
7. Learn about reviews on different platforms.
How to protect your business online reputation
To protect your reputation, you must have a management plan, which has three main steps:
Listen: who talks about the brand?
Talk: planning the web presence as synchronous and asynchronous communication with customers through social networks, websites, etc.
Measure: monitor the brand's reputation to be informed of the concept that the company has with customers.