Reputational damage: what it is, how it occurs, and how to prevent it. Tips to protect your business from online reputation risks.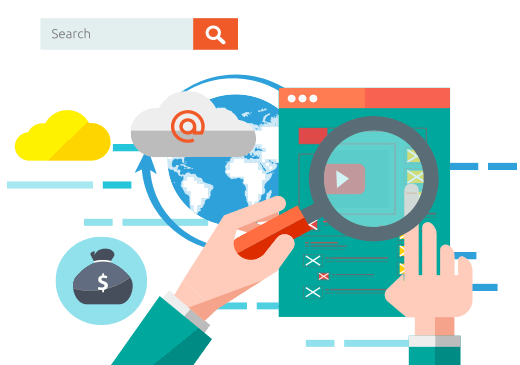 Do you want to spy on your competitors and their strategies?
Access the RepUP Monitoring Tool platform and find out how to beat the competition.
What is reputational damage?
Reputational damage is the negative impact on an organization's reputation caused by actions or inactions.
Unethical practices, poor customer service, negative reviews, or online defamation can cause it.
Reputational damage can have severe consequences for a company, including lower customer loyalty and trust, declining sales, and even legal action.
A study by the World Economic Forum estimated that reputation accounts for more than 25% of a company's market value.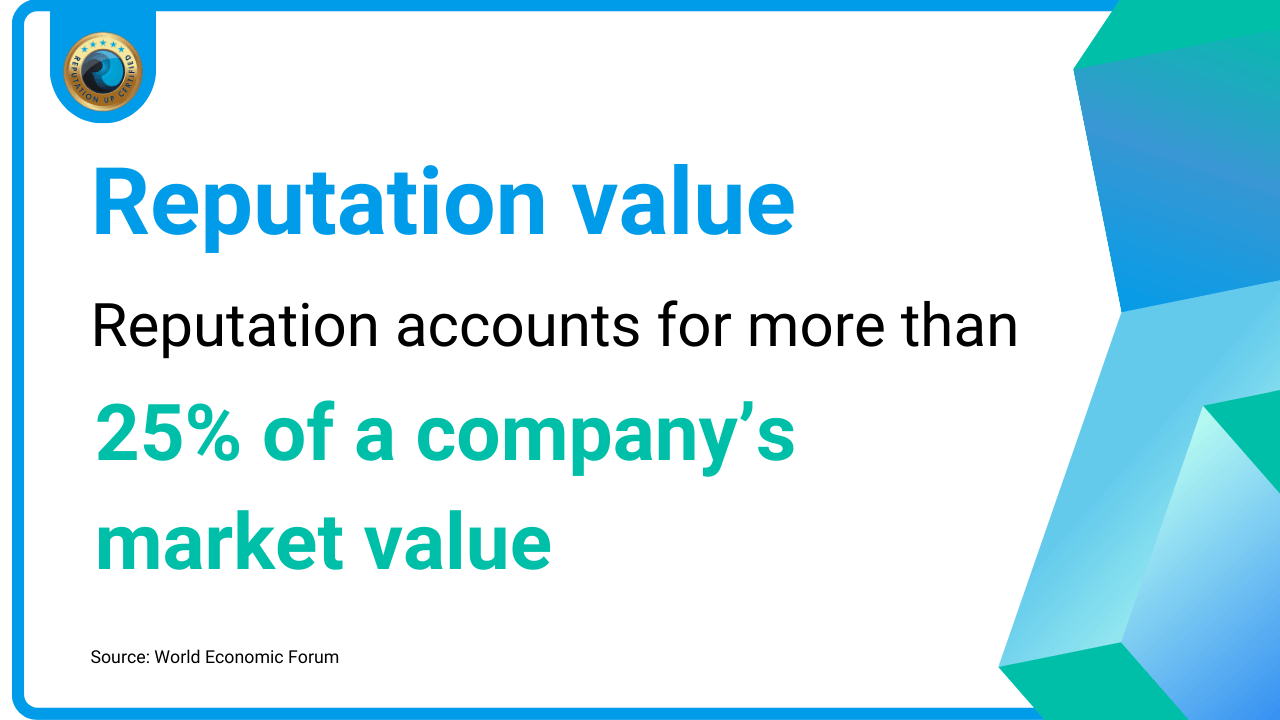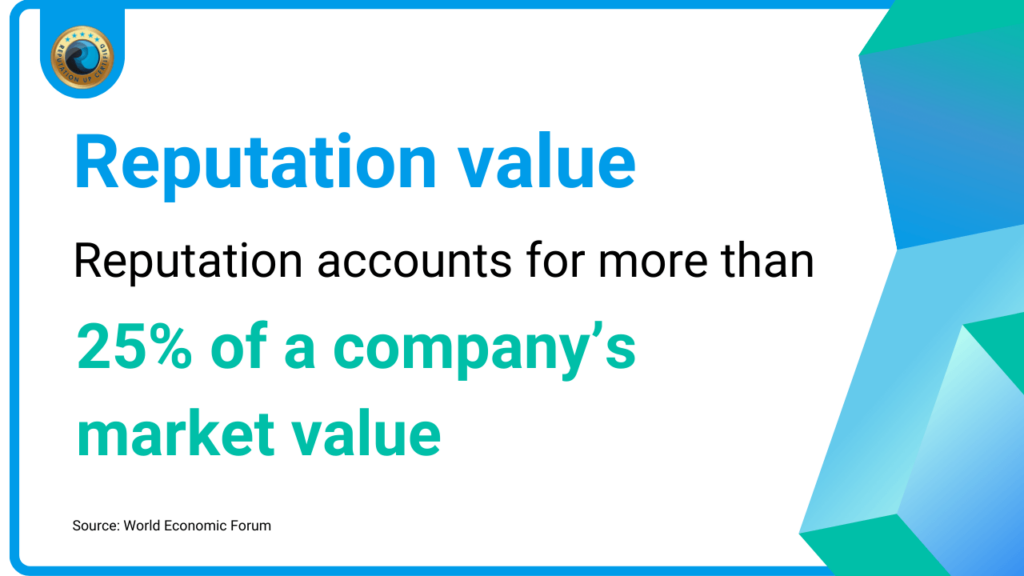 Organizations should take proactive measures to prevent reputational damage to ensure ethical operation and customer satisfaction.
How does reputational damage occur?
Online reputation damage occurs when the negative perception of the audience affects a company's reputation.
It can be anything from scandal or a lawsuit to poor customer service or unethical business practices.
In today's digital age, reputational damage can spread quickly and widely, and businesses can't afford to repair the damage.
Causes of reputational damage
These are some of the reasons that can lead to reputational damage:
Inappropriate employee behavior, such as offensive comments or discrimination;
Defective products or poor quality services that do not meet the customer expectations;
Breaches of contract or promises to clients or suppliers;
Public relations crisis, e.g., inadequate response to crises or natural disasters;
Illegitimate or unethical business practices, such as fraud or scams;
Conflicts with government authorities or breaches of the financial compliance regulations and laws;
Problems with suppliers and business partners, which affect the company's ability to fulfill its obligations;
Financial problems, like not paying suppliers or staff;
Negative posts or criticism on social media or mass media, which go viral and impact the image of the company.
Companies must comprehend how the damage occurs and take measures to mitigate the reputational risk.
According to the World Economic Forum, 87% of executives rate reputational risk as more critical than other risks faced by the company.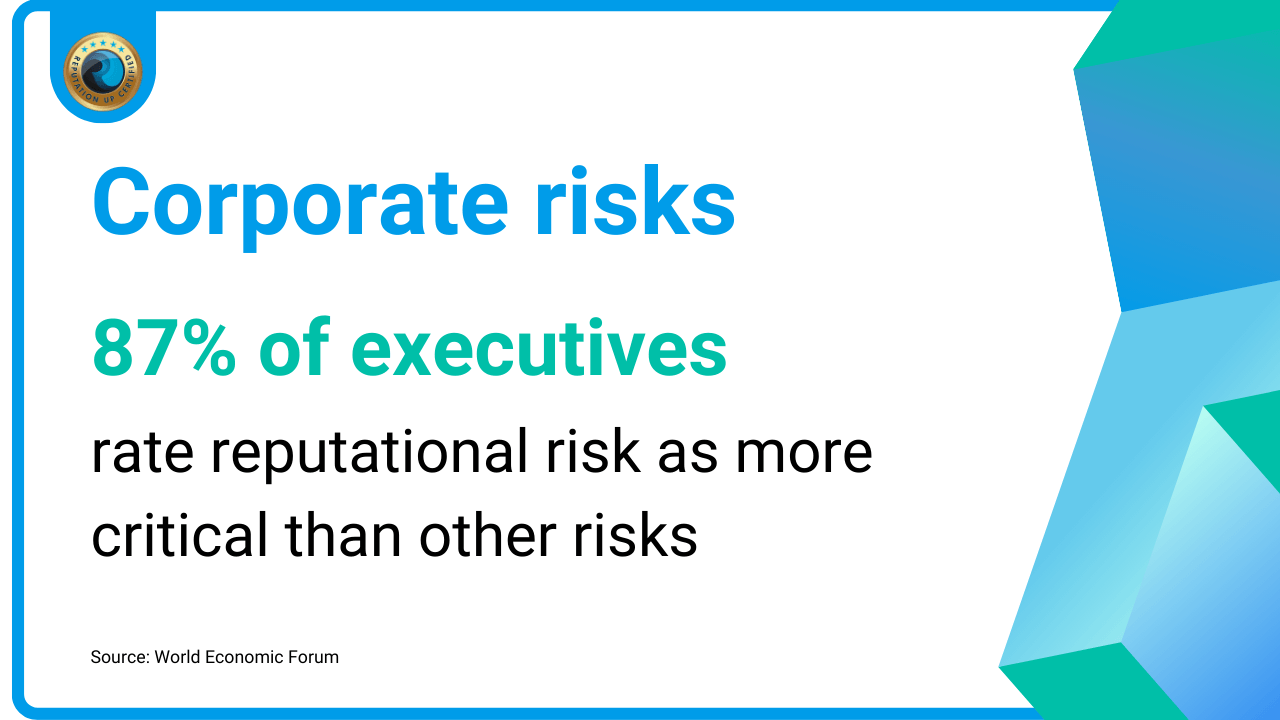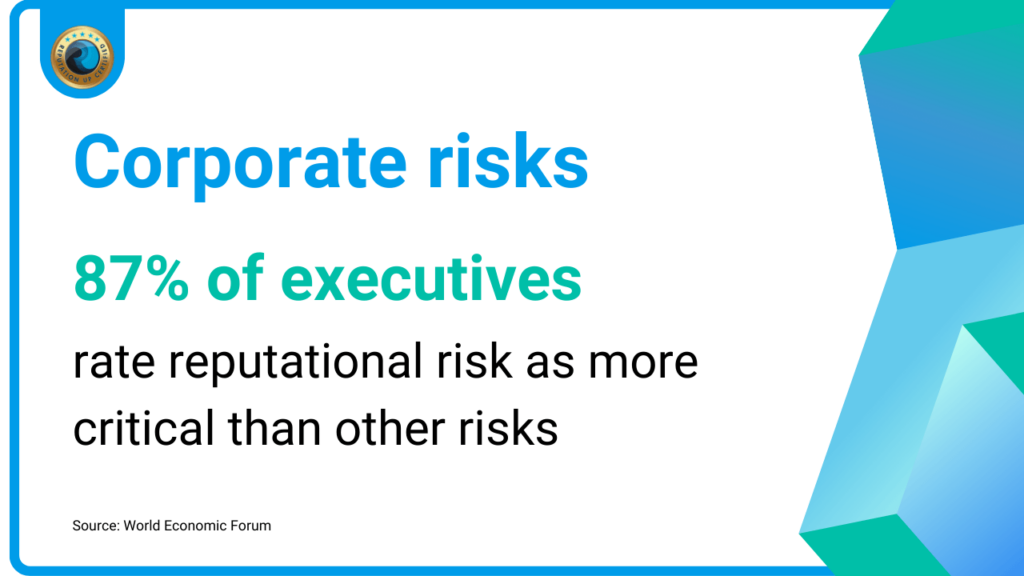 Signs of reputational damage
Various signs can indicate that the company or person has suffered reputational damage:
Decrease in sales and revenue: if a company has a good reputation, customers trust them. While if reputation is damaged, customers may choose to buy the products or services of competitors;
Increased complaints and claims: customers may express their frustration via complaints, criticism on social media, or even legal claims;
Loss of business opportunities: successful companies often get new business opportunities through referrals or recommendations from satisfied clients;
Impact on the employee's emotions: the employees may be discouraged or feel lost if the company has a poor reputation or is affected by scandals.
If you see one of these indicators in your business, addressing and repairing the reputational damage is necessary.
Examples of reputational damage
The following headings outline several examples of reputational damage.
Cambridge Analytica
Cambridge Analytica scandal: In 2018, the political consulting company Cambridge Analytica illegally obtained the personal data of more than 50 million Facebook users.
This case led to a drop in the value of Facebook shares, a loss of trust among users, and a government investigation.
The Federal Trade Commission (FTC) fined Facebook $5 billion for bad processing practices of users' data.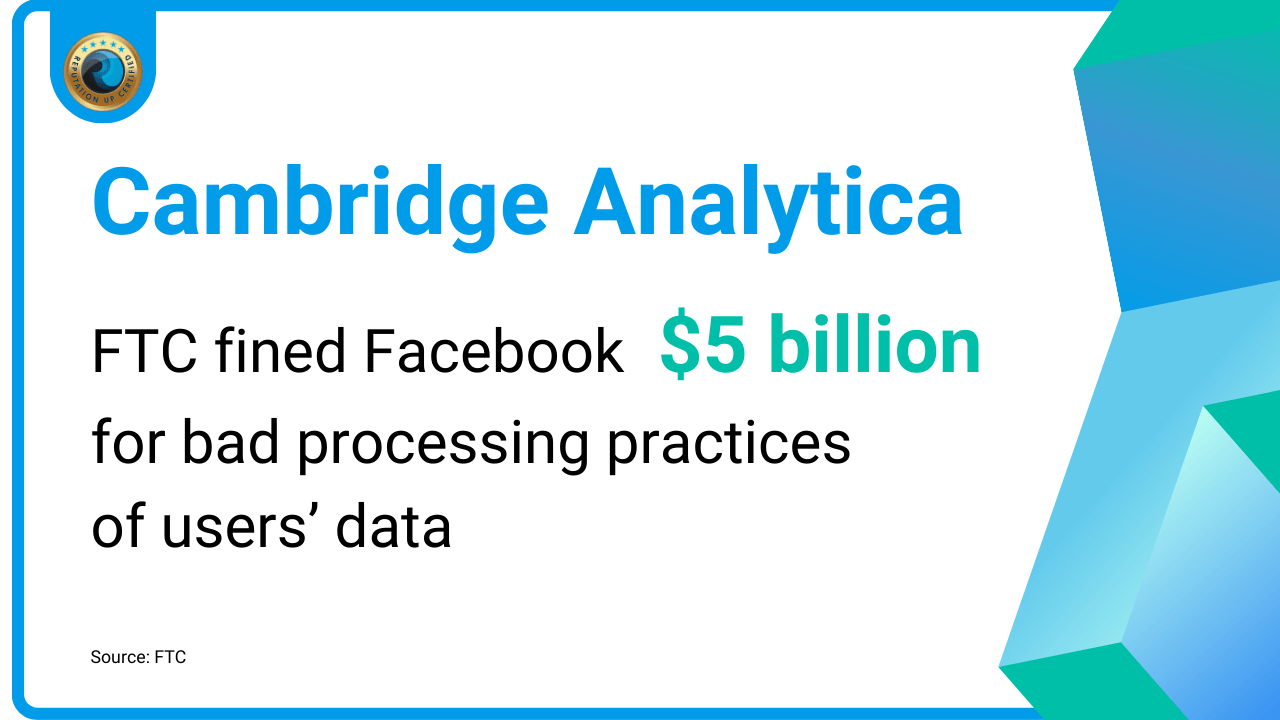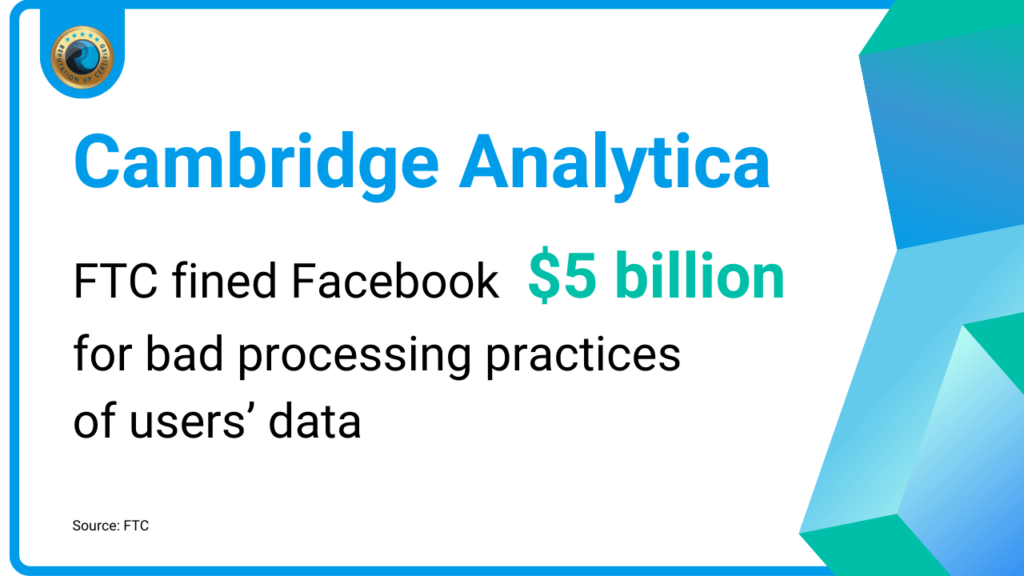 Boeing 737 Max
Boeing 737 Max crash: In 2019, two Boeing 737 Max aircraft crashed in a couple of months due to technical problems. The crash killed 346 people, and an investigation was conducted into the planes' safety.
Boeing's reputation suffered a severe loss of sales and a decrease in its shares' value.
In late 2022, the Securities and Exchange Commission (SEC) fined the airline and its former CEO $200 million for misleading statements.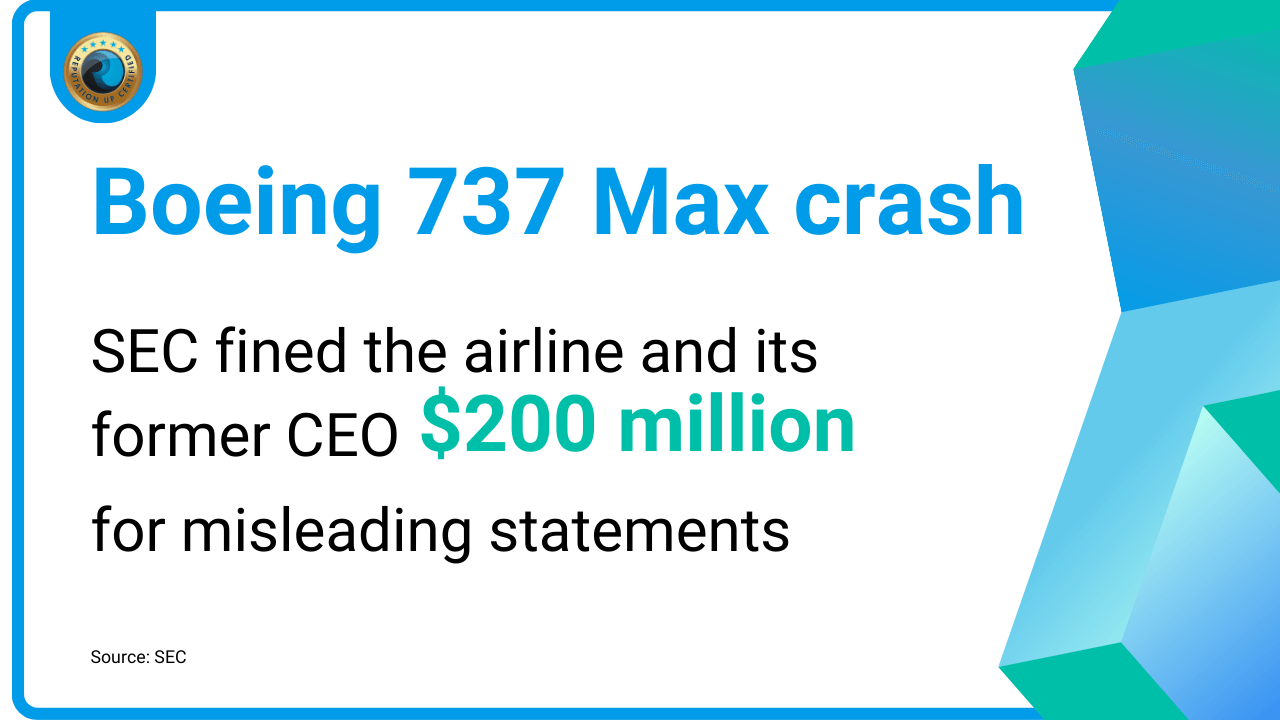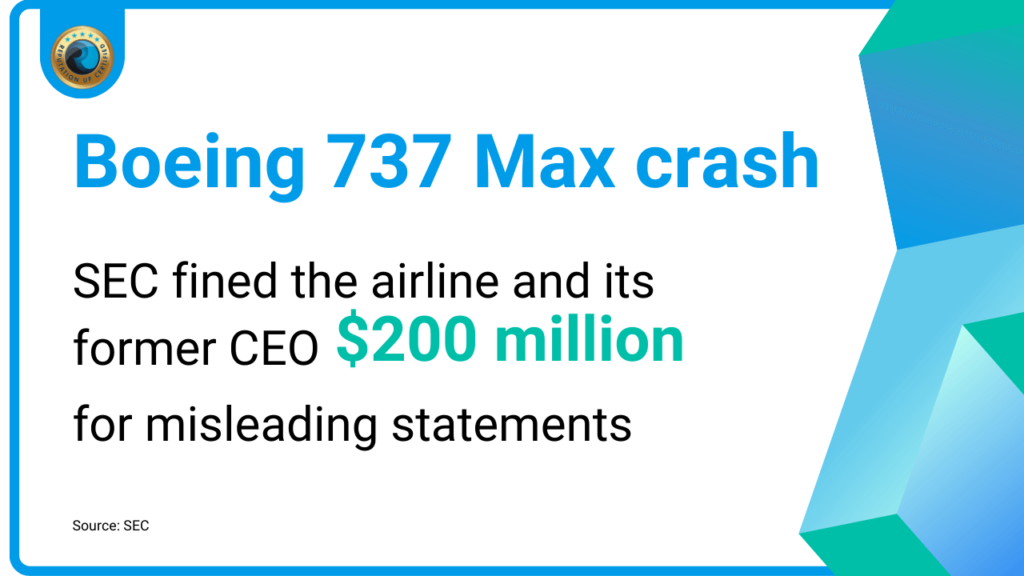 Dieselgate
Dieselgate: In 2015, it was discovered that Volkswagen had installed software on its diesel cars to cheat the emissions tests.
The scandal led consumers to lose trust in Volkswagen's brand, drop sales, and record fines.
In a deal with the FTC, Volkswagen and other related entities agreed to pay the penalty of $14.7 billion to settle allegations of cheating on emissions tests and misleading consumers.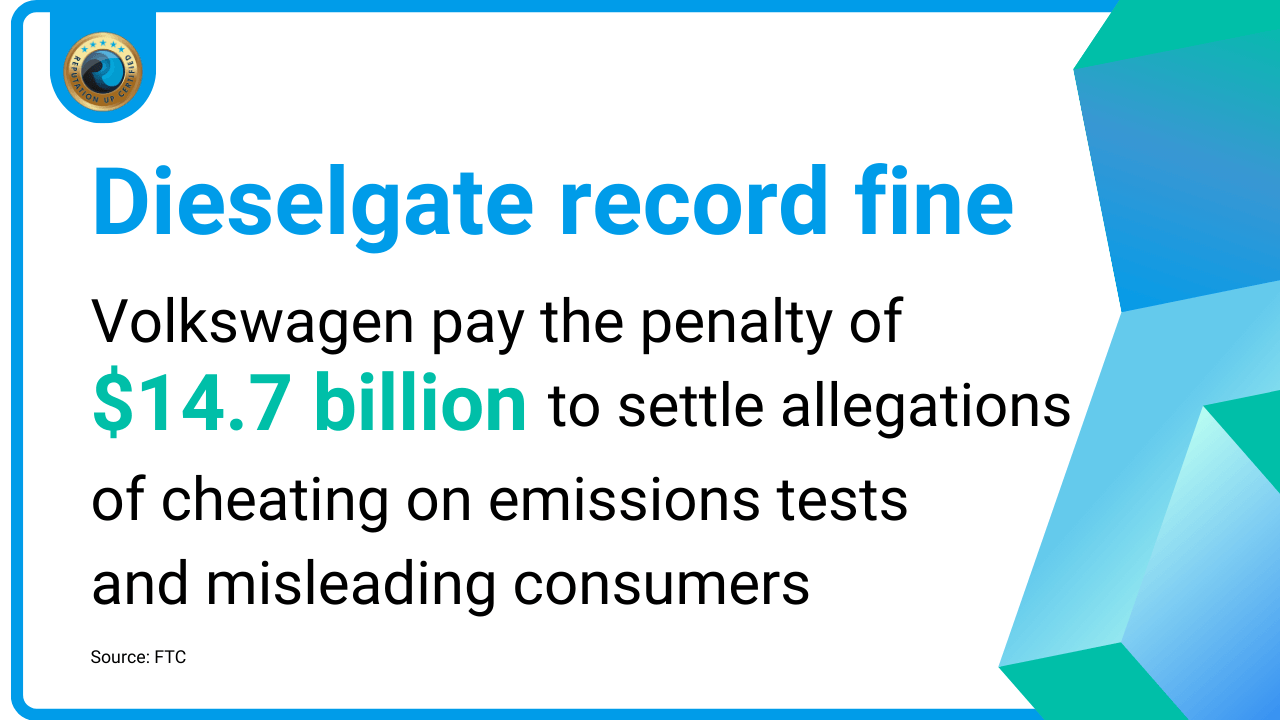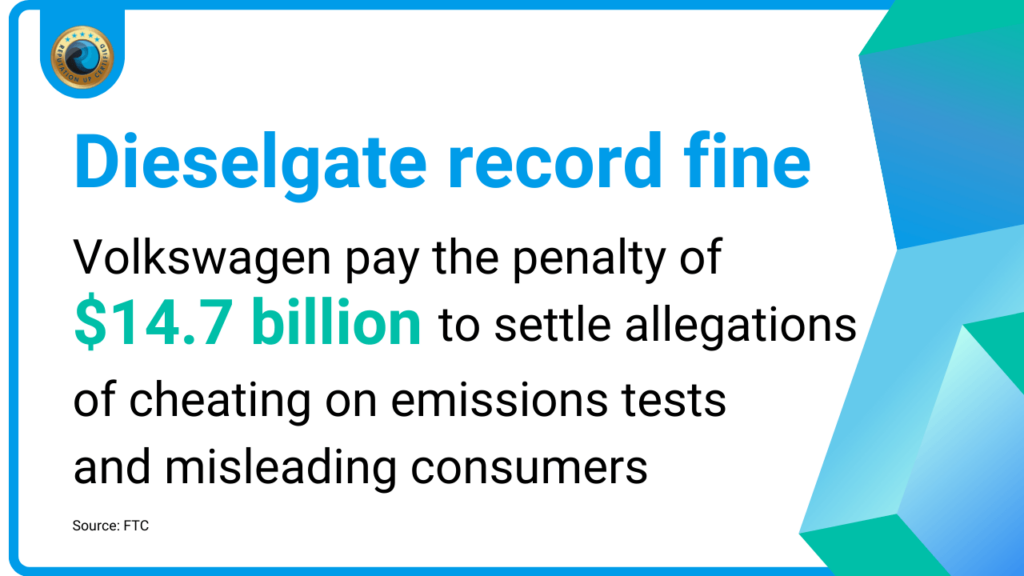 Harvey Weinstein
Harvey Weinstein's case for sexual harassment: Former film producer serves 39 years in prison for sexual offenses.
The case started in 2017, triggering a series of entertainment sector complaints and making the #MeToo movement go viral.
The hashtag was shared on social media along with allegations of sexual harassment and assault.
Actress Alyssa Milano encouraged Twitter users to share their stories of victims of misogynistic behaviors:
'If you have been sexually harassed or assaulted, please write 'me too' as a reply to this tweet.'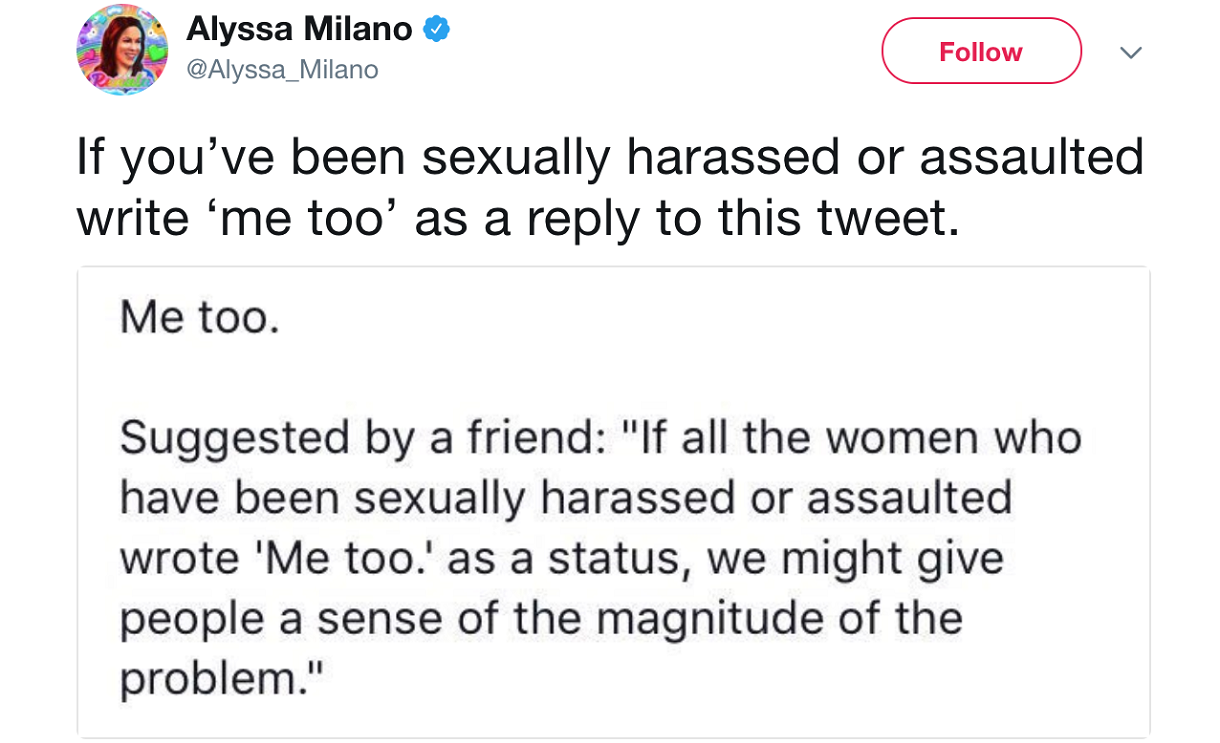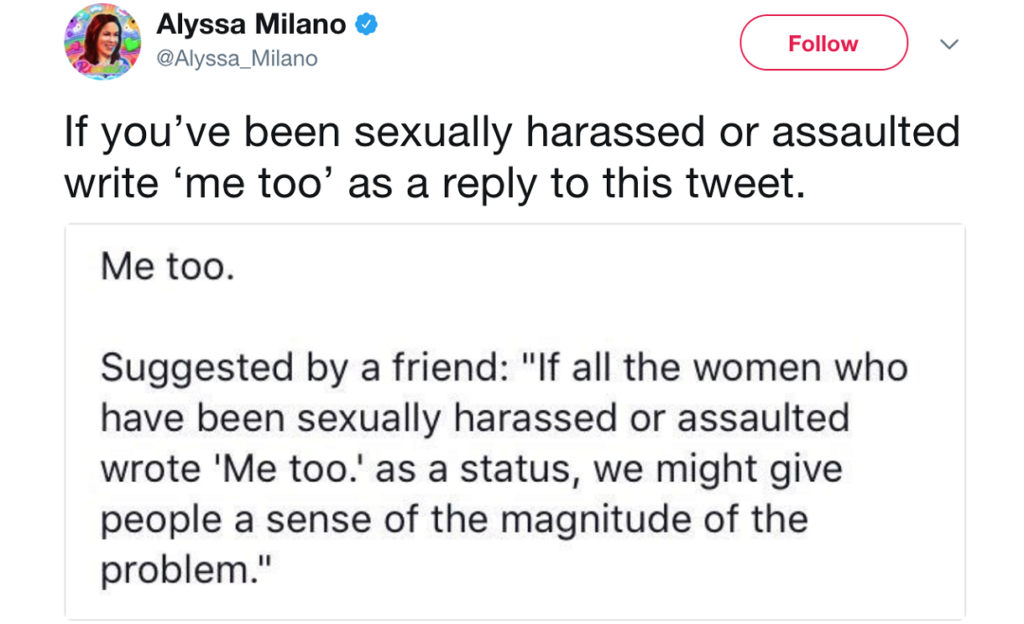 In each case, companies or persons involved suffered severe financial or legal consequences because of their harmful effects on their reputations.
Reputational damage due to cyber-attack
Another example is AirAsia which suffered reputational damage after a cyber-attack in 2022.
The airline was hit by a ransomware attack that compromised the personal data of five million passengers and employees.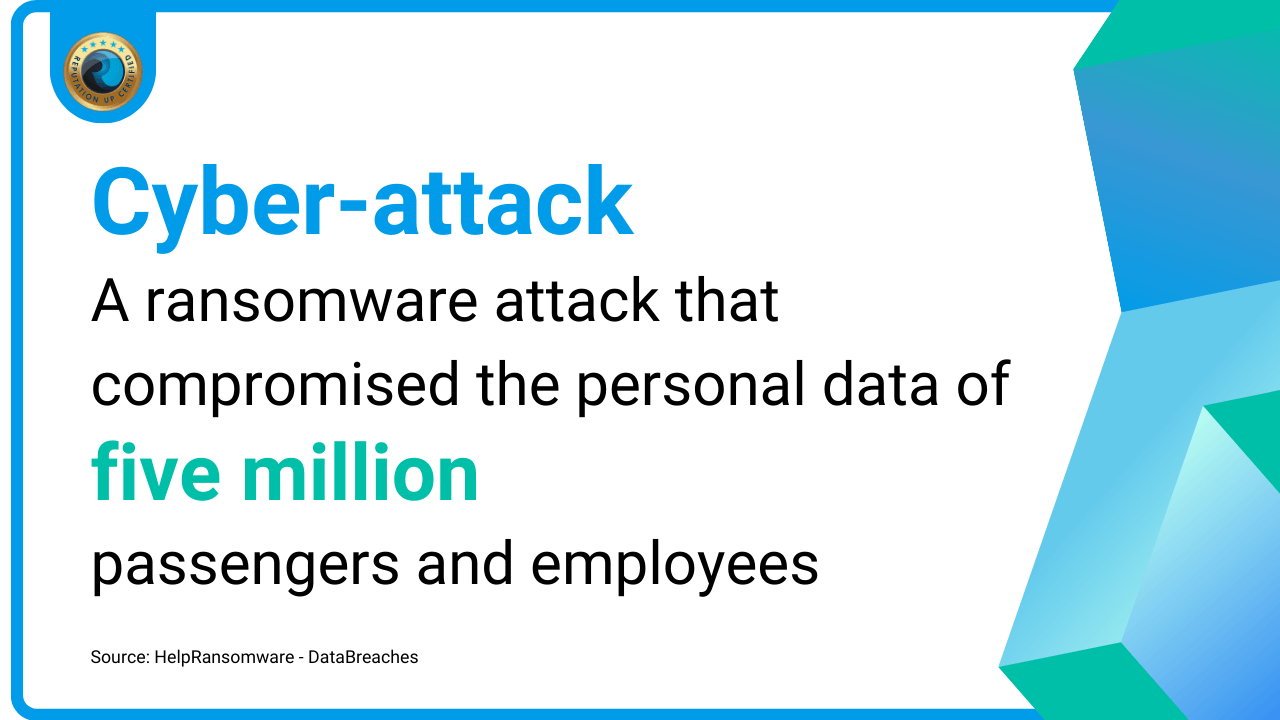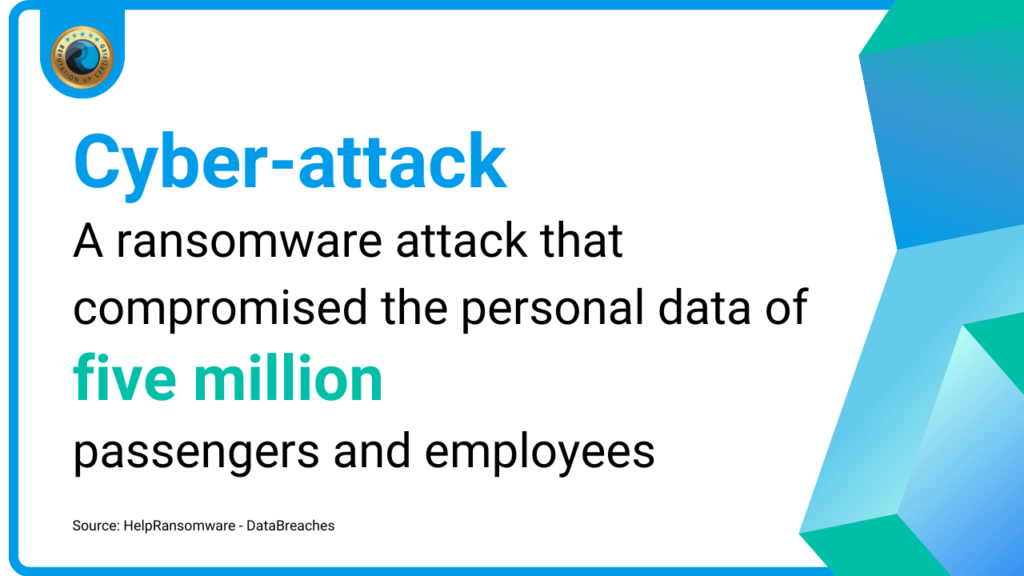 The breach included IDs, first and last names, pictures, nationality, date and country of birth, etc., which leaked on the Dark Web.
Reputational damage caused by a breach of contract
Reputational damage resulting from a breach of contract is described in the following case.
A technology company works with customers to develop a customized software system in six months.
The customer pays a deposit and awaits the completion of the contract within the agreed time limit.
Although the technology provider is asked to deliver on a specified date, they provide a product that does not meet the customer's expectations.
The customer is angry and unhappy about the delay and the inadequate solution, and he decides to cancel the contract and seek a different company's services.
In addition to posting negative reviews online, the client shares his experience with others.
The result is a substantial loss of revenues and a decline in the demand for the company's services.
Its reputation has been damaged, and it could cost them time and effort to rebuild the trust of potential customers and existing clients.
How can reputational damage affect your business?
Reputational damage can affect a business in many ways:
Loss of clients: reputation is crucial to attract and retain customers.
If the company's reputation is poor, customers will likely abandon their products and services, resulting in a decrease in sales and the loss of revenues;
Impossibility to attract talent: a bad reputation may make it harder for a company to recruit the best talent, which may negatively affect the company's ability to enter the market;
Loss of brand value: a lousy reputation can cause a decline in the brand's value and its share price;
Fines and penalties: in some instances, the reputational damage may lead to fines and penalties from the regulators, which may affect the profitability of the business and its reputation;
Difficulties in getting financing: a bad reputation can lead investors to leave a company, preventing them from getting financing and limiting their growth options and expansion;
Recovery costs: repairing a damaged reputation can be costly and lengthy.
The company will have to invest in public relations, advertising, and other activities to restore its reputation, which can reduce its profitability on a short-term basis.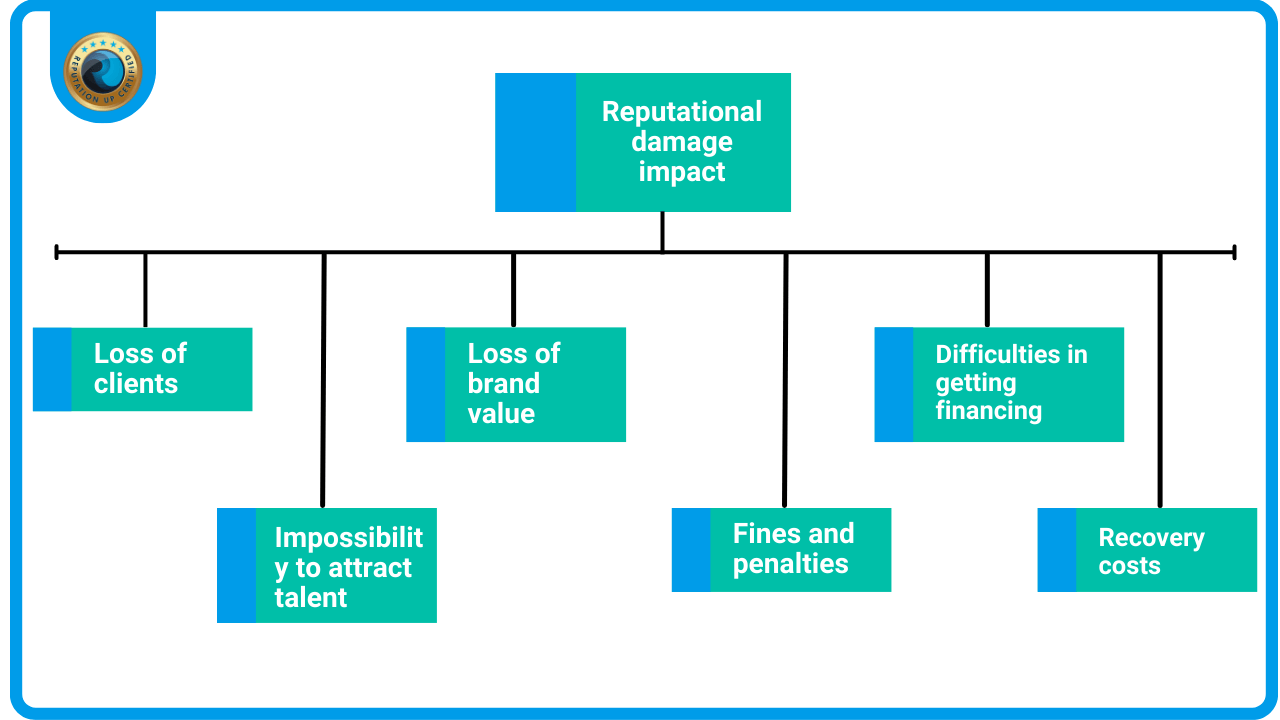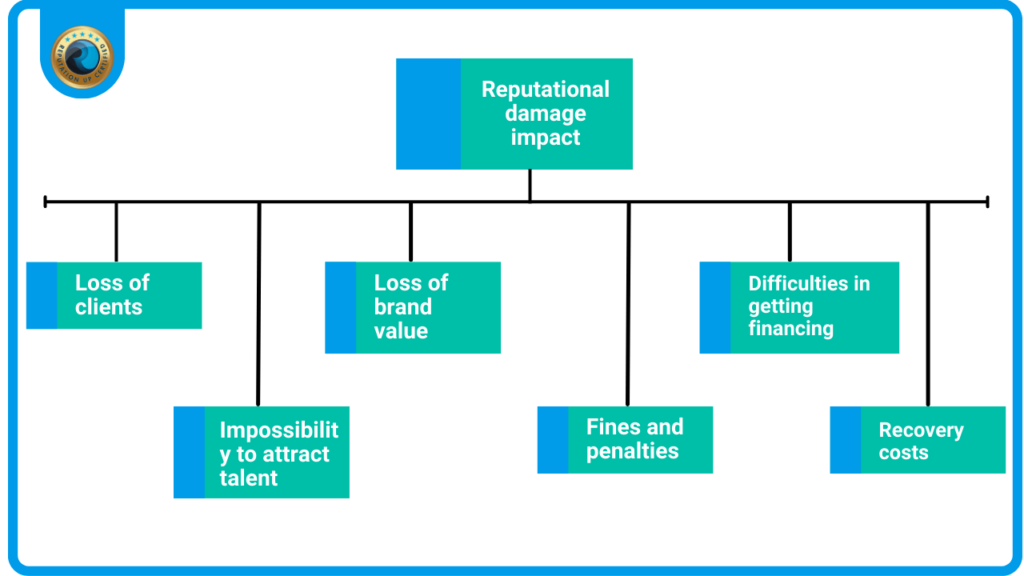 Therefore, reputational damage can significantly affect a company's profitability, competitiveness, and market position.
Effects of social media on reputational damage
Social media are among the most common ways for customers to communicate with a company, share their experiences and opinions, and learn about a brand.
Any problem relating to a company can spread quickly on social networks, reaching a broad audience fast.
Here are some ways social media can further damage a company's reputation:
Speed of propagation: social media allow news and comments to spread quickly across platforms and between users;
Absence of control: social networks are open platforms, and companies do not control what third parties share.
If a business has a terrible mention on social media, it is hard to control the story and correct the misinformation;
Pressure on transparency: social media have enabled companies to be more transparent about their communication and business processes.
If a company is unclear or does not adequately respond to the problems, it may increase the negative perception of the brand and the reputational damage.
Social networks are a double-edged sword for businesses as they help build a reputation and customer loyalty and enable customers to share negative experiences with others.
Businesses need to know how to use social media communication and improve their company reputation.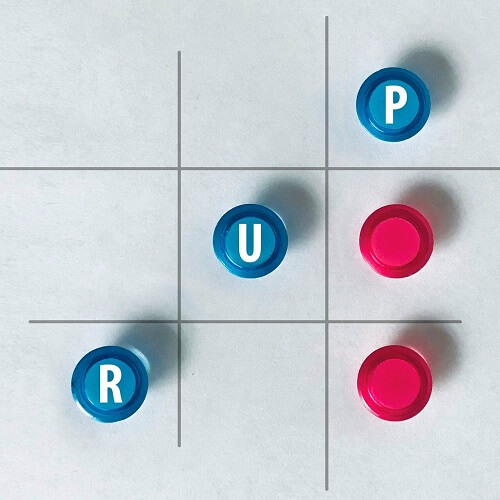 Do you want to grow your brand's online reputation?
97% of entrepreneurs say online reputation management is the main key to success for their business
Effects of reputational damage
When a company suffers reputational damage, customers lose trust in the brand, which can cause current customers to leave the company and prevent new customers from coming in.
Consequently, the company acknowledges the loss of sales and revenues.
Reputational damage may also affect the company's stock price.
The share price may fall if the company's brand value and/or revenue decreases.
How does reputational damage affect the different stakeholders?
Reputational damage can affect the stakeholders of a company in various ways: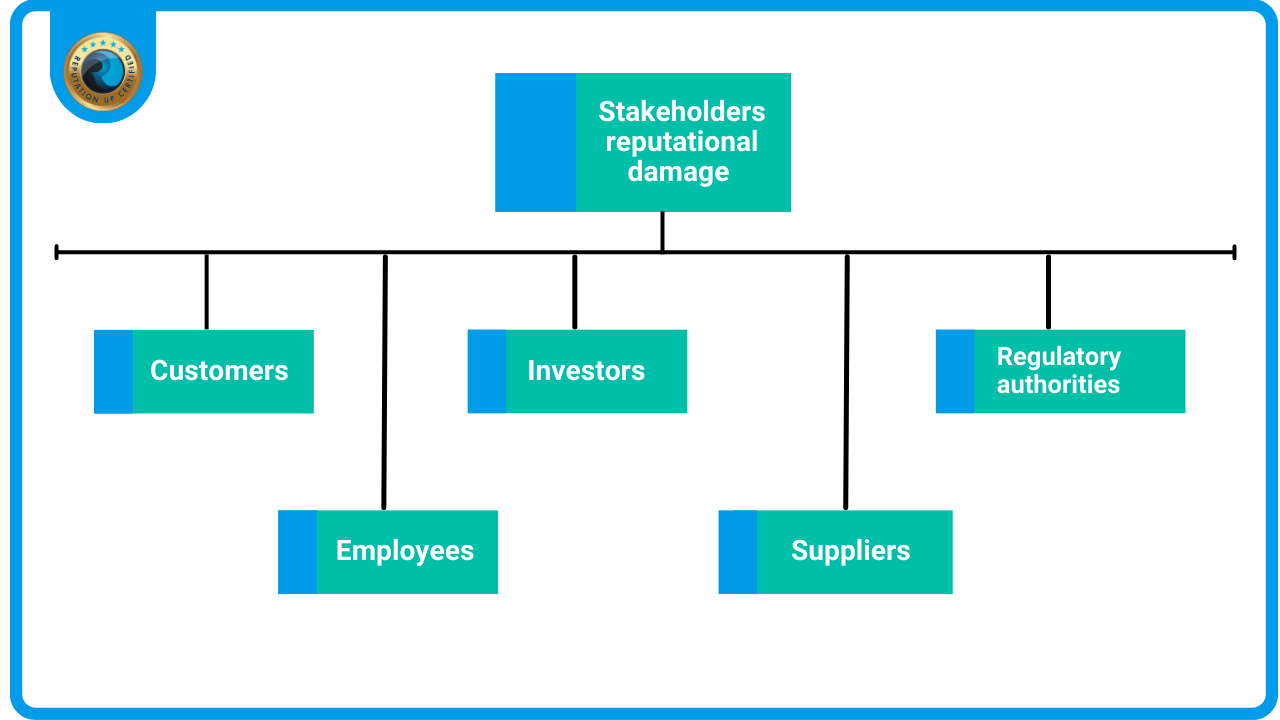 Customers: loss of trust in the company, also by leaving negative comments online, which affect the corporate reputation;
Employees: workers may feel demotivated by the adverse effects on the company, which may affect their motivation and commitment.
They may also be concerned about the security of their jobs if the company is experiencing a drop in revenue;
Investors: drop of confidence in the company and sale of shares, decreasing their price.
They may also worry about the adverse effects on the company's profitability;
Suppliers: they may have concerns about the company's ability to pay the bills and fulfill its obligations.
Thus, trust in the company and the business relationship with it decrease;
Regulatory authorities: regulators may impose penalties and fines on the company if it does not comply with law and regulation.
That may lead to the loss of trust and reputation of the company with the authorities.
In short, reputational damage can affect the company's stakeholders in various ways.
Companies must take measures to properly handle any problems that arise and protect reputation to maintain a positive relationship with all stakeholders.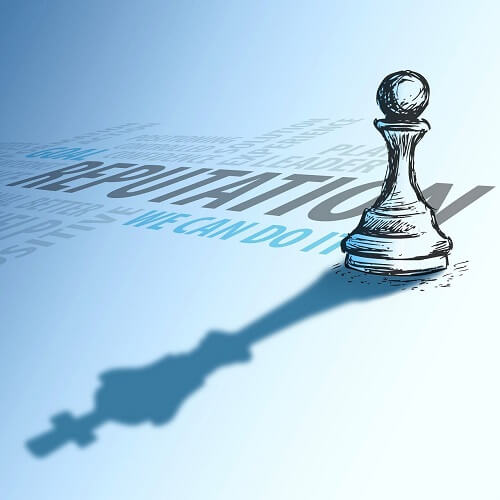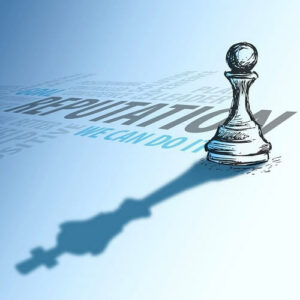 Need help managing and improving your online reputation?
60% of users say they don't trust people or businesses who receive negative comments or reviews
How to measure reputational damage?
Measuring reputational damage is a complex process that involves assessing various stakeholders' perceptions and opinions of a company's reputation.
Here are some methods to measure the reputational damage:
They provide valuable data on how the reputational damage affects public perception;
Surveys: they help to measure how customers, employees, investors, and suppliers perceive the company.
Surveys provide information on the stakeholders' level of trust, satisfaction, and loyalty;
Media analytics identifies and assesses the type and level of media coverage of the company to determine the extent and perception of the reputational damage;
Financial analysis measures the effects of reputational damage on the company's revenues, profitability, and brand value.
Measuring reputational damage is a complex process that requires assessing various sources and techniques.
ReputationUP, a leader in online reputation management and reputation crisis resolution, has developed monitoring software.
The RepUP Monitoring Tool combines Big Data and Artificial Intelligence to analyze what the Internet says about a corporate or personal brand.
How to prevent reputational damage?
Preventing reputational damage is crucial to maintaining stakeholders' trust and respect in a business.
Here are some steps that can help prevent reputational damage:
Establishing corporate values & ethics: a business culture based upon ethical values and clear business principles is essential to maintain a company's reputation.
Companies need to establish policies that strengthen their commitment to integrity and transparency;
Crisis management: companies must be prepared to handle crises and proactively approach to address problems that may arise.
It involves a solid crisis plan, effective communication, and swift and effective actions to address the situation;
Suppliers and partners assessment: companies must thoroughly assess their suppliers and partners to ensure they share the same values and ethical principles;
Effective communication: transparent and effective communication with customers, employees, investors, and suppliers;
Carefully handle data processing: protecting customer and employee privacy and securing information is essential.
According to software company Ping Identity, 81% of users would stop engaging with a brand after a data breach.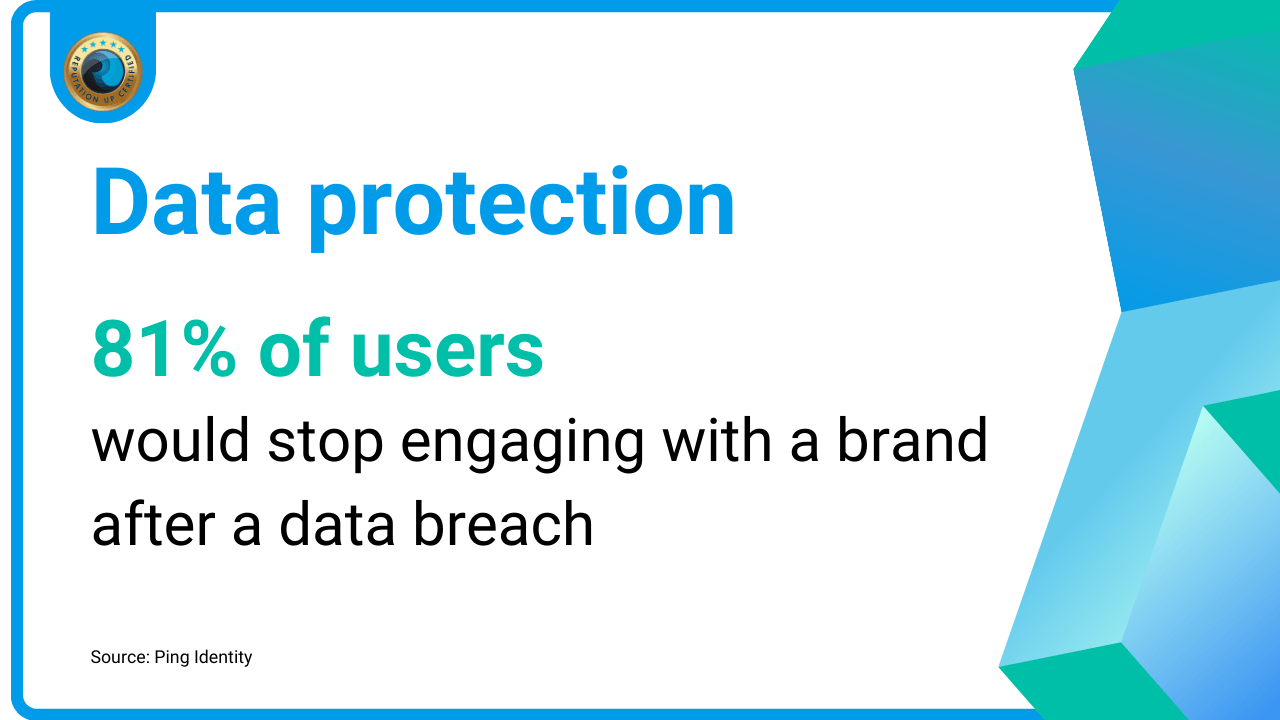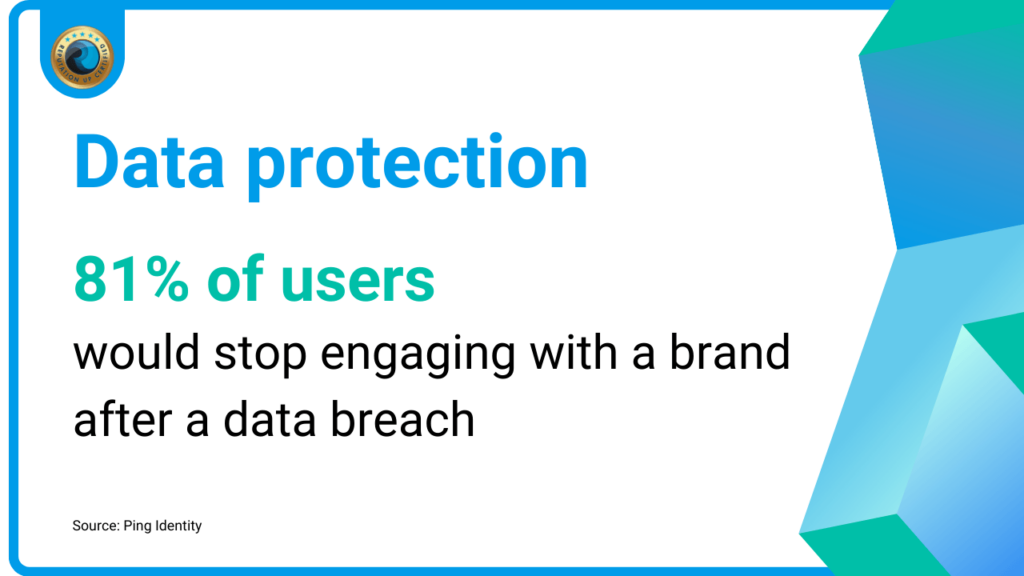 Preventing damage to digital reputation requires a proactive approach and an ongoing commitment to business ethics and transparency.
Best practices for reputation management
Here are some of the best practices for managing a company's reputation:
Effective communication strategy: clear and effective communication with all stakeholders is fundamental to reputation management;
Manage social media properly: social media is a powerful tool for reputation management, but it can also be risky.
You must have a social media management plan that includes constant monitoring of online conversations and prompt and effective responses to negative comments;
Maintaining good relations with media: this includes providing accurate and timely information, being available for interviews, and providing feedback and opinion on relevant topics;
Culture of social responsibility: by feeling committed to a culture of social responsibility through the adoption of policies and business practices that strengthen the commitment to community, environment, and the well-being of their employees;
Continually assess the company's reputation by continuously monitoring the reputation to identify and quickly address any problems or situations that may affect the brand.
ReputationUP manages the entire company and individual online reputation management funnel: cleaning, monitoring, protecting, and improving.
Their team of experts helps companies and individuals in all phases of online reputation management.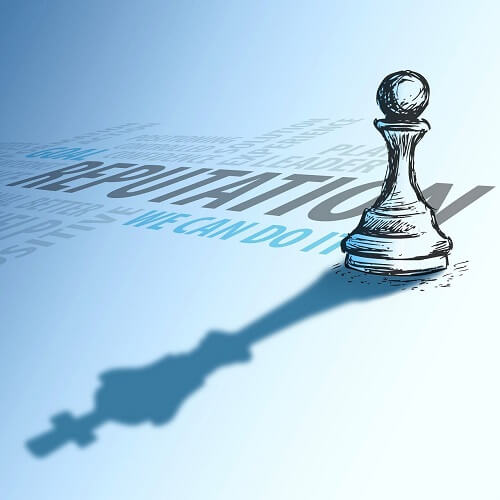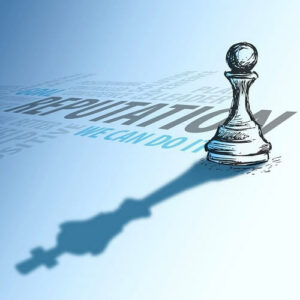 Need help managing and improving your online reputation?
60% of users say they don't trust people or businesses who receive negative comments or reviews
Communication crisis strategies
When a company faces a communication crisis, it is vital to implement an effective strategy to deal with it.
Here are some plans a company can adopt:
Take responsibility: if the company is responsible for the situation, it must take responsibility for it and offer a sincere apology;
Provide solutions: the company must provide concrete solutions to address the situation and restore the stakeholders' trust;
Transparency: providing accurate and complete information on the situation and transparent measures to solve the problem;
Continuous monitoring: the company needs to monitor the situation constantly and be prepared to react quickly to new information or developments.
Monitoring is essential for businesses to know the users' perceptions in real-time.
The RepUP Monitoring Tool is the best tool to analyze critical online data related to a brand.
How to handle reputational damage?
A person or a business that suffers reputational damage can take some steps to remedy the situation:
Assess the situation: 

Determine the extent of the reputational damage. Understanding what the event is about and how it affects the image or brand is essential.

Collect evidence:

Collect documentation to support the situation and the person or company's position.

Contact the responsible person:

If miscommunication arises, contacting the responsible party to discuss the case and find a mutually agreeable solution is recommended.

Contact the search engines:

If the reputational damage is caused by negative information in search engines and social media, contact these platforms and request the removal of harmful information.

Hire online reputation services: 

These services can help reduce or eliminate the effects of reputational damage.

Take legal action: 

If the reputational damage is severe and significantly affects a person or a business, you may consider legal action to seek compensation.
How to repair a damaged reputation?
It can be challenging to repair a damaged reputation, and it can take time, but you can use some strategies to restore the trust of a person or a company and its positive image:
Apologize: if the situation results from an error or a wrong decision, it is vital to acknowledge responsibility and apologize sincerely.
Showing humility can help restore trust;
Take corrective measures: take action to rectify the problem that caused the reputational damage.
For example, a change in policy, processes, or procedures, and the publication of information;
Communicate solutions: transfer the appropriate measures taken to address the situation and ensure their understanding and appreciation;
Create positive content: create positive online content that counters negative information to improve the image of the person or company.
That includes publications about achievements, launching new products or services, and content relating to the company's mission or values;
Working with PR professionals: they help to develop a complete reputation management strategy, including communication, crisis management, and positive content creation.
It takes time to rebuild your reputation, so you need patience and consistency to improve it.
Over time, a damaged reputation can be restored, but the process requires constant focus and dedication to maintain a positive image.
The importance of monitoring your reputation
Reputation monitoring is vital because it enables companies and people to remain informed about how they are perceived and to take measures to improve their reputation and avoid damage.
These are a few reasons why monitoring your reputation is crucial:
Identify problems early: recognize problems before they escalate into a major crisis.
By detecting the early signs of a reputation problem, a company or individual can take preventative measures to avoid the problem from escalating;
Enhance decision-making: the monitoring provides valuable insight into how the audience perceives a company or individual.
This data is used for marketing strategies and public relations;
Maintain a positive image: by monitoring conversations and opinions about a company or person, it is possible to counter negative information and promote a positive image;
Know your competitors: reputation monitoring can also provide valuable insights into how the audience perceives competition and how to improve.
The RepUP Monitoring Tool analyzes your company's content with a higher engagement rate, sentiment, and the best influencers for your company, among other features.
How to recover from reputational damage?
You may recover from reputational damage by combining transparency, corrective actions, and effective communication with the affected audience.
It is important to assume responsibility and be transparent to restore confidence and credibility.
Moreover, creating positive, high-quality content is vital to improve the brand's online presence.
3 steps to strengthen your brand reputation
Here are the best steps to summarize a strong brand reputation:
Focus on product or service quality: the brand must offer high-quality products and services to meet the customer's needs and expectations.
If customers are happy with the products offered, they will be more inclined to speak about the brand and recommend it to others;
Creating a solid online presence: today, online presence is essential to a brand's success.
That means having an attractive and functional site, active profiles on social media, and a well-designed digital marketing strategy.
Thus, the brand can reach a wider audience and increase its online visibility;
Building customer relationships: the brand must focus on providing excellent customer service and creating effective communication.
The customer will have a strong connection to the company, and the company will increase its reputation in the marketplace.
Contact ReputationUP, a leading company in reputation management, to set up an online reputation-building and improvement strategy.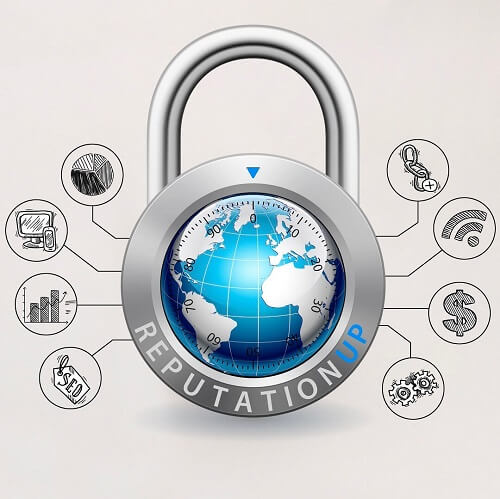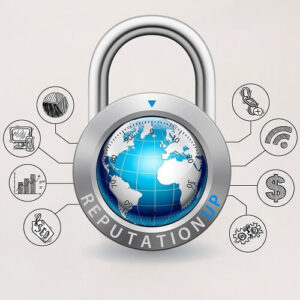 Need help protecting your reputation?
Remove all negative content against your brand and publish positive content that re-launches your digital image
Conclusions
In this article, you have learned what reputational damage is, how it occurs, and how to prevent it.
You can draw the following conclusions from this guide:
Unethical practices, poor customer service, or negative reviews can cause reputational damage;
It has severe consequences for a company, including lower customer loyalty and trust, declining sales, and even legal action;
It can spread quickly through social networks and reach a broad audience fast;
All company stakeholders are involved: customers, employees, investors, and suppliers;
Reputational damage prevention requires a proactive approach and an ongoing commitment to business ethics and transparency;
Reputation rebuilding takes time, so it's essential to be patient and consistent to improve your image and reputation.
Monitoring is an effective tool to discover the perception and opinions of different stakeholders about a company's reputation.
RepUP Monitoring Tool is a software patented by ReputationUP, which combines Big Data and Artificial Intelligence to analyze what the network says about a corporate or personal brand.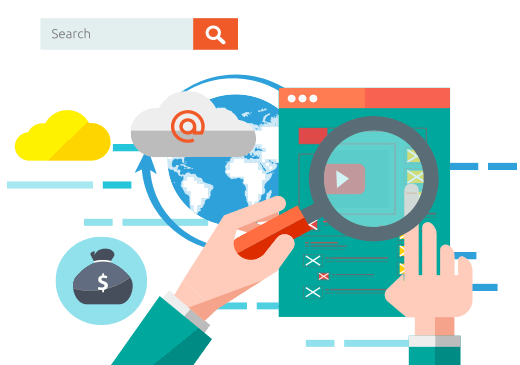 Do you want to spy on your competitors and their strategies?
Access the RepUP Monitoring Tool platform and find out how to beat the competition.
FAQ
What does reputational risk mean?
Reputational risk is the possibility that a company suffers reputation damage due to actions, decisions, or events that may negatively affect its public image. 
How does it affect a company's reputation?
It impacts customer trust and loyalty, the perception of brand value, and the attraction of stakeholders, like suppliers or employees. 
How to improve a company's damaged reputation?
Transparent and open communication, business policy implementation, problem-solving, and other strategies must be implemented quickly. 
How do you recover from reputational damage?
Constant monitoring, responses to user feedback, communication plan, corrective measures, and assumption of responsibility are essential. 
How do you survive reputational damage?
It is crucial to take immediate action to minimize the adverse effects. Transparency is vital to regaining the trust of customers and others involved in the organization.