What is risk management in a company, and how are risks classified? Why is it important, and how to create a plan?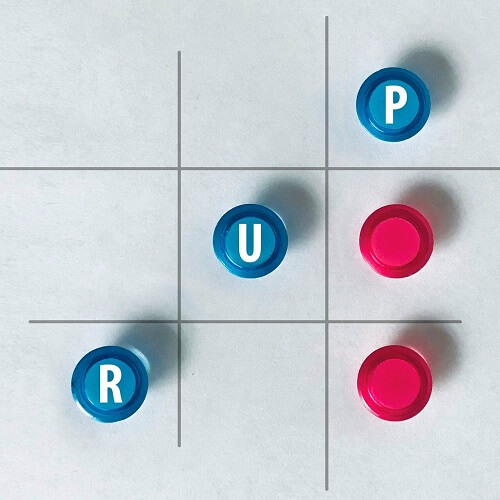 Do you want to grow your brand's online reputation?
97% of entrepreneurs say online reputation management is the main key to success for their business
What does risk management mean?
Risk management is identifying, assessing, and controlling risks.
It is a systematic approach to managing potential hazards affecting corporate reputation.
Risk management is a very crucial aspect of a company's operations.
It helps reduce the risk of losses and guarantees that the company can continue to operate without interruption.
This ensures it achieves its long-term goals and objectives.
As defined by the NIST (National Institution of Standards and Technology), risk management is:
'The process of managing risks to organizational operations (including mission, functions, image, or reputation), organizational assets, or individuals resulting from the operation of an information system.'
The primary objective of risk management is to identify potential threats, assess their likelihood and severity, and develop strategies to manage them before they cause damage to the organization.
Risks are not always adverse: some can be used to improve performance by challenging employees or improving efficiency.
The chart prepared by Allianz shows the main risks for organizations worldwide from 2018 to 2022.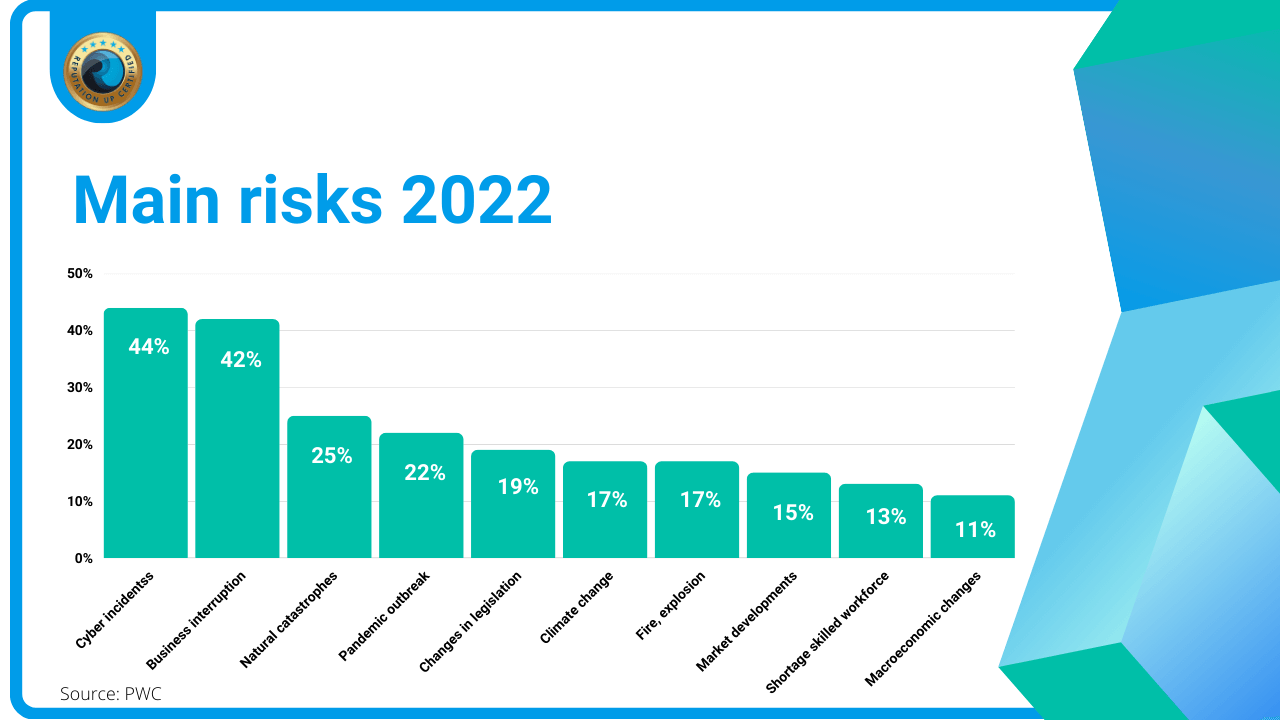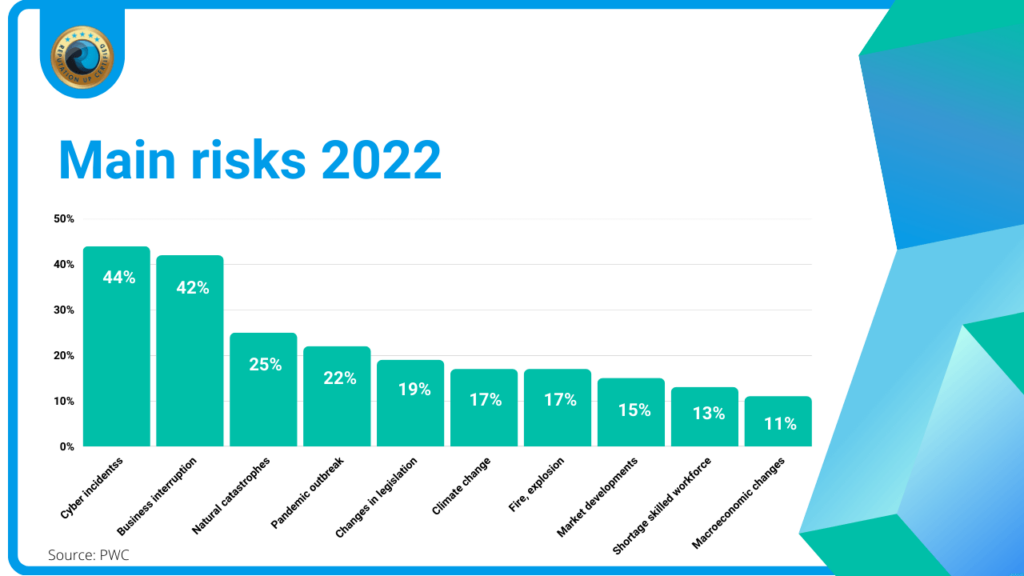 What matters is that organizations know the good and bad risks to face.
What is risk management for a company?
Risk management consists of measuring and mitigating the probability and impact of such risks.
Both risk management and risk policy are essential for companies and fall within the scope of crisis management.
This process entails the following:
Identifying and assessing risks;
Deciding on how to respond to them;
Implementing decisions.
Upstream risk management also includes risk intelligence and assessing key factors such as changing global economic conditions.
In an increasingly complex, volatile, and uncertain world, proactivity inriskmanagement is a good investment.
At the same time, it is vital to weigh the risks and benefits of a decision before taking action.
What are the risk management strategies?
There are several strategies for implementing a risk management plan.
The first and best known is business experimentation.
This strategy is beneficial for evaluating real but hypothetical scenarios and, thus, for assessing the outcomes of potential threats.
Each department of the organization could conduct its experiments, testing different response strategies that can flow into a joint plan.
Another method consists of the so-called 'theory validation.'
It is conducted using questionnaires and surveys to gain experience-based feedback.
At the same time, analyses of the data collected must be carried out to identify the potential risks of the projects.
Finally, it is also essential to have an emergency plan which replaces the possible flawsin the leading risk management plan.
As shown in the PWC report, 65% of the companies surveyed are increasing spending on risk management technology.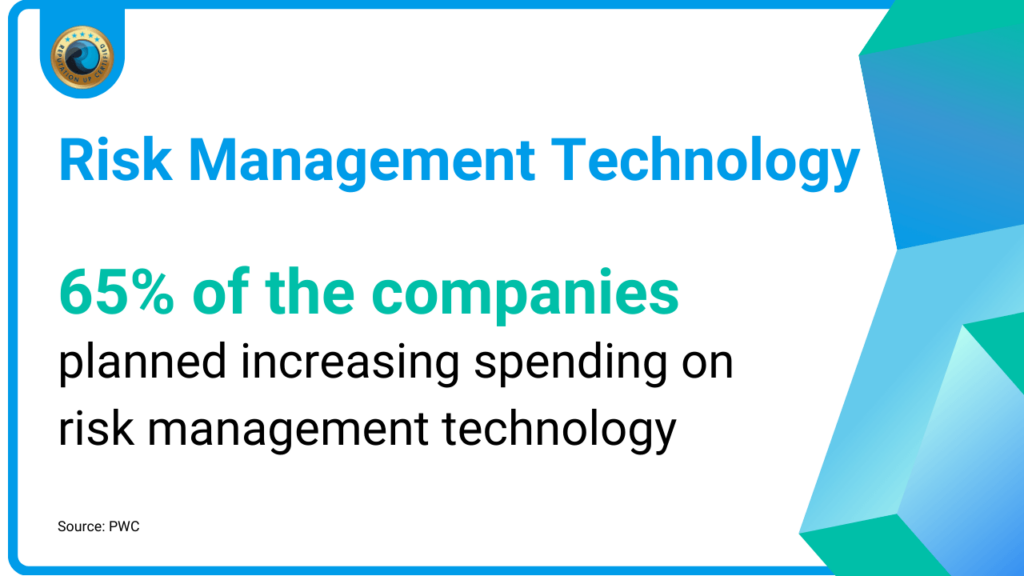 How are the risks of a company classified?
A company faces three main types of risks:
Financial risks can be divided into two categories: market and credit.
Market risk arises from price changes in financial instruments such as stocks, bonds, currencies, etc.
Credit risk arises from changes in a company's creditworthiness.
Operational or strategic risks include internal and external risk categories.
Internal operational risks arise when any process is interrupted within the company's operations.
Even design errors or implementation of an operational process belong to internal risks.
External operational risks, on the other hand, arise when an error occurs in any external process that impacts operations.
Operational risk will likely affect the company's ability to perform its procedure and achieve goals successfully.
For this reason, this type of risk is also calleda strategic risk factor or strategic threat.
Strategic business threats include a lack of market opportunities, bad government policies, poor operating situations, global competition, and significant customer changes.
Reputational risk arises when negative comments about a company damage its reputation among customers or other stakeholders.
Reputational risk analysis allows you to identify reputation weaknesses, especially on the web.
This category also includes ethical risk, which occurs when a company does not adhere to the industry's best practices regarding ethics and business conduct.
However, risks are classified into three levels based on their impact on achieving business objectives: high, medium, and low.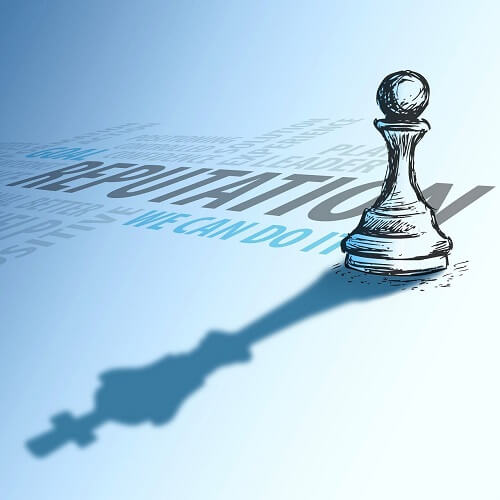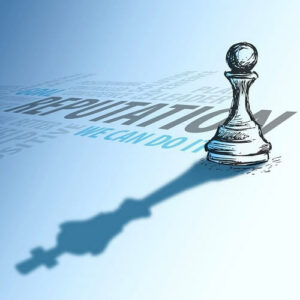 Need help managing and improving your online reputation?
60% of users say they don't trust people or businesses who receive negative comments or reviews
What are the three critical elements of risk management?
First of all, keep in mind that risk management is vital to avoid risks and consists of short-term actions, but not only.
A risk management strategy must allow companies to understand the various risk entities and their potential impact on the organization.
Risk management typically focuses on three main elements:
Risk assessment (identification);
Implementation of a risk mitigation strategy (analysis);
Techniques and procedures for continuous monitoring of the information system security (response or mitigation).
The following paragraphs will provide you with more details.
Risk identification
The first step ofrisk managementis risk identification.
That is to say, acquiring and understanding all the potential risks for a project.
Risk identification is a broad topic that covers many aspects of the project, such as timing, cost estimates, and personnel considerations.
Risk analysis
Is an iterative of risk identification, assessment, and processing method.
It may include using qualitative and quantitative methods for data collection, data analysis, information collection, decision-making, and risk processing.
We can further analyze the risk assessment process through the following phases:
Identification;
Assessment;
Priority;
Planning;
Implementing processing or transferring those strategies to someone else to manage those risks.
Once the risks have been identified, they must be reassessed on a regular basis to determine if the threat has been mitigated or if better strategies are possible.
As a result, the initial analysis must be followed by periodic checks.
Risk response or mitigation
Risk mitigation entails lowering or eliminating the risk.
During this phase, steps are taken to minimize risk and consider project modifications to reduce the impact on potential current or future strategies.
Risks harm the organization only in the worst-case scenario; in most cases, prevention or immediate action is sufficient to avoid the worst.
However, for those nearly impossible-to-eliminate risks, it is best to delegate those areas of the company that can better manage the loss.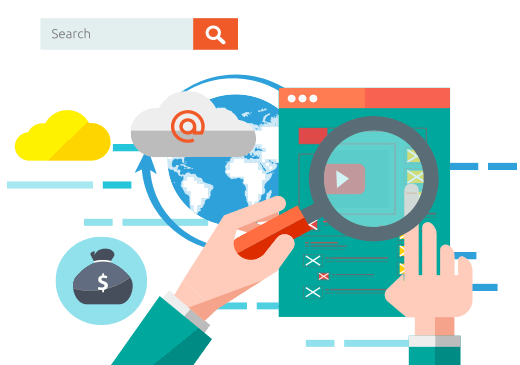 Do you want to spy on your competitors and their strategies?
Access the RepUP Monitoring Tool platform and find out how to beat the competition.
Risk monitoring
A monitoring strategy must necessarily accompany the three steps described.
It is the only way to understand whether and how the projects are progressing and what risk management improvements have been implemented.
On the other hand, this process continuously helps the organization be aware of its risks.
ReputationUP, a leading company specializing in online reputation and the whole reputational funnel management, has patented specific software to monitor online reputation.
The RepUP Monitoring Tool helps individuals and legal entities to constantly monitor what the web says about their personal or corporate brand.
Real-time alerts allow you to act immediately, intercepting any crisis before it occurs.
How does an organization manage risk?
Organizations must follow a standardized risk management procedure.
We should consider four steps in risk management:
Risk identification and assessment:

In the first phase, the organization must identify the source of the risk and evaluate all the potential effects on the company.
It is a critical moment to start reducing the impact of risk.

Evaluation of options for risk management:

This phase consists of defining and considering all strategies to contain the risk.
The organization should rely on previously developed protocols if a company has faced a specific risk.

Controls implementation to reduce or eliminate the risk

It's time for real action.
At this stage, the company takes action to prevent the risk turning into losses or reputation damage.

Controls monitoring and reviewing:

Each organization should have complete control over its production processes, but this does not make it risk-free.
The monitoring and reviewing phase is crucial for two reasons.
On the one hand, reviewing ensures that previous steps have been correctly accomplished.
On the other hand, monitoring helps observe future developments of the threat and determine whether the measures implemented are effective.
Organizations can avoid risk by including a risk management strategy in their business plan.
The strategy should identify the organization's most significant vulnerabilities and how it can reduce them.
Which department is responsible for risk management?
The risk management department (RMD) is responsible for managing and preventing risks.
This department manages risks, prevents them from occurring, and is typically involved at every stage of the process.
As the International Finance Corporation (IFC) explains:
'The Risk Management Department is a business function set up to manage the risk management process on a day-to-day basis.'
The risk management department is in chargeof identifying potential risks and assessing their likelihood and business impact.
In addition, it also helps implement strategies to minimize or eliminate such risks and monitor the performance to ensure the effectiveness of such methods.
A dedicated team risk management is vital, as PWC's 2022 Global Risk Survey reports.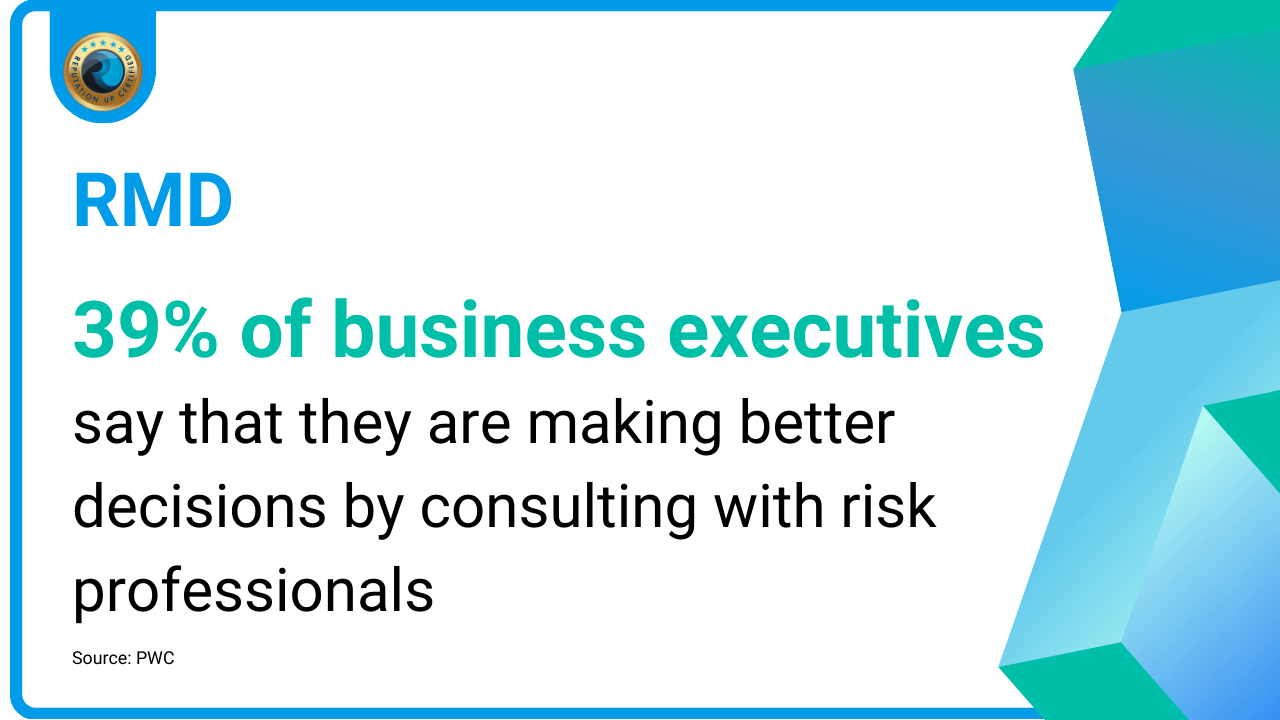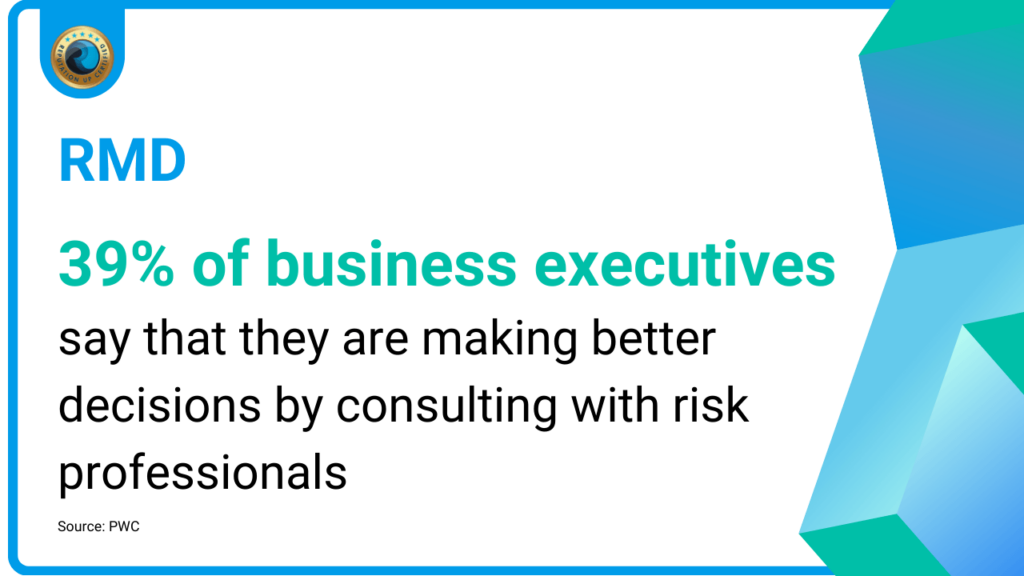 39% of business executives say that they are making better decisions and achieving sustained outcomes by consulting with risk professionals.
What does risk management mean, and how can employees help identify and manage risks?
Risk management refers to any uncertain event or condition affecting an organization's objectives and operations.
We can identify risks by analyzing data and information about risk factors, such as business operations, potential hazards, and potential consequences.
The identification process is frequently carried out methodically to identify all types of risks that may affect an organization.
Risk management entails developing strategies to mitigate these risks or transferring them to parties who can better manage them.
That means businesses must adequately qualify all areas of the organization for risk management.
Employees with a proactive attitude and adequate risk education are the most effective ways to mitigate the effects of a crisis.
Also, according to the PWC report, 56% of respondents invest in creating a risk awareness culture.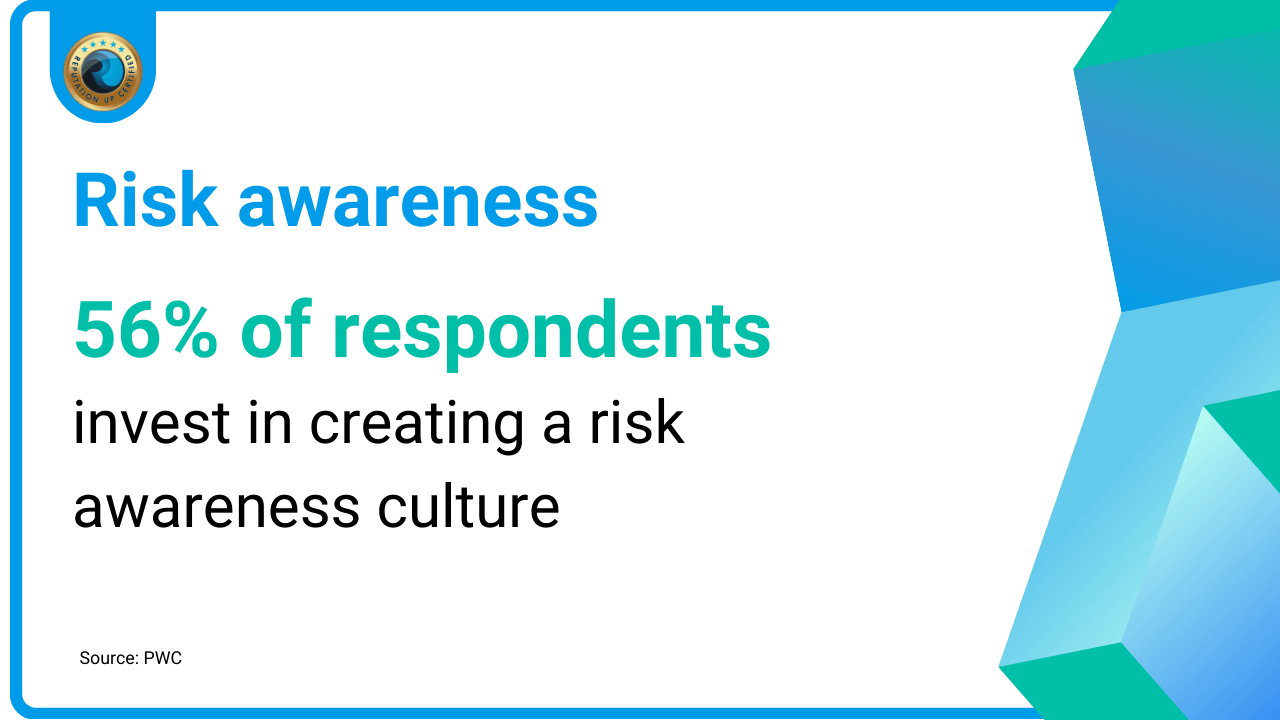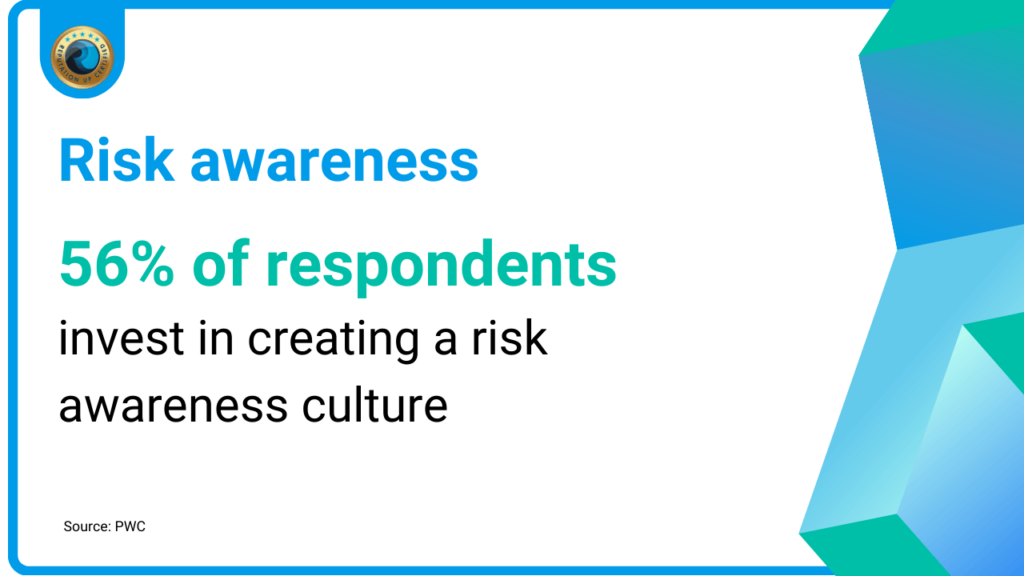 Corporate sentiment, calculated according to the company's impact on the external and internal environments, will benefit significantly from these measures.
What is a risk management plan?
A risk management plan identifies and prioritizes risks and implements appropriate checks to mitigate or eliminate their harmful effects.
Risk management is not a one-off activity.
For this reason, it is vital to update the risk management plan frequently to reflect all changes related to:
The organization's objectives;
New technologies;
The company environment;
Any other relevant changes that may affect the organization.
The first step in developing a risk management plan is identifying all potential risks that could impact your organization and its offline or online reputation.
When creating a risk management plan, businesses should take into account four steps:
Identify potential risks;
Assess the likelihood of their occurrence;
Assess the impact on the organization if the risk occurs;
Develop strategies to reduce or eliminate risk.
The risk management plan also helps establish a hierarchy of risks.
This fundamental tool, in the hands of the organization or company, will allow it to prioritize if multiple risks emerge simultaneously.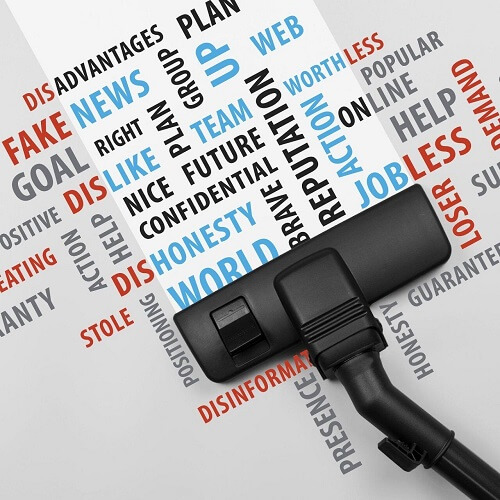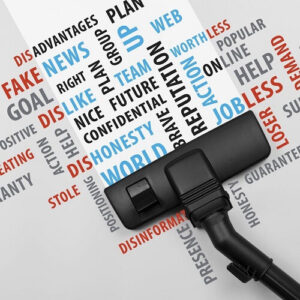 Do you want to protect your reputation from haters and fake news?
You risk losing 22% of your revenue if potential customers find a single negative link on Google's first page
How to create a risk management plan?
A risk management plan is a document that outlines the risks that an organization may face and the actions to mitigate those risks.
It also specifies how these risks will be monitored and evaluated.
A risk management plan can beas simple as a list of risks and mitigation strategies.
Or it can be a detailed document with specific steps for each potential risk.
In any case, there are mandatory steps in developing a risk management plan:
The first step is to identify the most significant risks for your company.
Their classification depends on the company's size, location, sector, or other factors that could expose it to a greater risk than other companies.
Once you have identified the risks, you should rank them according to their relevance to know which ones require the most attention.
Do not underestimate any sources of risk, such as negative reviews on Google, which are harmful to your reputation;
The second step isto identify the potential consequences of these risks.
Indeed, they could impact customer service, revenue generation, and reputation, as well as physical property damage or loss of life.
As for reviews, they could affect prospects' opinions about your brand's image;
The third step is identifying the roles and responsibilities of your risk management plan.
Typically, you will prioritize events that impact customer service and revenue generation rather than physical damage or loss of life.
A more detailed plan will help all organization actors to take adequate action.
Why is risk management crucial for a company?
Risk management is vital for companies because it positively impacts reputation management.
Many companies take risk management more seriously as they see its importance in their daily activities.
It's not just about avoiding losses but also maximizing profits and working on your online reputation protection.
Risk management is critical for companies because of various reasons:
It helps make decisions when it comes to investments, strategic planning, and fund management;
It can help avoid disasters by taking corrective action ahead of time;
It helps implement financial controls to meet regulatory requirements, and reduce the risk of legal issues;
It protects managers and employees from liability actions brought against their companies and themselves;
It protects brand reputation, know-how, and corporate image.
In a nutshell, risk management ensures the proper operation of all company assets.
Examples of enterprise risk management
ISO certification Is the best example of enterprise risk management.
This document certifies that an organization meets certain standards for risk management and shows it is trustworthy and reliable.
But a company can choose among many examples of risk management; some are:
Assessment of the risks related to the assets.
Companies must ensure that they take care of their assets to avoid the risk of losing them.
They must, for example, ensure that all their employees are adequately trained and have the appropriate skills;
If something goes wrong at work, the company must implement a plan that includes worker's pay, disability insurance, and employer's policy;
Management of natural risks.
Companies must sometimes pay more attention to this risk, and it is critical to have a plan in case of problems caused by an event outside the organization.
These are just three examples, but they cover the three macro areas of the company structure.
A general rule for risk management is that the benefits must outweigh the hazards, and no risk may violate laws or regulations.
Conclusions
This guide has shown you the importance of risk management for your company and how it affects your brand's online reputation.
Here are the conclusions you can draw:
Risk management is identifying, assessing, and controlling risks.
It is a systematic approach to managing potential hazards that may affect the company's reputation.
65% of companies are increasing spending on risk management technology;
● Identification, analysis, and response or mitigation are the three stages of risk management;
56% of companies invest in creating risk awareness;
The annual cost of activities to resolve insider threats is $15.4 million.
Risk management for a company must be based on a dedicated team that takes charge of all process phases.
At the same time, delegating some aspects of management is essential, as well as choosing only real professionals.
The ReputationUP team can support your company during all phases of online reputation management, monitoring and improving your brand's image and preventing any reputational crisis.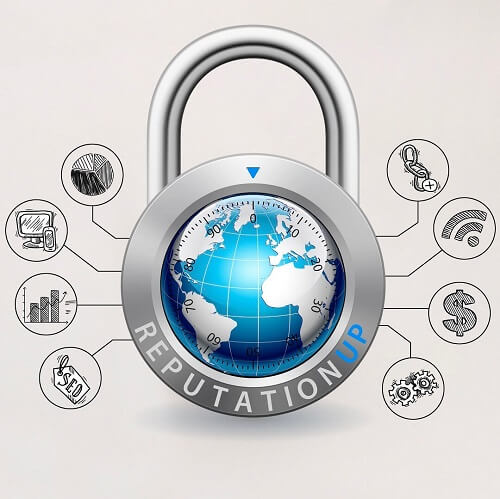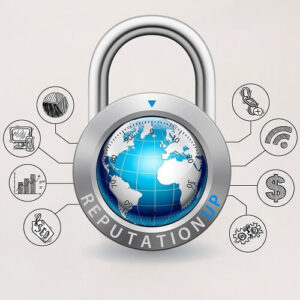 Need help protecting your reputation?
Remove all negative content against your brand and publish positive content that re-launches your digital image
FAQ
What is risk management?
Risk management helps identify and manage risks that could negatively affect an organization.
How can we classify risk management?
We may classify it according to internal (within an organization) or external (originated outside the company) risk.
How to carry out risk management?
Reactive risk management involves action after the event, while proactive risk management involves taking preventive measures before something happens.
Where do we use risk management?
Risk management applies to many company areas and industries, such as investment banking, healthcare, and even the army.
Why is risk management important?
It is a systematic strategy for assessing the risk of losing or damaging an organization's resources. It seeks to comprehend the likelihood of various outcomes and the associated costs.