When tech giants fail, it's in the hands of businesses to know how to protect themselves from the danger of false reviews, with strategies, interactions and a good ally.
Alongside the hot topic of fake news, so much discussed by all online and offline media, there are the false reviews.
Less treated not because less important, but for a clear difference in audience.
In the case of fake news, the one who is affected is the average user, who runs the news between web pages and social media and falls into the dangerous trap of fake.
These can create untrue news dissemination, unfounded worries, disgust and fear and in general the stimulation of emotions and reactions based on nothing.
As for fake reviews, the real victims are often businesses.
Because although it is the consumer who uses them to move between the choice of a product or service, the worst that may happen will be a wrong purchase; for a company, it is quite another matter, with the end of the race to a violent crisis of reputation.
The media will therefore be more interested in discussing a phenomenon that affects the majority of readers, namely users, more than the business world.
But this does not mean that the situation is any less serious. And the numbers seem to be constantly growing.
A world of bots
Statistics about the importance of reviews are impressive:
90% of people rely on the opinion of other users before making a purchase;
72% will need 3 to 7 positive reviews before they can be sure of a certain product;
1 single negative review will cost dozens of customers.
And the scenario becomes even more shocking when most consumers are unaware of having relied on totally false opinions, written by employees of companies offering these services, bots or by the company itself.
Take note: using a free tracking tool like Google Alerts allows you to intercept any content posted against you.
You find yourself into a surreal situation where one of the most precious elements for the decision of a purchase is actually unreliable; indeed, a real scam.
On the business side, this leads to serious consequences.
Cases of competitors ready to do anything to defeat an opponent, throw the power of an agency dedicated to fake reviews with the task of creating negative reports. Or produced at the top of the Amazon list with a score of 4.9, when it turns out to be a cheap disposable.
And even worse, it seems that there are no obvious solutions offered by the big giants.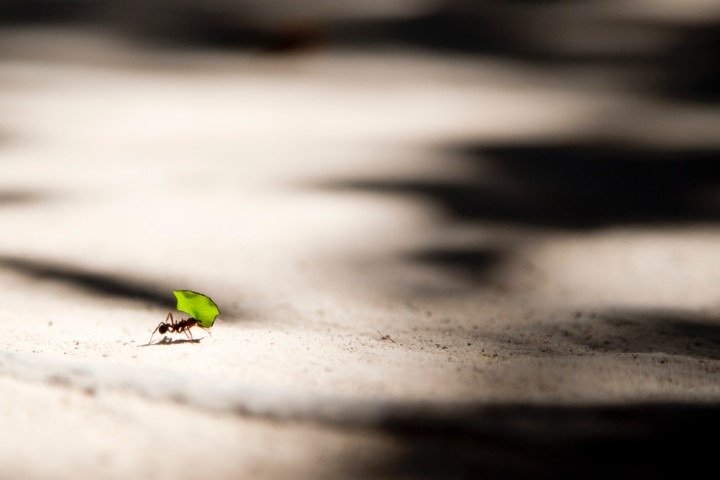 Self-made to protect against fraud
The already mentioned Amazon, with Google and Facebook in tow, are companies so vast that they can no longer see the end of it. So vast they can't control everything that happens between their borders.
Just as the Roman Empire has not always been able to maintain control over its territories, so does the new masters of the digital world.
It is therefore necessary to equip oneself and understand what can be done to defend oneself from the wave of false reviews, with or without the help of the giants.
1. Everyone has defects
Strategies and planning to earn more positive reviews from customers are certainly useful, if not essential in today's online world.
But this does not mean that Google Reviews or the social page should be covered only with positive comments and 5 stars. Spontaneous thinking may now be "maybe so", but things are different.
There is no perfect business, product or service for everyone. And that's right, otherwise there would be no competition in the market. Having negative reviews can therefore bring its advantages:
reveals to the public what the points for which a product/service is not suitable for some people, without having (further) dissatisfied customers to manage, for refunds or customer service;
shows the company any weaknesses to work with;
creates a climate of sincerity between customer and brand, where not everything is masked by fine words, but a negative side is also shown, but can be improved;
and finally creates a clear difference between what are the real negative and false reviews.
Among the many points, the last one is fundamental. By showing bad reviews, users will not be afraid to see some more, though false.
Also, if an opinion sounds suspicious, anyone would have a benchmark against the real ones, accompanied by the company's answers, guaranteeing their authenticity.
2. Out or All – in
In the battle against fake reviews there are no half-measures. When you see that you are attacked by these, there are two choices:
acting passively, obscuring the reviews, contacting third-party agencies to help and contact the police;
actively interacting with the community, responding to each of them, creating posts that warn of the presence of false opinions and asking active users to contribute.
The two choices can be intertwined, to have more certain results. What should not be decided is to do it in half: answer only a few reviews, publish a post on a social and not on another, do not require the removal of any content …
This can lead to doubts in the minds of consumers, who will think that if the comment A has been answered, but B has not, something true will be there.
3. Answer with positivity
Showing the defects is fine, but generally appearing in a good light is the best way.
And this well before a possible attack of false reviews; having a strategy to make customers talk satisfied is now a must, considering the data mentioned at the beginning of the article.
These serve to build trust, reliability, reputation and brand strength.
Moreover, the more positive reviews you get, the higher the overall average of the 5 stars will be. So even if there were fake content, the truth could get the better of the final count.
Unless you face a massive attack, too much to face. This is the case with Long's Jewelers, who on one evening in 2017 realized he had received more than 100 false reviews, lowering his rating from 4.8 to 2.2.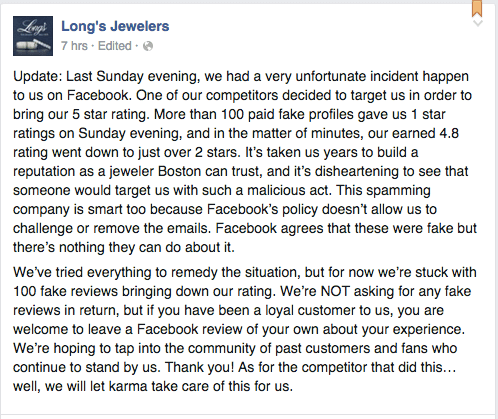 Situations like these are not uncommon for small to medium sized businesses, which are unable to counteract these situations.
What you can do is follow the same path as Long's Jewelers, namely ask for help from customers. Asking to leave a positive opinion, long or short, whether it is specific or not, or even just express yourself with the stars.
4. Ask for help from the giants
Although their control is not total and guaranteed, the tech giants certainly have the possibilities; and without a doubt the weapons.
As soon as false reviews are found, you should contact the platform on which the incident occurred, asking them to be removed.
The certainty that this will happen does not exist, as in the case of the American jewelry mentioned above, but it is certainly better to try than to give up from the beginning.
Read how to remove fake and hostile reviews from Google.
5. Having an ally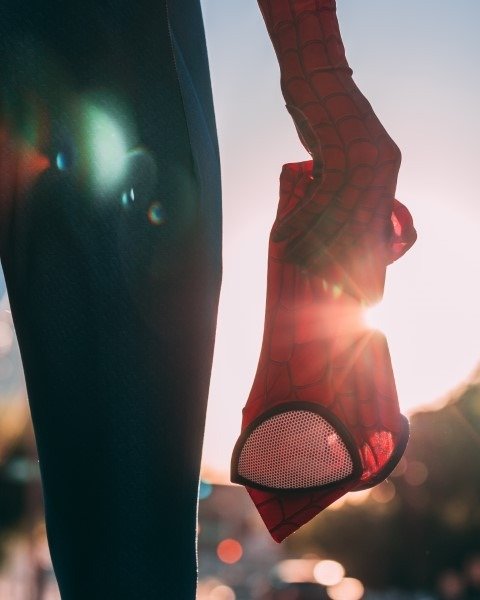 Why fight this enemy alone? Especially when the stakes are really high, putting your entire online reputation on the edge of a cliff.
We at ReputationUP have been working in the field of reputation management for over 10 years and have seen everything on the web.
We know the social platforms, we have contacts with major website providers and eyes and ears in places where negotiations are taking place to buy fake review packages, such as secret groups or dark web.
We can be your most valuable ally to protect your business. We, or a verification program for fake reviews. And how do you know if it's really reliable?
But of course, from his reviews!