Whatsapp Marketing: what it is and strategy for a successful campaign. How to create a WhatsApp Business profile and benefits for your business.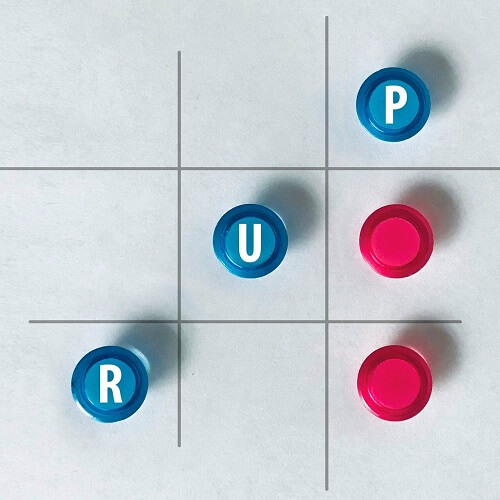 Do you want to grow your brand's online reputation?
97% of entrepreneurs say online reputation management is the main key to success for their business
What is WhatsApp Marketing?
WhatsApp marketing is a digital marketing strategy that uses instant messaging on the WhatsApp platform to send messages to potential customers directly and quickly.
In this way, it is a more individualized format than email marketing, which can sometimes seem spammy or impersonal.
What is WhatsApp in marketing?
In recent years there has been a growing interest in using WhatsApp marketing.
This is large because it has 2 billion monthly active users worldwide, surpassing all other mobile messaging apps.
WhatsApp is followed by 1,200 from Weixin/WeChat and 988 from Facebook Messenger, according to Statista.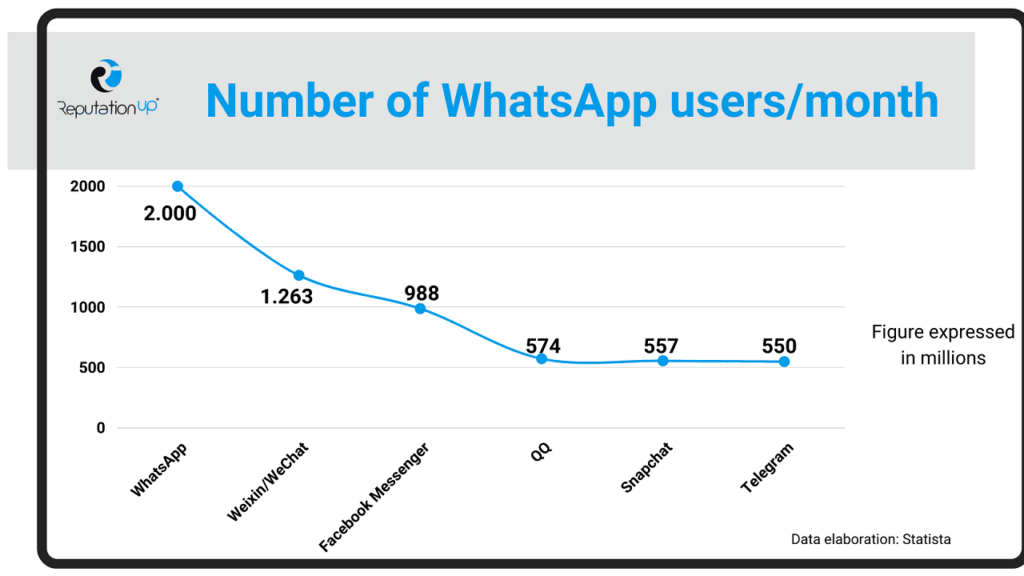 Why do WhatsApp Marketing?
Its accessibility and broad audience make WhatsApp marketing an attractive tool for companies.
There are many ways that brands can use WhatsApp to promote their products or services.
Some of its features are:
Sending mass messages to potential customers;
Creation of automated messages that are sent at specific times;
Use of multimedia content such as videos, images, or voice notes;
Speed in the sending process and user response;
Use as a customer service channel with short and personalized messages.
Before continuing with the guide, the different ways to carry out WhatsApp marketing should be clarified:
WhatsApp Messenger: it is for private and personal use; it is not used for business functions;
WhatsApp Business: application for companies;
WhatsApp Business API: For businesses that want to manage a high volume of conversations;
External software: platforms that connect to WhatsApp Business and offer services such as automatic bots.
Through the guide, the differences are better detailed.
What is the importance of uniting your WhatsApp strategy with digital marketing?
The importance of joining WhatsApp to the digital strategy is the amplification of the public.
With instant messaging, mass messages are sent to potential customers.
Automated messages are already in place in the digital realm, and it's time for companies to start using them more strategically, tracking statistics.
It is one of the best ways to market and reach more audiences.
The benefits of WhatsApp for your business
The benefits of WhatsApp for your business are the following:
Contact with customers in real-time: the immediacy of communication between the user and the company;
The Harvard Business Review study indicates that the response time of a user on WhatsApp is 90 seconds, compared to 90 minutes for an email.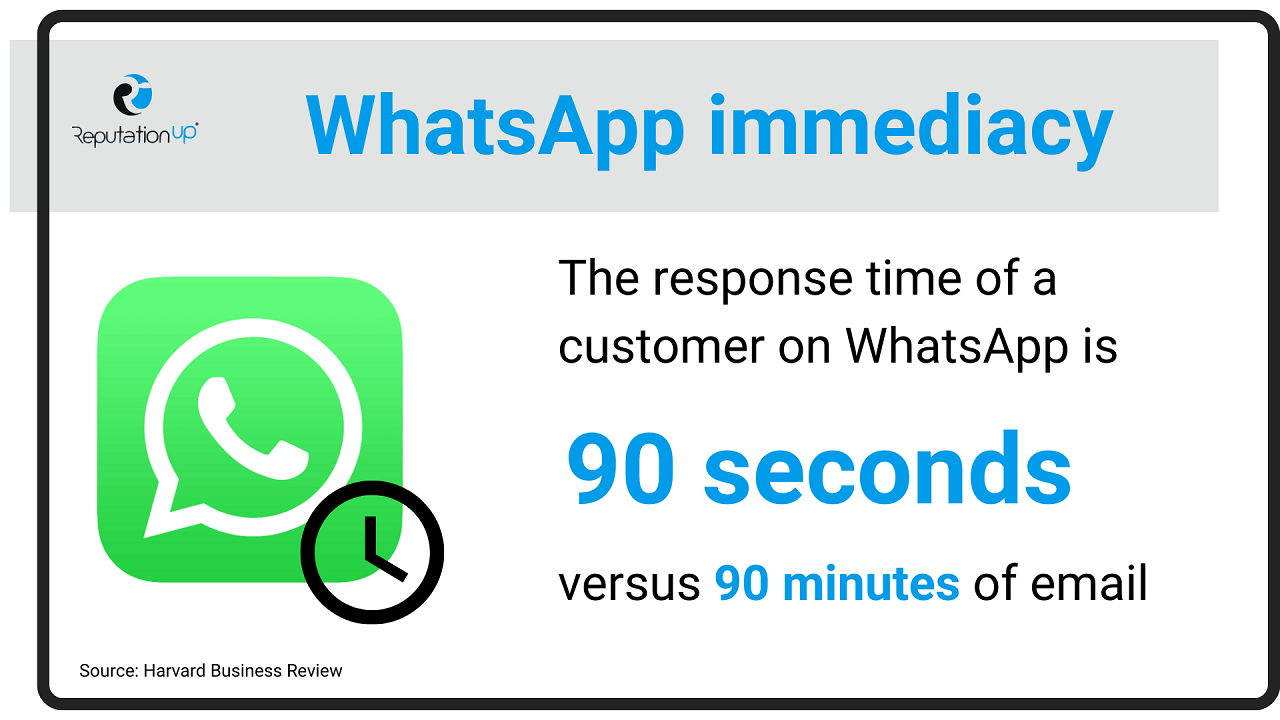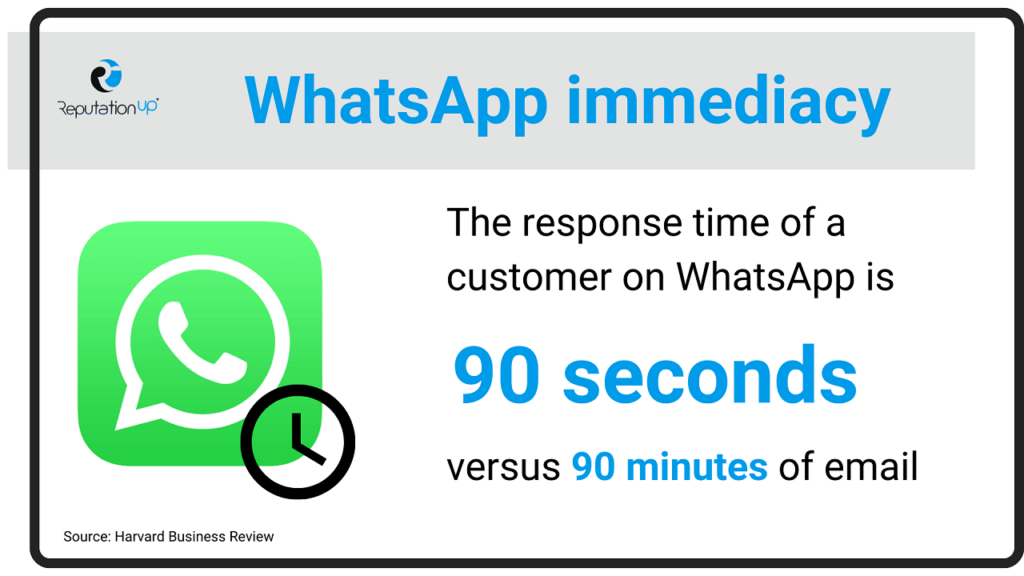 Personalization of the message: reach potential customers in an easy and personalized way;
Minimum cost: lower than other marketing investments and even free, in the case of WhatsApp Business;
Variety of content formats: the App allows you to send messages, images, videos, and audios;
Brand positioning: through instant messaging, remain in the consumer's mind before the competition.
This also generates greater trust and proximity.
Transmitting a brand image is part of the correct treatment of online reputation management.
Ease of communication by the internal team;
High conversion rate: WhatsApp marketing has a higher open rate (99%) than email (56%) and interactive voice response (IVR) (72%), according to SmatBot.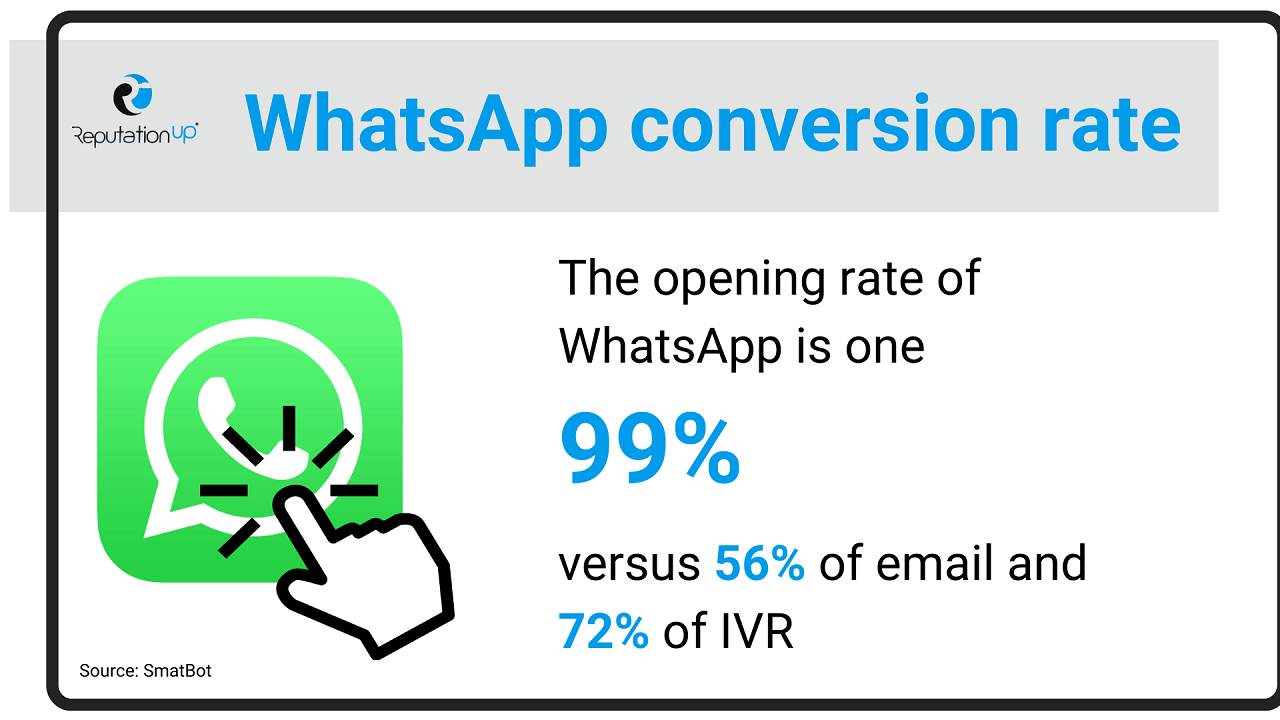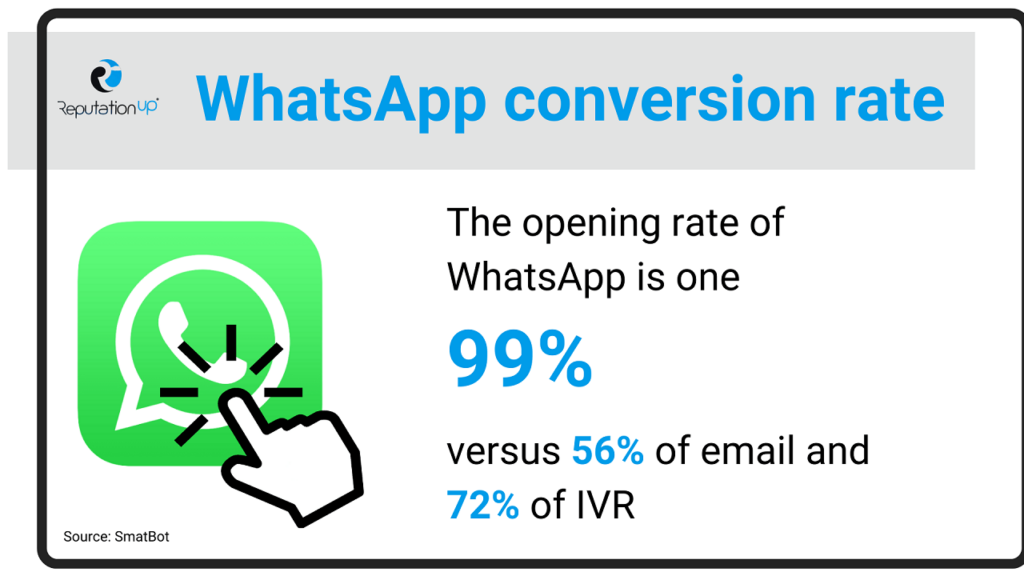 ReputationUP, a leading company in online reputation, can accompany you in your WhatsApp marketing strategy.
He started in this marketing sector with his team and reached a higher number of clients.
What is WhatsApp to sell?
WhatsApp Business was created to help users sell their products or services through the App.
Its interface is similar to that of WhatsApp Messenger, and it can be downloaded for free on the Play Store and App Store.
The App helps small and medium-sized businesses communicate with their customers.
It has many features that are not available in the WhatsApp Messenger app.
The App offers many opportunities for marketing, customer service, and sales.
Some of the advantages of this application are:
Adaptability for companies of any size, regardless of your number of employees;
For SMEs, WhatsApp Business is better; on the other hand, for large companies, the WhatsApp Business API is better;
Economy: can be downloaded for free;
Sending messages to all contacts at once;
Mobile content: for greater accessibility and speed, you can create a catalog with images, include CTAs and generate short links to share;
Link with WhatsApp Web;
Create groups with different members and set additional permissions for them.
If you want to professionalize the WhatsApp marketing process, our team, made up of professionals from 26 countries, can help you achieve a high conversion rate in your campaign.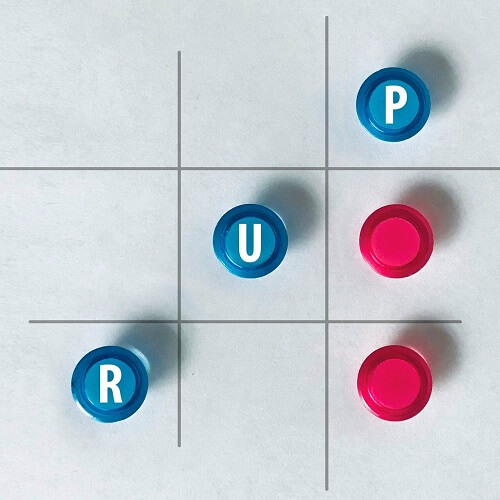 Do you want to grow your brand's online reputation?
97% of entrepreneurs say online reputation management is the main key to success for their business
Differences between private WhatsApp and Business
Through this section, the differences between WhatsApp Business and private are analyzed:
Whatsapp Messenger is designed for personal use and not for marketing purposes, as there is no way to send mass messages from this app.
It is an excellent way to communicate with family and friends.
Business Whatsapp, on the other hand, provides an easier way to reach a vast number of contacts;
The business profile has various fields that can be filled in with company information.
The physical address, map, activity, business description, business hours, email, and website link;
Business WhatsApp allows you to design welcome and absence messages: they are automatic (limited if no software is used) and are only sent when the user writes to the company;
Quick response: inserting a single word, WhatsApp Business writes the message you want to send;
Creation of a catalog: products and services can be displayed through photos, descriptions, links, and prices;
Statistics: the company can analyze the messages sent, delivered, received, and read.
Both are free, available in multiple languages, and compatible with WhatsApp web.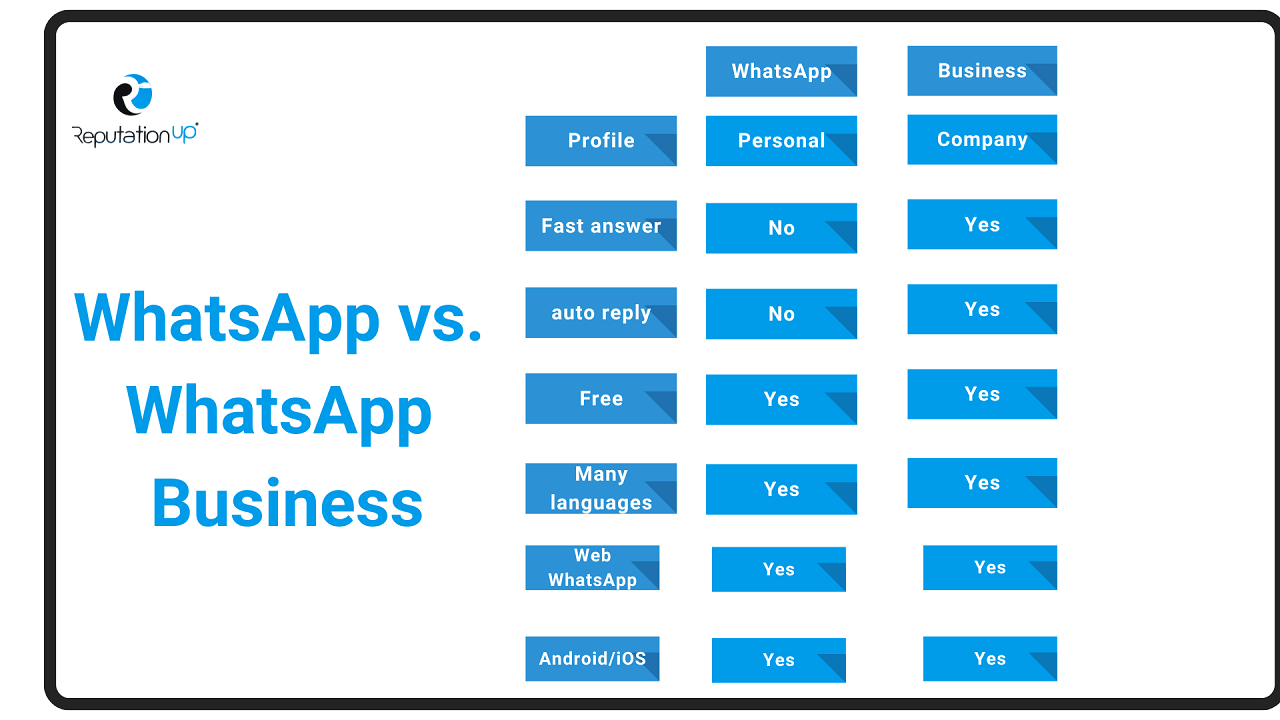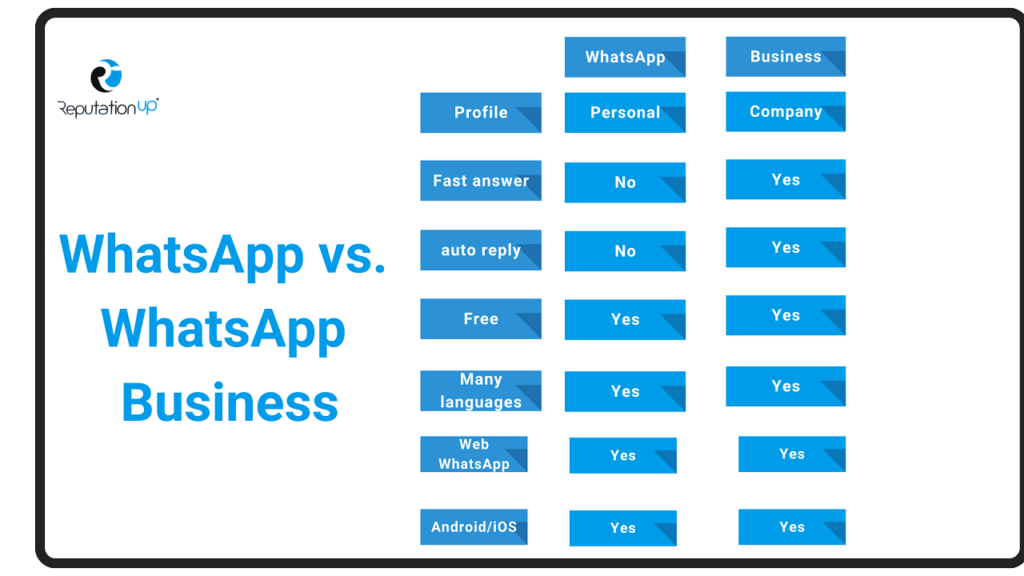 Differences between WhatsApp Business and the API
Next, the functionalities between WhatsApp Business and the WhatsApp Business API are compared:
While the first is recommended for small and medium-sized companies, the API is recommended for medium and large companies;
WhatsApp Business is limited to a personalized contact, and the API is used for the delivery of mass messages;
API users and devices are unlimited, and Businesses can use one user and two devices;
The API option allows you to integrate chatbots and include the green check as an official account;
With WhatsApp Business, you can participate in groups, while with the API, this possibility does not exist;
Business contacts are limited to telephone ones, while API contacts can be imported from a list of subscribers;
While Business is free, the API is paid.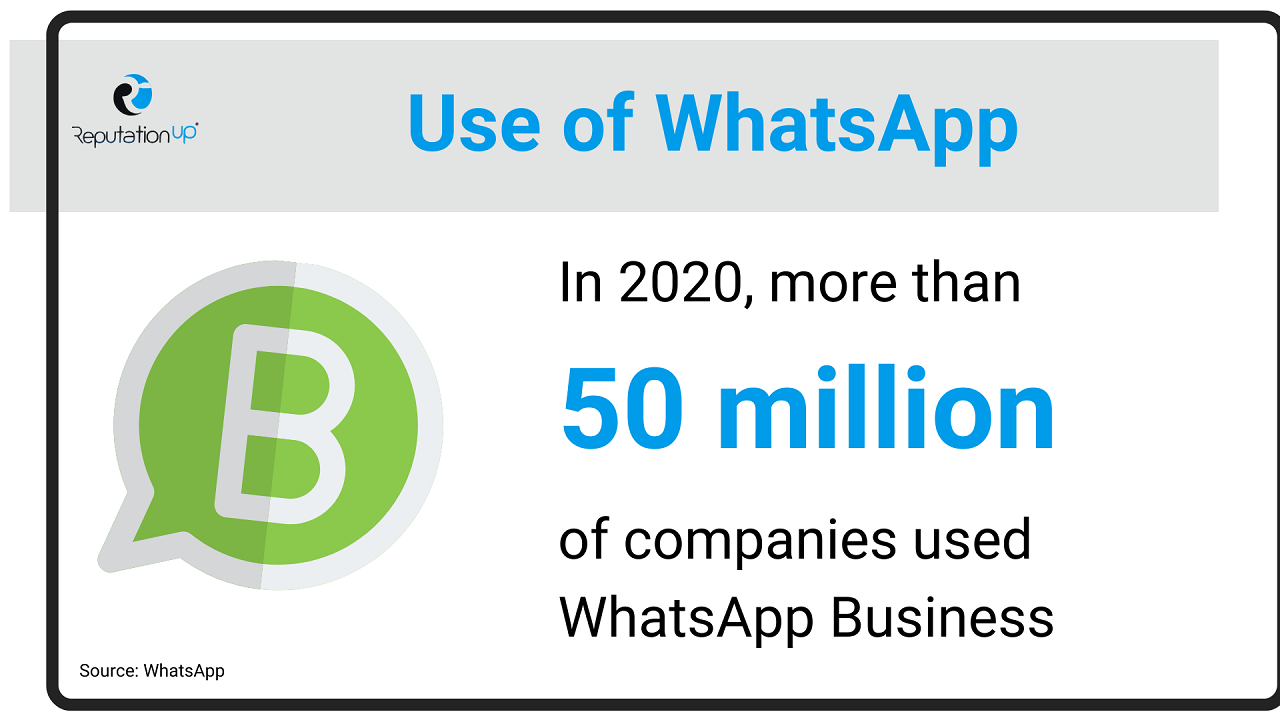 In 2020, the company issued a press release confirming the use of WhatsApp Business by more than 50 million businesses:
"As business across the world prepare to re-open and expand online, people need simple ways to get in touch with business to ask questions, get information or find somethinf they might like to buy.

Today we support more than 50 million WhatsApp Business app users."

Is WhatsApp marketing legal?
This is one of the main doubts that stops companies from downloading WhatsApp Business.
With the App, you can access all phone contacts without first consulting the person and ignoring data protection.
On the other hand, if the WhatsApp Business API is used, it is mandatory to comply with the GDPR.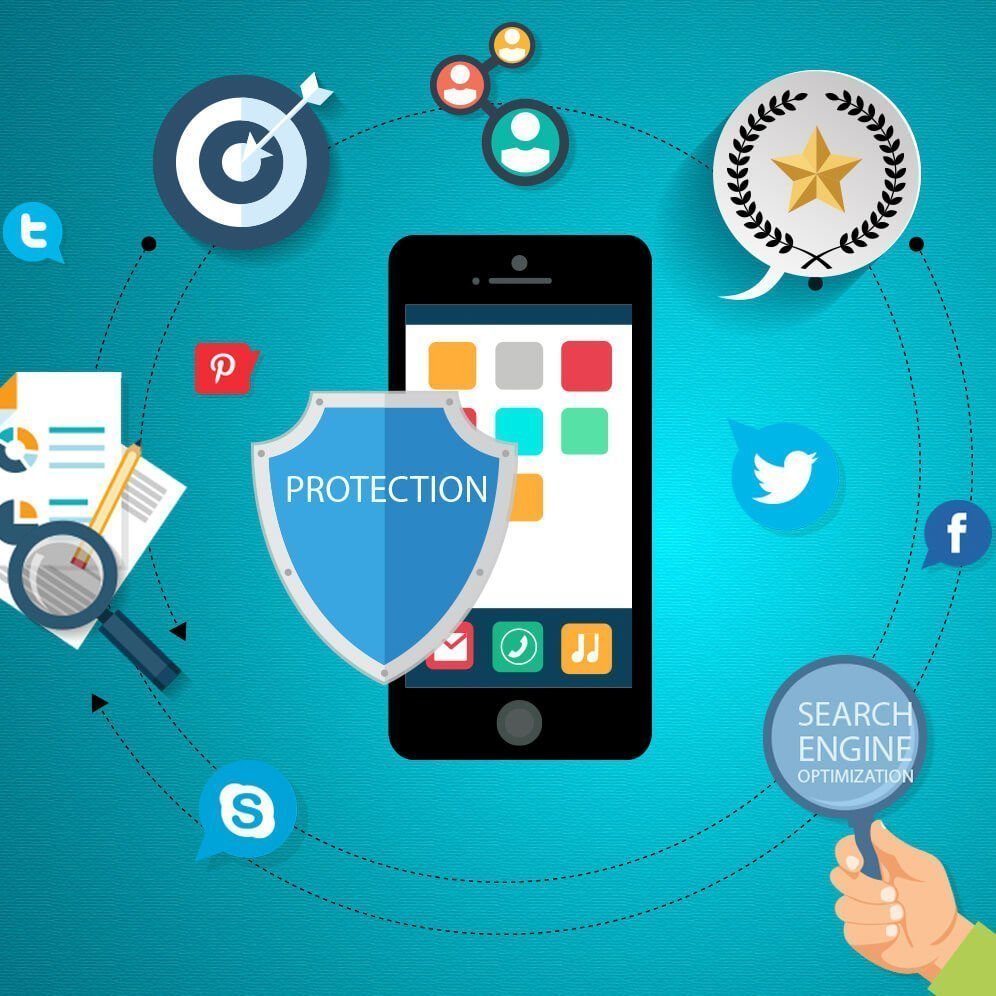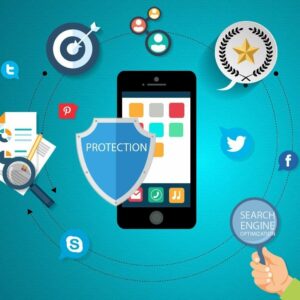 Need help protecting your online privacy?
ReputationUP guarantees the elimination of any private and personal information (name, number, address, photo, video) from any Internet platform
How to create a WhatsApp Business profile?
The WhatsApp Business app is a new way for businesses to connect with customers.
It is a powerful tool that allows you to message customers one-on-one and in groups to provide better customer service.
If you are interested in using the WhatsApp Business app, you must create a profile for your business.
To do so, follow these steps:
Download the WhatsApp Business app:

Enter the App Store or Google Play to purchase the App for free.
If you check 'I don't have a business', the app will close.

Open the App:

Accept the terms of service and access to images, multimedia, and contacts.

Verify phone number:

Enter the company phone number with the country code and press next.
If you include the personal, the App will show a notice to change the person to the company because a different number has to be used. Enter the number that arrives by message to confirm the account.

Backup:

The application asks if you want to activate the backup option.

Company Profile:

Register the name of the company and include a photograph. If you want to add more information (address, category, hours, website, email, or description) of the company, go to the WhatsApp settings in the three points.
Once this is done, you can start adding your contacts and sending them messages at any time.
The first step of WhatsApp Business and the API option is creating the profile.
How to make marketing strategies via WhatsApp?
If you use WhatsApp marketing, you should remember that you also have to follow a strategy.
Here are the guidelines you should follow.
Create a database
The database must be segmented, differentiating the contacts.
In the case of WhatsApp Business, they are only those that are saved on the phone.
The App offers the possibility of inserting labels in people, messages or groups to find the contact better:
New client;
New order;
Pending payment;
Payment;
Order completed.
This allows the leads to be classified according to the phase of the sales process in which they are.
On the other hand, instant messaging platforms allow contacts to be imported from a list of subscribers.
You must have the user's consent to send messages of this type.
Define strategy and message
Prioritize the quality relationship with the client; the message should not be highly promotional.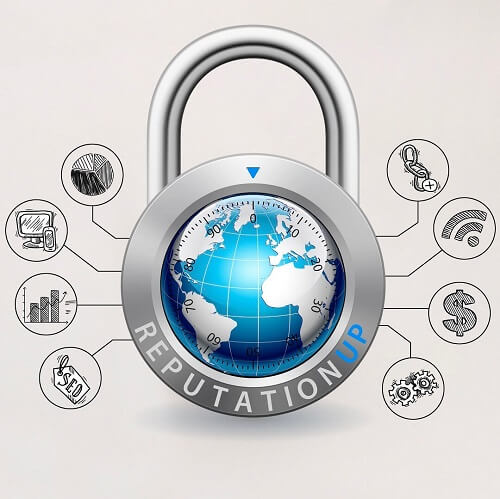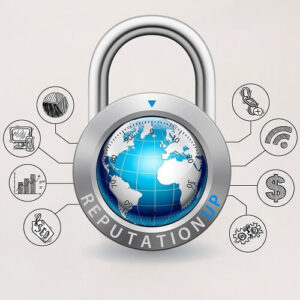 Need help protecting your reputation?
Remove all negative content against your brand and publish positive content that re-launches your digital image
Incoherent mass mailing is dangerous: it can bore the customer, create a bad image and damage your corporate reputation.
Its structure has to be exciting and quality, attracting the database, including the main elements such as text, images, and calls to action.
Here it would help if you also segmented by the recipient's age, depending on the products or services sold.
One of the advantages of WhatsApp is that all age groups use it.
The Tyntec study indicates the following division of use by age groups:
From 18 to 29 years old, 97%;
The range from 30 to 49, 93%;
79% utilization in the 50 to 69 age group.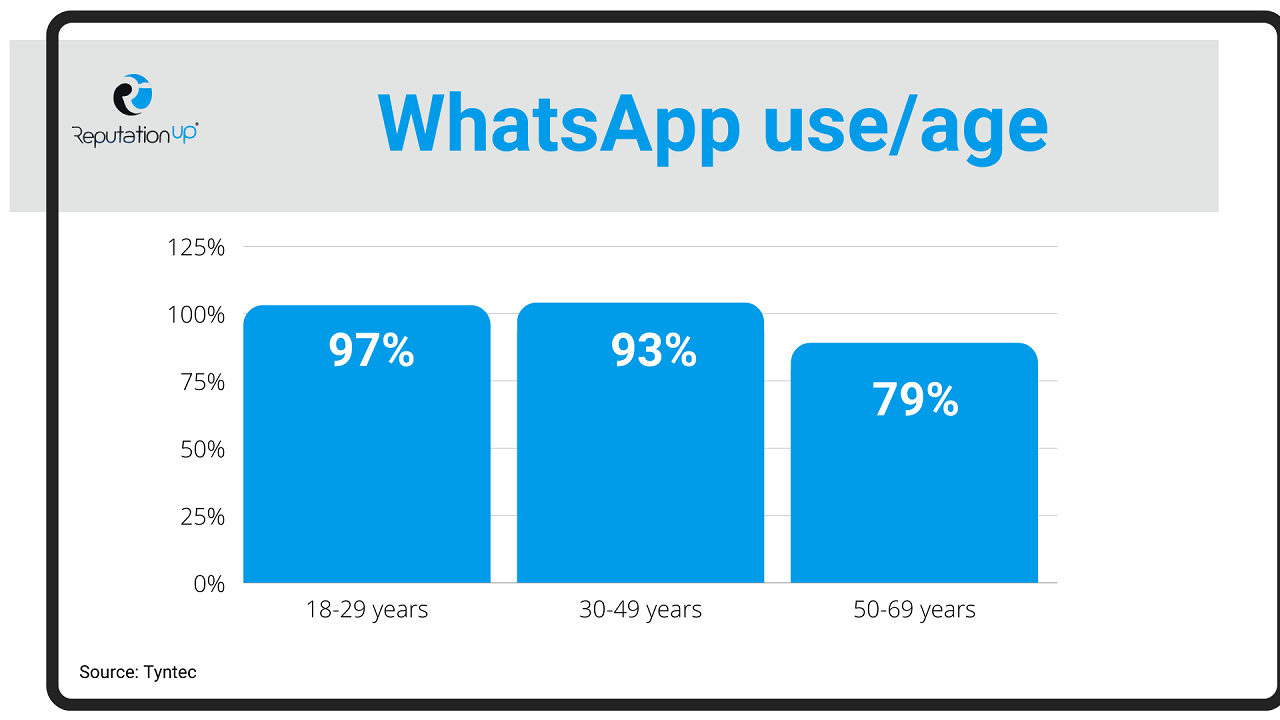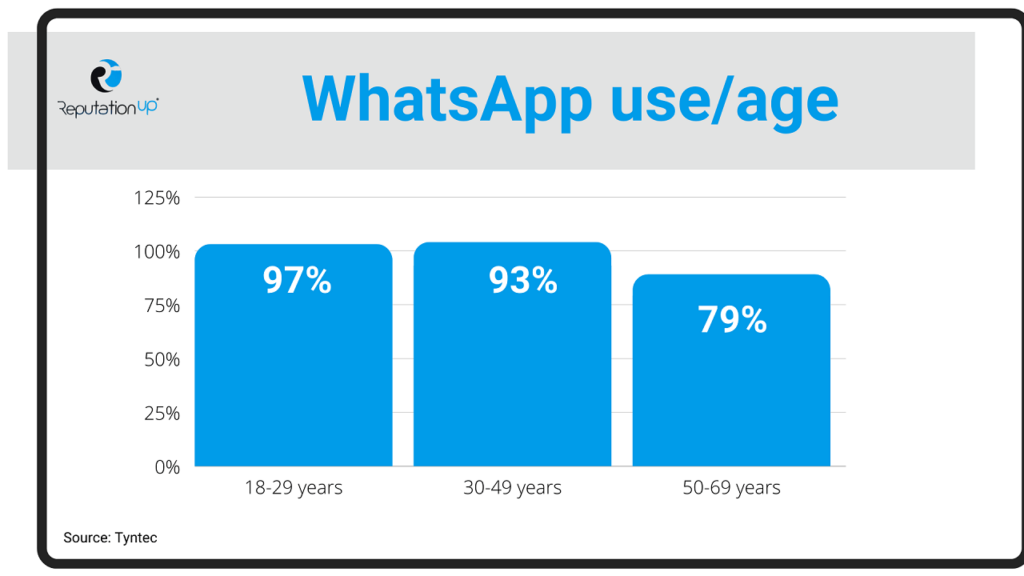 Planning the schedule and sending frequency is also part of the strategy.
ReputationUP, a leading company in digital reputation, is an expert in data analysis and statistics, such as lead generation and conversion rate.
Select visual support
Visual support is essential to accompany the body of the text.
Images, videos, and even emojis can be chosen to attract the receiver's attention.
What is a WhatsApp campaign?
A WhatsApp campaign is a marketing campaign that harnesses the power of the messaging App and its users.
The App sends text messages, images, and videos to clients or potential clients.
WhatsApp allows a company to follow leads and customers during the sales and post-sale.
How to send campaigns by WhatsApp?
You can use WhatsApp to send marketing campaigns by following these steps:
Choose the contacts from the database to whom you want to send the WhatsApp;
Define the message: offer, discount code, product updates;
Add value to the content and add the multimedia format to make the message more striking;
Shipping: It will depend on whether you use WhatsApp Business or integrate an instant messaging platform, which allows greater reach and speed.
While the app has a limit of 256 messages, the WhatsApp Business API offers an unlimited number of sends.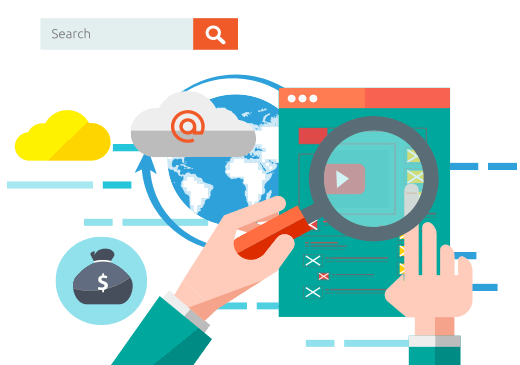 Do you want to spy on your competitors and their strategies?
Access the RepUP Monitoring Tool platform and find out how to beat the competition.
If you need advice on the WhatsApp marketing strategy, contact ReputationUP.
Among its various functions, the company is responsible for improving the reputation and image of brands.
Good practices of a successful WhatsApp marketing campaign
Here are the best practices for running a successful WhatsApp marketing campaign.
Respect the user experience
As with other marketing strategies, you must focus on what the user wants.
Above all, avoid meaningless promotional messages; send only to those contacts who have agreed to receive notifications.
Take advantage of WhatsApp to send direct and personalized messages.
Follow the WhatsApp rules for message templates
Meta reports on the standards for WhatsApp message templates.
The company explains what the reasons for rejecting messages are:
Misspellings;
Absence of defined parameters;
The language does not match the content;
Incorrect format.
Likewise, it details the quality rating of the template and the status of the WhatsApp business account.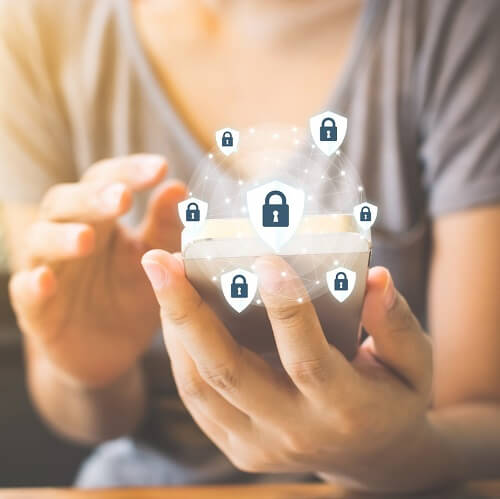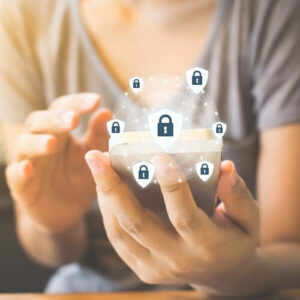 Need help protecting your phone number's reputation?
ReputationUP protects your phone calls and prevents them from being tagged as spam
Although it seems unlikely, telephone numbers and all their services (calls, messages, WhatsApp) are also linked to the reputation requirement.
Spam, abusive messages, and even calls from large companies to individuals can harm the brand image; and, consequently, lose customers.
To do this, ReputationUP has software that protects the phone number reputation and prevents it from being marked as spam.
Offer value and appropriate content
The instant messaging application can be used to:
General information;
Promotion of catalog of products or services;
Confirmation of orders;
Shipping update;
Event reminder;
Billing notifications.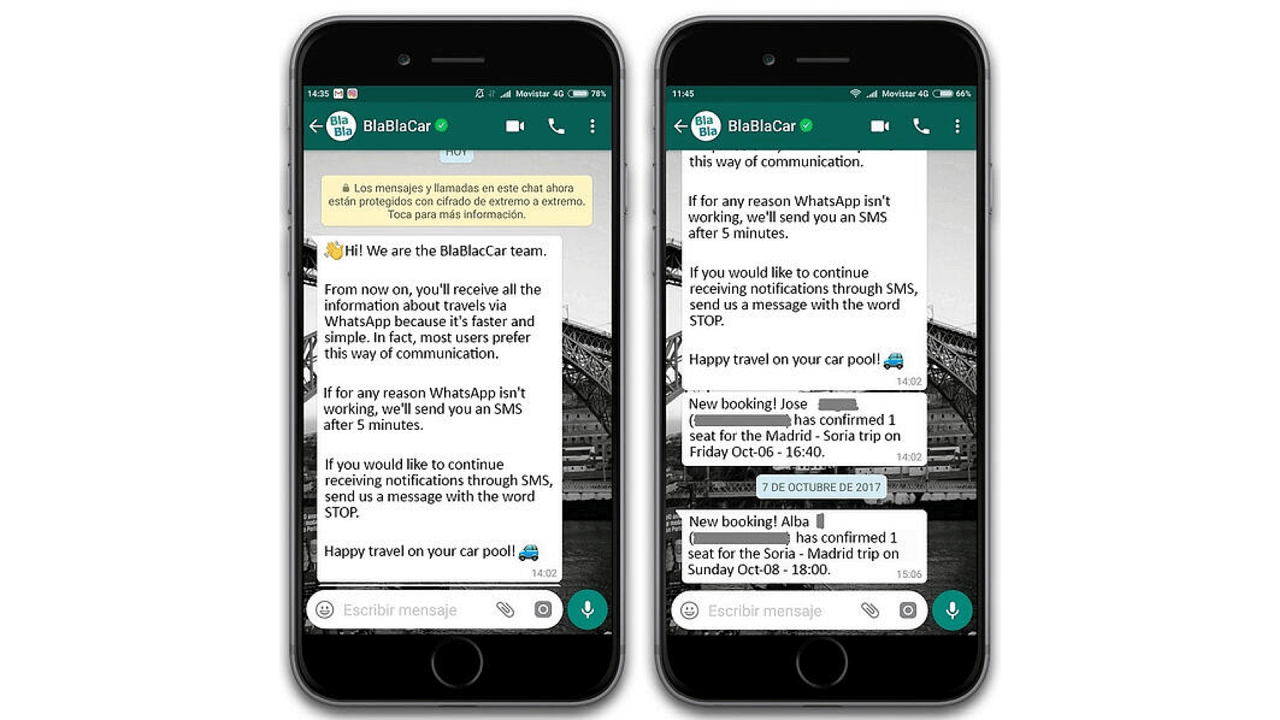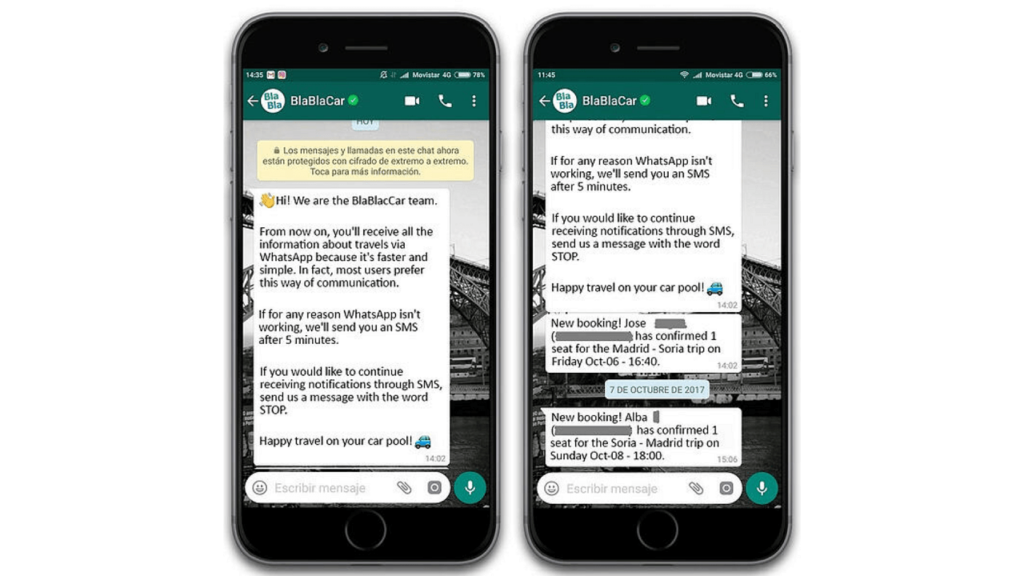 A widespread mistake is using WhatsApp to send all kinds of messages.
Create specific content for WhatsApp marketing
The information must be adapted to each communication channel.
Content for email marketing is not the same as for WhatsApp.
In this case, use short texts, visual support, CTAs, and emojis.
Whatsapp marketing software
WhatsApp marketing software is designed for medium and large companies.
Its benefits are as follows:
Unlimited users and devices;
Contact management: they can be imported from a platform with subscribers;
Mass messaging campaigns;
Third-party interface.
Some of the software used for WhatsApp marketing are explained below.
Callbell
Callbell is a mass messaging app that can be used on WhatsApp.
It also has some other features like:
Creation of lists of people to send messages in bulk;
Sending voice messages;
Sending photos and videos.
The platform is also available for Facebook Messenger, Instagram and Telegram.
Aldeamo
Aldeamo is an enterprise messaging provider that provides communication channels and products such as voice, video, chat, email, and enterprise-class API solutions powered by a cloud communication platform.
Trengo
Trengo is a mass messaging service that allows you to send messages to 10,000 contacts.
It's easy for businesses, brands, and individuals to reach out to their followers with a message or offer.
WhatsOn
WhatsOn is an application for sending mass messages: photos, videos, text, audio clips, etc.
In addition, it allows you to schedule and forward messages.
The app is available only for Android devices.
WhatSo
WhatSo is a WhatsApp bot that allows you to send mass messages to your contacts.
His philosophy is to help companies convey their message in the easiest way possible.
Vepaar
Vepaar is an excellent tool for sellers who want to send mass messages to their customers.
It allows users to create and schedule messages and send them as fast as they need to.
Twilio
Twilio is a cloud communications company that enables developers to build, run, and scale real-time communications applications.
With the Twilio API, developers can use voice and video to make their apps more interactive and engaging.
Whatsapp marketing prices
It is not easy to give a concrete answer because the price varies according to the type of service.
For example, mass messages are cheaper than personalized ones.
WhatsApp marketing costs depend on the amount, frequency, and the number of people.
WhatsApp Business is free. In the case of acquiring software, there are platforms with a cost of $29 per year, $25 per month or $0.01 per message.
Whatsapp marketing examples
The guide has explained how WhatsApp marketing can be applied to strengthen contact with customers.
Through this epigraph, the usefulness of this tool is exemplified.
For example, it is used to resolve doubts about the shipment of a product.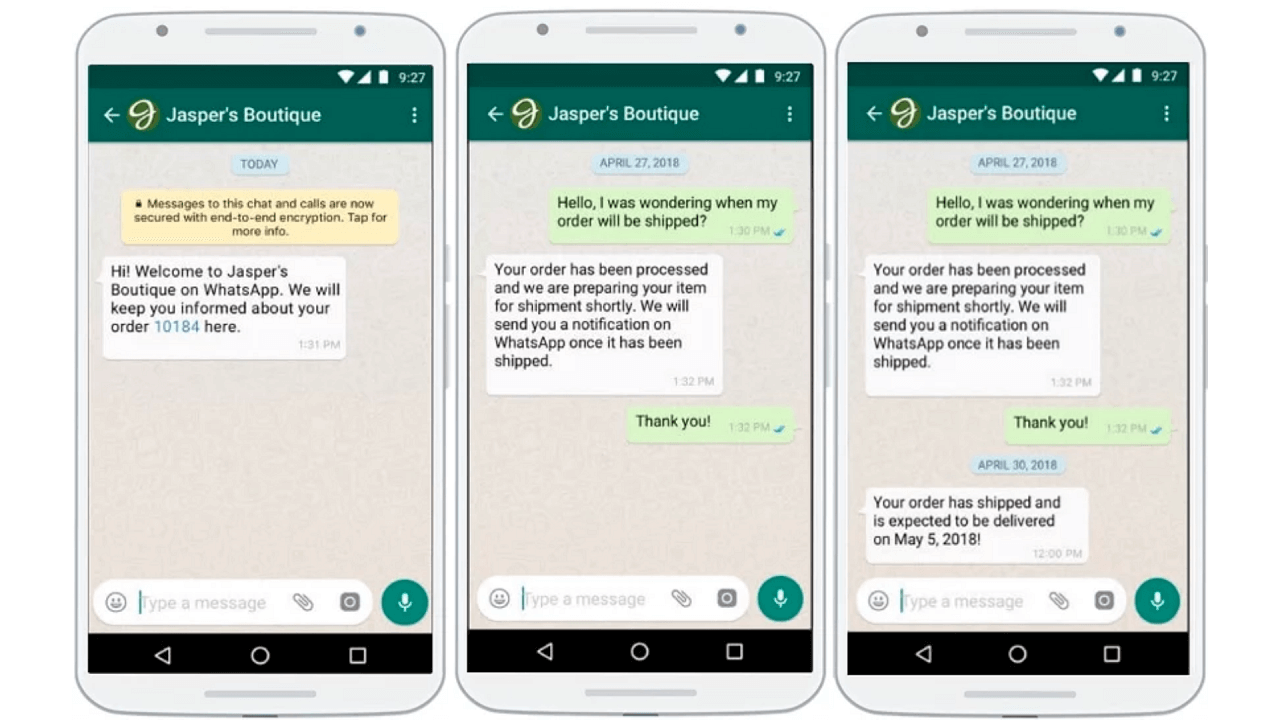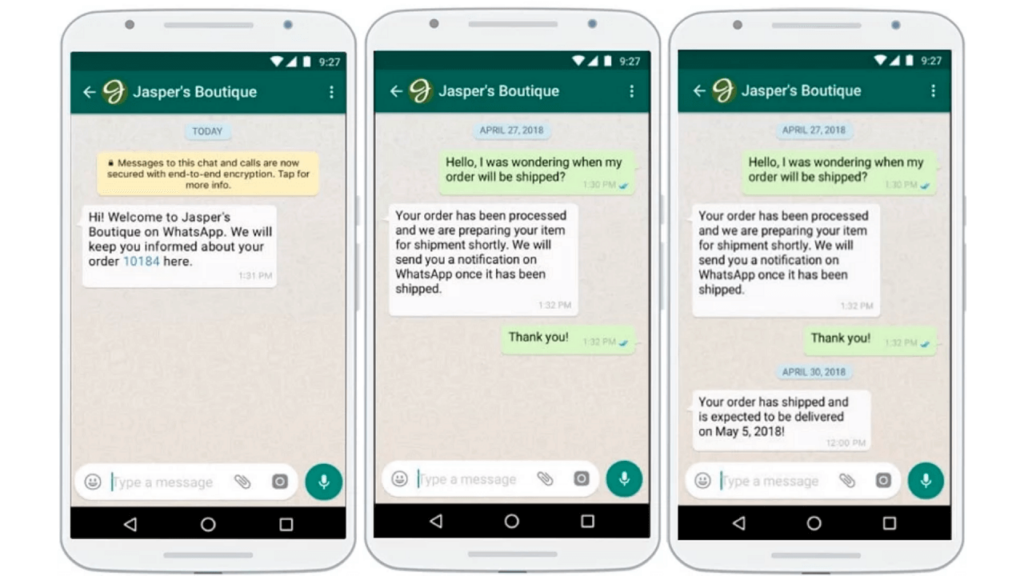 The image above shows how the App ends the conversation by asking the customer if he has resolved his question.
It also exemplifies sending automated messages: when the user types, the company welcomes the virtual assistant and guides them through the process.
In the following image, another example of online assistance is analyzed through WhatsApp.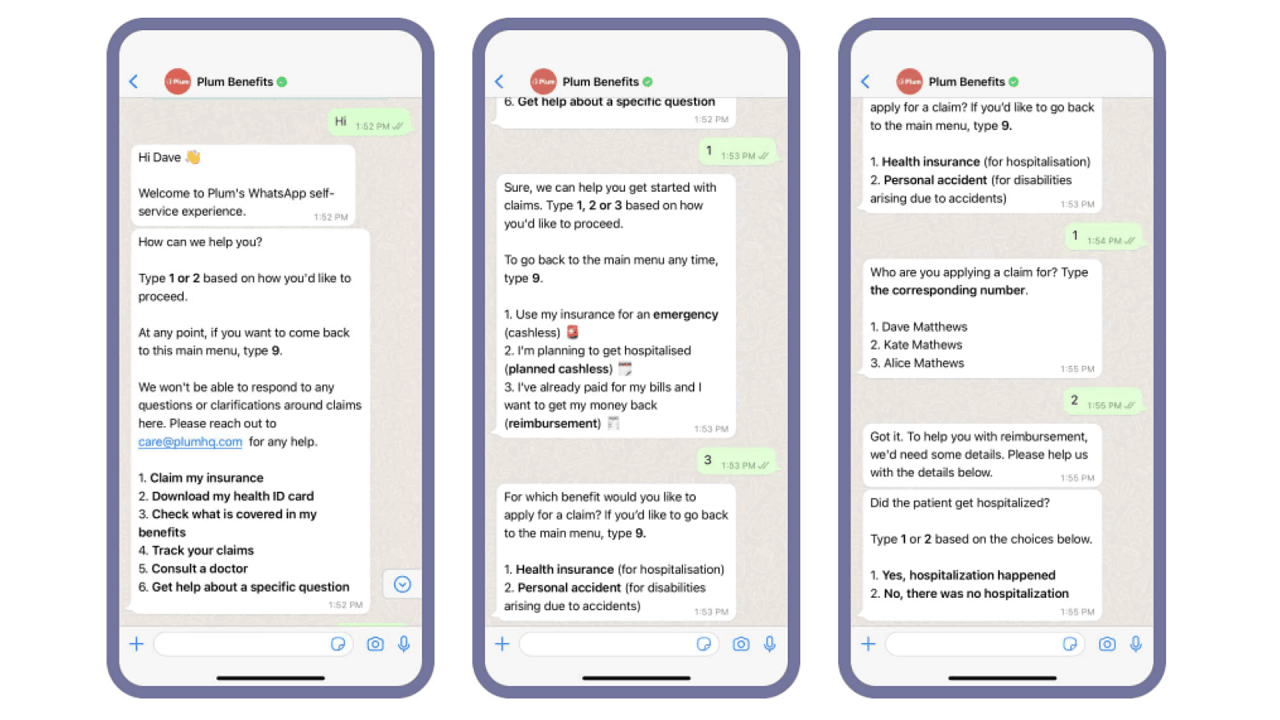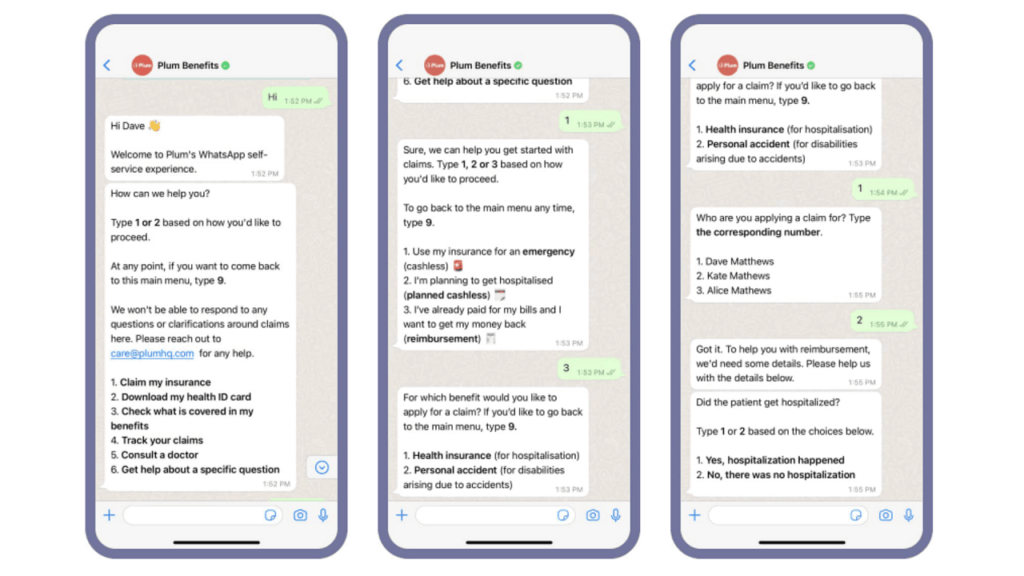 A customer contacts an airline, and the company guides him through various services.
The user only has to dial a number to resolve their doubts.
WhatsApp is also used to send messages in newsletter format, in which the user can unsubscribe when he is no longer interested in the content.
These 'promotional messages' are only available through the WhatsApp Business API and must be approved by the app first.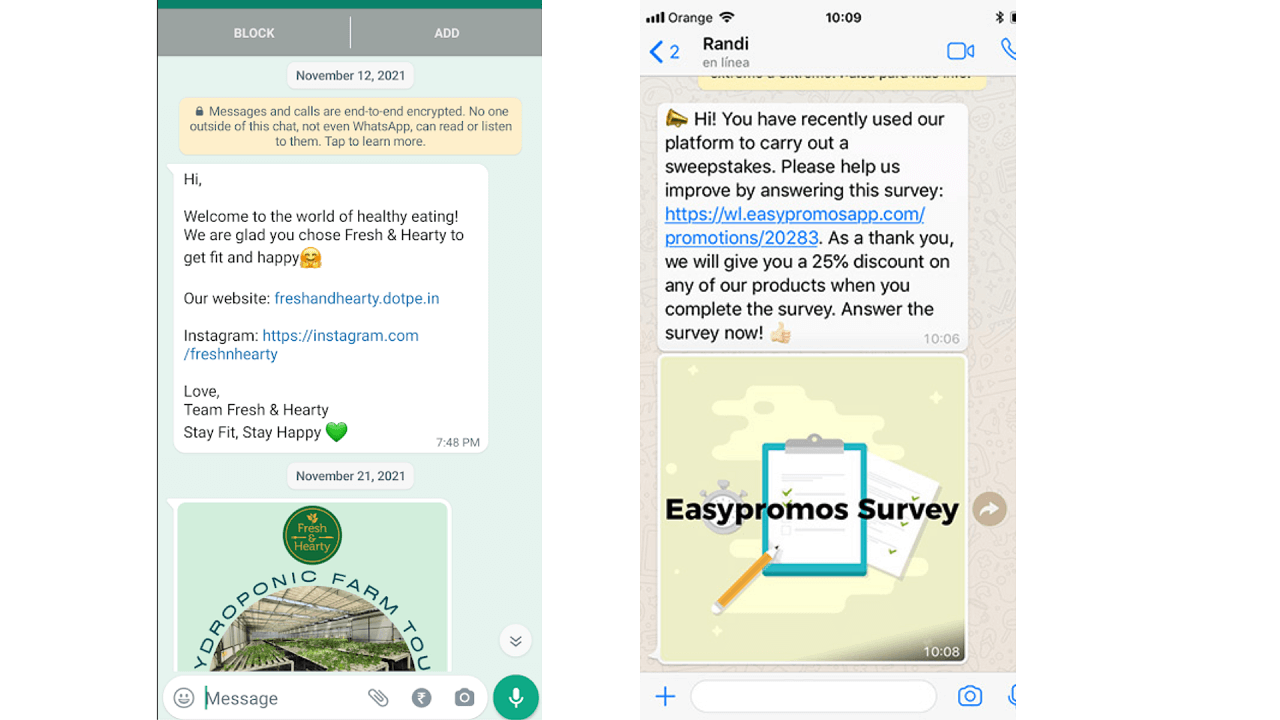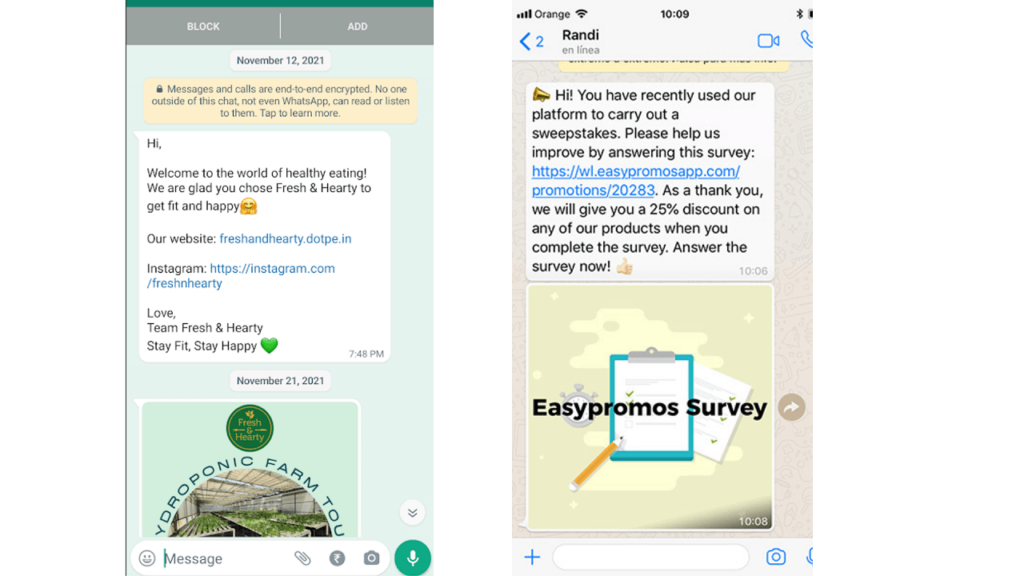 And, as with other types of marketing, the company provides the option to unsubscribe, as in the following examples.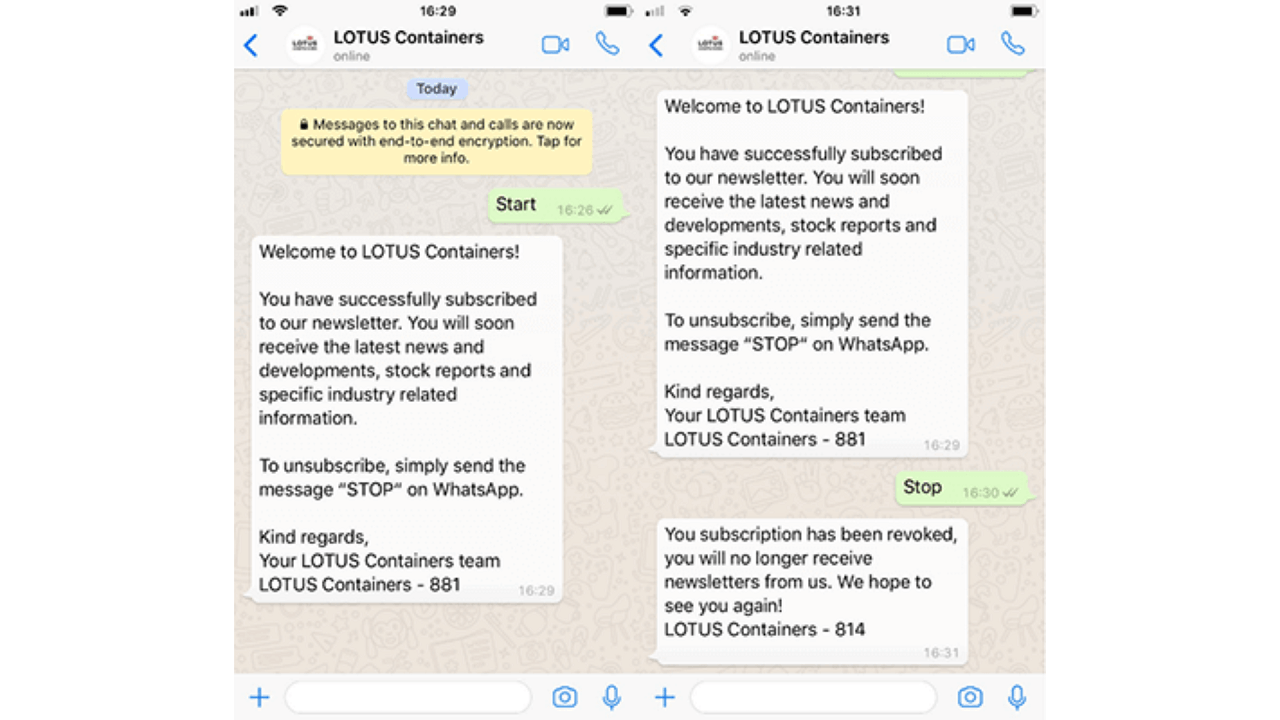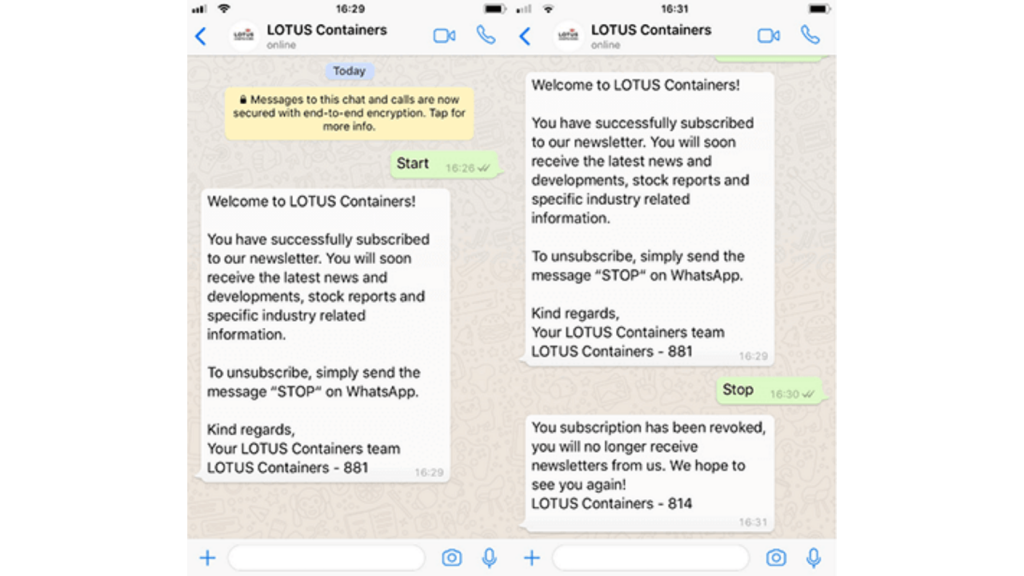 By inserting 'STOP' in the chat, WhatsApp informs the user of the subscription cancellation process.
Conclusions
Through this guide, you have discovered what WhatsApp marketing is and its strategy for a successful campaign, how to create a profile, and the benefits for your business.
The following conclusions are drawn from the article:
WhatsApp has 2 billion monthly active users worldwide;
The features and functionalities are different between WhatsApp Messenger, WhatsApp Business, and the API;
The business nature of WhatsApp aims to reach a greater number of people;
WhatsApp Business is limited to a personalized contact, and the API is used for the delivery of mass messages;
Instant messaging platforms allow contacts to be imported from a list of subscribers;
The response time of a user on WhatsApp is 90 seconds;
The Business profile can be completed with company information, including a catalog of products and services;
The company can analyze the messages sent, delivered, received, and read.
ReputationUP can advise you on each WhatsApp marketing step until you reach your goal.
The company has more than 20 years of experience managing the online reputation of companies, individuals, and administrations.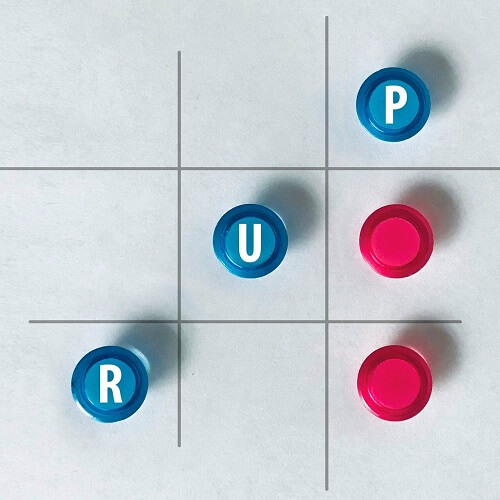 Do you want to grow your brand's online reputation?
97% of entrepreneurs say online reputation management is the main key to success for their business
FAQ
How to send an offer by WhatsApp?
Open WhatsApp and create a new chat with the person you want to send the offer to. Click on the menu and attach the photo or video.
How to sell a product by chat?
There are many ways to use WhatsApp to sell a product. You can create a group chat and send the offer there or create a survey and ask people what they think of your product.
Remember that you should always ask your contacts for permission if they want to receive promotional information from your company.
How to do WhatsApp marketing?
Create a WhatsApp group for your customers and share information about your company, such as promotions, discounts, etc.
Likewise, you can post updates about new products or services. This will help you create an active community of people interested in your selling.
How to advertise on WhatsApp for free?
Create a WhatsApp account and configure the profile with information about your business and contact details. On the other hand, share the products or services to get more followers. In the WhatsApp 'status', post content and interact with potential customers.
How to sell a product by message?
You need to understand your audience and create messages that resonate with them. You should also ensure that you are using the right medium for your target audiences, such as social networks, email marketing.
How to approach a client to sell?
The first step is to get to know him well and understand his needs. Second, logically, understand your product or service well. Present it concisely and persuasively.