Complete Online Reputation Management guide: learn what ORM is, what are the best tools and strategies to apply for a successful business.
---
Need help managing and improving your online reputation? Call us at +1 786 224 0709 or +44 20 3769 0518
---
What is reputation management
Before you fully understand what Online Reputation Management is, you need to take a step back and analyze the Reputation Management.
Reputation Management is a sub-category of Public Relations (PR).
While PR has the task of relating to traditional media and providing information to the company they work for directly, this process cannot be replicated identically on the internet where there is no need for intermediaries between content creators and recipients.
On the web, in fact, every individual can express his own opinion, whether positive or negative and in a few seconds this will potentially reach every corner of the planet.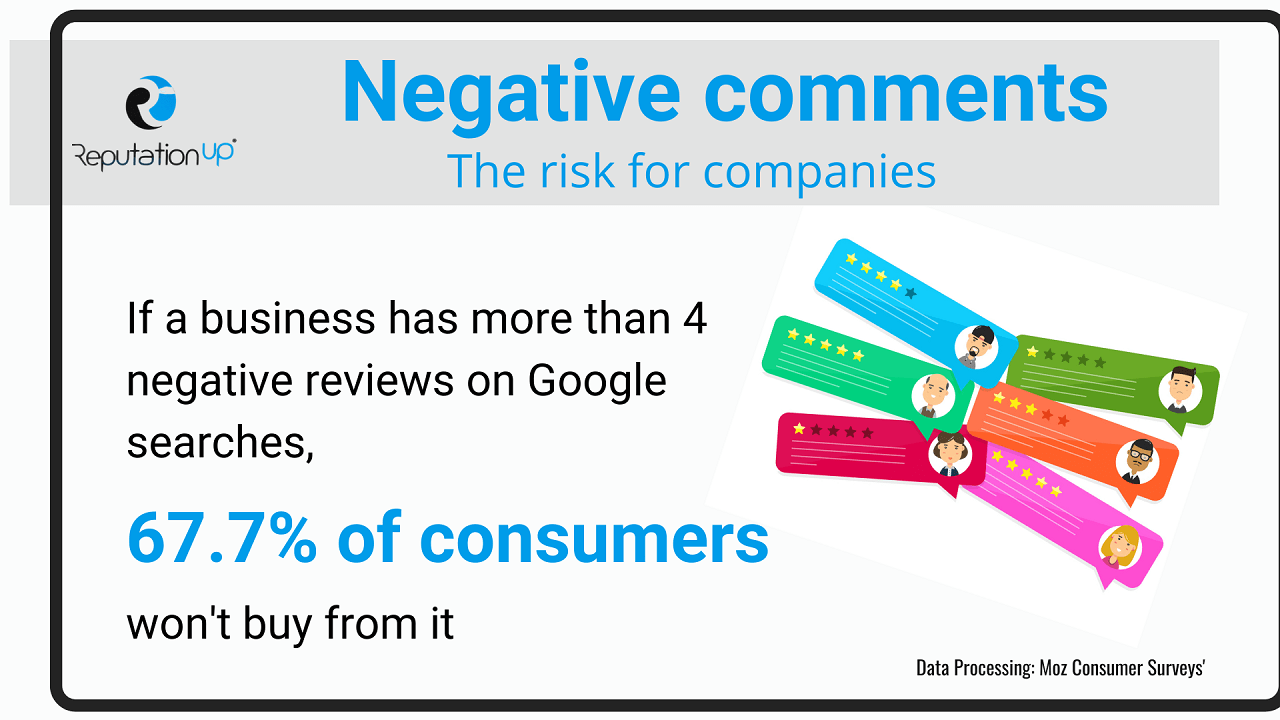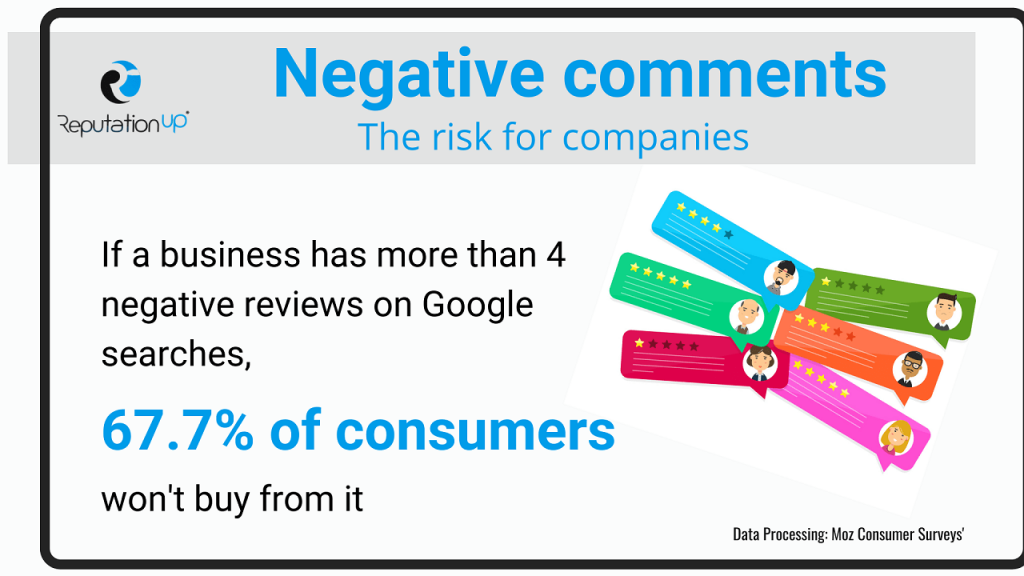 Reputation Management, therefore, arises from the need to manage your personal or corporate reputation, in order to avoid (or soothe) a reputational crisis that could otherwise significantly damage your profits.
What is the ORM
ORM stands for Online Reputation Management.
It is, therefore, the management of everything that builds your reputation on the internet.
What is online reputation management?
At this point you can deduce for yourself that the Online Reputation Management (ORM) is responsible for matching the fame (or the reputation) of an activity, a person, a company or even a product, to the image that you want to give to the target audience.
Its practical applications on the web are endless.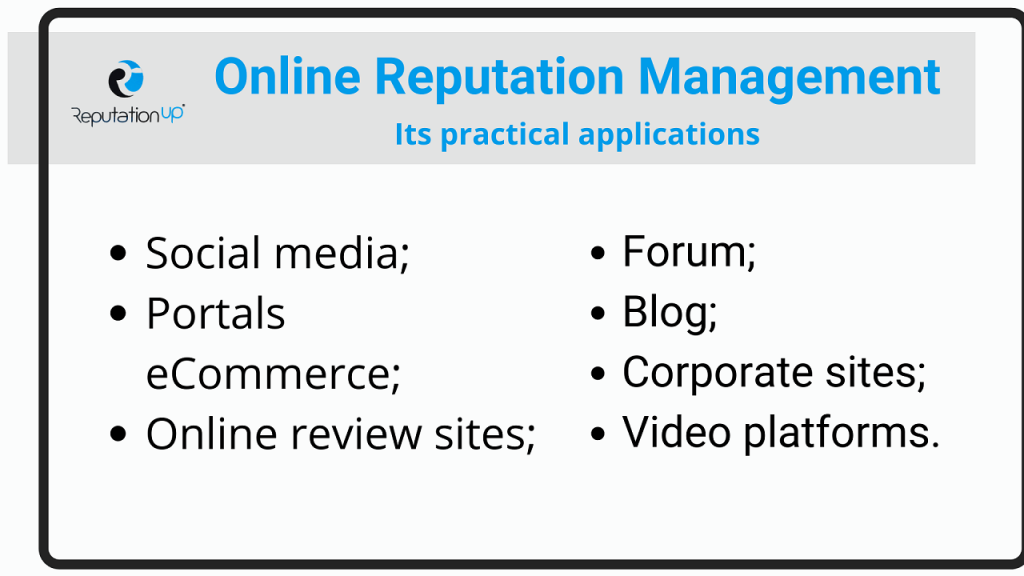 These are, however, the digital sectors in which it is most used:
Social media;
Portals eCommerce;
Online review sites;
Forum;
Blog;
Corporate sites;
Video platforms.
Definition of online reputation management
You must have noticed that everything revolves around the concept of reputation.
Online Reputation Management is, therefore, born from the need of companies and private individuals to protect themselves from the potential image damages that derive from the media exposure or, at least, to limit the impact on the activity itself.
Meaning of online reputation management
In the digital age, it is clear that what is said online has a significant impact on the lives of each of us.
Here, now imagine this impact increased exponentially and you will understand how a small gesture like a negative comment or a photo of doubtful taste can go to affect the reputation of a company.
Negative feedback and a bad brand reputation are deadly for the activities that suffer such dynamics.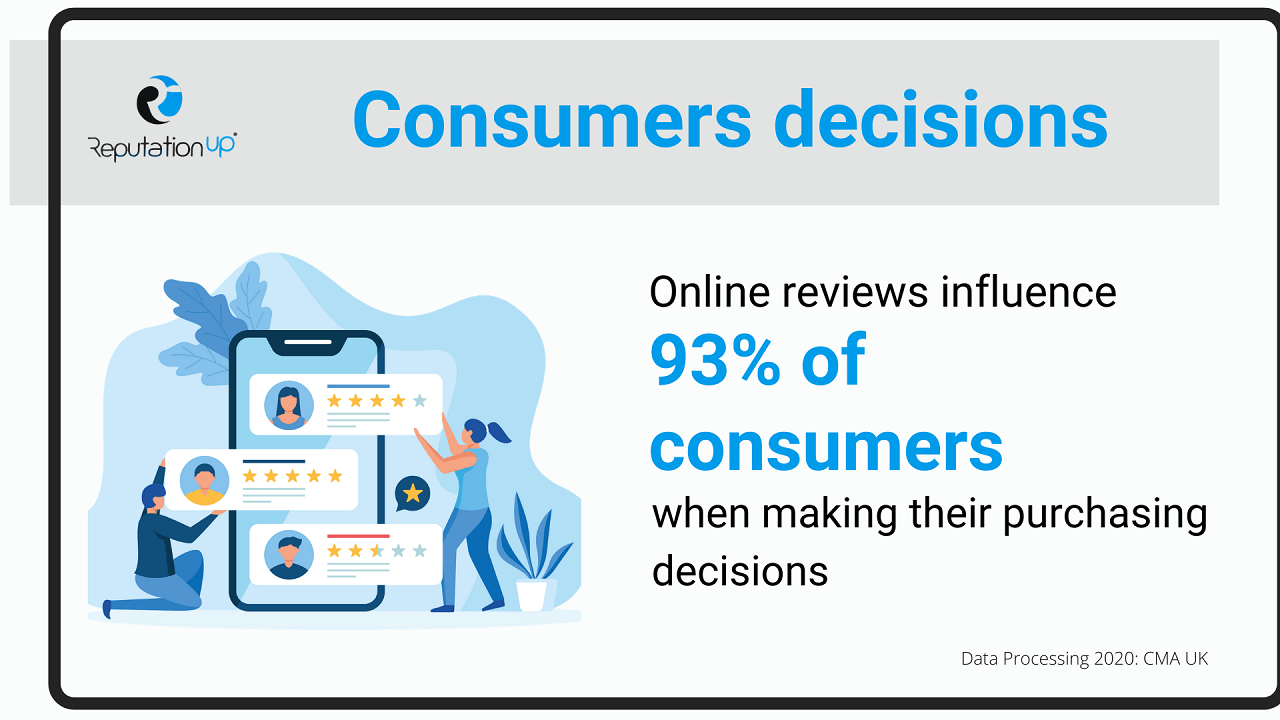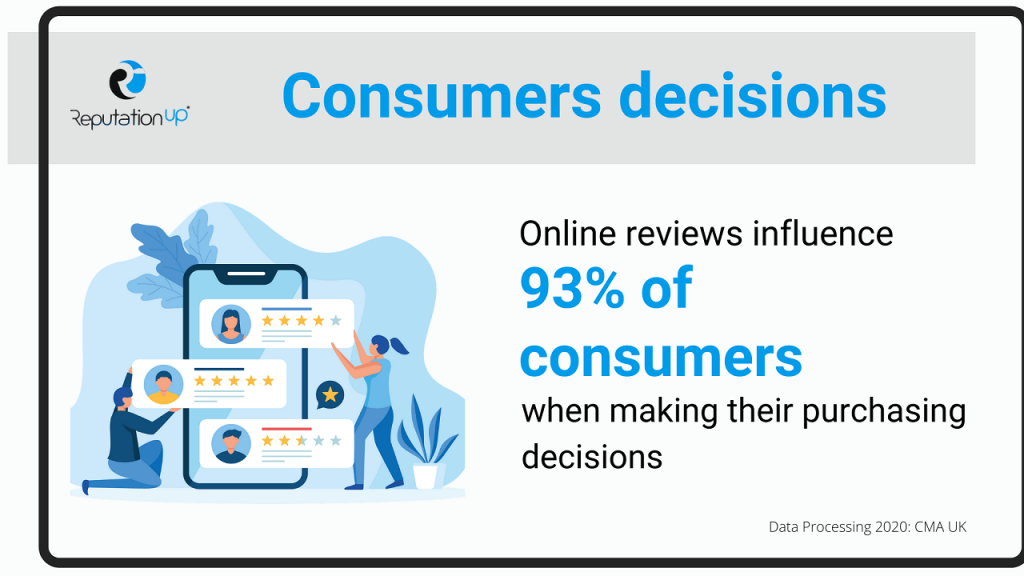 The ORM intervenes precisely on the opinion of the mass of digital users to stop perceiving the brand and the company linked to it as negative.
The same principle applies to the private citizen who can see his reputation compromised by a youthful stunt or because someone has decided to ruin his life by spreading private information (as in the sad cases of sextortion).
---
Do you want to delete personal and private information from the web? Call us at +1 786 224 0709 or +44 20 3769 0518
---
Online reputation management process
The online reputation management process consists of 3 main steps:
Reputation cleaning: The first phase includes finding and deleting the harmful information on the web;
Reputation monitoring-protecting: at this stage you measure, monitor and analyze your online reputation;
Reputation Improving: The final step is to improve and consolidate your online reputation.
Examples of online reputation management
There are many cases in which a company may need to rely on an ORM action to rehabilitate its image.
Among the most striking examples we find the case linked to Nestlé and that of United Airlines.
Nestlé: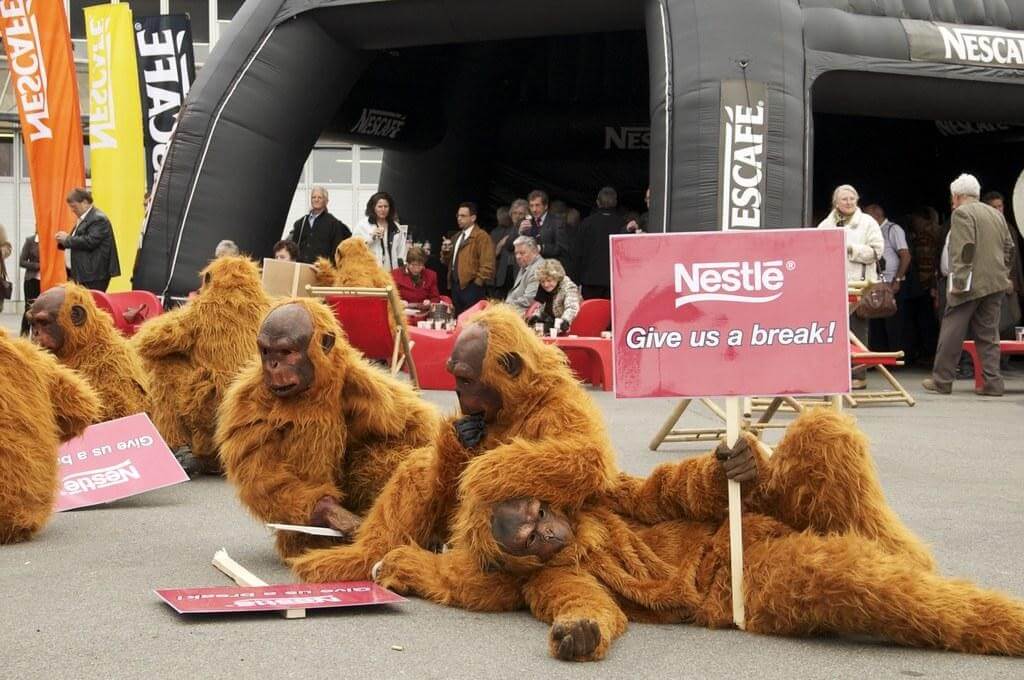 In 2010, Greenpeace released a video that denounced the way in which Nestlé developed its Kit Kat product.
The well-known confectionery company was accused by Greenpeace of causing a number of environmental damage.
This organization alleged that the company manufactured its product with palm oil from Indonesian forests, the habitat of a protected orangutan species.
After the attack, the brand gave no explanation and eliminated all the negative comments that there were in its social networks. They also censured its fans on Facebook.
In the end, Kit Kat asked Youtube to remove the video published by Greenpeace.
The problem was that Nestlé realized late how much the campaign was damaging the brand. They apologized for the behaviour and tried to make the problem fall into oblivion.
A good ORM strategy was missed.
United Airlines
The US airline was the victim of a video posted by a passenger complaining about overbooking and the bad service offered.
With over 100 million views, the film had a devastating impact on the company's image, that emerged from this reputational crisis only through an accurate ORM plan supported by a renewed marketing and promotion strategy that made it possible to make users forget what happened.
Online reputation management in digital marketing
Since the process behind the ORM can be summed up with the idea of selling a better image of you or your brand, it should not seem strange to you that this sector works closely with digital marketing.
Both the ORM expert and the digital marketing expert must be fully familiar with the digital world and with the systems that allow you to optimize your company's visibility.
Specifically, these are the areas of work common to ORM and digital marketing:
SEO Strategies;
Shop online;
Public Profiles;
Blog;
Social Media;
Television and advertising.
Online reputation management services
---
Do you want to grow your brand's online reputation? Call us at +1 786 224 0709 or +44 20 3769 0518
---
These, on the other hand, are the services that make up the MNO: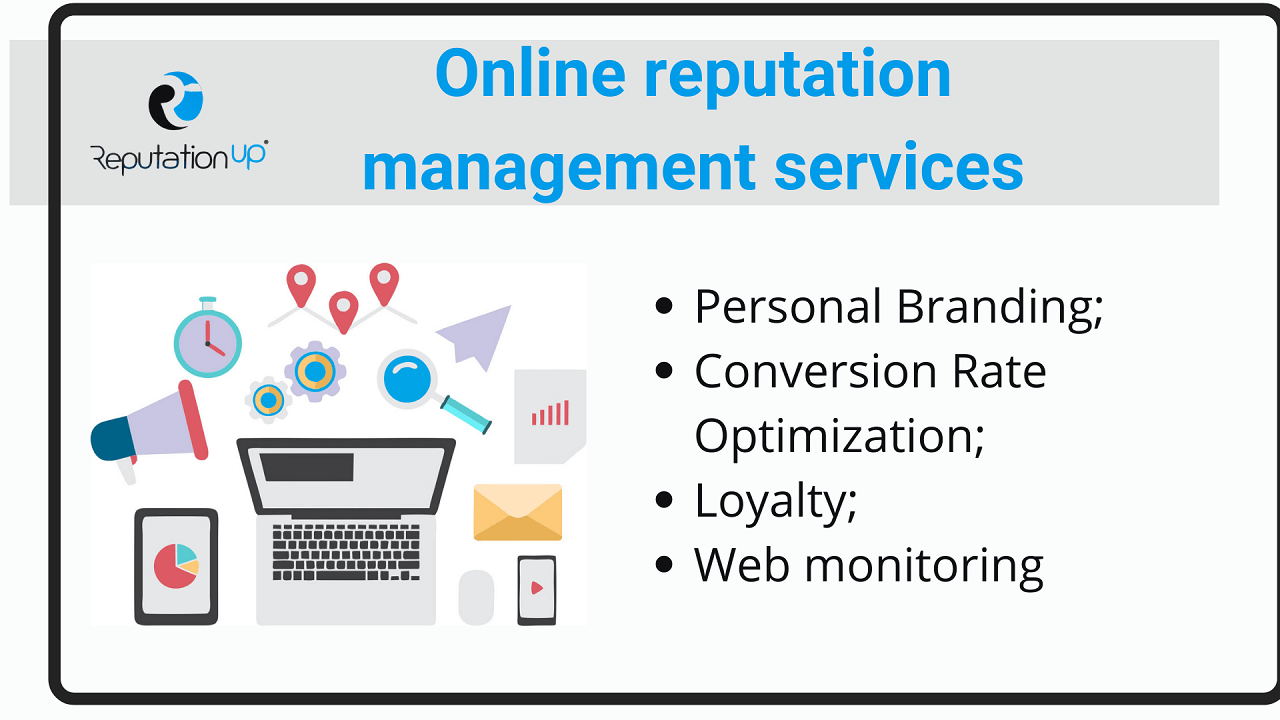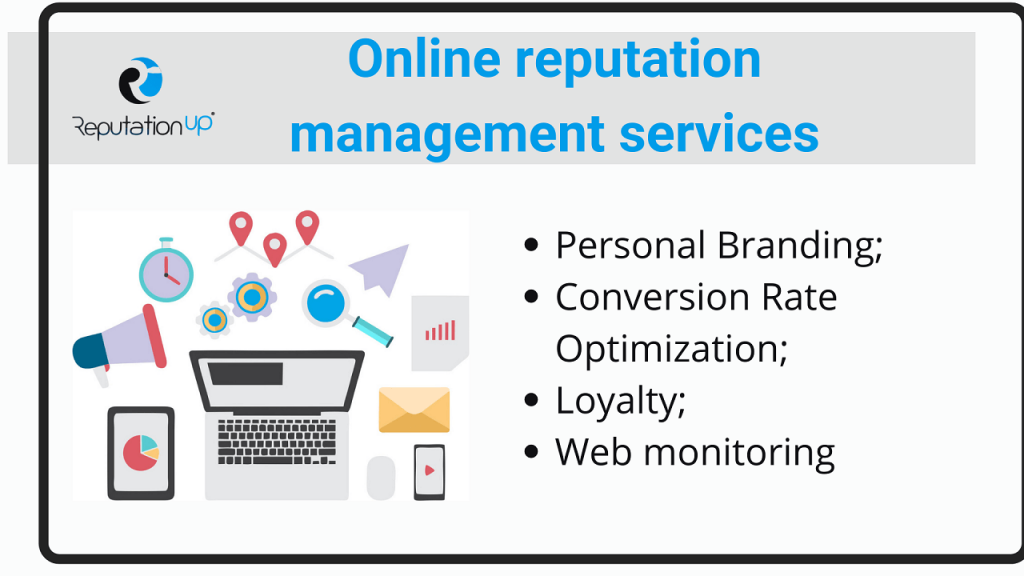 The first and essential step is to build a brand by exploiting the strengths (but also weaknesses) to its absolute advantage;
Conversion rate optimization (CRO). The goal behind the creation of a site is never to generate traffic for its own sake, but rather to lead the surfer to carry out a certain action. To do this, we need to consider many factors that will lead the user to transform into the customer that, in addition to generating data traffic, also generates profit. CRO are all those changes that you make to the site to make sure that you verify this conversion;
Loyalty. Once the user has become a customer, it is important that he becomes loyal to your brand. It is essential to put in place a series of strategies that create the highest degree of customer satisfaction that will feel rewarded for its loyalty;
Web monitoring. In this task we also include the management and monitoring of social networks and other information channels, the analysis of trends, the removal of harmful links: it is a work of strategic importance.
Do online reputation management services work?
Over time, Reputation Management services have had excellent results to improve the reputation of clients.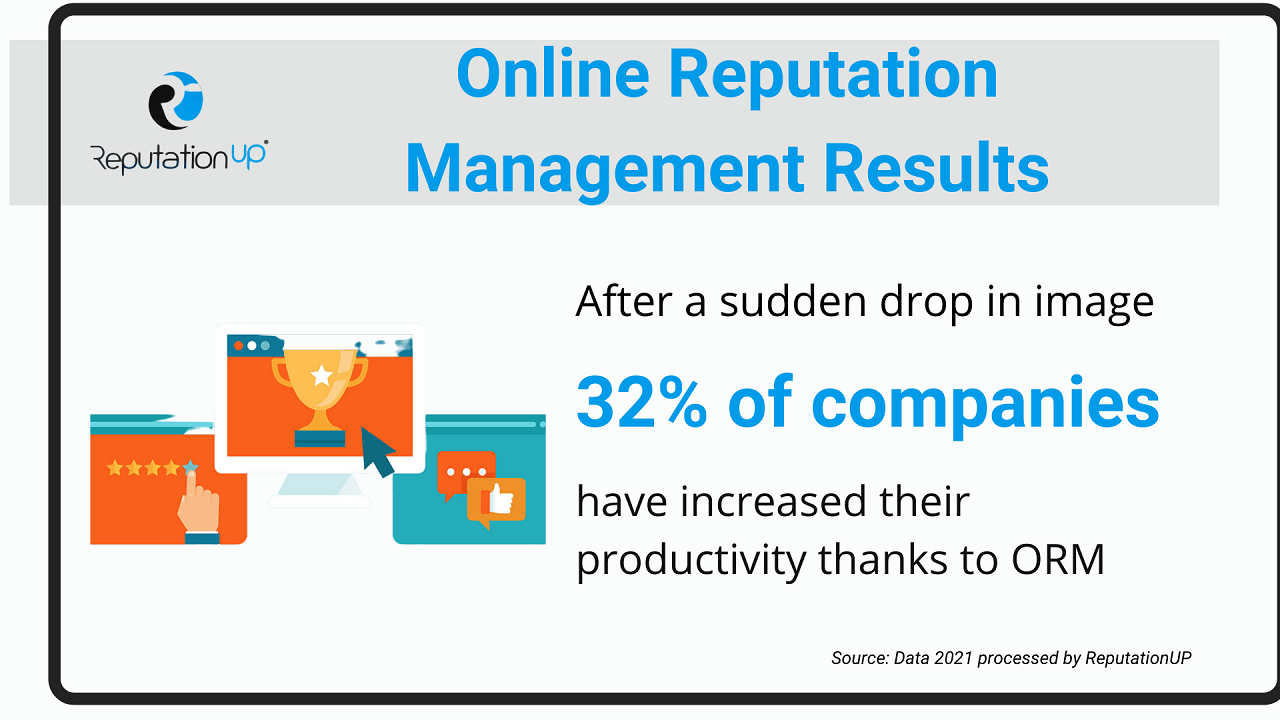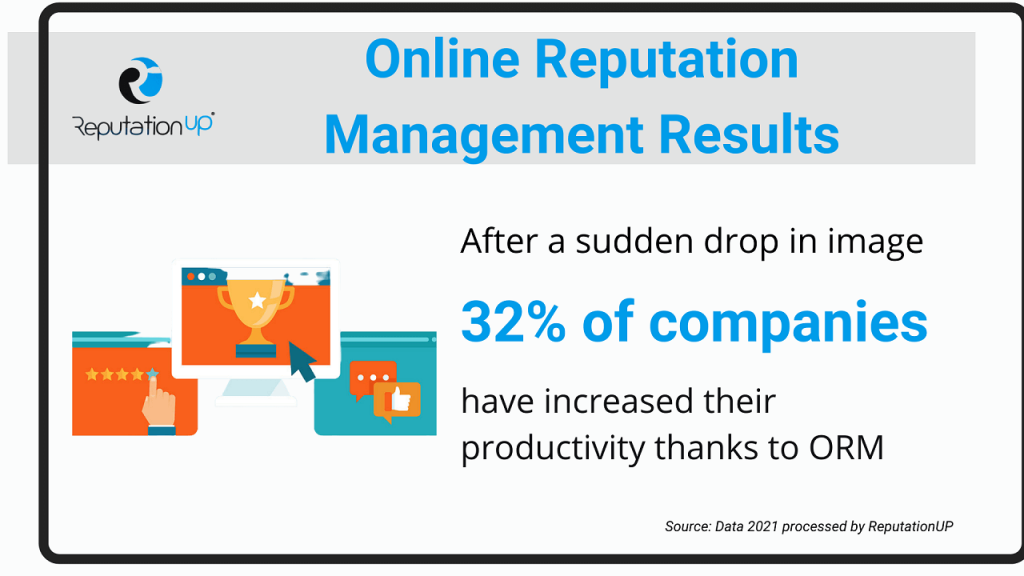 it is estimated that 32% of companies have increased their productivity thanks to ORM after a sudden drop in image
Online reputation management agency
An ORM agency is in charge of managing the image and proposing a strategy to enhance the brand that has suffered a decline in appreciation by putting together all the strategies so far illustrated.
The best ORM agencies in the world are:
Why is online reputation management important?
At the dawn of 2021 the ORM, for a company and its business the ability to recreate trust, credibility and above all a positive image in the eyes of buyers is essential for a constant gain over time.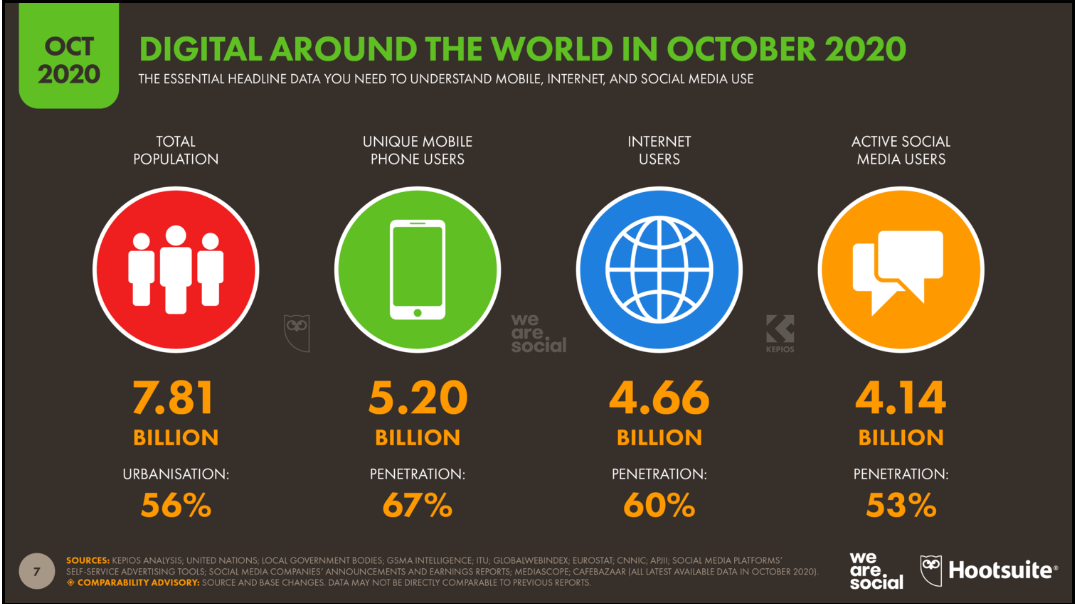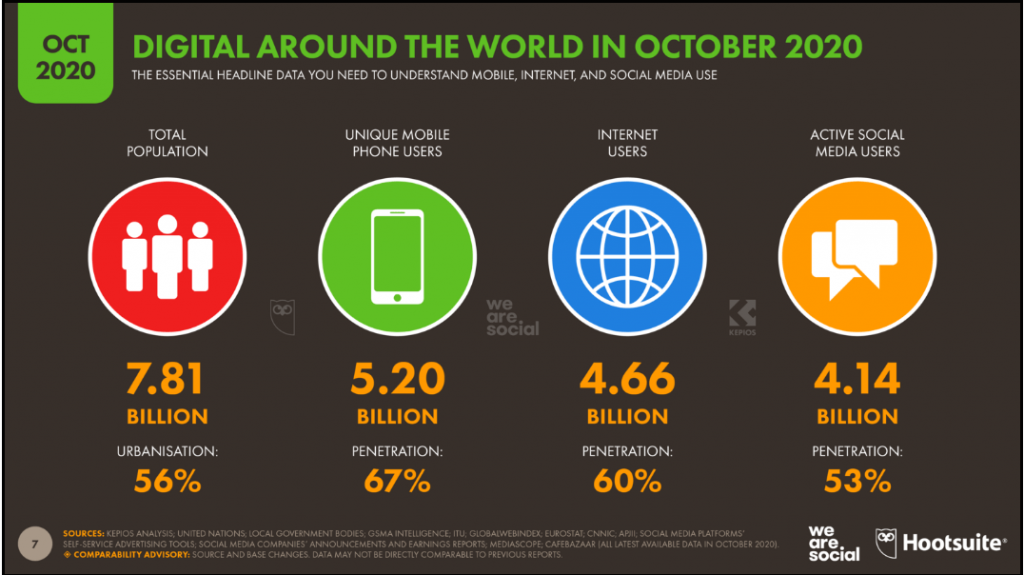 In a world where information moves virtually unchecked, having a sound reputation management plan can be the best decision for your business.
Only then will you be able to intervene in a timely manner on a possible reputational crisis without losing profits.
Statistics and facts about the importance of online reputation management
The statistical data for the year 2020 show how attentive the consumer is to what is reported online.
Let's see the most significant values:
85% of consumers trust online reviews;
3 out of 4 consumers trust a company with positive reviews;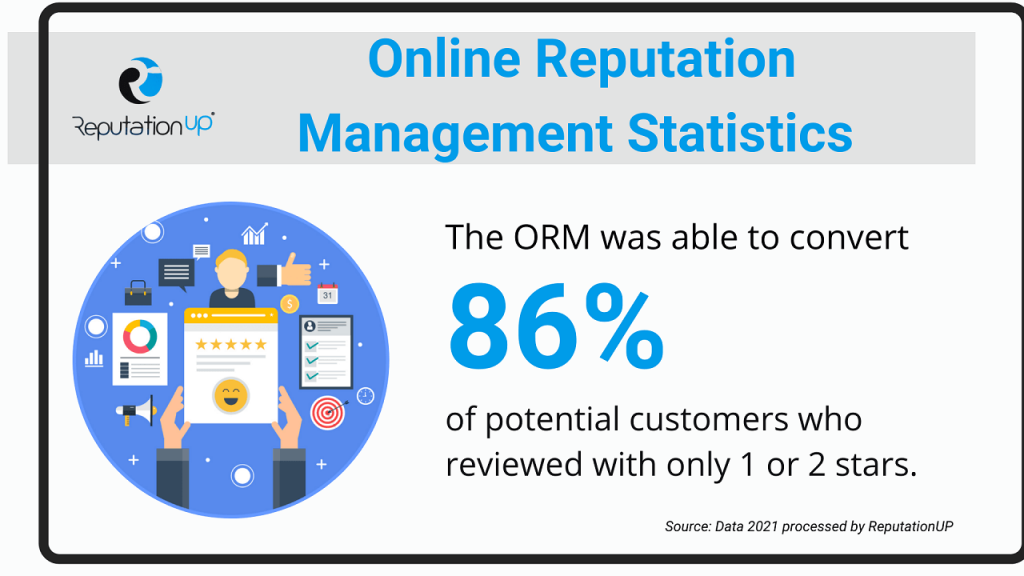 The ORM was able to convert 86% of potential customers who reviewed with only 1 or 2 stars.
Benefits of online reputation management
Among the undoubted advantages of the MNO is the following:
Conversion of negative reviews;
SEO optimization;
Revaluation of the image;
Revaluation of the brand;
Loyalty of the customer.
Why do you need online reputation management?
---
Need help managing and improving your online reputation? Call us at +1 786 224 0709 or +44 20 3769 0518
---
Don't wait to face a reputational crisis before resorting to the ORM!
Companies such as private individuals use these services to:
Create a solid digital identity, which is consistent and well thought out with the product you intend to propose.
SEO indexing.
Always have your image under control, preventing reputational crisis.
Ensure fast execution: if you have not managed to avoid the crisis, at least make sure you can cope with it.
Counter haters through good practices of kindness and constant online presence.
Best advice for online reputation management
If for now you don't feel like resorting to specialists to improve your online reputation, then here are some practical tips for a DIY ORM:
Implement on-site SEO strategy;
Reply immediately to negative reviews;
Offer efficient customer support.
The best tools for online reputation management
---
Do you want to spy on your competitors and their strategies? Call us at +1 786 224 0709 or +44 20 3769 0518
---
You may then need (free) tools to enable you to achieve the above goals.
Here are the best ones: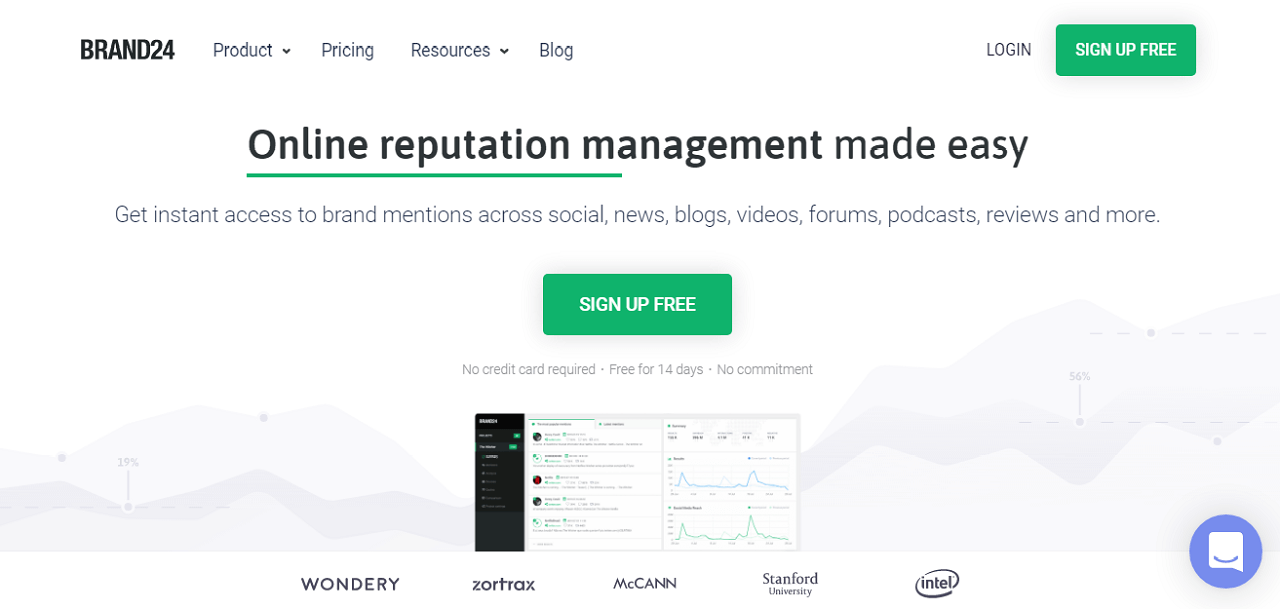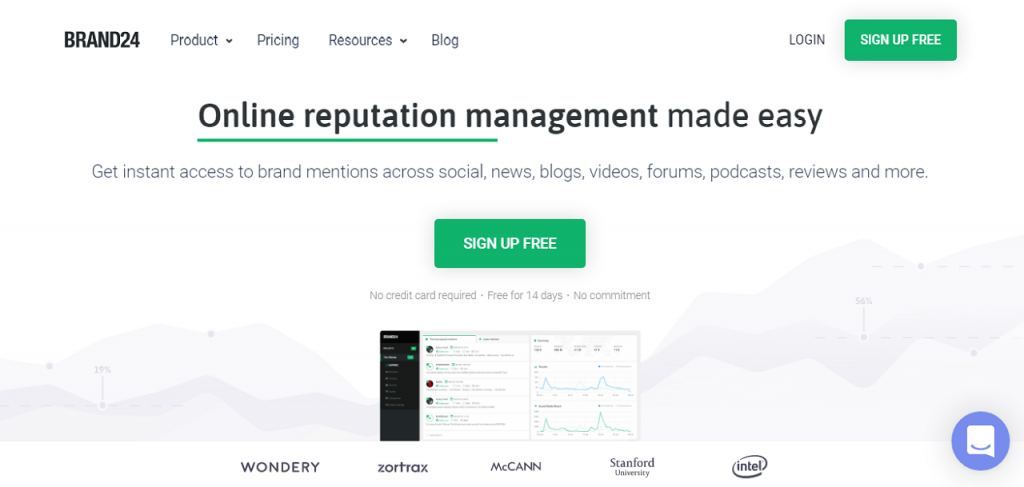 Brand24. You can search for what interests you simply by typing a list of keywords. It collects in real time all the publicly available mentions on social networks, news sites, videos, blogs, websites, discussion forums, Google reviews and other sources. You can even filter through the sentiments to see who spoke ill of you. Finally, you can easily analyze the data with a very thorough report.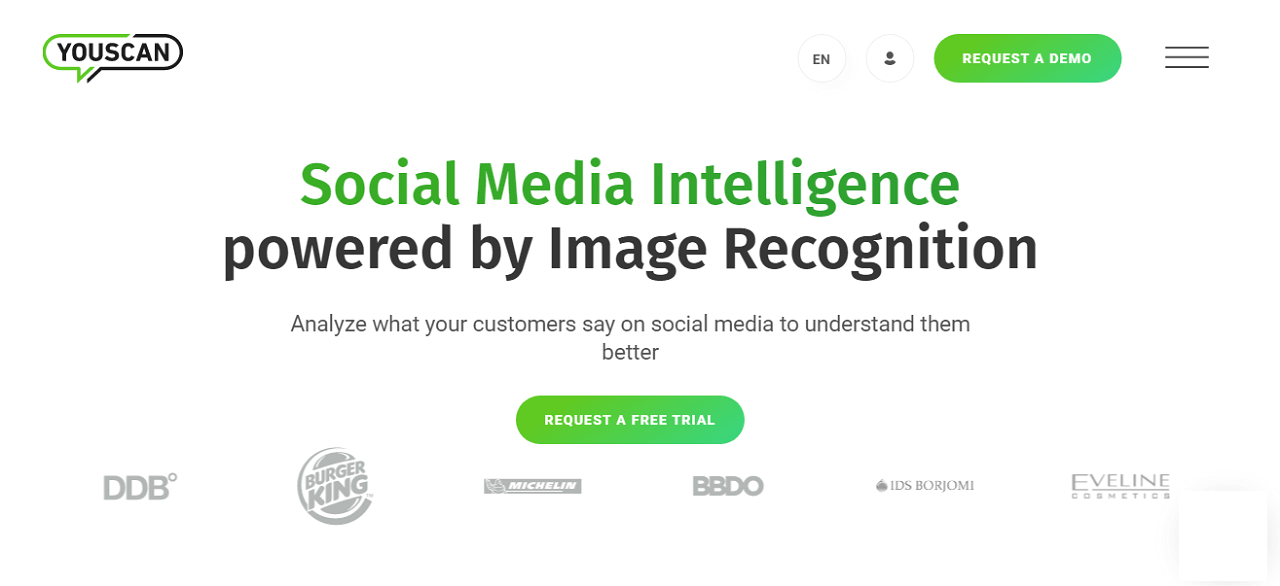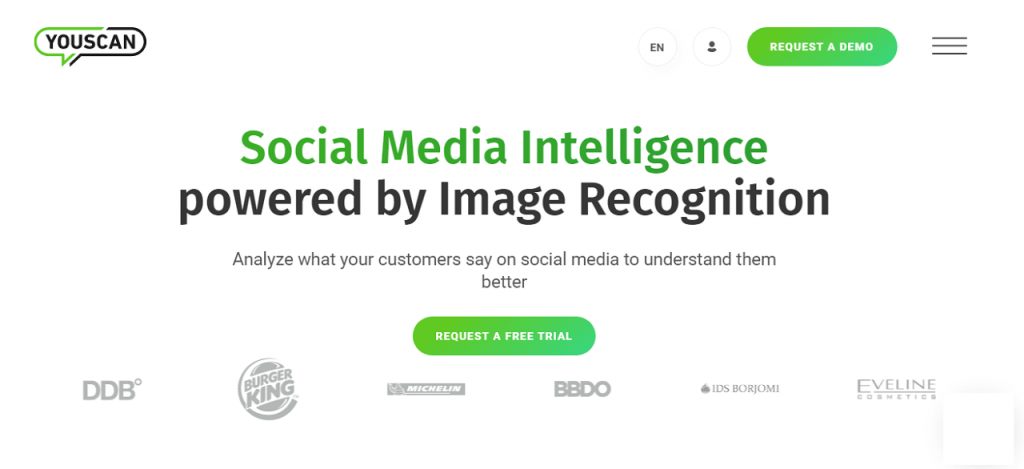 YouScan. It is a listening tool able to scan social media and the rest of the Web in search of the mentions of your brand. Its strong point is its image recognition capabilities, which allow users to be remarkably specific in their visual searches.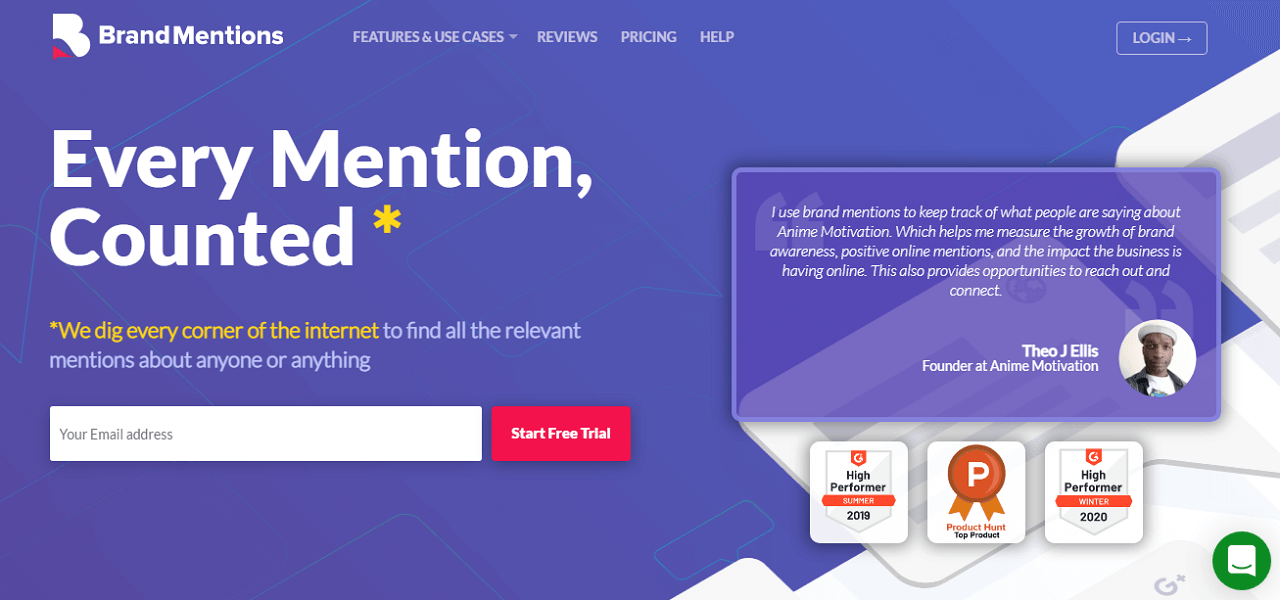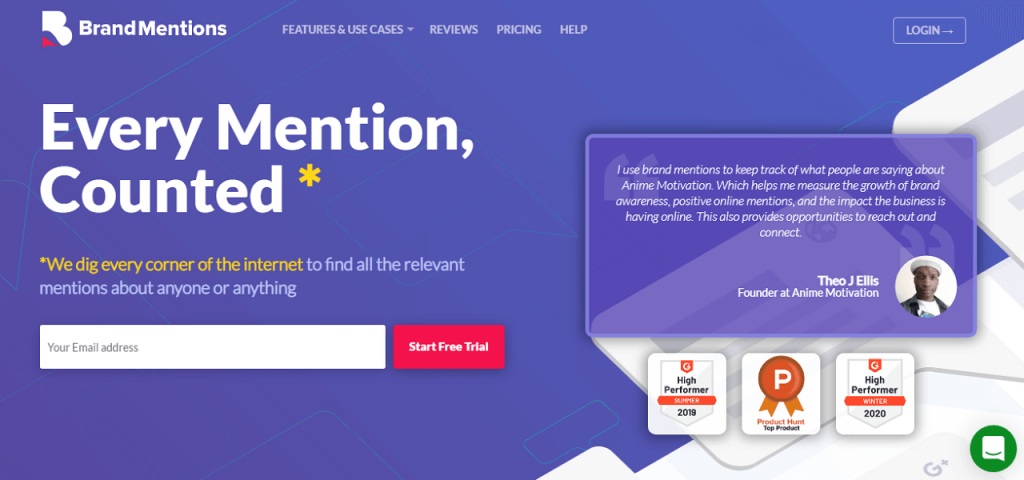 BrandMentions. All major social media platforms are represented here, along with non-social websites such as news, blogs and review sites. After creating your project, it takes less than a minute for you to have a detailed analysis of your mentions with sentiment analysis and the ability to respond directly to reviews.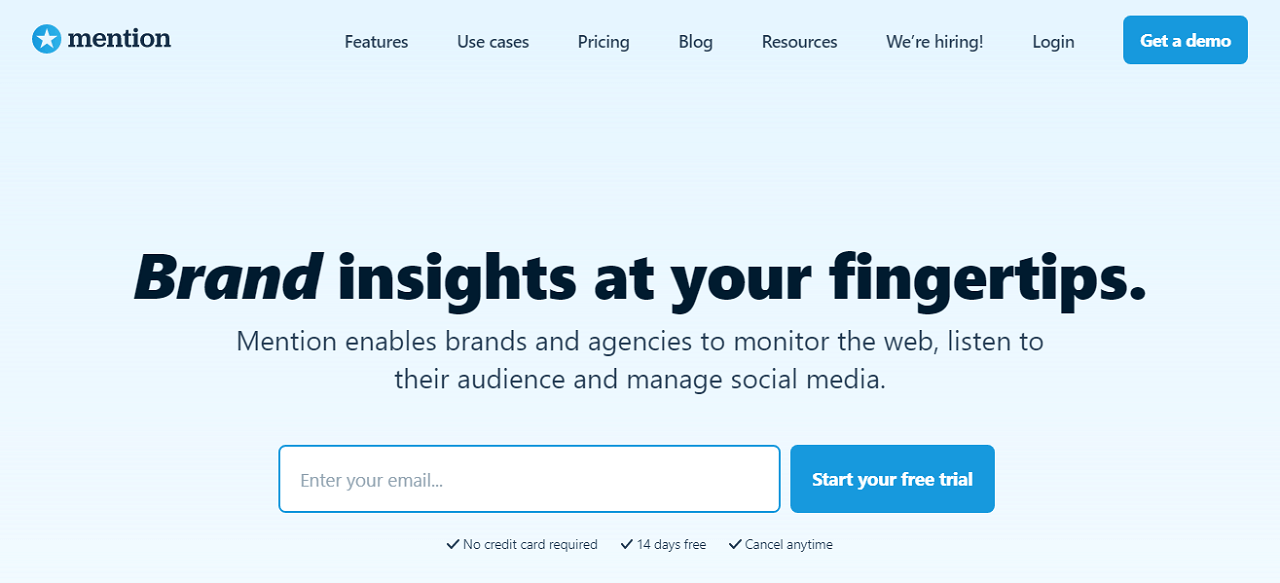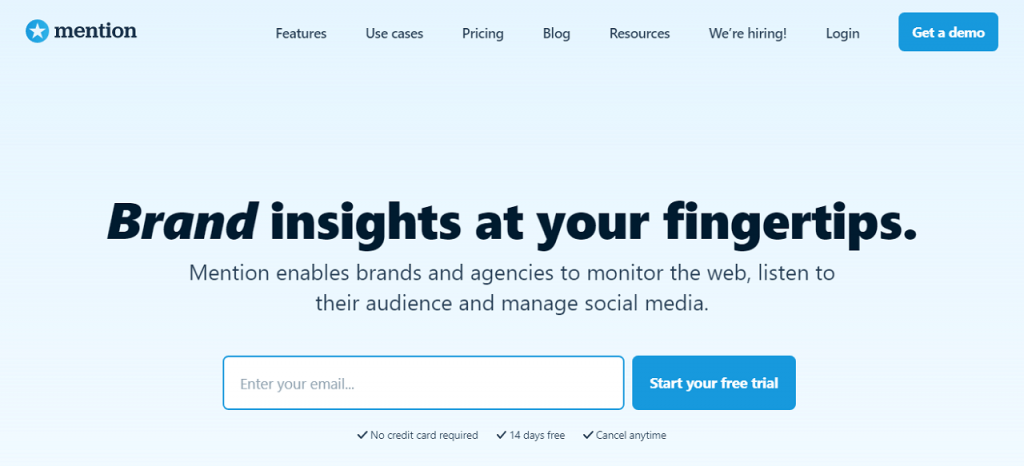 Mention allows brands to monitor social media and find any mentions of themselves in online conversations. The tools of sentiment analysis help you quickly separate positive and negative comments, letting you quickly identify any problem.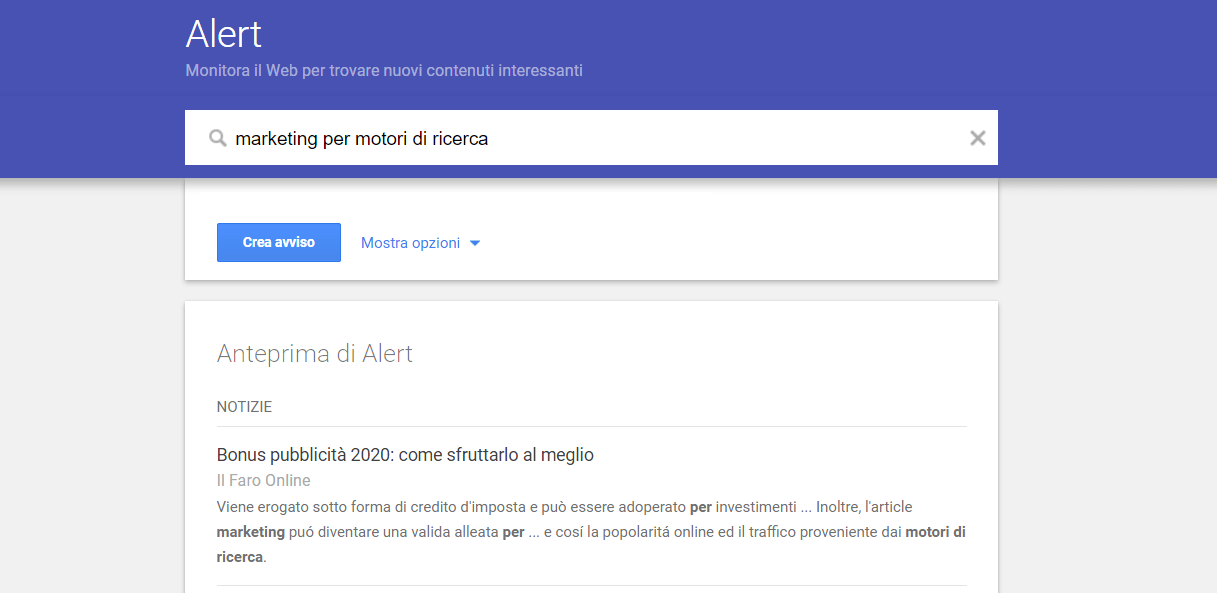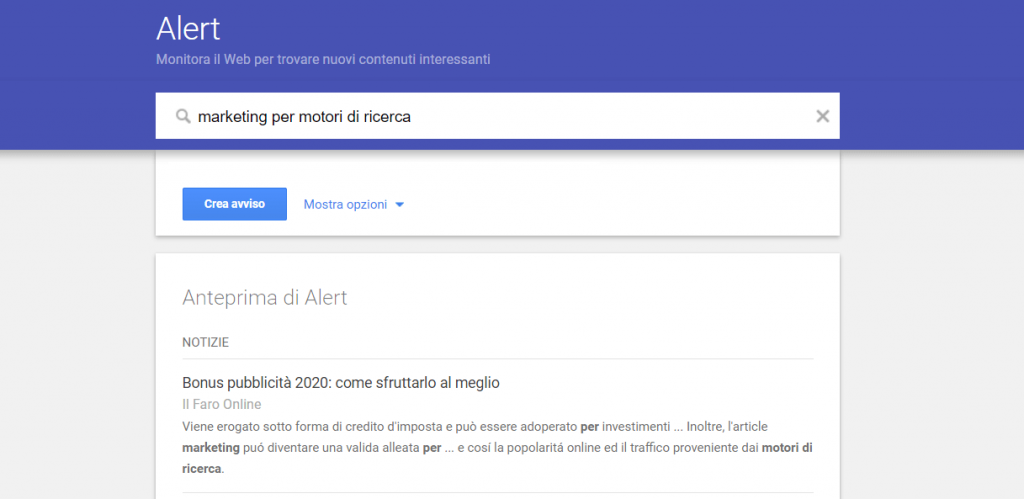 Google Alerts. You have probably already used it and know how simple and intuitive it is: search for the keywords that interest you and Google will notify you with an email when it detects a new mention.
Best online reputation management software
Here are some complete software: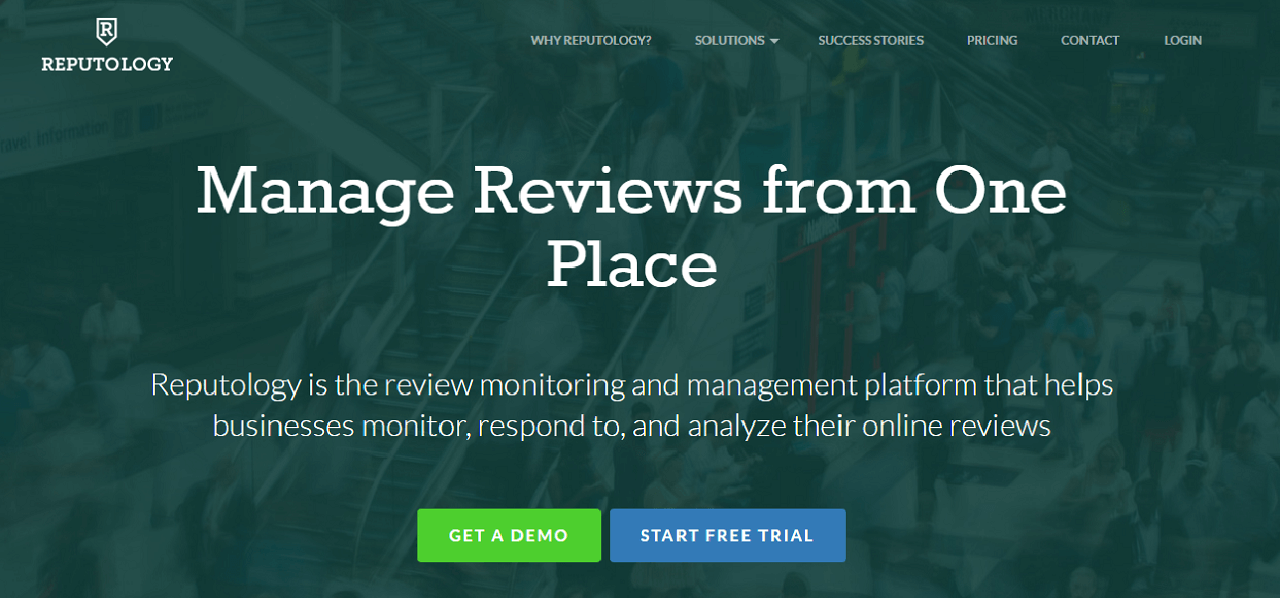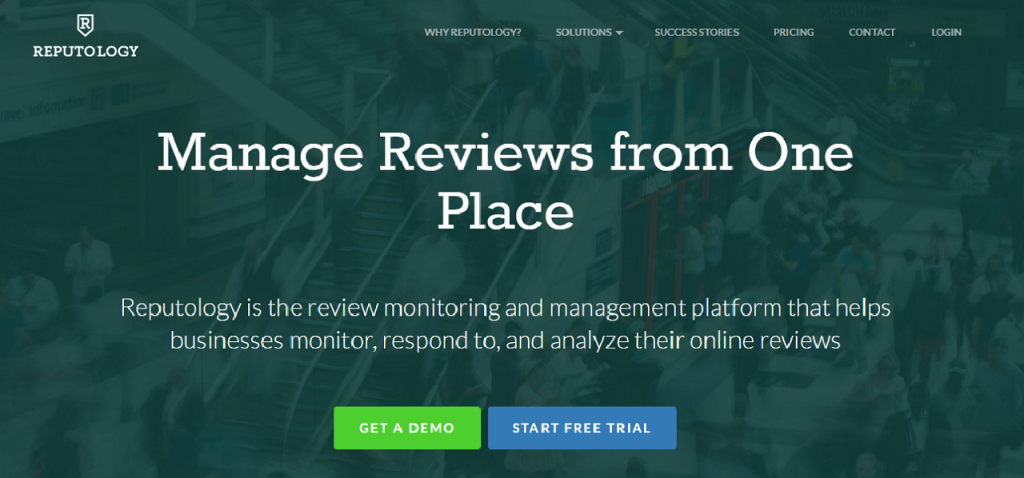 Reputology is a review monitoring and management platform that helps companies monitor, respond and analyze online reviews. Its analysis tool is very precise in location, particularly important for companies selling to a local market. It also provides a semantic analysis that allows you to convert the unstructured content of reviews into usable data.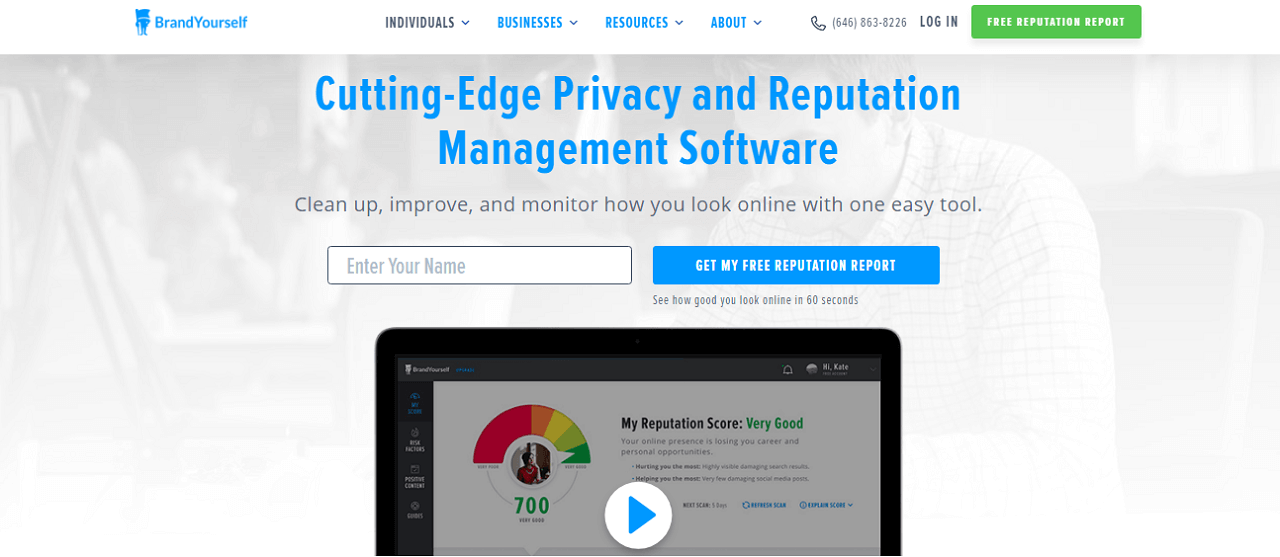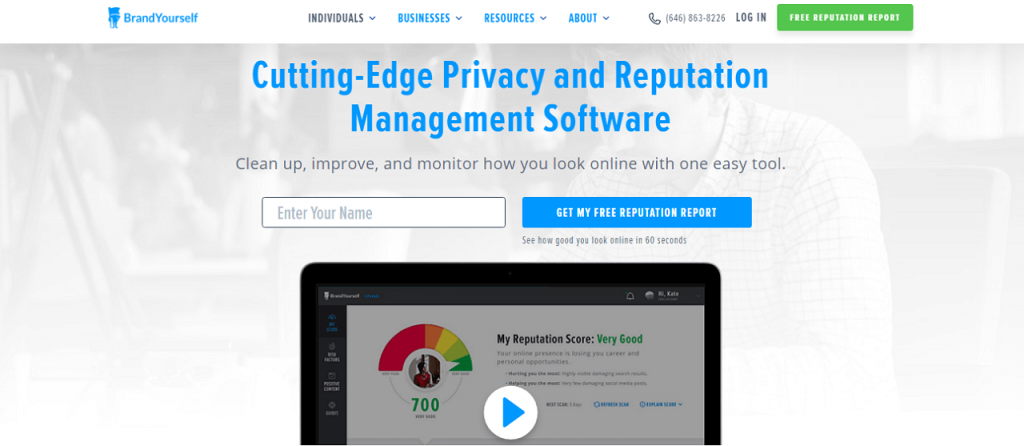 BrandYourself is an online reputation management software for individuals and companies. Create a free reputation report so you can see how you look online. Calculate your score, inserting you in a range between the "Very Poor" and the "Excellent". It also highlights risk factors: marked social results, marked social posts and marked images.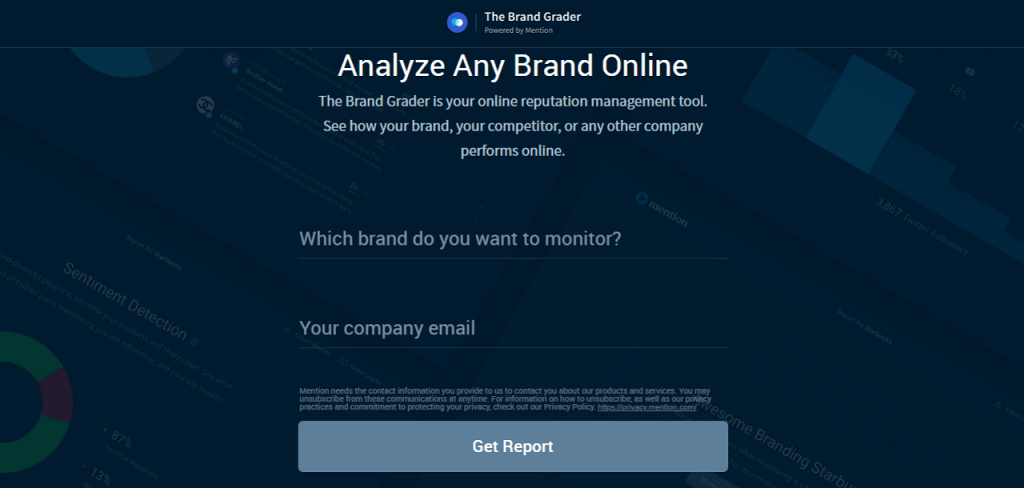 The Brand Grader can provide you with useful information on how your brand behaves online. It sends you a report about your company and provides you with a quick overview of online presence of the brand with details about which are your best influencers, the main sources, how many mentions you have received, what is the underlying sentiment and where are localized.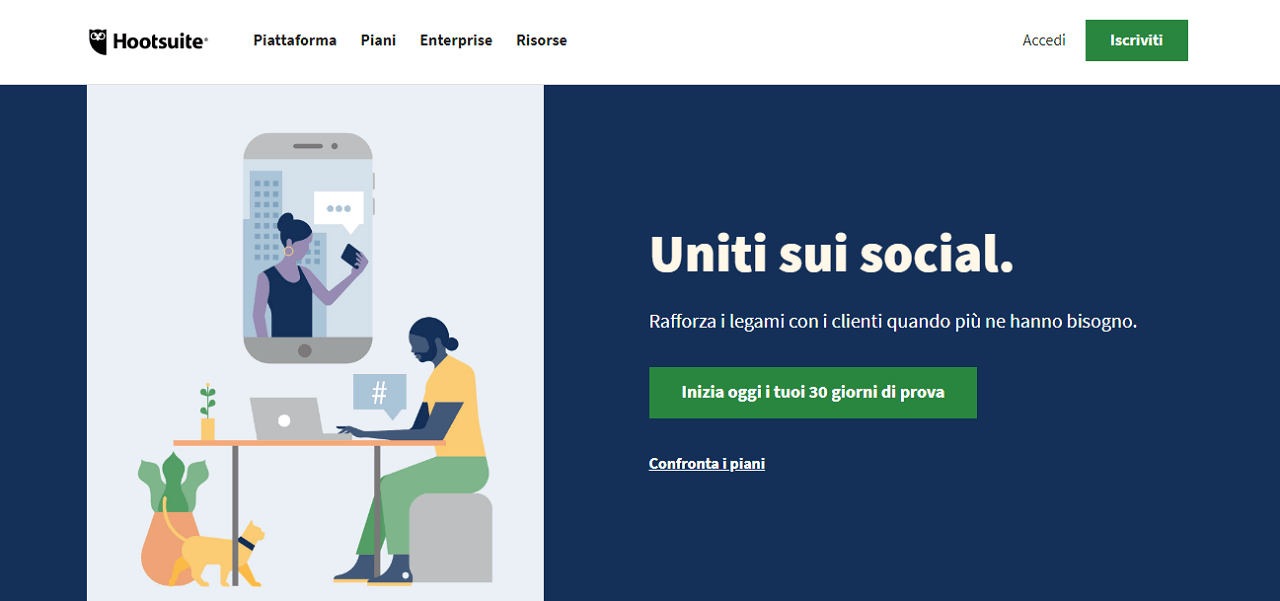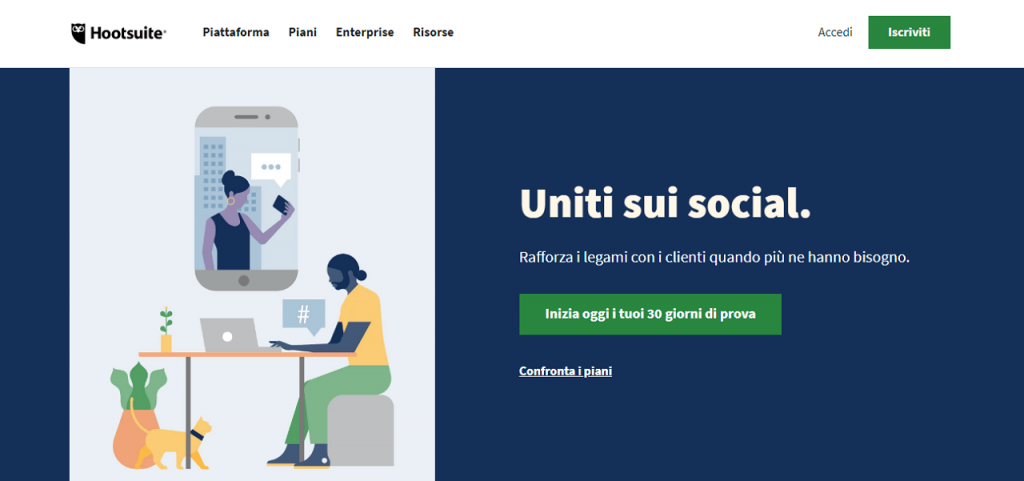 Hootsuite offers you a series of possibilities to gather all your social campaigns on a single platform. Plan and publish content on the right channels at the right time, monitor effectiveness in real time and draw attention to your most effective content; allows you to stay in constant contact with your users and allows you to perform in-depth analysis through the most innovative analytics apps for social media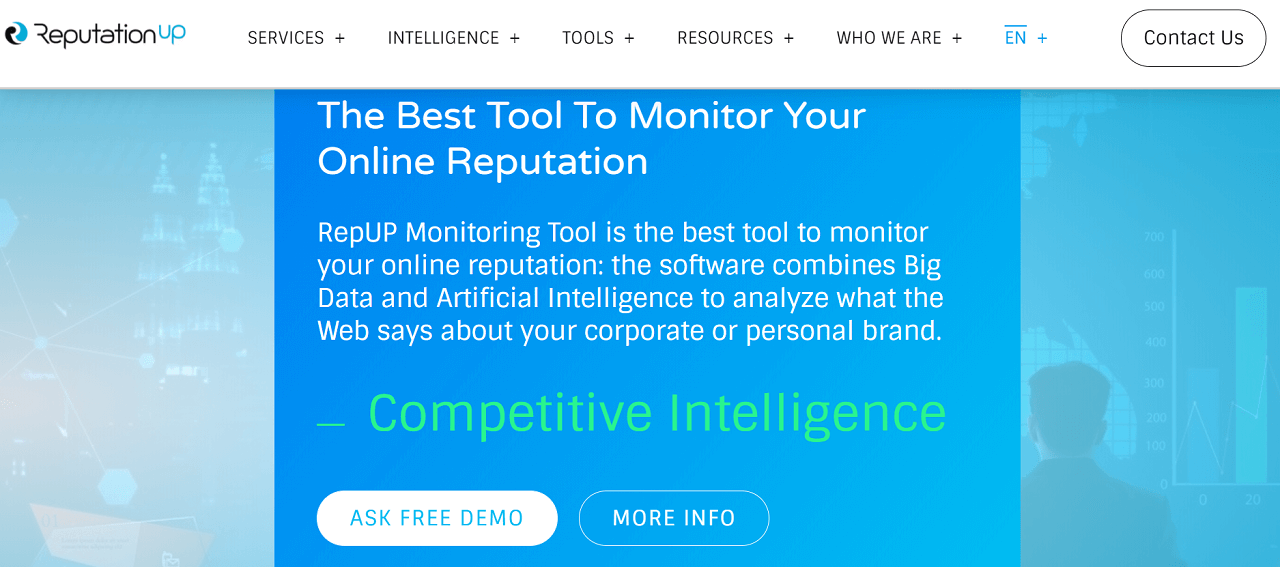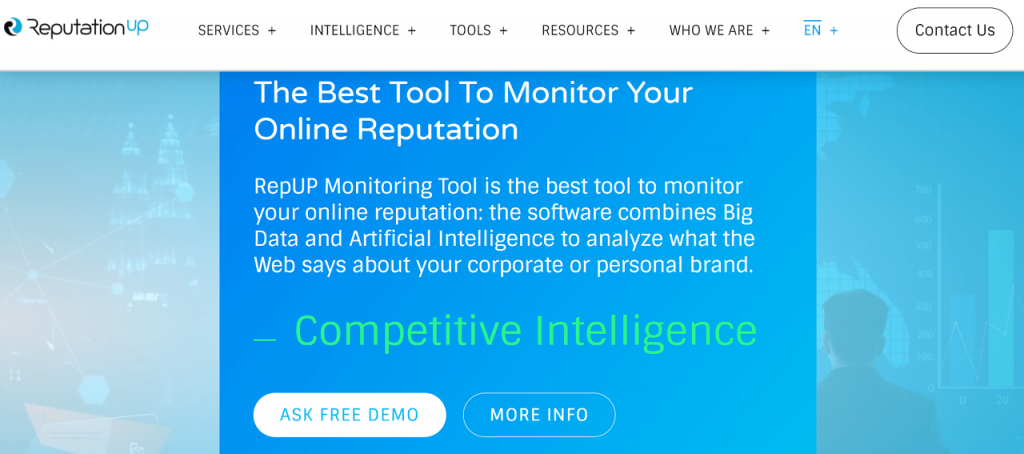 RepUp Monitoring Tool. The software designed by ReputationUp scans the Surface Web in real time, looking for positive, neutral and negative content related to your brand, measures the Sentiment score of mentions and, in doing so, intercepts reputational crises. It allows you to monitor keywords, hashtags, web domains, links, profiles and social pages, but also forum accounts and review sites.
---
Need help monitoring your brand online? Call us at +1 786 224 0709 or +44 20 3769 0518
---
The best online reputation management strategies
As noted in the previous paragraph the software used for the ORM are many and all very effective.
Although some specialize in particular fields, they all work basically by considering a number of common strategies: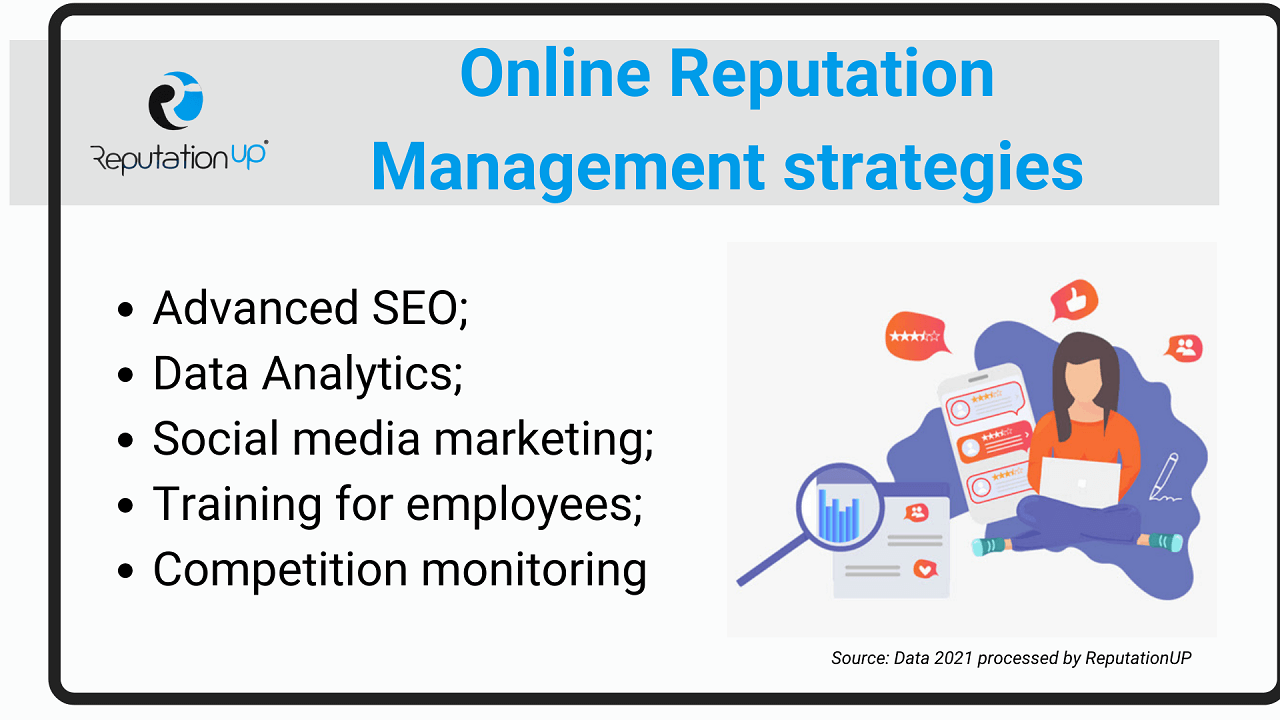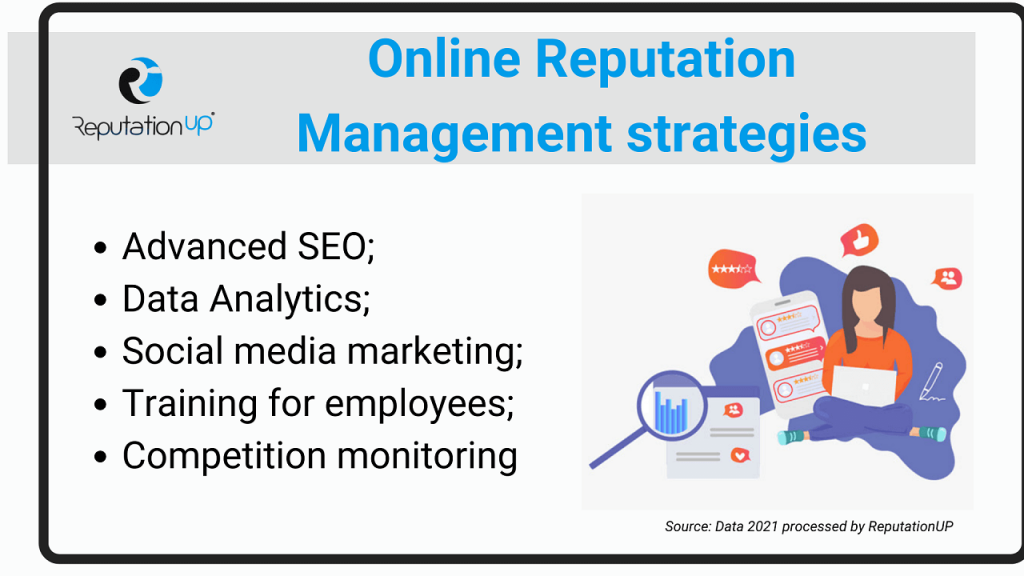 Advanced Search Engine Optimization (SEO): the software designed by ReputationUp scans the Surface Web in real time, looking for positive, neutral and negative content related to your brand, measures the Sentiment score of mentions and, in doing so, intercepts reputational crisis;
Data analytics: data is everything, know how to read them in the right way makes the difference, choose a Data and Reputation Specialist up to the task;
Social media marketing: you must be aware of what your brand says on social networks in order to be ready to intercept any reputational crisis;
Training for your employees: everyone must know what to do;
Competition monitoring: keeping your competitors under control will allow you to always stay one step ahead;
Guide to online reputation management
Until now the article has offered a very wide overview of what concerns the ORM.
In the following lines we will analyze the Online Reputation Management specifically, depending on the sector of reference.
Let's get in there!
Online reputation management for companies and businesses
The ORM took on a significant evolution when major companies began to use this strategy to improve their reputation..
But what are the most impactful ORM actions that companies need to implement to succeed?
Here below I propose a summary of the 10 steps that Andrea Baggio, CEO of ReputationUP, suggests to improve your online reputation (the full guide can be found here).
Brand Reputation Monitoring. Every successful strategy passes by constant reputation monitoring action;
Measuring brand sentiment. Measure your reputation score to understand how users respond to your content so you can maximize its reach;
Cleaning Defamatory Content from the Web. I am not talking about criticism (which is lawful), but of real defamation: remove harmful links or proceed to de-index content from Google;
---
Don't like what Google says about you? Call us at +1 786 224 0709 or +44 20 3769 0518
---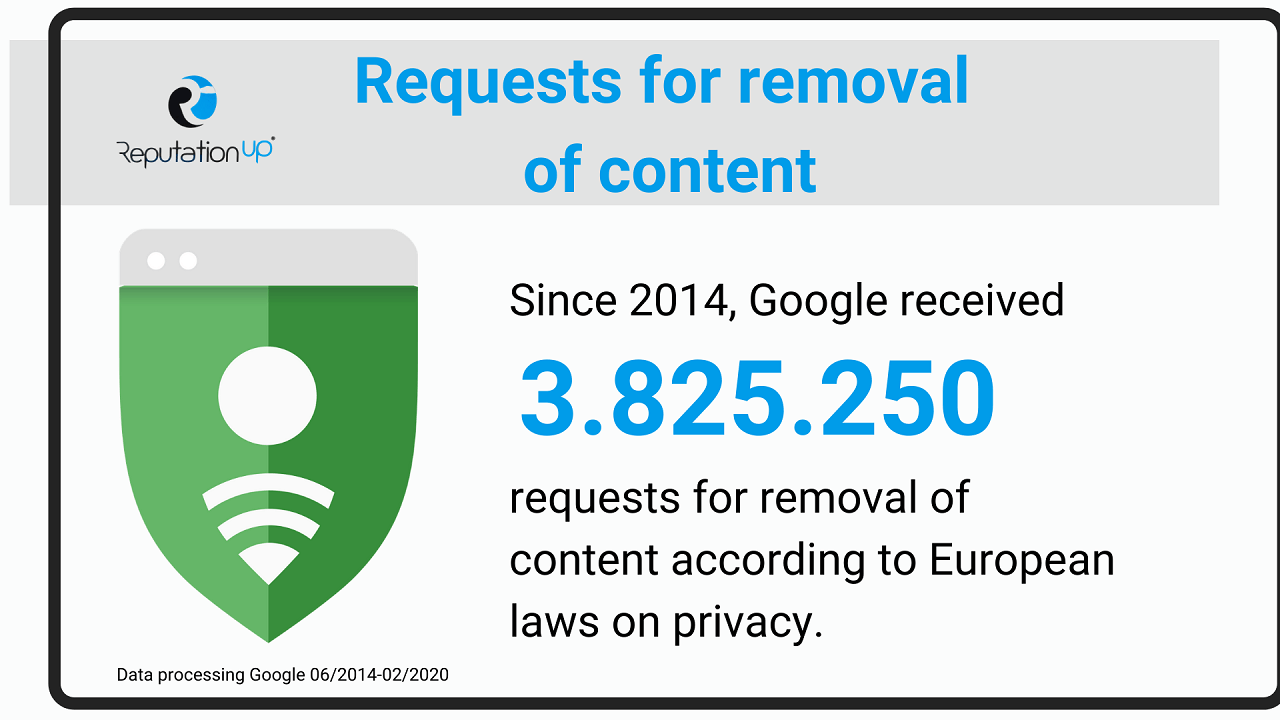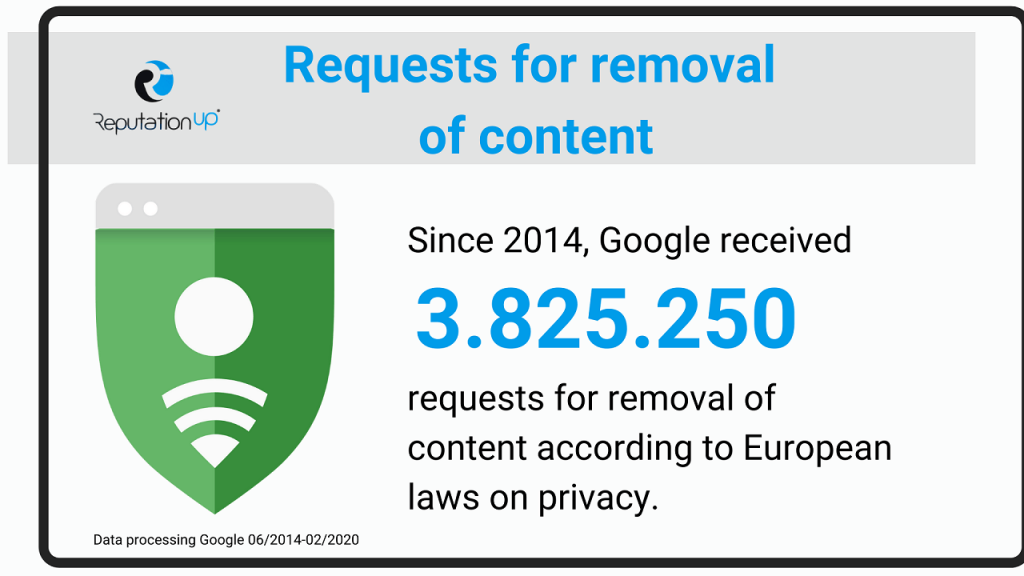 Creation of Quality Content. Only by creating quality content you will be able to improve your SEO ranking on Google, gain more visibility and attract targeted traffic in line with the services/products you offer;
Encouraging Positive Reviews. Ask your customers to recommend your page, your service, your product, leave a 5 star review (specific) and tell their circle of friends how fabulous you are;
Gratifying Customers. Solving a concrete problem has always been the best way to secure someone's esteem: always be kind and helpful, the customer will appreciate it and also all those who will see your reaction;
Increase Google Presence and Social Media. This does not just mean opening new social pages to earn easy backlinks, but above all it means increasing your influence on the web by stimulating the production of positive content by satisfied users;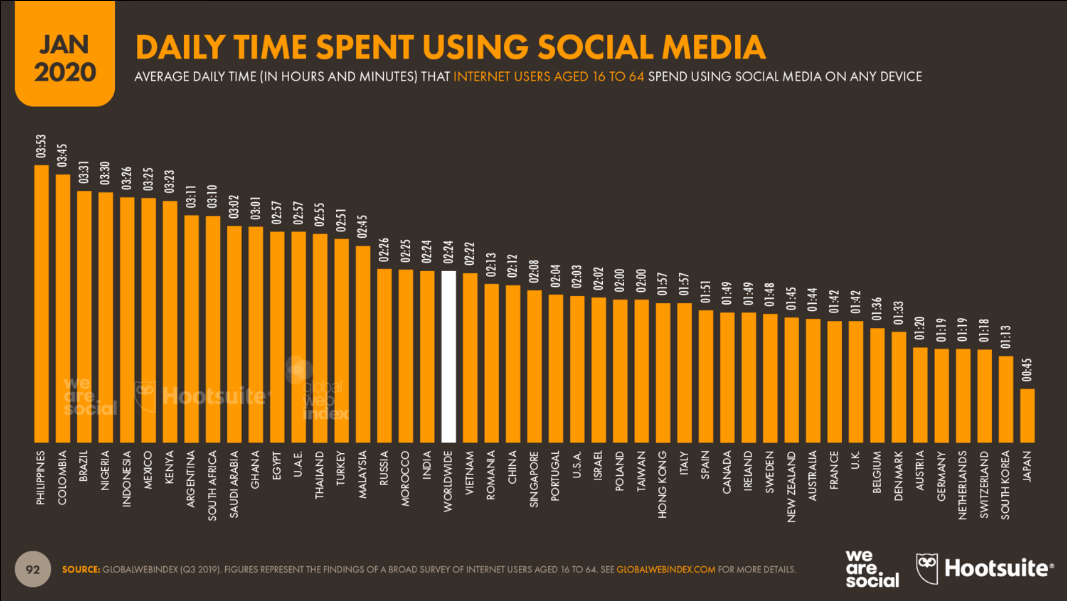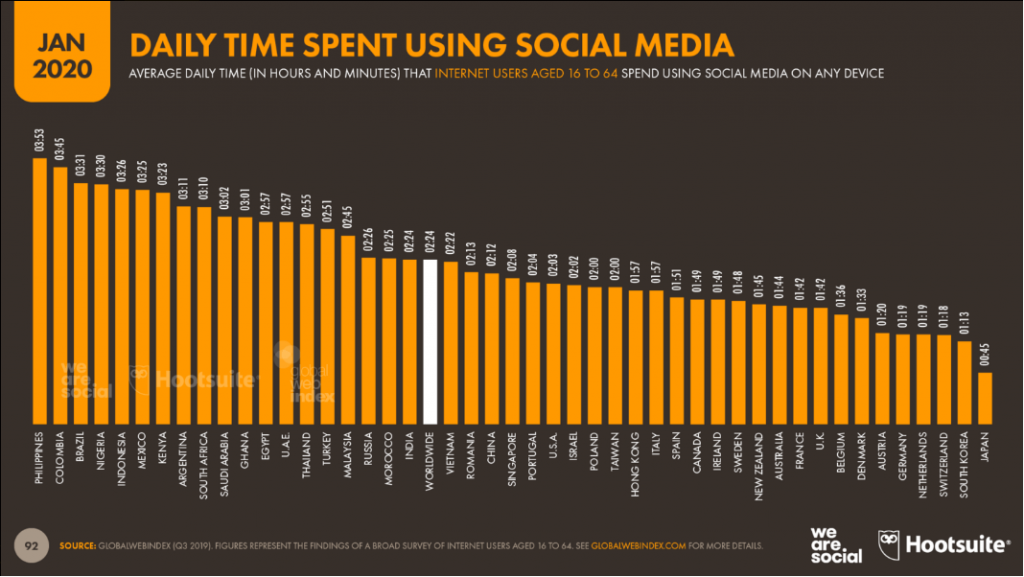 Protecting, Motivating And Training Employees. Protecting, motivating and training your employees will be the best way to receive positive comments on dedicated portals: employee happiness is an excellent indicator of a brand's good reputation;
Encouraging Those Who Speak Well of You. You can promote your brand on a network of micro and macro influencers in specific areas and worldwide. Or you can set up your own affiliate marketing and native advertising program, so that influencers in your niche speak well of you;
Check out Competitors. Thanks to the ReputationUP monitoring tool you can spy on the digital strategy of your competitors on search engines, social media, blogs and forums.
Online reputation management for private individuals
The online reputation of a private individual, especially when focused on content creators or celebrities, has considerable relevance.
The ORM that manages the reputation of the private individual is identified as a personal ORM.
The basic principle is the same as that of the company.
Here are some key actions for the personal ORM:
Social media optimization;
Publicity;
Personal branding.
Online reputation management for doctors
Even doctors need to produce an optimal reputation so that their patients can trust them.
In this case we must focus mainly on:
Local credibility;
Personal branding built through a solid extension of reliability.
Online reputation management for medics
The same applies to medics:
Patients must feel reassured;
Personal branding built through a solid extension of reliability;
International qualifications implement your reputation.
If you have a medical practice or provide SEO and other online marketing services to medical practices, you could use Reputation Health, which offers services for reputation management and online review monitoring for medics.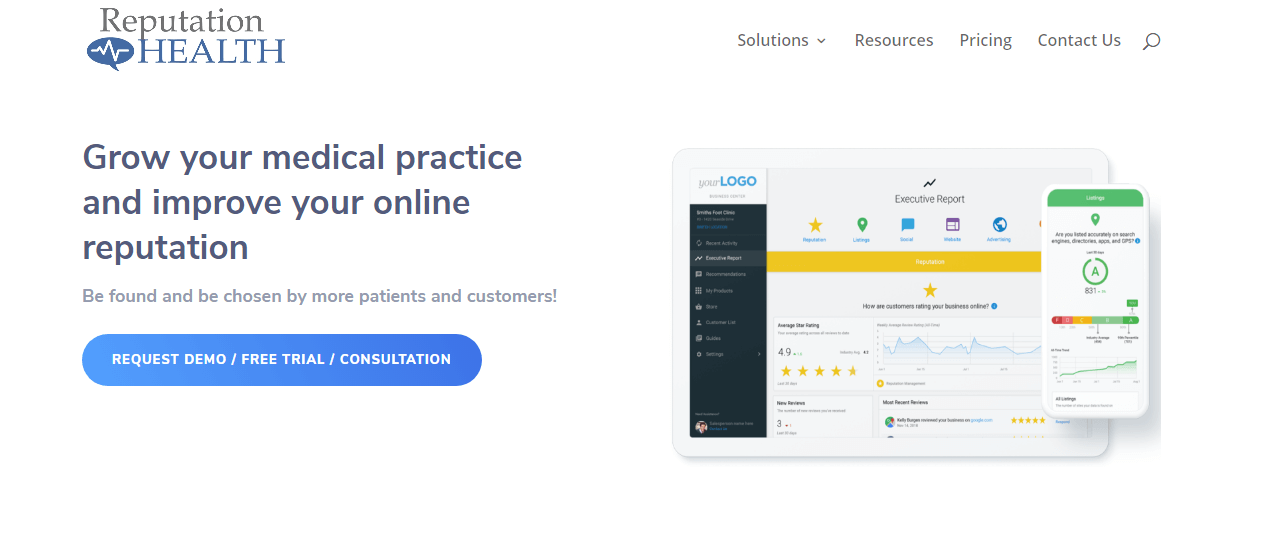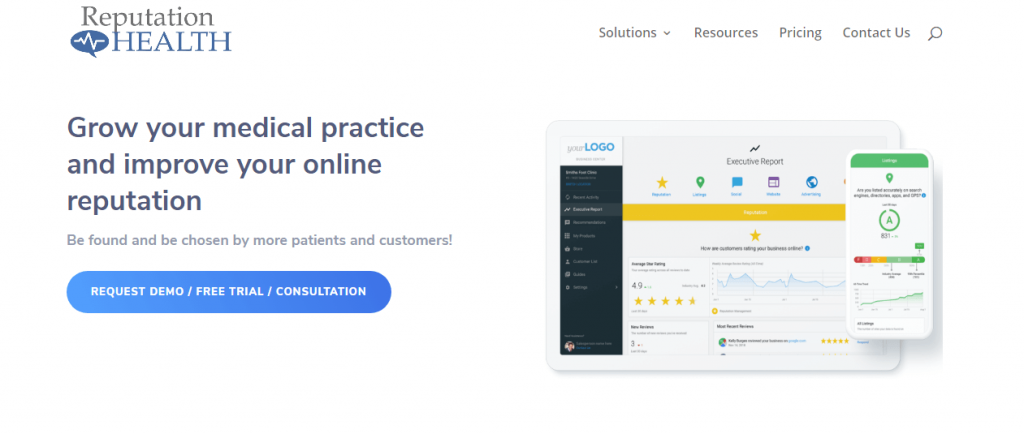 Online reputation management for hotels
Hotels are, along with restaurants, among the most reviewed activities on the web.
It is obvious, therefore, that these need to have a reputation always of high level to increase their popularity and customers (also because the market is very competitive).
Here's what you have to do if you have a structure like this:
Increase customer ratings on major websites dedicated to reviews;
Keep your brand constantly updated;
Optimizes the customer care.
Online reputation management for health clinics
The ORM for health clinics deals with managing the reputation of a health facility at local and national level.
Reputational crises in this area can be very frequent.
Fundamental, therefore, is to act with the ORM in two main directions that are added to the general ones listed above:
Speed of assistance;
Conversion of negative opinions.
Social ORM refers to all activities related to the relationship between users and their followers.
For an influencer to succeed it is necessary to follow some ORM guidelines:
Good behavior;
User-friendly behaviour;
Dialogue with the haters.
How much does online reputation management cost?
The cost of one or more ORM interventions is not easily quantifiable: each individual has different needs and it is therefore necessary to assess cases individually.
However, American statistics show a variation between 3000 and 15000 dollars, but as you can imagine it refers to large companies.
---
Do you want to grow your brand's online reputation? Call us at +1 786 224 0709 or +44 20 3769 0518
---
What does online reputation mean?
So far we've talked a lot about reputation, but what does online reputation really mean?
What is detail can be perfectly understood by the short definition of Cambridge dictionary:
"The opinion that people have about someone or something".
How important is your online reputation?
The moment our lives are subject to being exposed online, what is on the web ends up becoming a label that is very difficult to get rid of.
Think about when you have to go out to dinner in a new city: you do not know the place and the alternative to asking advice to the passer-by is to search on the internet for advice for good typical cuisine.
Well, even then you'll be based on the opinion that other people have expressed before you about a restaurant.
Those opinions will build the reputation of that place and, depending on their positivity or negativity, will influence your choice.
Do you want another example outside of the usual references to big business?
Well, know that it is increasingly common for companies to look at the social profiles of their candidates to assess their suitability.
Having a good online reputation, therefore, is essential to attract advertising brands and customers, but it is also to stay afloat (and be noticed!) in the sea of proposals that we are subjected to daily.
To know what others see when they seek your name, do exactly what they would do: type your name or the name of your company in quotes ("John White" or "John White Spa") on your search engine (Google, Yahoo, Bing, Baidu, etc.)
This process, which is called egosurfing, must be done by browsing in incognito mode, otherwise the search will be influenced by your preferences that the search engine has stored.
Continue the search by entering the name also on social networks (Facebook, Instagram, LinkedIn, Twitter, etc), on review sites (Amazon, eBay, Foursquare, TripAdvisor, Booking, Trivago etc), on the forums (Reddit, Quora, Voat, 4Chan, etc), deep and dark web.
Once you have a complete picture of the situation, you can proceed with the removal of information from Google and other platforms.
---
Do you want to delete personal and private information from the web? Call us at +1 786 224 0709 or +44 20 3769 0518
---
What is a negative reputation score?
You should know that your online reputation is measurable.
There is, in fact, the reputation score, a computable score indicating the value (from 0 to 100) of your online reputation.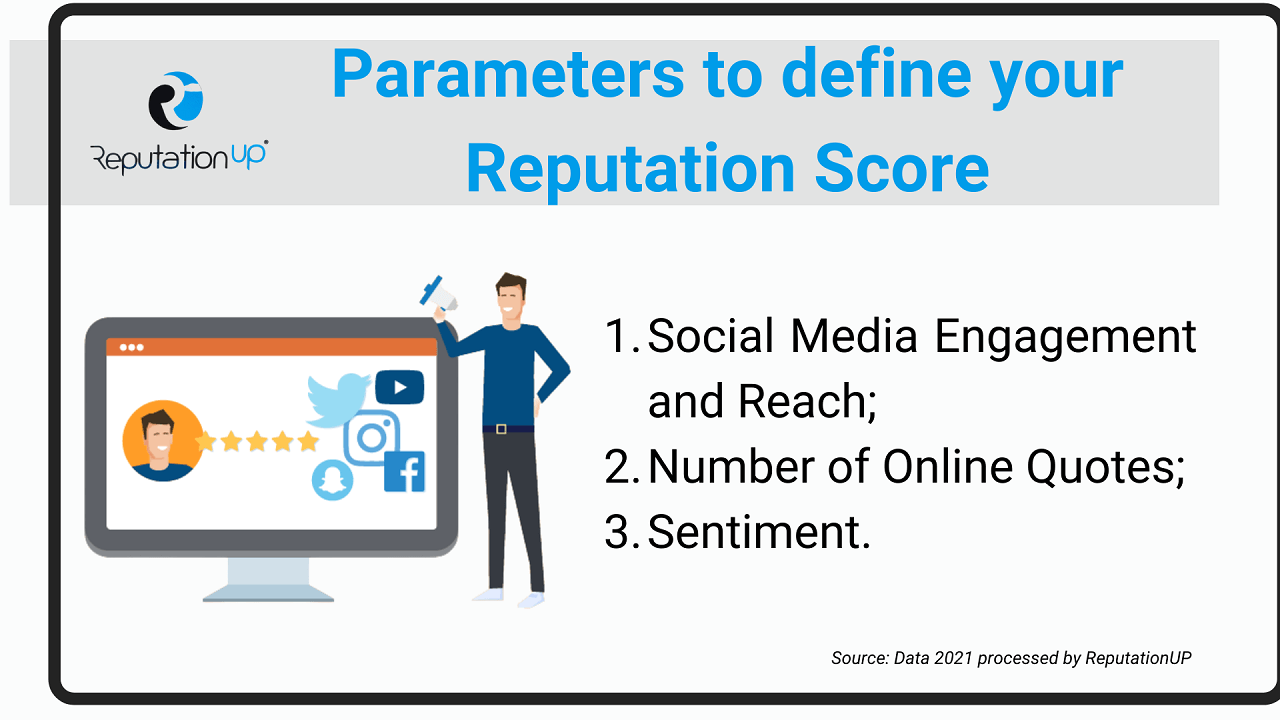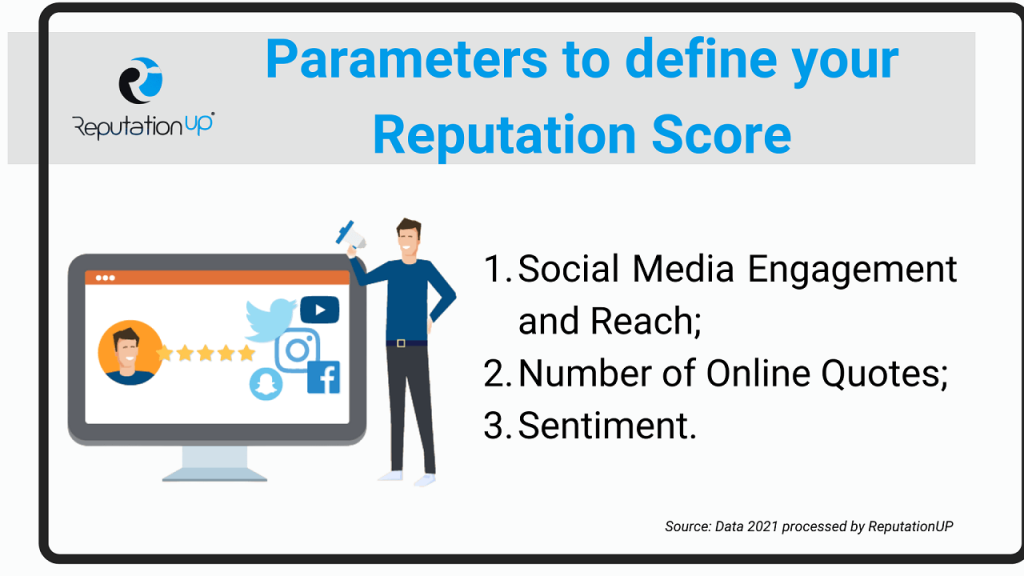 The main parameters that the formula uses to define your reputation score are three:
Social Media Engagement and Reach;
Number of Online Quotes;
Sentiment.
Having a negative reputation score means that your network presence is insufficient or that users perceive your reputation as negative.
A low value of reputation score, therefore, considerably affects a company or a private individual, because puts the brand in second place to the market.
Try a free demo on the ReputationUp website to calculate your online value.
How can I improve my personal presence online?
If after using ReputationUp's reputation score measuring tool you will find out to have a low or negative score, here are some simple tips to improve your online presence.
Accurately plan your goals: having a clear idea of what you want to do through your online presence is crucial before proceeding in any direction;
Use an efficient SEO strategy, commensurate with the purposes of which I spoke at the previous point;
Create a customer-oriented experience: everything you do needs to be profit-driven, but putting the customer at the center, always, because that is the only way you can build yourself a solid reputation;
Constantly keep up to date: make sure you are always well recognizable but never boring so you are always well recognizable but never boring;
Use the ORM: do I have to tell you more about this? Constantly monitor the situation so as not to be surprised by unpleasant surprises.
Conclusions
Do not be frightened by the length of this guide!
I have tried to show you everything there is to know about Online Reputation Management.
Starting from an in-depth general culture on the theme of ORM, we have come to closely observe how the various services and sites linked to this now necessary management practice work.
In summary?
For a company or a private individual it is essential to adopt ORM strategies to have an image that is equal to its brand.
Search among the various proposals the one that best suits your situation, follow the advices and protect your online reputation.
---
Need help managing and improving your online reputation? Call us at +1 786 224 0709 or +44 20 3769 0518
---