A legal expert will reveal what Online Defamation is, why it is an offence and how to protect your image from attacks on the Internet.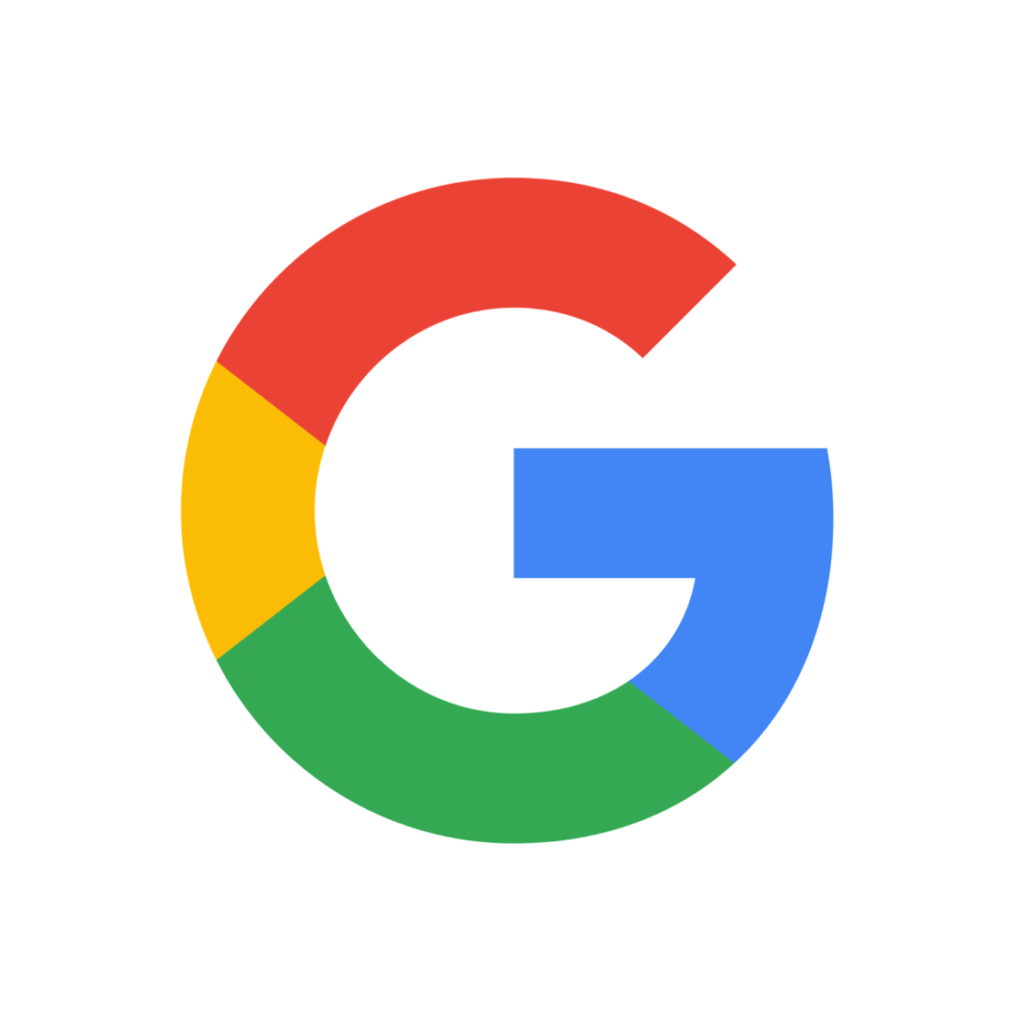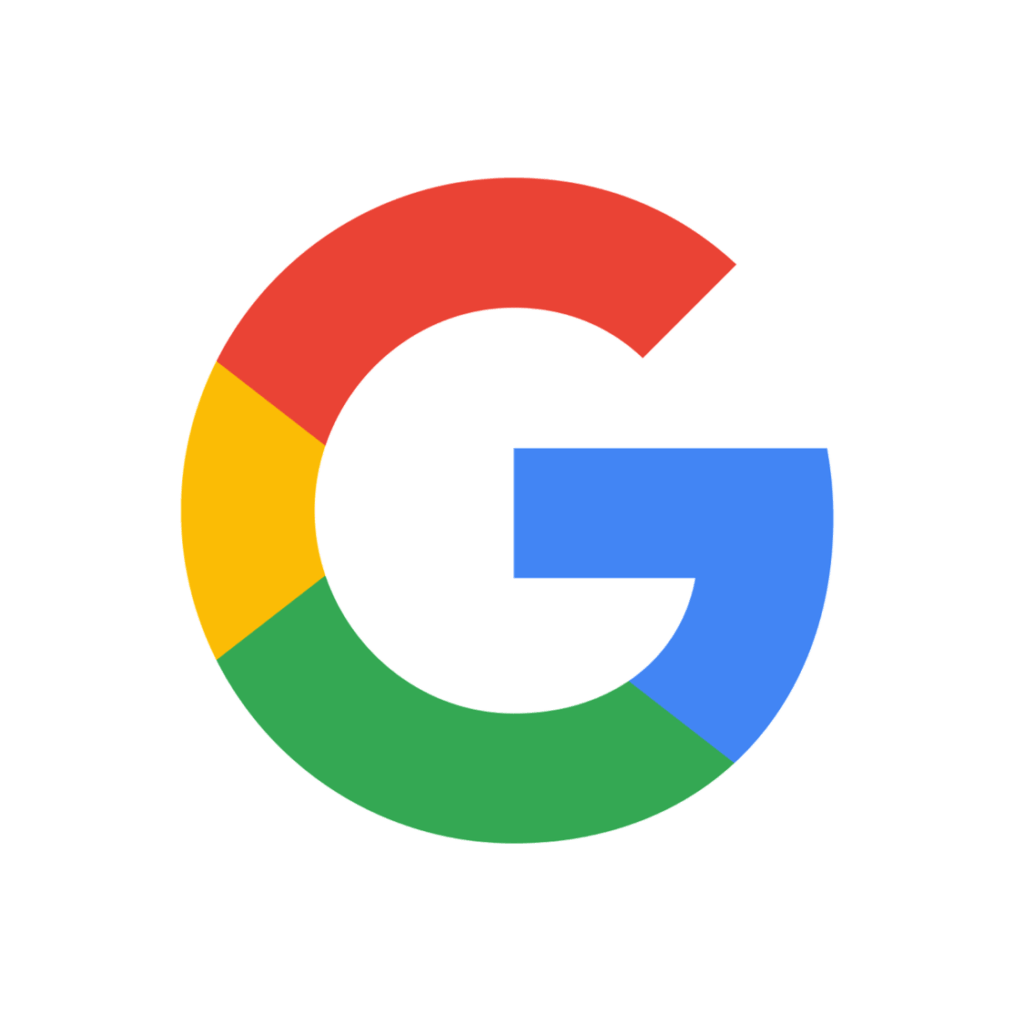 Don't like what Google says about you?
ReputationUP guarantees the elimination of any negative link (photos, videos, comments, content, reviews) from Google
In this article, you will find out how you can protect your brand against libel or malicious communication. In the UK, defamation allows freedom of speech but keeps a check on publishing falsehoods that could damage someone's reputation.
What is online defamation?
Online defamation is a civil action which can result in a certain amount of compensation and other actions for the tort committed by the defendant.
A malicious communication is an offence of sending a letter, electronic communication or article which conveys an indecent or grossly offensive message, a threat or an information which is false and known or believed to be false by the sender with intent to cause distress or anxiety.
The success of the internet and social media has increased the volume of data on the network (comments, posts, images) and, at the same time, the risk of media exposure.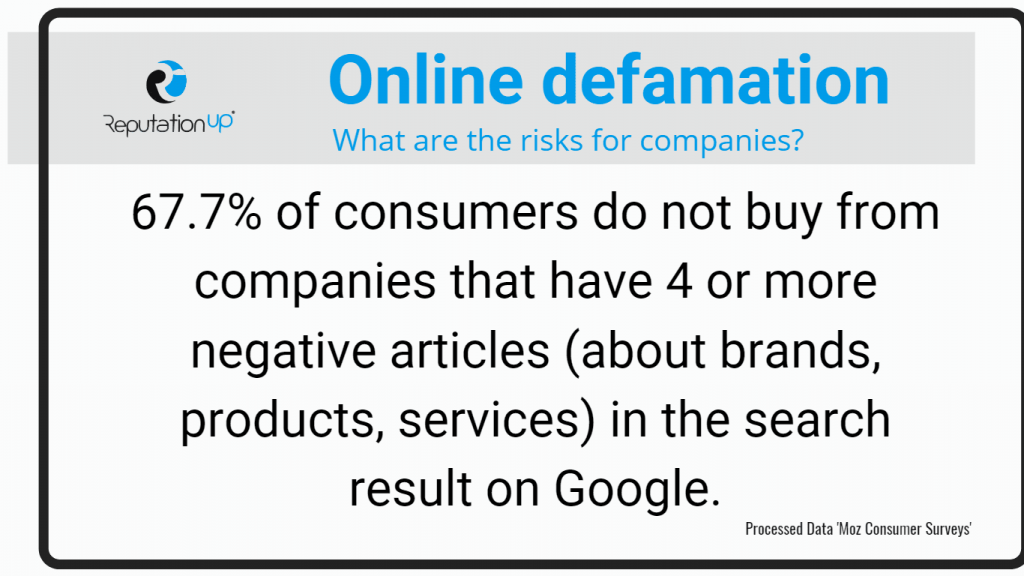 But this basic freedom clashes, more and more often, with the right to have an adequate defense, leaving everyone at the mercy of the first keyboard warrior.
Differences between Libel and Slander
Defamation is governed by Common law and Statute Law. The most recent Statute Law is the Defamation Act 2013.
In fact, libel and slander are the two kinds of defamation. Libel is the written or broadcast form of online defamation, distinguished from slander, which is oral defamation.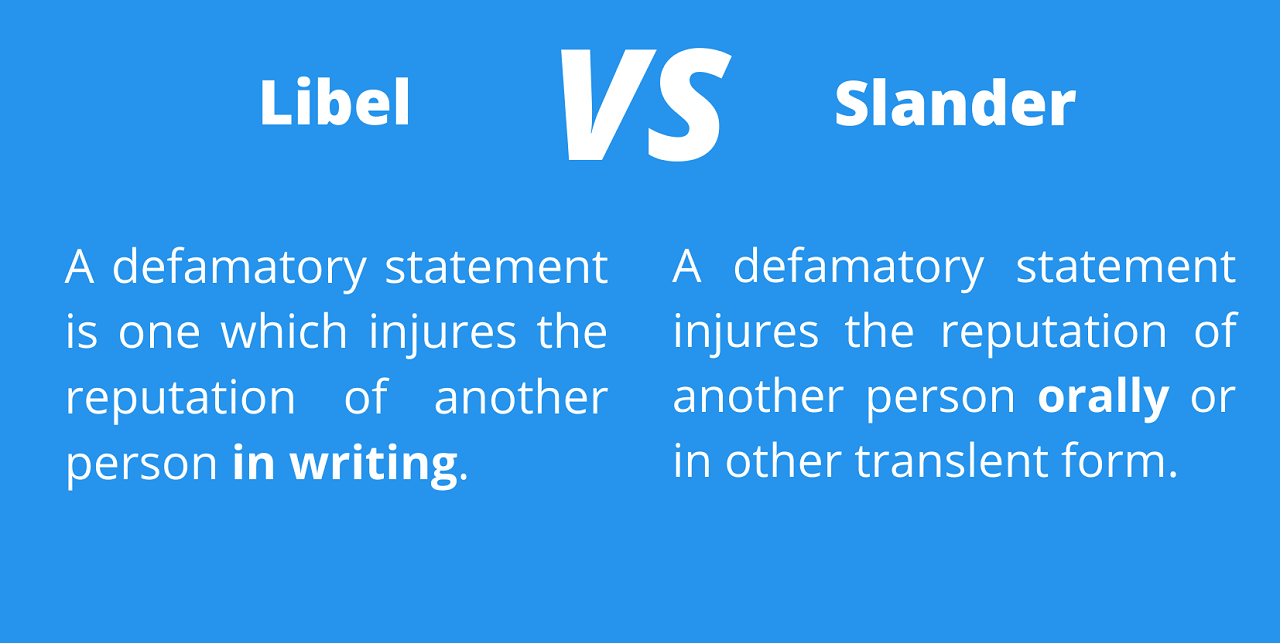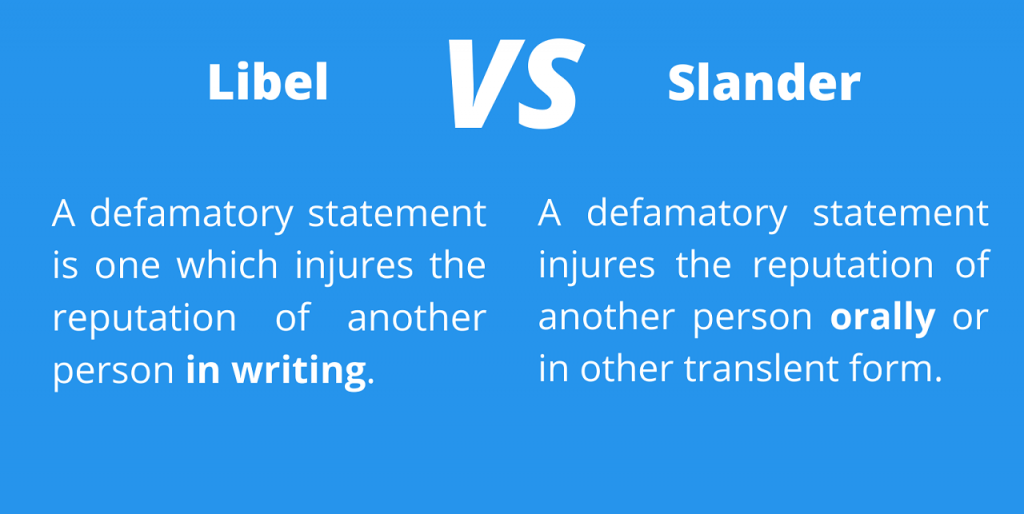 Can you be sued for internet defamation?
It's important to think carefully about what you intend to say before posting information. In fact, you could:
be subject to a claim in the civil courts for damages, or be held to be in contempt of court;
be prosecuted under the Protection from Harassment Act 1997 or the Communications Act 2003.
Let's see in detail the sanctions foreseen.
Why it is an offence and the sanctions foreseen
According to the Malicious Communications Act 1988, a person guilty of an offence under this section is liable:
on conviction on indictment to imprisonment for a term not exceeding two years or a fine (or both);
on summary conviction to imprisonment for a term not exceeding 12 months or a fine (or both);
As stated under section 127 of the Communications Act 2003, a person is guilty of an offence for improper use of public electronic communications network, when the message sent is offensive or of an indecent, obscene or menacing character, with the purpose of causing annoyance, inconvenience or needless anxiety to another.
A person guilty of an offence under this section shall be liable, on summary conviction, to imprisonment for a term not exceeding six months or to a fine not exceeding level 5 on the standard scale, or to both.
When writing on the web constitutes defamation
The first case of anonymous defamatory emails occurred in 2000 (Takenaka Ltd v Frankl case), when a former employee of a construction company sent three emails to his former bosses from a Hotmail account using a false name. The man was ordered by the UK High Court to pay damages of £ 25.000 to his former employers.
Let's see in detail what are the objective requisite elements of online defamation:
There must be an accusation;
Proof of a special damage, not limited to the written word, is required;
It must be against made against an identifiable individual or individuals;
It must be a statement which would cause someone to think less of the individual/ individuals to whom it refers.
A landmark in law was the McAlpine v Bercow "twibel" case in 2013, where Lord McAlpine was defamed by comments on a social networking service. Sally Bercow apologised for "irresponsible use of Twitter" and agreed to pay damages.
McAlpine's solicitor, Andrew Reid, said the case demonstrated that:
"Twitter is not just a closed coffee shop among friends. It goes out to hundreds of thousands of people and you must take responsibility for it. It is not a place where you can gossip and say things with impunity, and we are about to demonstrate that."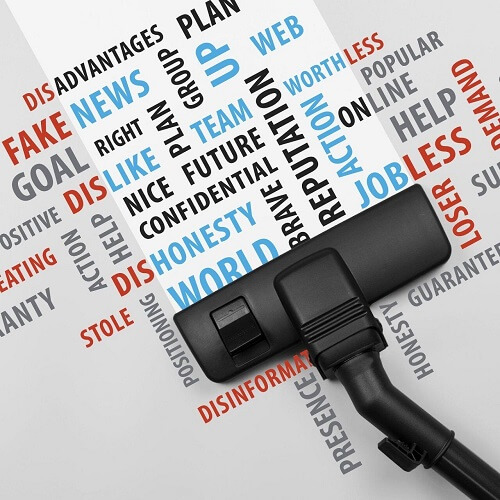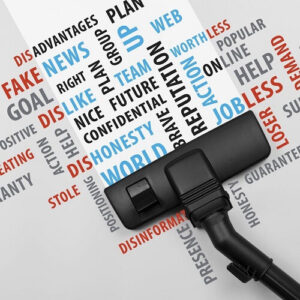 Do you want to protect your reputation from haters and fake news?
You risk losing 22% of your revenue if potential customers find a single negative link on Google's first page
Meaning of online defamation
The term is derived from the Latin diffamationem and means to deprive someone's fame or personal reputation.
Online defamation adds to this concept the playing field where the action is committed – the Internet – and the full awareness of the defamer who spreads offences, insults and falsehoods on the internet.
The damages for spreading defamatory content online might be more severe than in verbal form.
A message published on the web, is actually more harmful as it reaches a broader internet user base.
Another aggravating factor is that it is hard to Harmful links removal from Google, where undeleted libellous links remain visible for years and irremediably cause harm to the reputation of the claimant.
Despite all this, a good news: you can always personal reputation repair.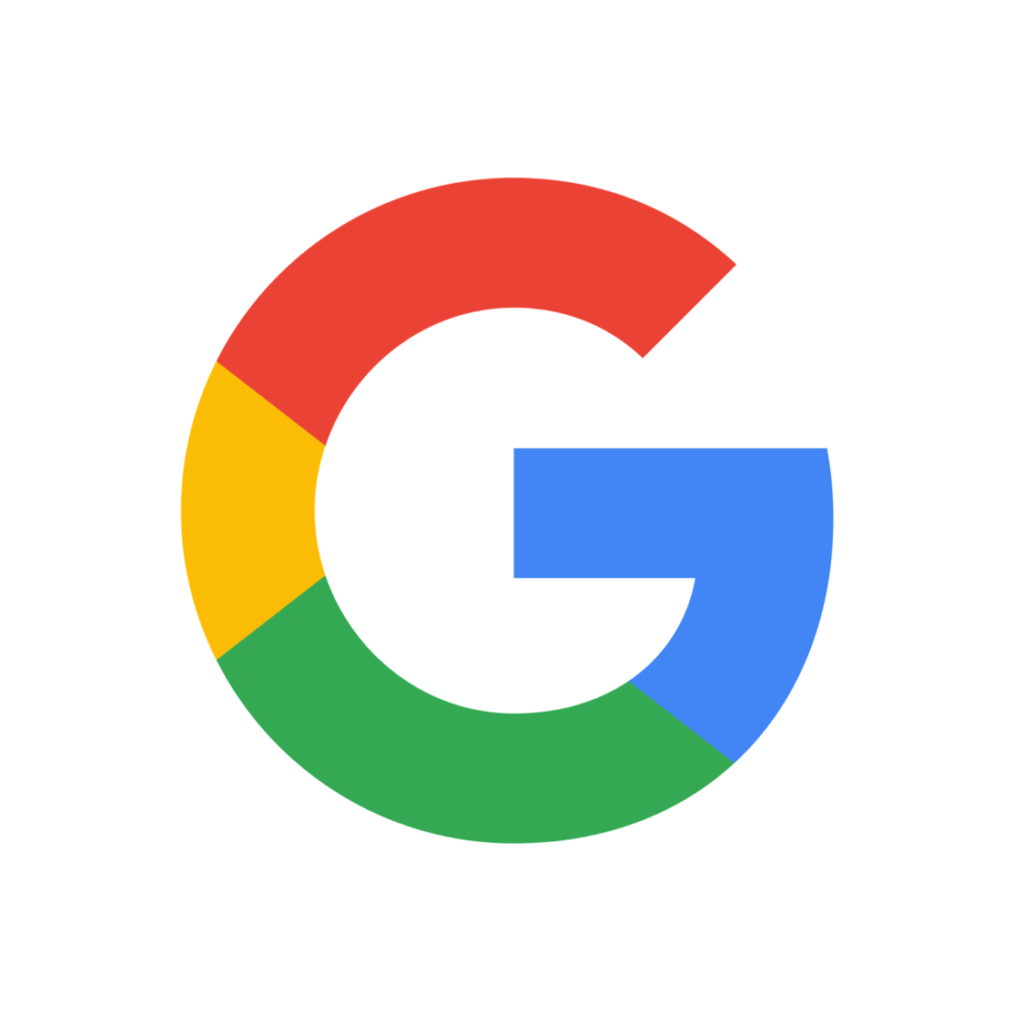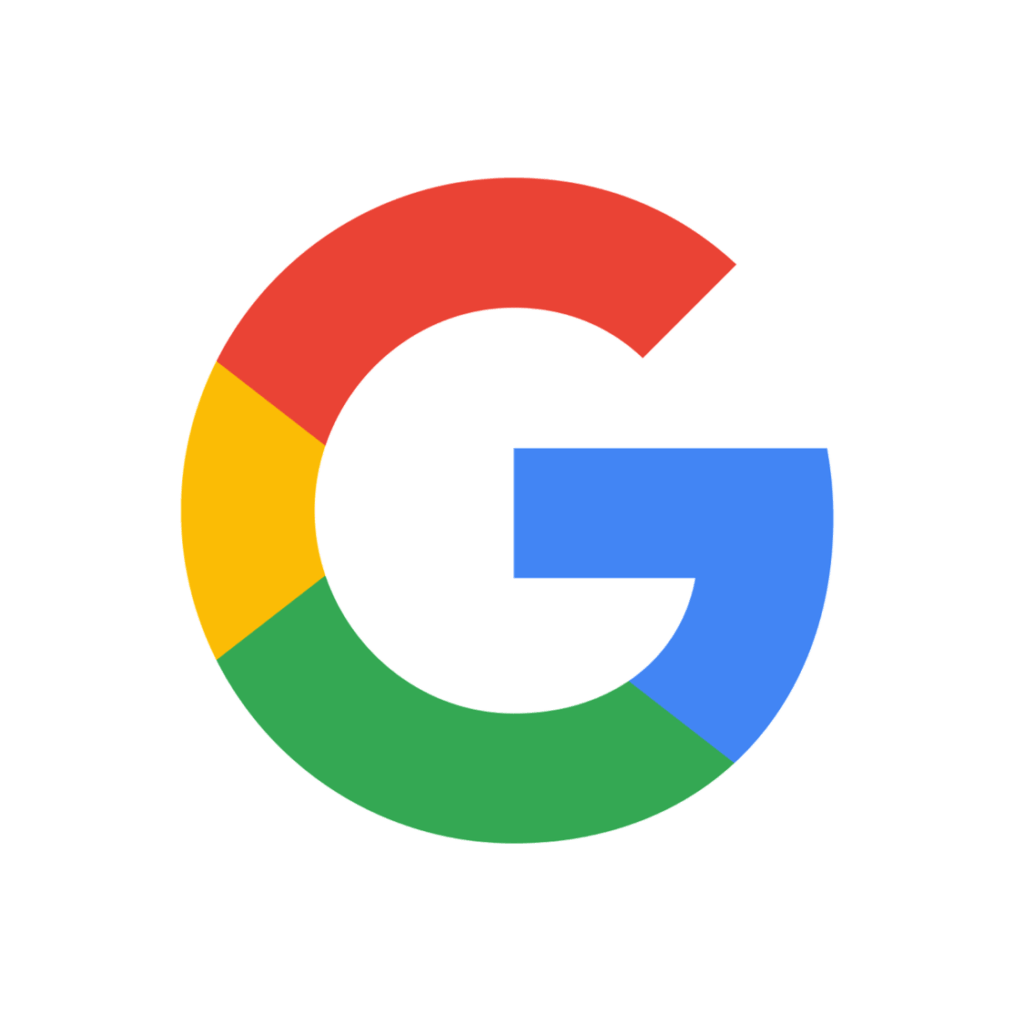 Don't like what Google says about you?
ReputationUP guarantees the elimination of any negative link (photos, videos, comments, content, reviews) from Google
How to defend yourself against internet defamation
There are three concrete ways to defend yourself against defamation online:
Report the offence to the local policing team:
It is often the first choice. Unfortunately, justice delayed is justice denied if someone, such as a victim of Sextortion, is seeking immediate defense.
Ask for the removal of information from Google: 
It seems incredible but it might take Google about two years to provide a response.
Contact ReputationUP
An online reputation specialist is a digital lawyer who allows you to achieve a double goal by:
Cleaning up your online reputation, removing harmful content
Building a positive reputation
Which is, after all, what you are really looking for.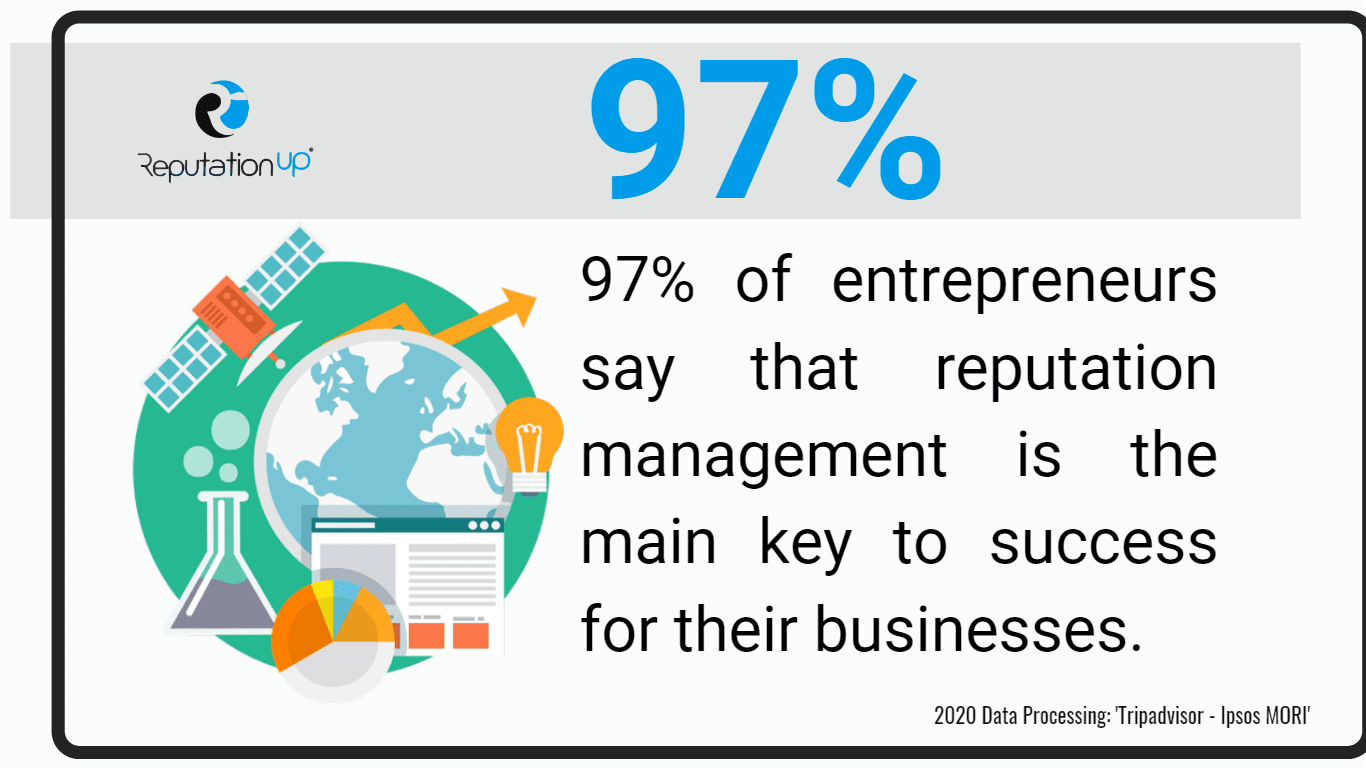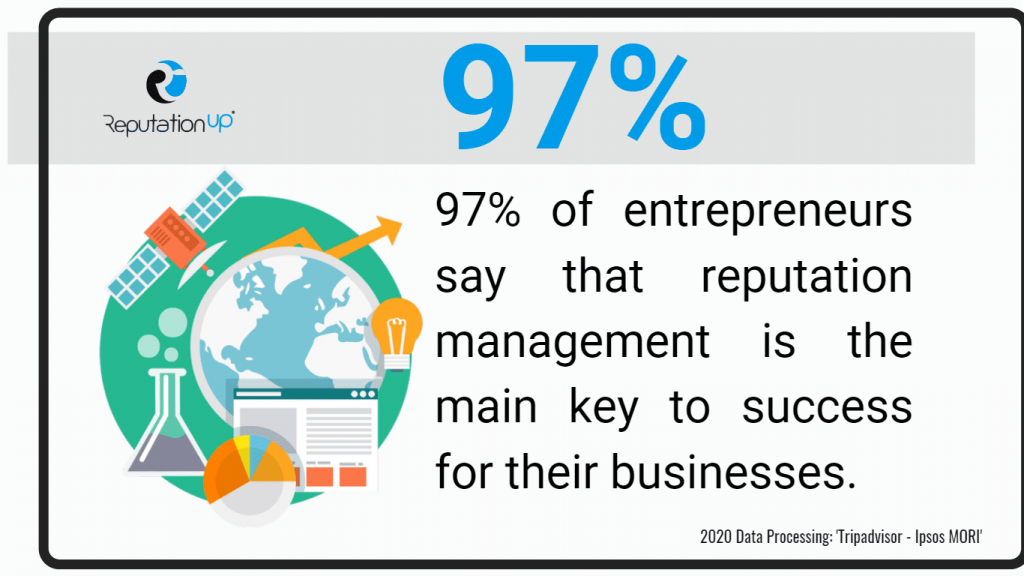 How to defend yourself on the Internet
With the approval of the Right to be Forgotten, people being vilified online have a wider range of possibilities to defend themselves on the Internet.
The right to erase defamatory links is in fact governed by the EU regulation n° 2016/679 (GDPR), which offers a uniform Europe-wide possibility for so-called commissioned data processing and dovetails with people's right to access their personal information.
Today, this right applies where the information is irrelevant for the public interest, obsolete or inaccurate (false news = online defamation), so that users can request its removal from the web or deindex site from google.
Conclusions
In a nutshell, online defamation is an offence due to an untrue spoken or written expression, referring to a person, which when published, is deemed harmful or likely to harm the reputation of an individual.
Online defamation is a type of offence that could be judged even more serious, since sharing and spreading insults through the web is all too easy.
Those who feel vilified usually have no pleasure in seeing their reputation soiled by false and negative information. They wish to remove it.
In the guide you have just read, we have shown you three concrete solutions against online defamation on the web: report to the Police, Google and ReputationUP.
If you haven't read the guide, jumping straight to conclusions, keep in mind two things:
You are in excellent company and according to statistics, you are part of the 38% of readers starting from the end.
Take a few minutes and find out how to protect your image.