Read the new ReputationUP guide and find out how to ask for the removal of information from Google, to remove personal results from the research in accordance with current legislation.
The Scenario
God forgives, the Internet doesn't. Or rather, it doesn't forget. Never.
Luckly, however, we now have an ad hoc procedure that allows the removal of information from Google, Facebook, Instagram, Telegram or from the Web more generally. A similar procedure also allows you to delete a video from Youtube.
The aim, in both cases, is the same: to protect one's digital image.
Keep in mind that the request for the removal of search results in accordance with current legislation can be exercised through the Right to be Forgotten.
This way, you can delete personal results (e.g. an address), remove images, links or urls, permanently remove photos, videos, comments, reviews, podcasts, articles (content) on Surface Web, Deep Web and Dark Web.
We are obviously talking about content that you consider negative, harmful and injurious for the web reputation of your corporate or personal brand.
Let's now get to the heart of the guide and see the specific procedure to remove information from Google.
How to Request the Removal of Information from Google
Whether for reasons of privacy or reputation, the first step to be taken is to become aware that deleting personal data and negative content with regards to your company or personal brand takes a very long time for Google.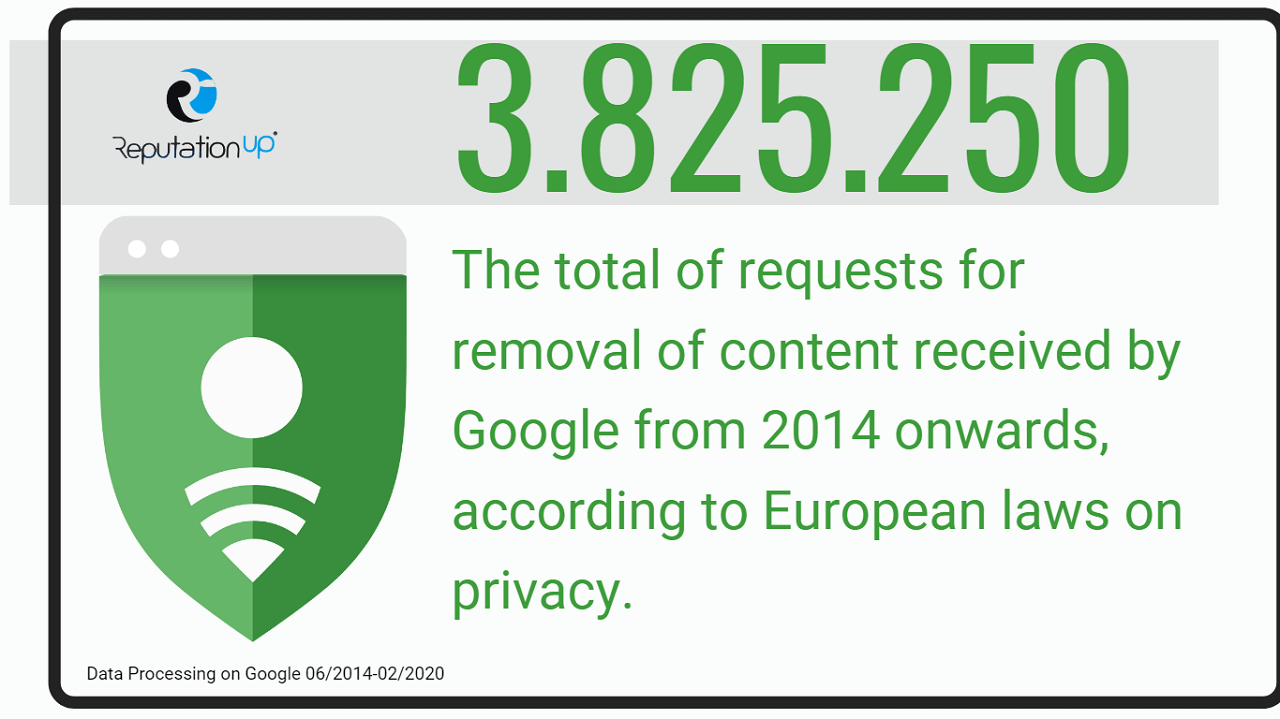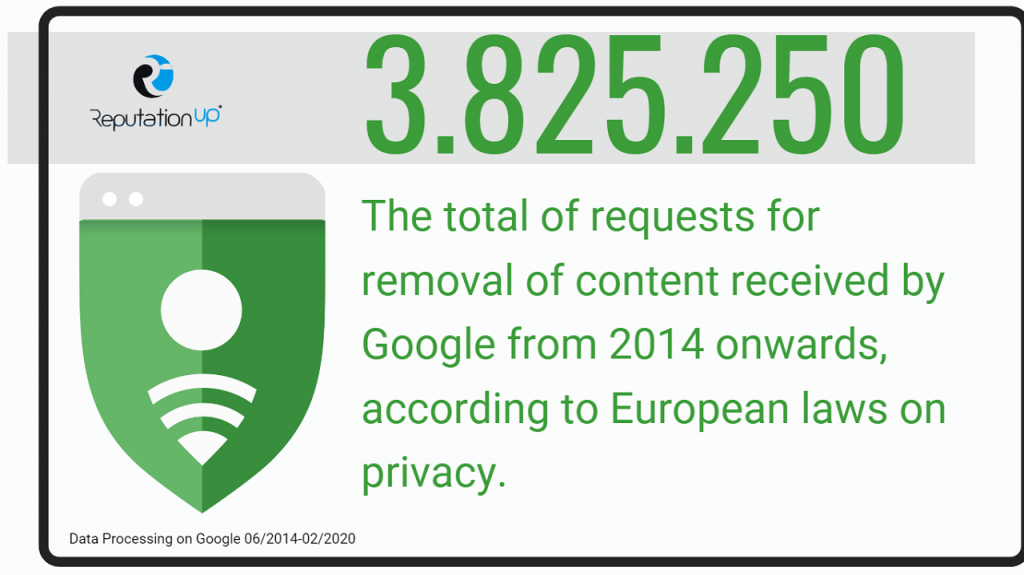 On average it takes approximately two years, as the Mountain View's giant receives over 1,500 removal requests a day and needs "bureaucratic" time to evaluate them one by one.
Imagine a super flooded court, where you don't even know if your request will be granted and you're very close to reality.
This is one of the main reasons, together with the certainty of removal, why companies and professionals turn to ReputationUP, an international group able to repair your reputation fast.
Here's how to request the removal of information from Google step-by-step:
Visit the Google support guide;
Click on "Create a request";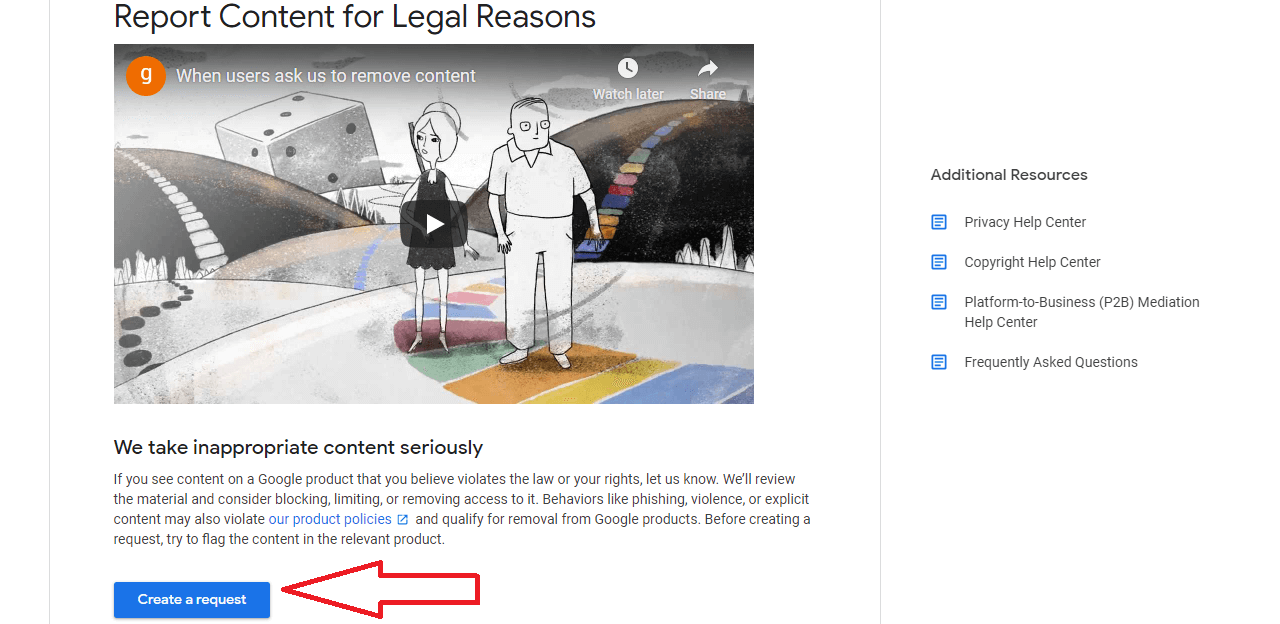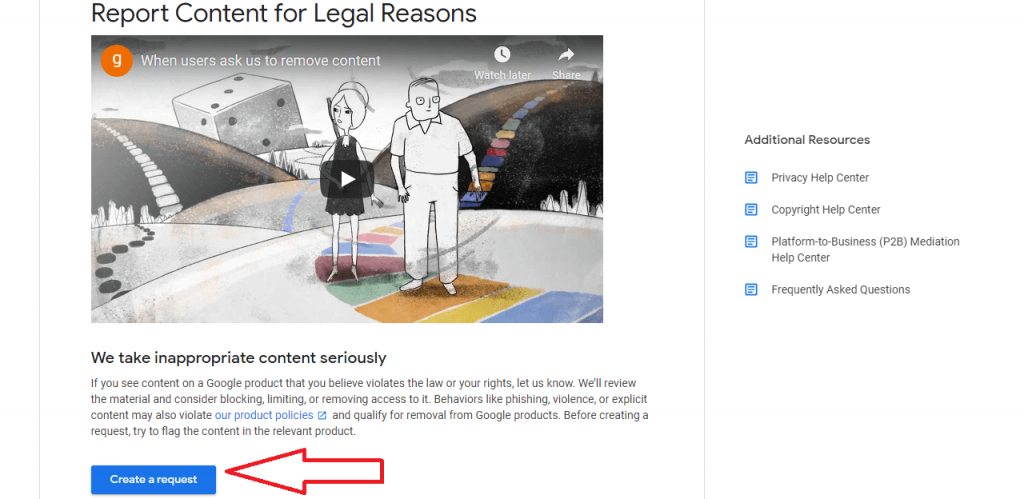 Choose from the list which Google's product is the object of your query;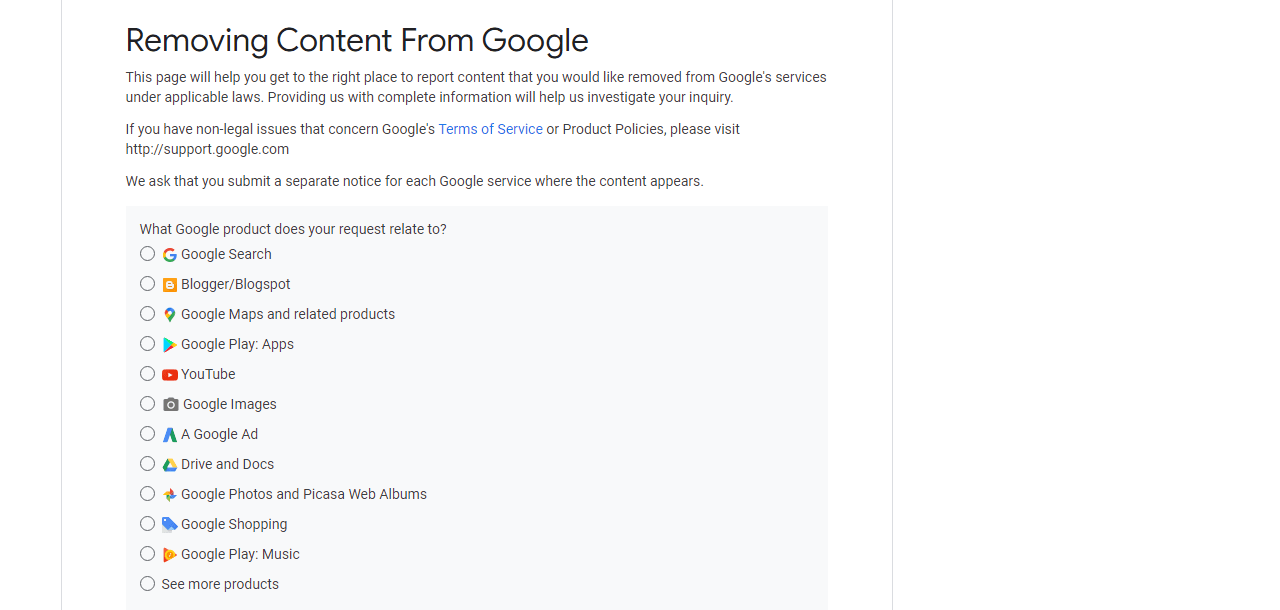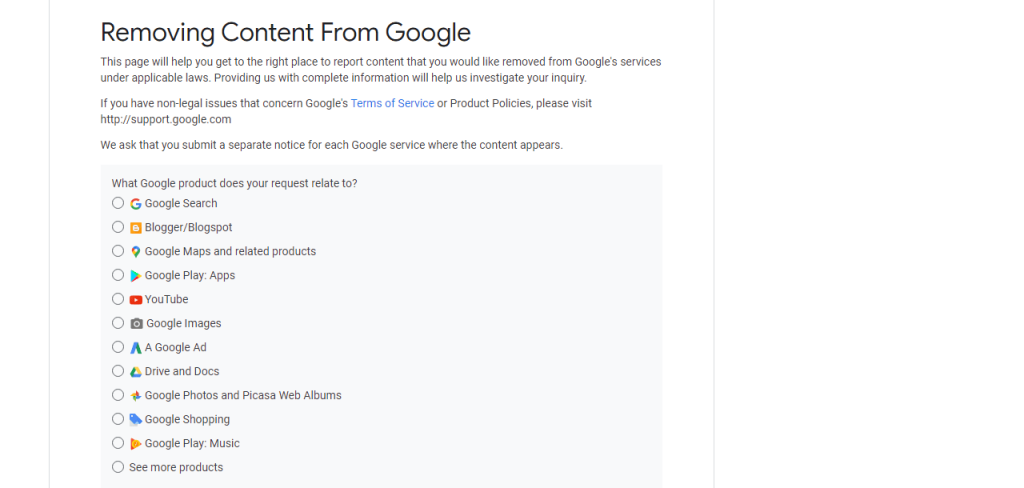 Follow the automated procedure by entering the requested data.
The system of contents removal from Google allows you to access the reporting page, where you can choose from which Google service you want your company data or personal data to be removed.
As you have seen, you will find more options:
Google Search
Blogger/Blogspot
Google Maps and related products
Google Play: Apps
YouTube
Google Images
A Google Ad
Drive e Docs
Google Photos and Picasa Web Albums
Google Shopping
Play: Music
See more products (as Google+, Google AMP Cache, Google Assistant, Google Domains, Google Lens, Google News and others)
Note that if the content you wish to remove is on multiple platforms, you will need to submit multiple requests.
If you rely on a lawyer, he will have to enter his and your data, specifying the type of relationship that binds you.
At this point, you get to a screen where Google asks you to identify the personal information to be removed and its location, by entering the URLs, i.e. the addresses where the information you want to remove is located, briefly explaining the reasons.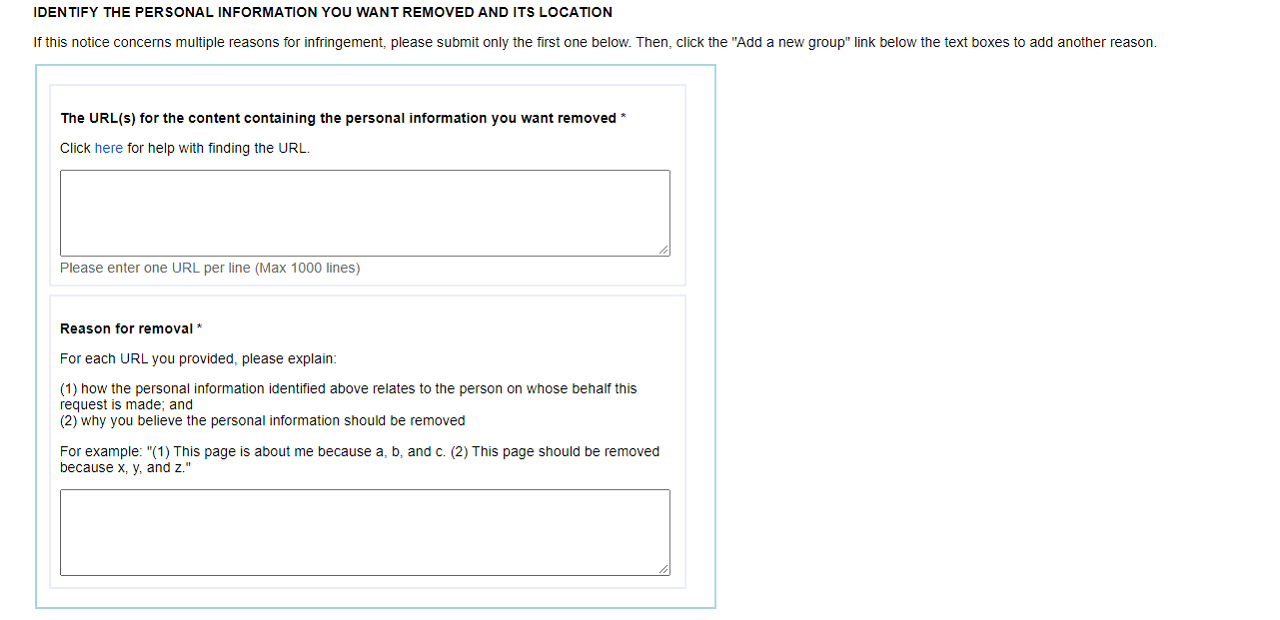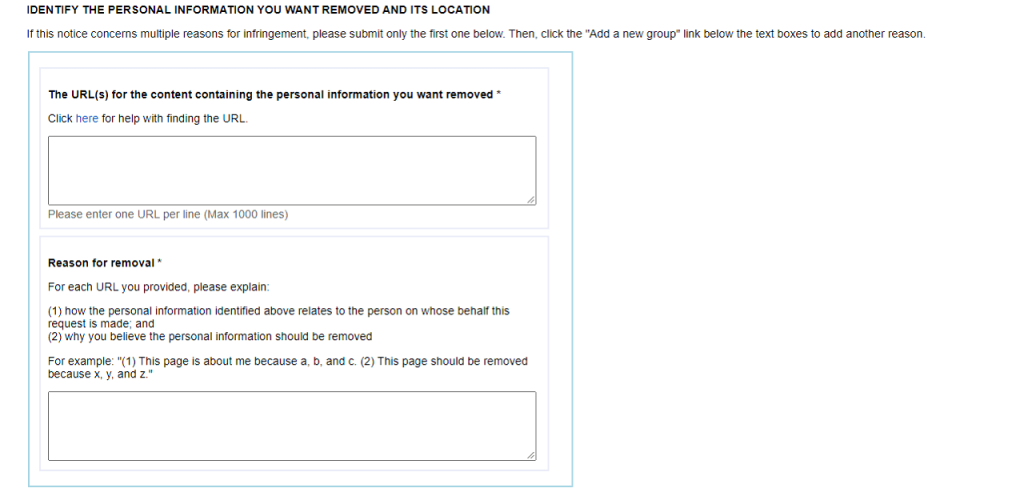 Remember, however, that even if a page is deleted from the search results, the web continues to store the data, as Google has no control over the content.
In this sense, you can take advantage of additional removal methods:
How to Remove Personal Information from Google
Let's cut to the chase:
Go to the official support page to request the removal of personal information from Google;
Select the option "Remove information you see in Google Search";
Select the option "In Google's search results and on a website";
Click "Yes";
Indicate that you want to remove "Personal info, like ID numbers and private documents";
Select what you wish to remove;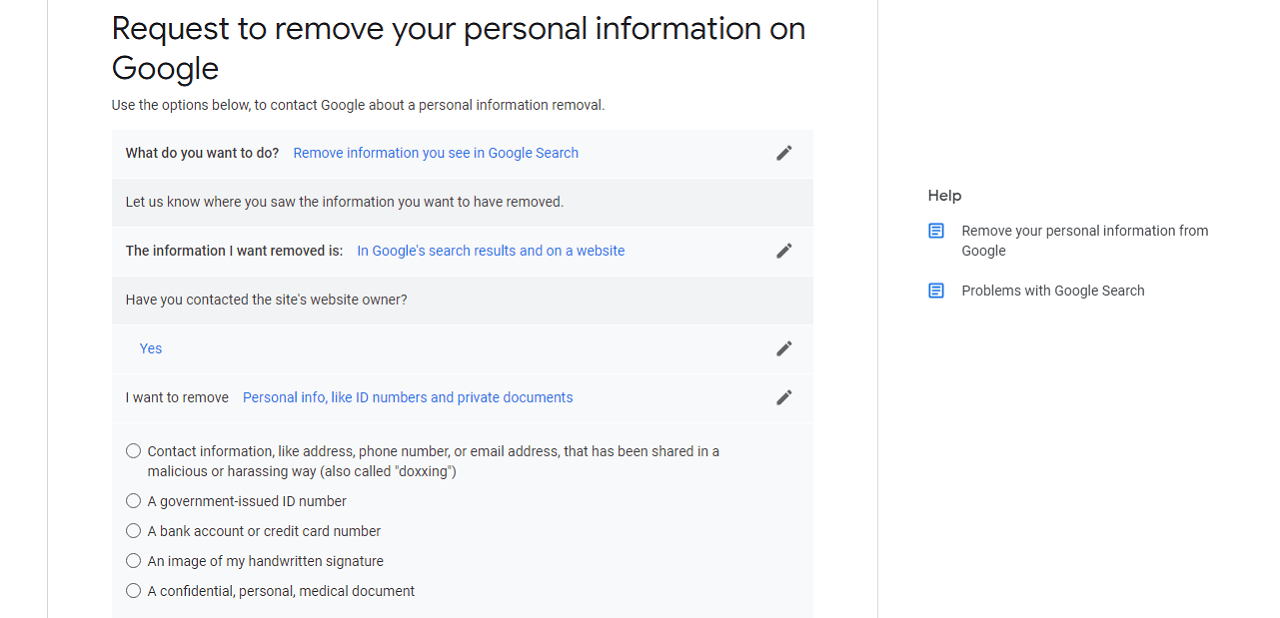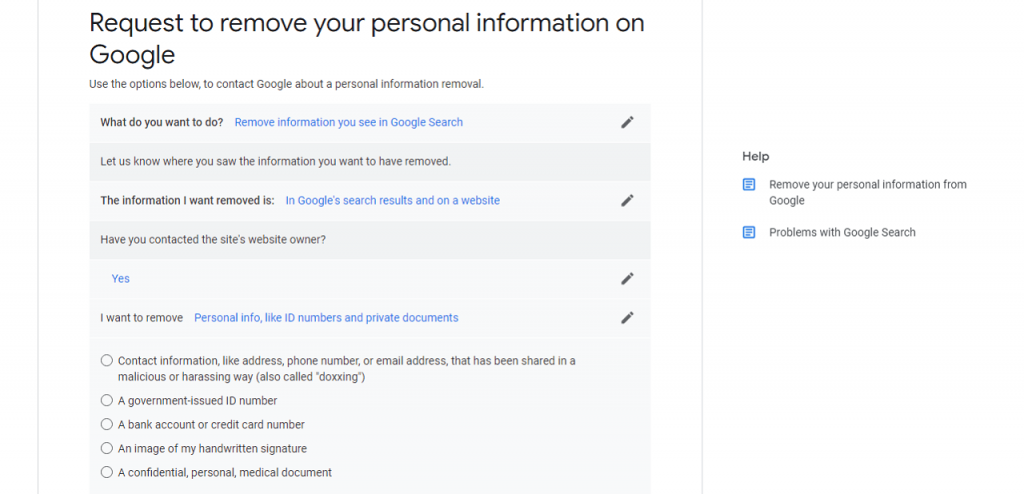 If you have selected the first option, continue by clicking on "Yes, the contents are available live", otherwise go directly to the next step;
Fill out the form with the requested data and click on send.
At this point, however, allow me a deepening.
Before knowing how to delete personal results from Google and remove information about yourself from Google or Bing search results, you have to check everything about your personal or business brand on the internet.
In order to do what is called egosurfing you have to:
Digit your name, written in quotes "John Doe" or "John Doe Ltd", on:
Google, Yahoo, Bing, Baidu, Qwant, DuckDuckGo, Ask, Ecosia, Searchencrypt, Yandex and others;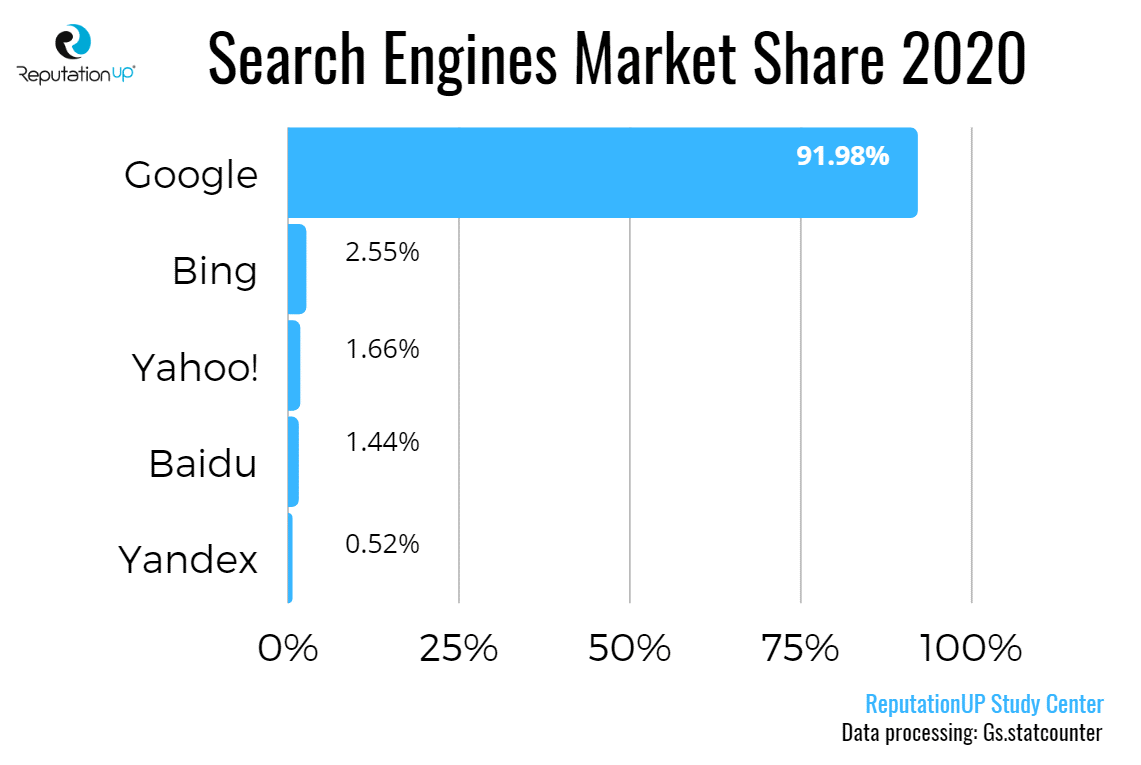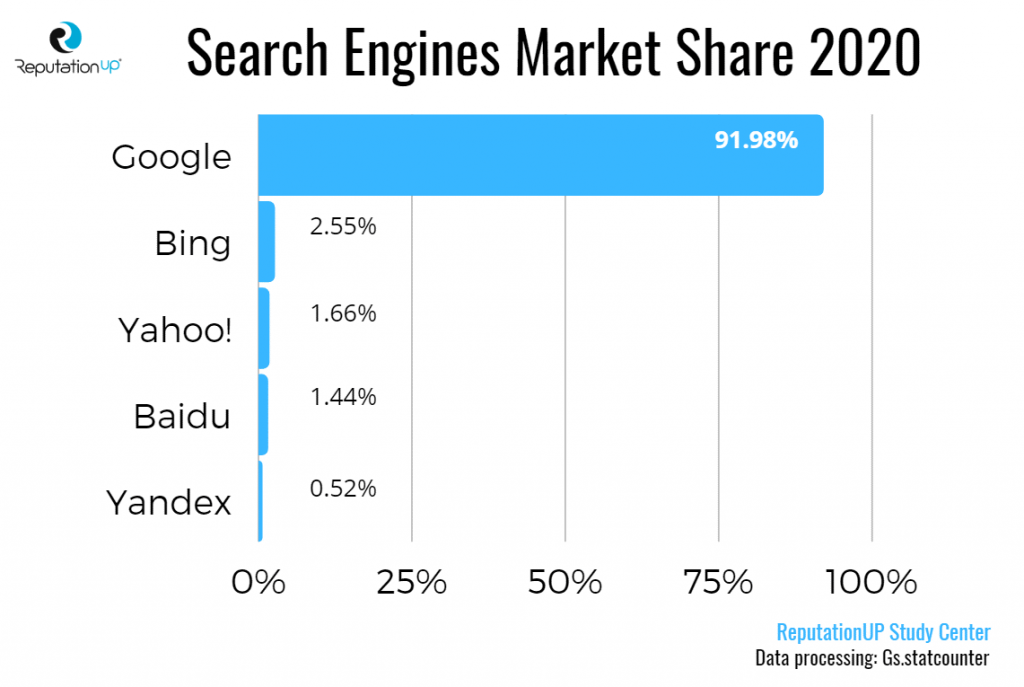 Twitter, Facebook, LinkedIn, Xing, LinkedIn, Snapchat, Tumblr, Pinterest, YouTube, Instagram, Vine, WhatsApp, Vk.com, Telegram and others;
Amazon, eBay, Foursquare, Pagine Gialle, TripAdvisor, Booking, Trivago, Play Store, Apple Store and others;
Reddit, Quora, Voat, 4Chan, Hacker News, StumbleUpon, Digg and others;
DarkOwl and others;
Copy all the links that you can find containing your brands name on and excel file;
Verify that the information to delete is irrelevant, fake, outdated or excessive;
Contact the customer service of the relevant websites to ask for the removal.
Also in this case, web giants often tend to ignore these kinds of requests, despite the current GDPR foresees that users can exercise their right to be forgotten.
Among the best ways to prevent your personal data from becoming fodder for the web, you may use browsers that guarantee total privacy such as Tor, Brave, Epic, Dooble and Impersonal.me.
How to Remove Images from Google
What you need to know is that if you want to delete pictures which could compromise your career or your good image on the web, there is a useful procedure to request the elimination of those contents.
The first step is to get in touch with the owner of the site where the pictures are located: send an email to the contact that you find at the bottom of the page, on the website or on social media and ask for the elimination of the offending picture or content.
Here is how to remove pictures from Google, in the very likely case that the webmaster does not reply:
Link to this Google Support page;
Click on "please use this form";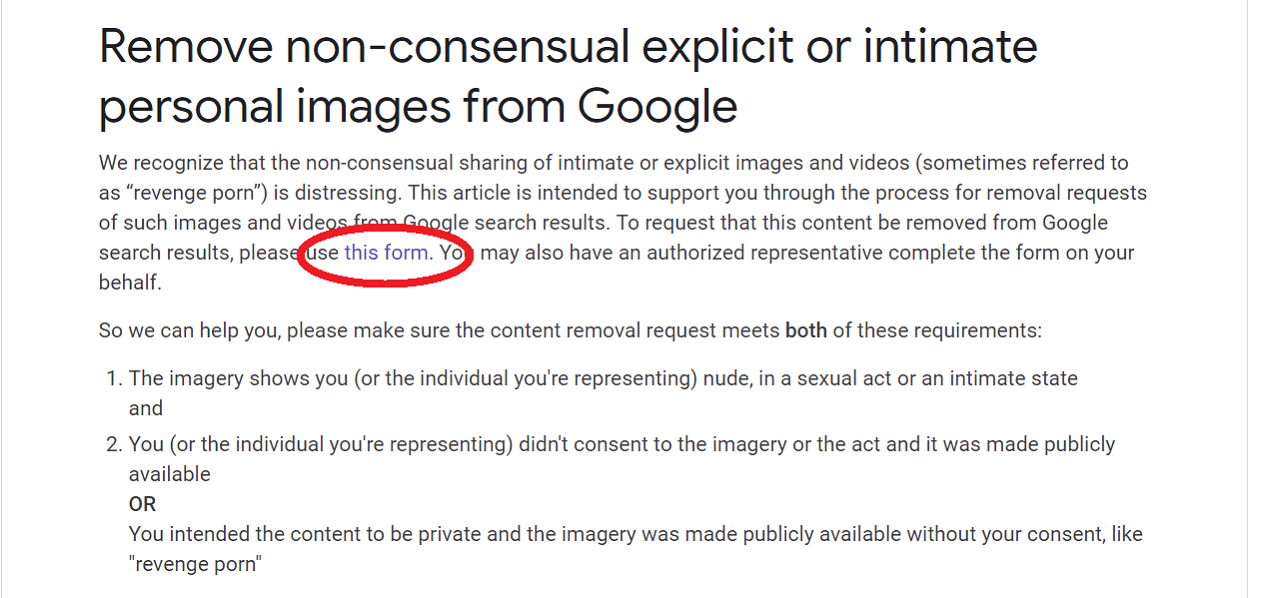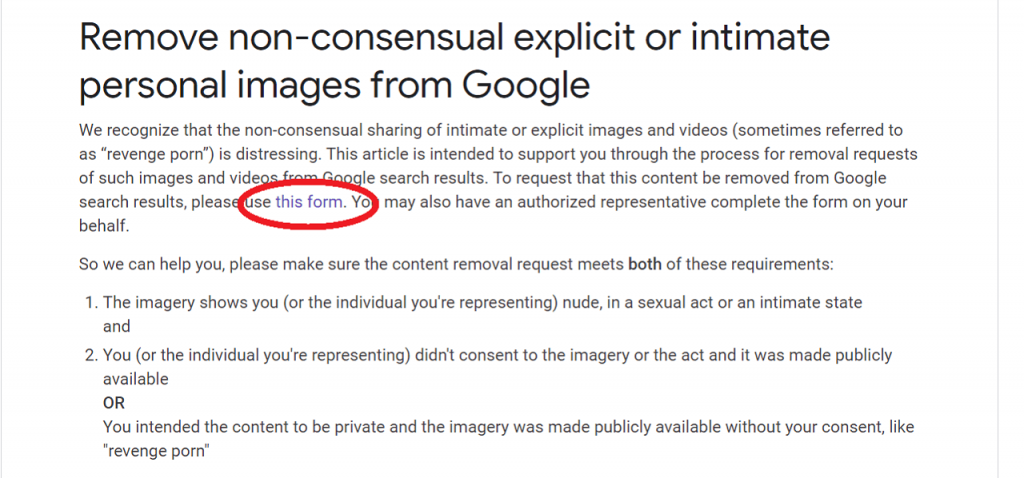 Answer Yes" to the question "Have you contacted the website owner?";
State what you want to remove;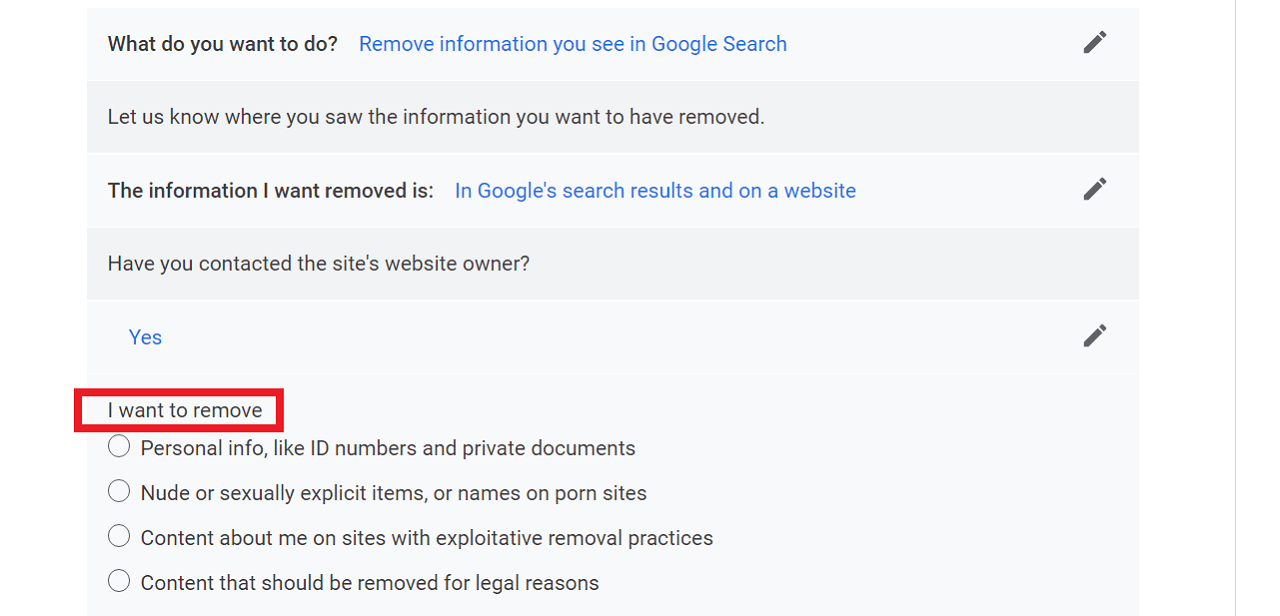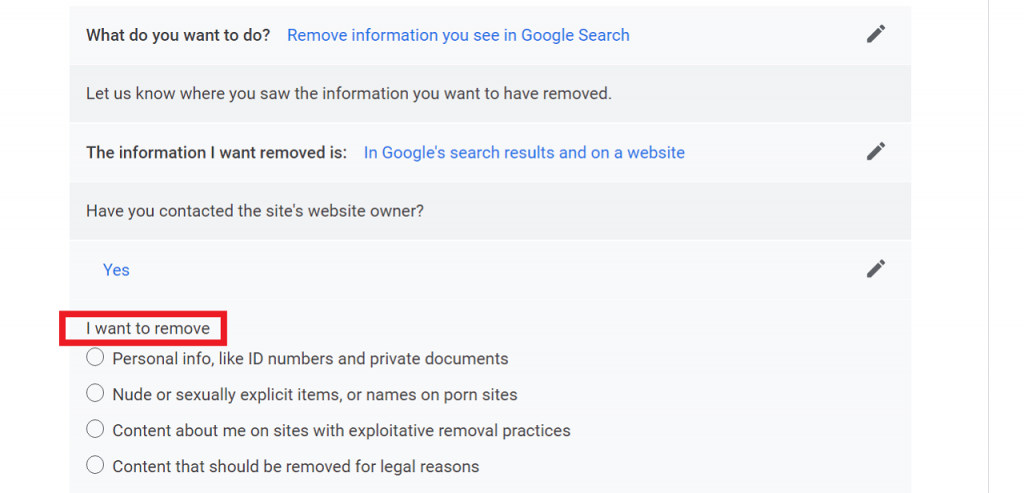 Follow the procedure and provide the requested data, entering your name, surname, e-mail address and the URL of the Google search where images that harm your privacy show up;
Click on Submit and, this way, Google will get your request.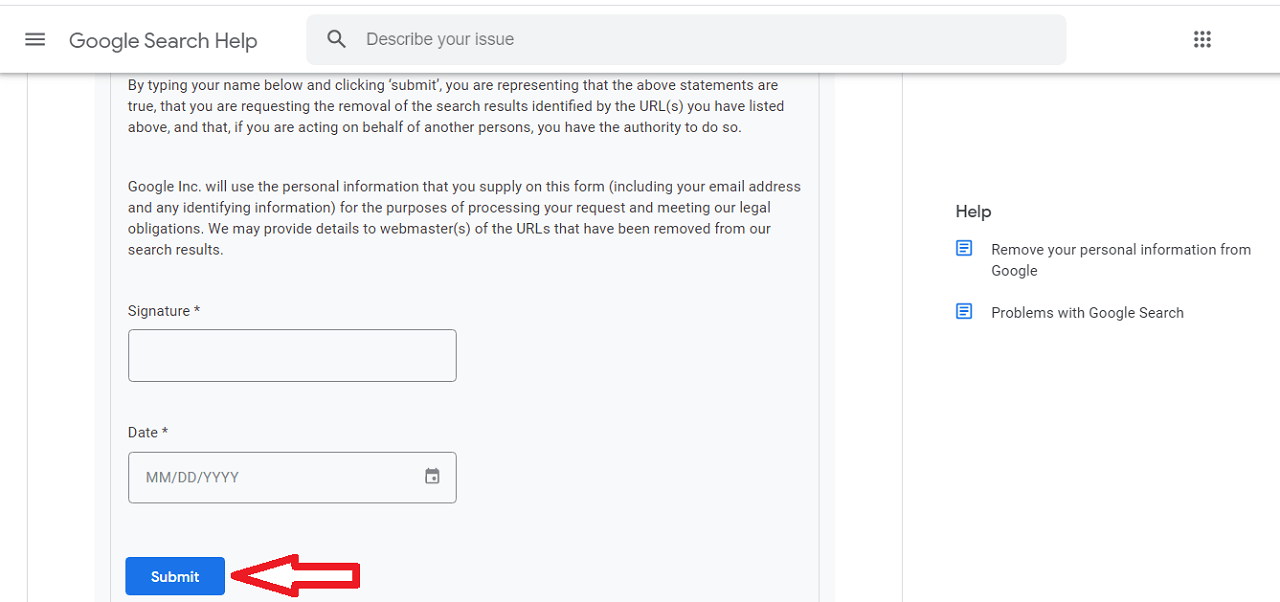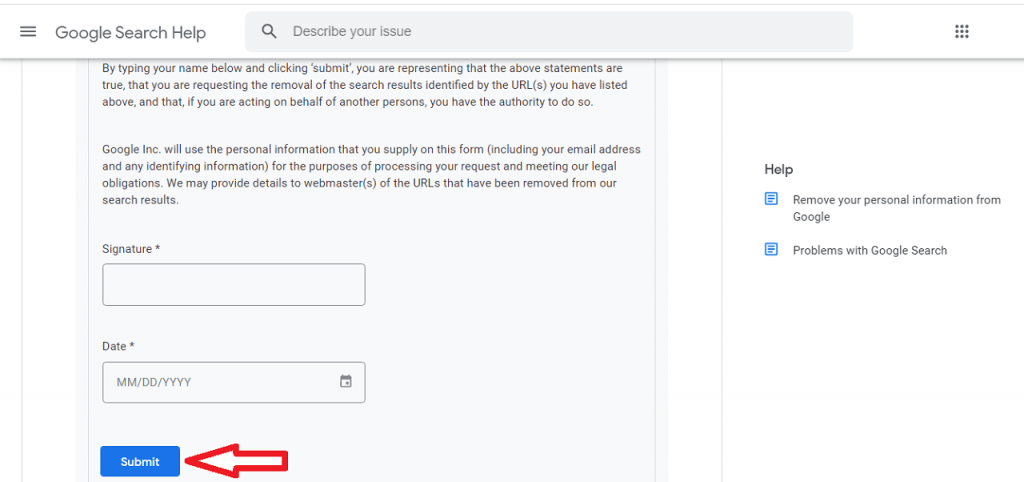 Also in this case it takes a very long time to process the request and the content removal is not granted.
My advice: if you don't have time to waste, turn to professionals who can monitor your reputation and delete harmful links from the web in a certain, rapid and definitive way.
How to Remove an Url from Google Search
In order to understand how to remove URLs from Google search, you must first establish whether we are talking about a site you own or not.
Case A – Removal of contents or sites under your control:
Access to Google Search Console;
Click on "Remove";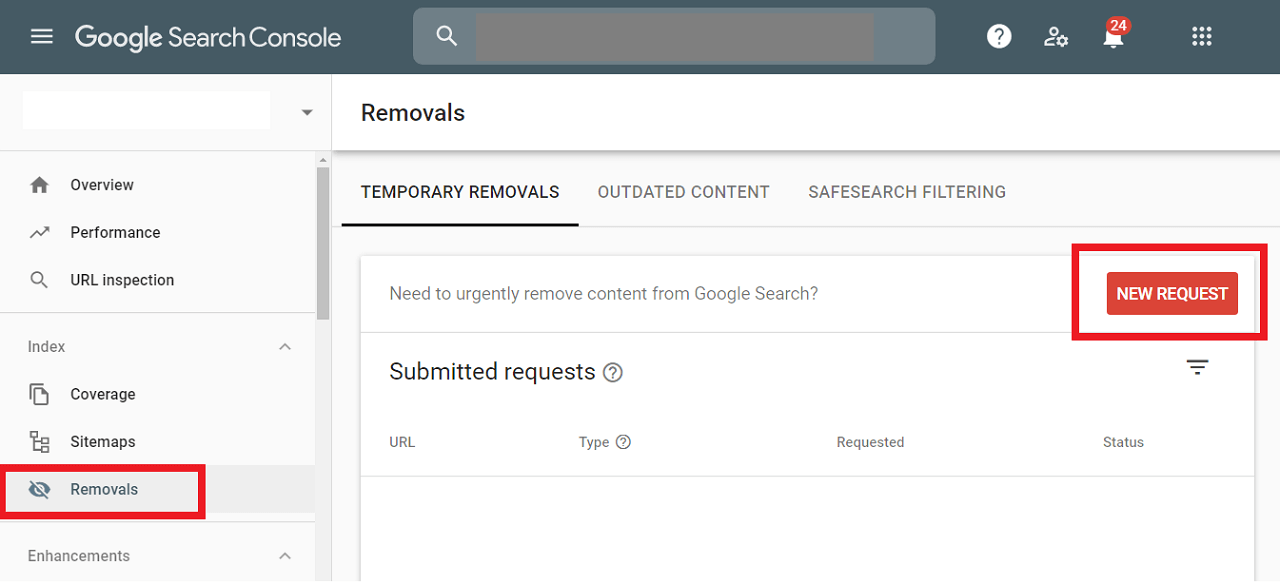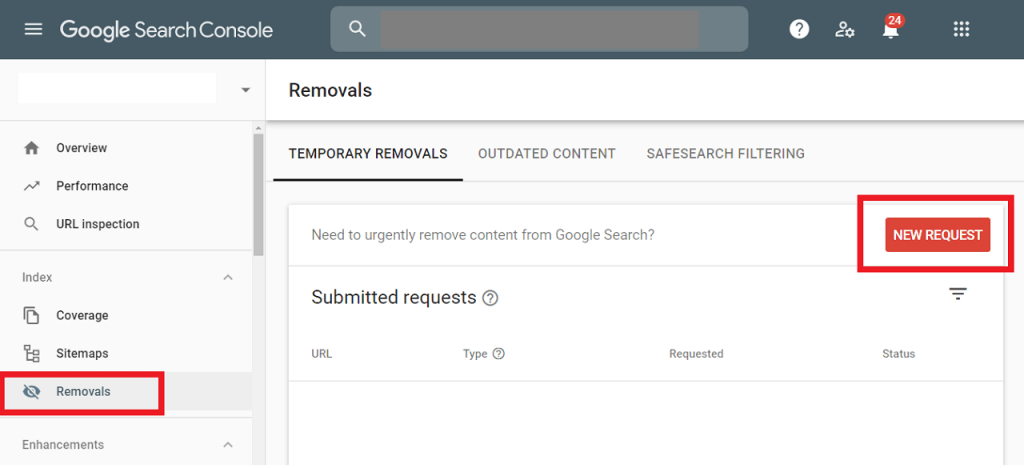 Click on the top right red button "New Request";
Choose if you want to temporary remove the url or if you want to delete the url recorded in the cache;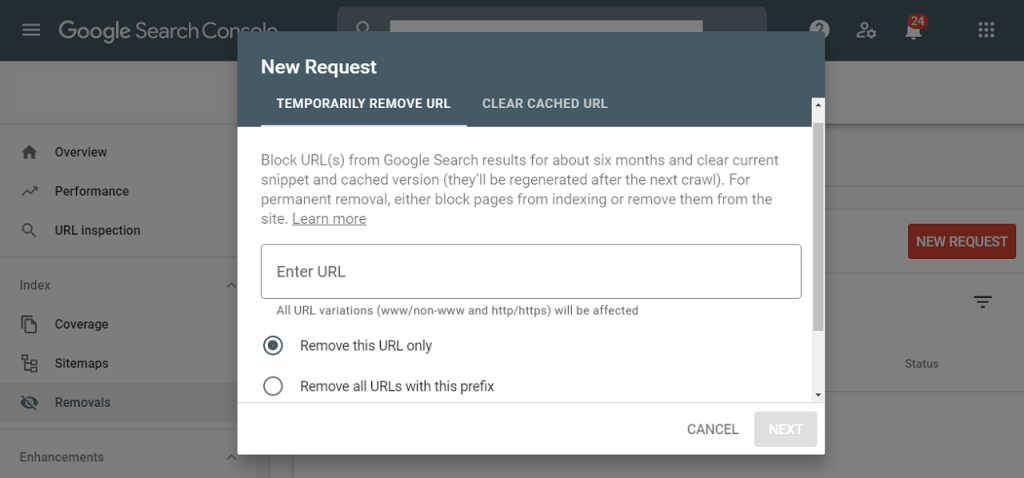 Follow the guided procedure and fill in the requested data;
Remember that if the removal request is successful, the url disappears from Google for 90 days. After that time, the link may appear again in the search results: that's why you have to make sure that Google always has all the references of the resource you want to remove.
Alternatively, you can de-index url from Google or delete it directly from the site.
For ultimate elimination, you must verify that the resource has been:
removed (HTTP Response 404 "page not found" o 410 "gone");
blocked from Googlebot (with meta tag HTML noindex or password);
moved permanently (es: redirect 301).
Case B – Removal of an url OUT of your control:
See paragraph 2 (How to request the removal of information from Google)
How to Remove a Location from google
Before deleting your location from Google, you need to figure out if you want to delete a location from your Google My Business account or from a web property that is not yours.
Case A – How to remove a location from Google My Business:
Sign in to your GMB account;
Click on "Manage locations";
Select the location that you want to delete;
Click on "Actions" and then on "Remove the location".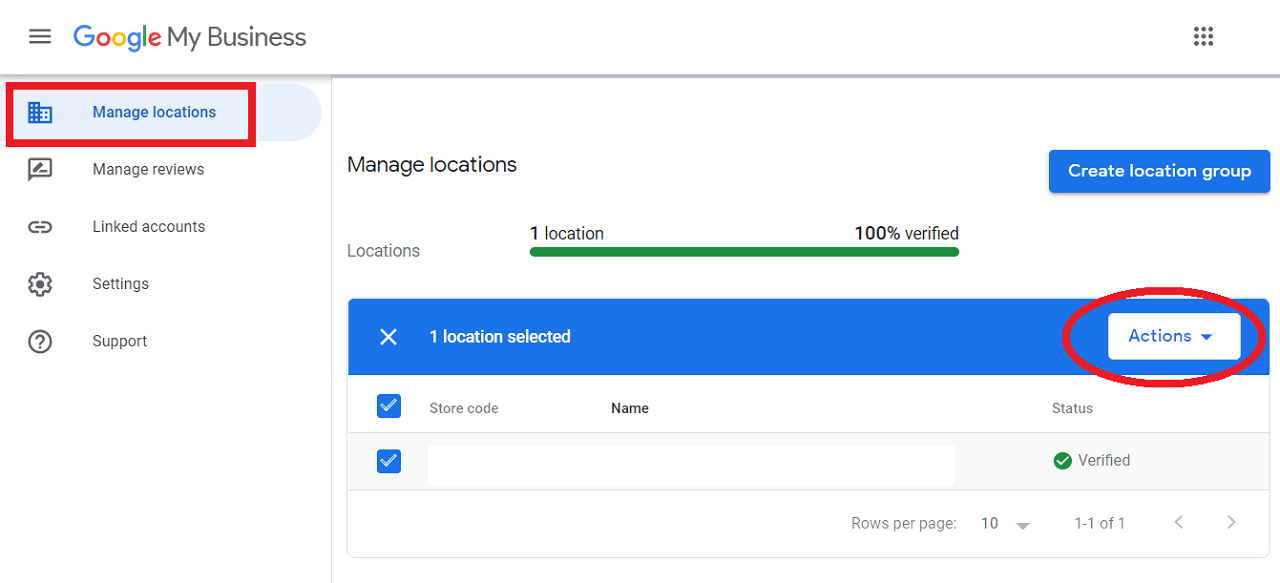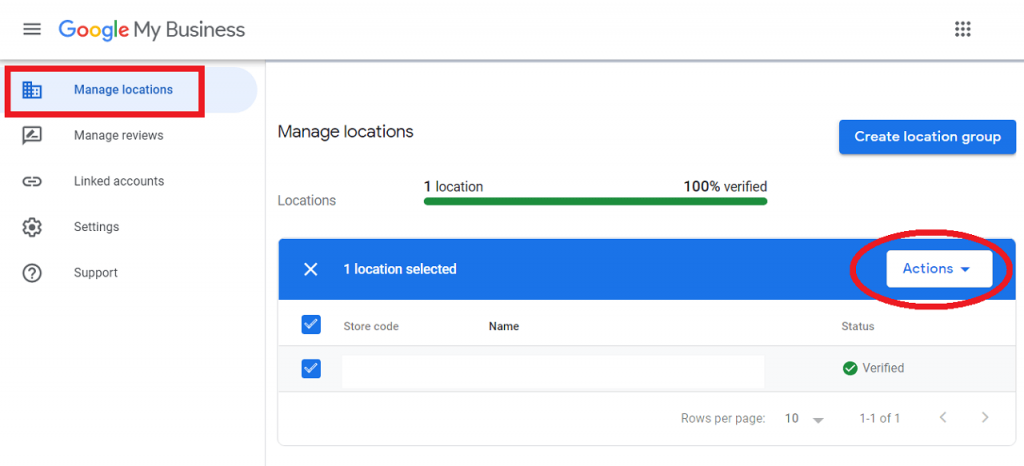 Case B – How to remove the location from Google:
See paragraph 3 (How to Remove Personal Results from Google)
How to Apply for the Removal of Search Results According to Law
In the previous paragraphs I have provided several legislative references which are helpful to eliminate harmful and obsolete content from the Web.
Fortunately, it is nowadays possible to ask for the removal of research results according to the current legislation: i.e. the GDPR and the Right to be Forgotten.
GDPR
Personal data, financial information and the preferences you make when purchasing, visiting a site or selecting a particular product, are now exposed to the media and may be subject to improper and unauthorized use.
The European Regulation for the Protection of Personal Data (General Data Protection Regulation UE / 2016/679) and the protection of the right to privacy intervene in this perspective.
With regards to online reputation, the GDPR is fundamental as it introduces – among other things – the Right to be forgotten.
Removal of Information from Google and Right to be Forgotten 
The protection of natural persons with regards to the processing of personal data is a fundamental right
This is what the GDPR states with regards to the Right to be forgotten, paving the way for the de facto removal of search results, personal data, photos, videos, data, accounts if they are:
obsolete
inaccurate
inadequate
irrelevant
excessive
Conclusions
In today's guide, I have showed you how to request the removal of information from Google to protect your good online reputation, which is essential when you consider how much influence the network has today.
In detail, and in accordance with the current legislation, you have seen how to delete from the web:
Personal results
Images
Url
Locations
Unfortunately, your need to quickly delete negative contents collides with the bureaucratic delays of the system.
This is why those who want to activate a removal procedure in a short time, may turn to Online Reputation Management companies such as ReputationUP, an international leader who will grant immediate and definitive removal of harmful links from the internet.
Time is money. Even more on the web, where the news travels at the speed of a click.