In the vibrant and unpredictable Argentine political landscape, the figure of Javier Milei emerges strongly and catalyzes the attention of the media and public opinion.
As the presidential elections approach, analyzing the online reputation of this controversial candidate is essential to understanding not only his political rise, but also the evolution of political dialogue in Argentina.
In an era where digital presence is as influential as traditional public appearances, exploring Javier Milei's online reputation offers important insights into the interaction between politics, media, and society in contemporary Argentina.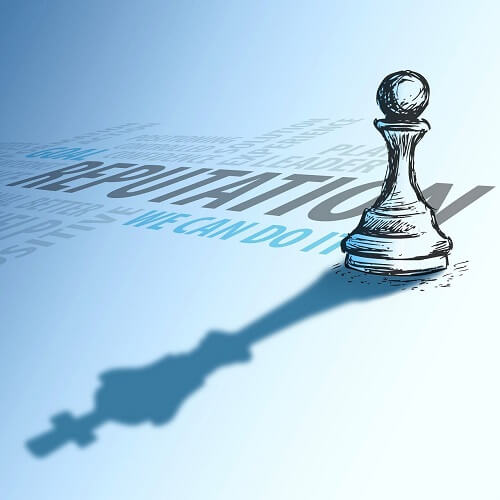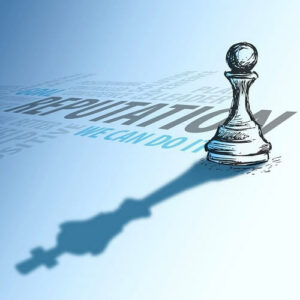 Need help managing and improving your online reputation?
60% of users say they don't trust people or businesses who receive negative comments or reviews
The context: the argentine elections
The presidential elections in Argentina were a major event in national politics, highlighting the tension between tradition and innovation.
In this context, Peronism and Kirchnerism, the country's historical movements, continued to exert an important influence.
Rooted in Argentine political culture over the last two centuries, these movements are characterized by policies centered on state intervention in the economy and a strong social component.
Over the years, however, they have faced growing discontent with economic challenges and a perception of political gridlock.
Above all, Kirchnerism has become synonymous with the economic decline that has accompanied Argentina and its financial reputation at the global level.
In this panorama, emerging figures like Javier Milei have begun to gain popularity, representing a fringe of the electorate tired of the usual promises and eager for radical change.
With his libertarian approach, Milei has openly challenged traditional norms and policies, attracting a diverse electorate, especially among young people and supporters of a more liberal market economy.
The results of the first round: Javier Milei in the runoff against Sergio Massa
The final result of the first round of the election, held on October 22, 2023, saw the victory of Sergio Massa, representative of the Union por la Patria (UP), with 36.68% of the votes.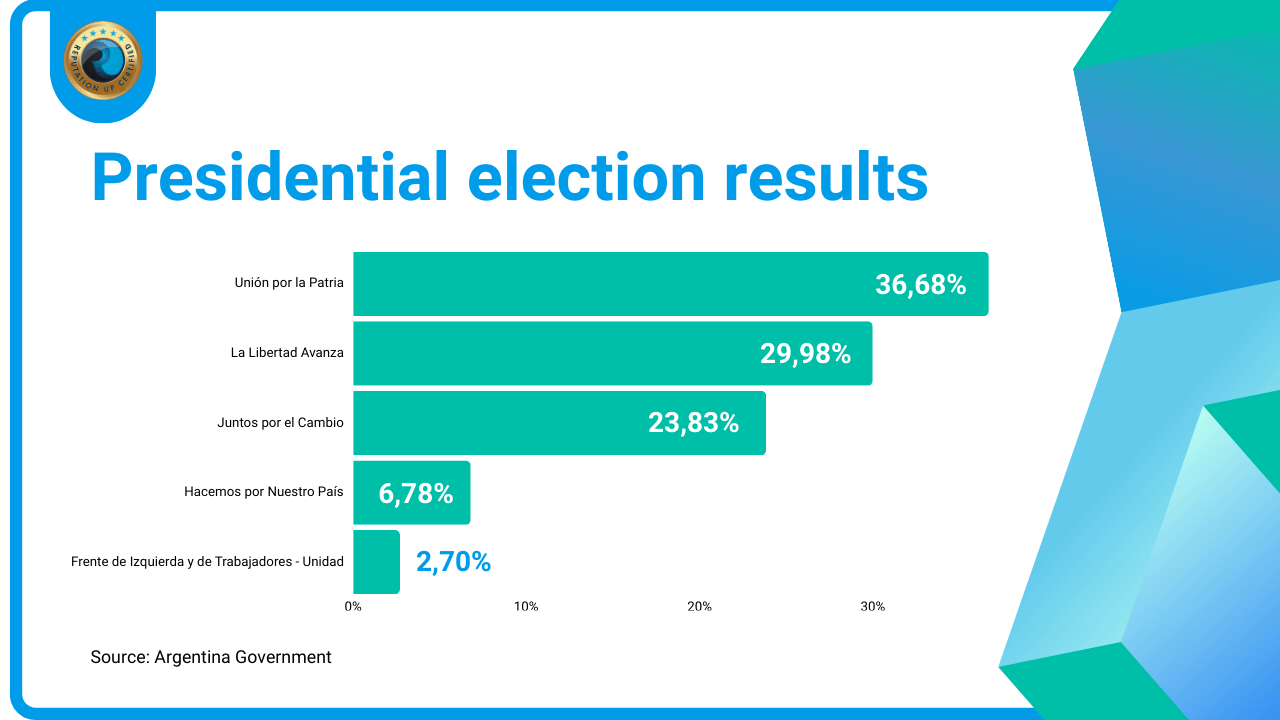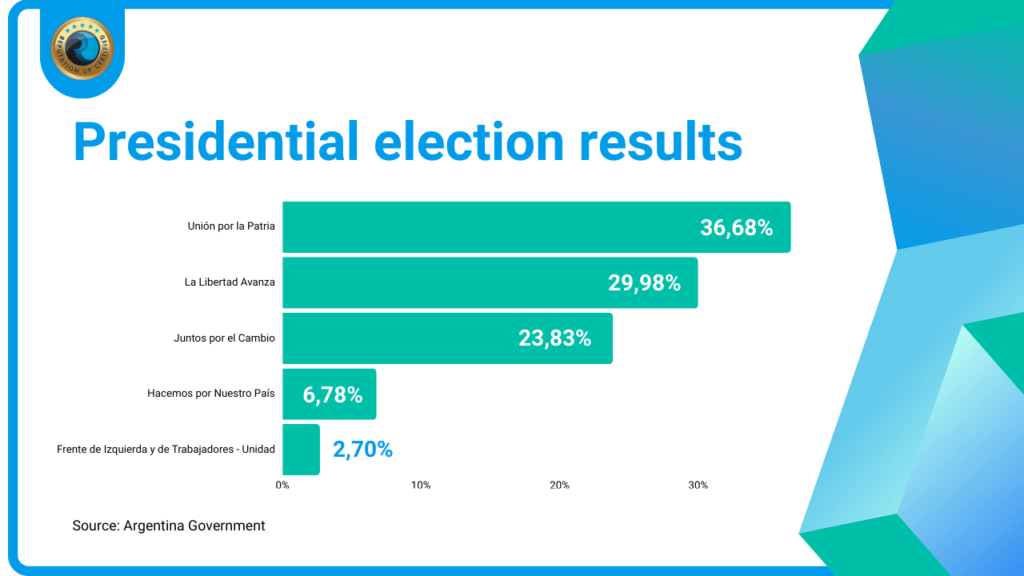 In second place, unexpectedly compared to the August PASO polls, is Javier Milei with La Libertad Avanza (LLA), with 29.98% of the votes.
In third place is the list of former President Macri, Juntos por el Cambio (JxC), with candidate Patricia Bullrich, who has 23.83% of the votes.
Among the national senators, the 3 available seats are divided between Union por la Patria (2) and Juntos por el Cambio (1).
In the case of the national deputies, however, the situation is more varied: 16 seats in the UP, 9 in the JxC and 9 in the LLA of Milei.
The last seat went to the Frente de Izquierda y de Trabajadores – Unidad.
Participation in the elections is the second lowest ever, with only 79.14% of the vote.
Who is Javier Milei
Born in '70, Javier Milei is a controversial and polarizing figure who entered politics with a direct and brazen style, certainly over the top.
Politician, economist, writer, teacher and radio host, he is assimilated to the figures of Donald Trump and Jair Bolsonaro, pointing the finger at socialism and any kind of social justice.
In the PASO (Primary, Open, Simultaneous, Mandatory) held in mid-August, Javier Milei reached first place, winning 30% of the voters, against 21% for Massa and 17% for Bullrich.
His career began in the field of economics, where he was known for his open criticism of Keynesianism and his preference for libertarian and Austrian school economic theories.
Milei used his experience and exposure as an economist and TV commentator to build his political platform.
He defines himself as an anarcho-capitalist and an ultra-liberal, and has based the main points of his political campaign on these pillars.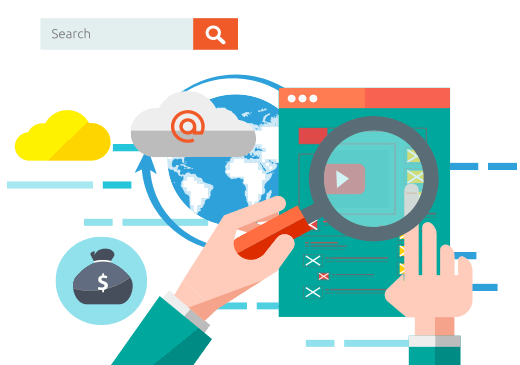 Do you want to spy on your competitors and their strategies?
Access the RepUP Monitoring Tool platform and find out how to beat the competition.
An opponent of the Kirchnerists and collectivists, he proposes the abolition of the Argentine Central Bank and the dollarization of the national economy in order to succeed in the difficult task of reducing the public debt.
"The state is not the solution, the state is the problem," he says in this video published on TikTok, in which he explains his government plan, which includes the elimination of most of Argentina's ministries, which would go from 18 to 8.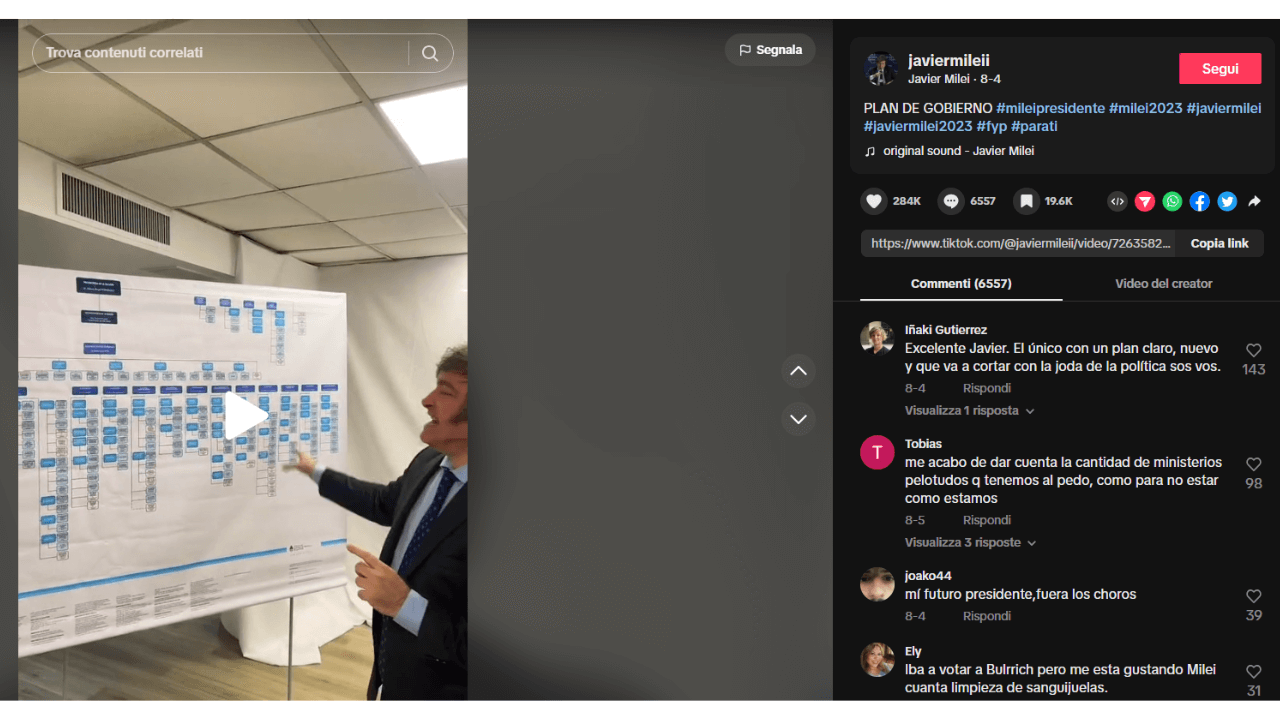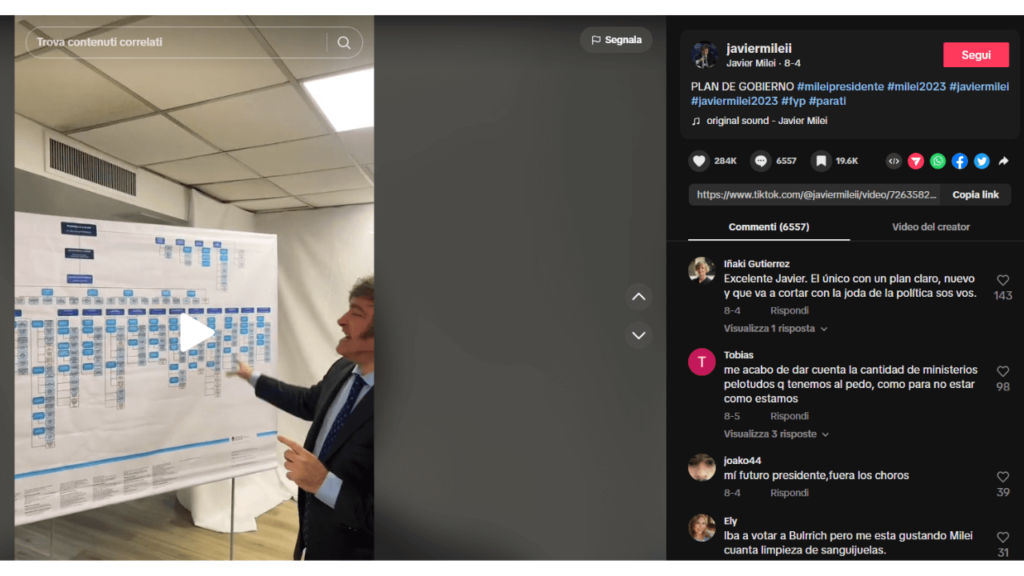 Milei's opponent: Sergio Massa
Sergio Massa, on the other hand, has established himself in the collective imagination and in the discourse of Javier Milei as the candidate of the establishment.
Born in '72, his political career has been marked by a series of key roles in the Argentine government, where he has demonstrated an ability to deftly navigate the country's complex political landscape.
Unlike Milei, who entered politics with the 2021 election as a national deputy, Massa is a veteran: his career officially began in 1999, when he was elected deputy of the province of Buenos Aires.
Candidate in the 2015 presidential elections with the Renewal Front that he founded, he came third with 21.39% and, in the subsequent 2019 elections, reunited with the Peronists in the coalition of the Front of All.
Since 2019, he has been president of the Chamber of Deputies of the Argentine Nation, and in 2022 he was appointed Minister of Economy in the government of Alberto Fernández, in a last-ditch attempt to manage the difficult economic crisis in the country.
Massa proposed an approach that moved away from populist and more radical policies, focusing on a balance between economic reforms and social protection measures.
His program stressed the importance of a stable economy, with a greater emphasis on fighting corruption and strengthening democratic institutions.
Second round of voting: the Milei-Massa runoff
The runoff election between Javier Milei and Sergio Massa has been portrayed by the media and the two opponents themselves as a turning point in Argentine politics.
The results of the first round showed a clear division between Milei's radical proposals and Massa's more moderate and institutional approach.
According to Javier Milei, this is a choice between "freedom or caste," with caste clearly represented by Massa and his ties to the establishment, from Cristina de Kirchner to President Fernández.
In a context of high political polarization, however, the alliances and strategies of the two candidates now play a crucial role.
In order to counter the confirmation of the Kirchnerist front, Milei received the support of Patricia Bullrich and former president Mauricio Macri.
In the statements made after the first round of voting, in which Bullrich suffered a major defeat in third place, politicians reiterated the need to support the change at all costs.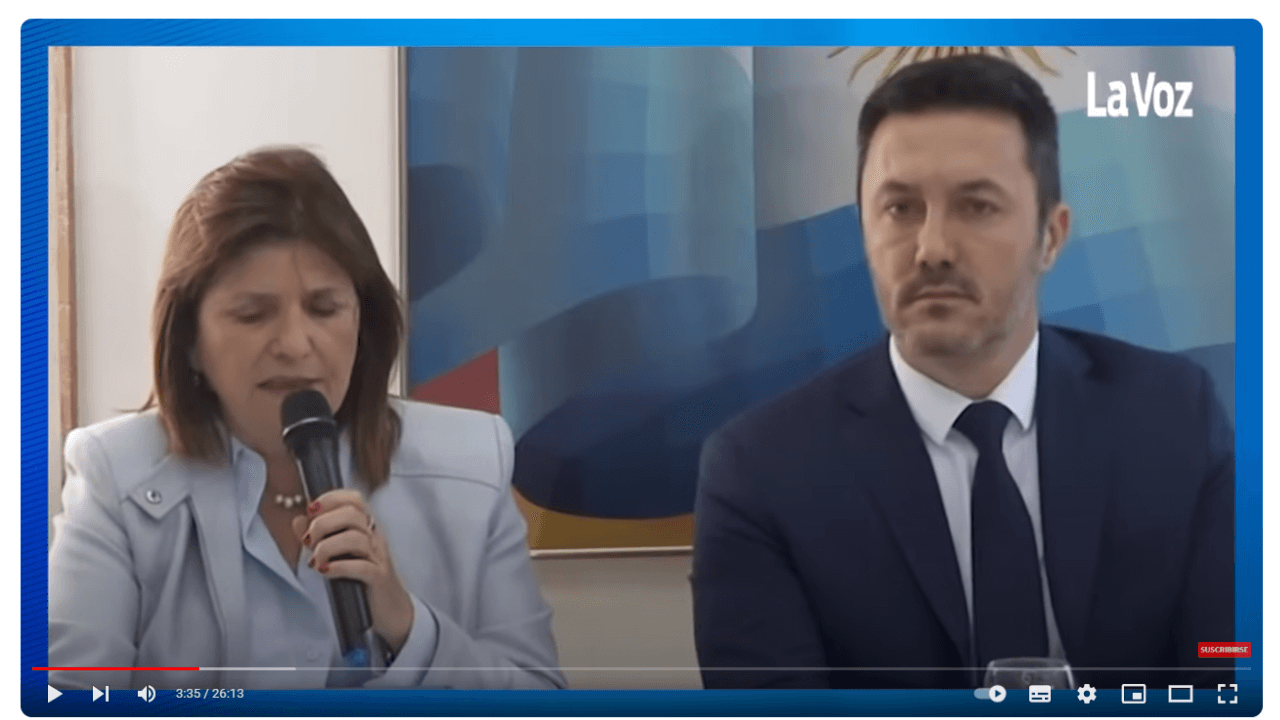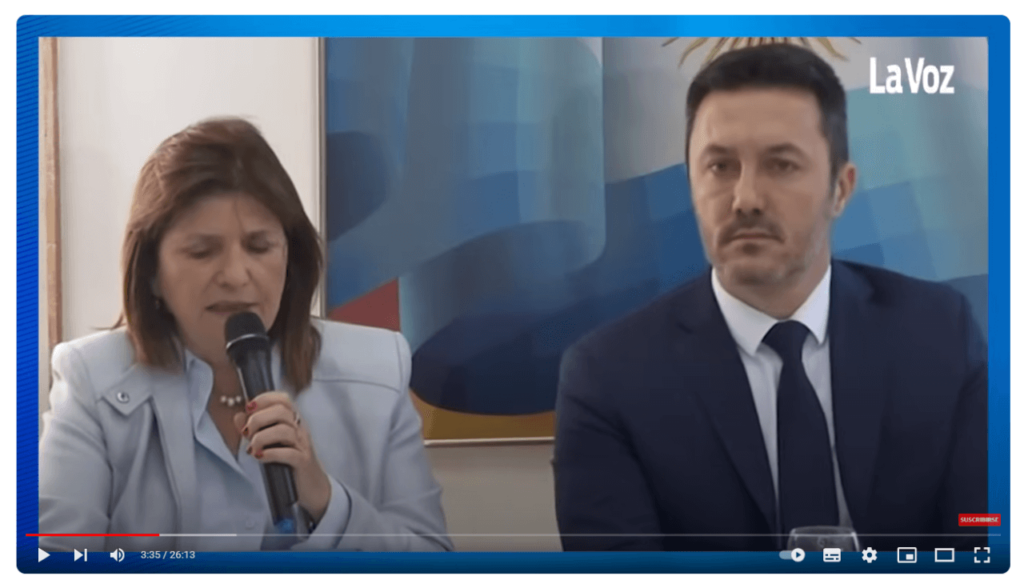 However, these positions have a negative impact on Milei's digital reputation.
In fact, the founder of Libertad Avanza will have to deal with the part of Milei's electorate that wholeheartedly supported the fight against caste and corrupt politicians, including all those who had previous political experience.
On the other hand, Massa wanted to consolidate his support among centrists and older voters who were more concerned about economic and social stability.
Milei's communication strategy
Javier Milei has shaken up the Argentine political landscape with his unique and often provocative communication style.
His approach to communication is clearly segmented between his online presence and his offline strategies.
This duality reflects a deep understanding of his constituency and a calibrated use of different channels to maximize the impact of his message.
In both cases, however, Milei's communication was characterized by an aggressive and direct style, often using inflammatory rhetoric to draw attention to his key points.
In this second phase of the elections, however, the tone is clearly shifting to a softer style aimed at including the more moderate fringes that supported Bullrich.
How Javier Milei has already won online
Javier Milei's political marketing campaign has produced undeniable results.
His strategic use of social media has played a crucial role in building and maintaining a strong following, especially among younger, digitally connected voters.
For this reason, Instagram and TikTok were the two most used platforms to convey Milei's message of a break with the current political system.
ReputationUP, with its team of experts in all areas of online reputation management, has always insisted on this aspect.
The use of this format by the candidate is characterized by some key elements:
Direct interaction: Milei uses social media to communicate directly with his supporters, responding to comments and sharing content that highlights his personality and the image of a lion that he himself keeps repeating.
This creates a sense of personal and immediate connection between him and his followers;
Viral content: Through the use of memes, videos, and provocative posts, Milei creates content that easily goes viral.
This not only spreads her message, but also reinforces her image as an anti-system and disruptive politician, which is especially popular among younger people;
Clear and direct language: the image of everything that appears on Milei's social media must be accompanied by simple and often bizarre language, easy to understand, with many memorable phrases.
This choice demonstrates the desire to reach everyone, with slogans that also go viral, such as "Viva la libertad, carajo".
The overall strategy is strongly focused on creating proximity between the politician and the people: there are no barriers, and this gives the idea that Javier Milei is literally at the side of Argentines.
Javier Milei on Instagram
On Instagram, Javier Milei has amassed 3.4 million followers for his official account @JavierMilei.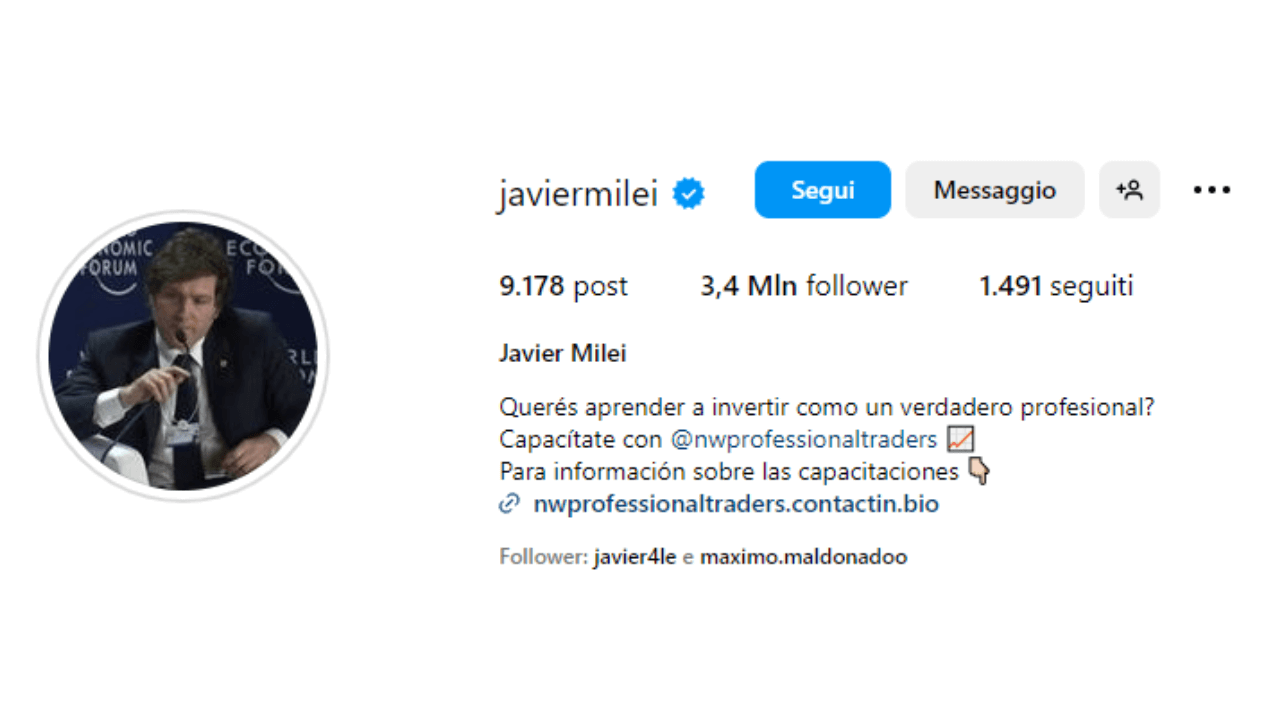 Since the success of the first round of the election, Milei has gained around 300,000 followers in just 10 days.
Looking just at the last week, it is clear that the type of content published is very varied:
Photographs showing him with people at key moments in the campaign;
Memes against candidate Massa;
Posters of the upcoming electoral meetings for the second round;
Video with an emotional tone against the politics of Kirchnerism;
Screenshots of tweets supporting him or quotes from newspapers.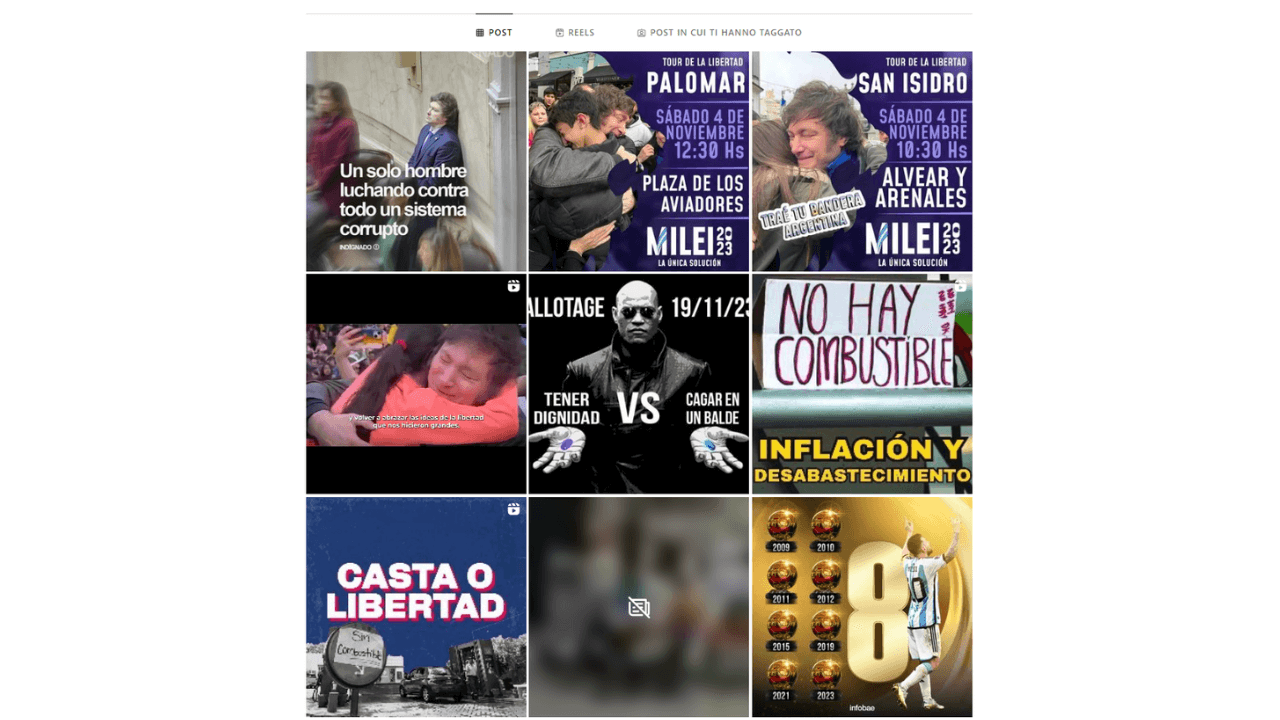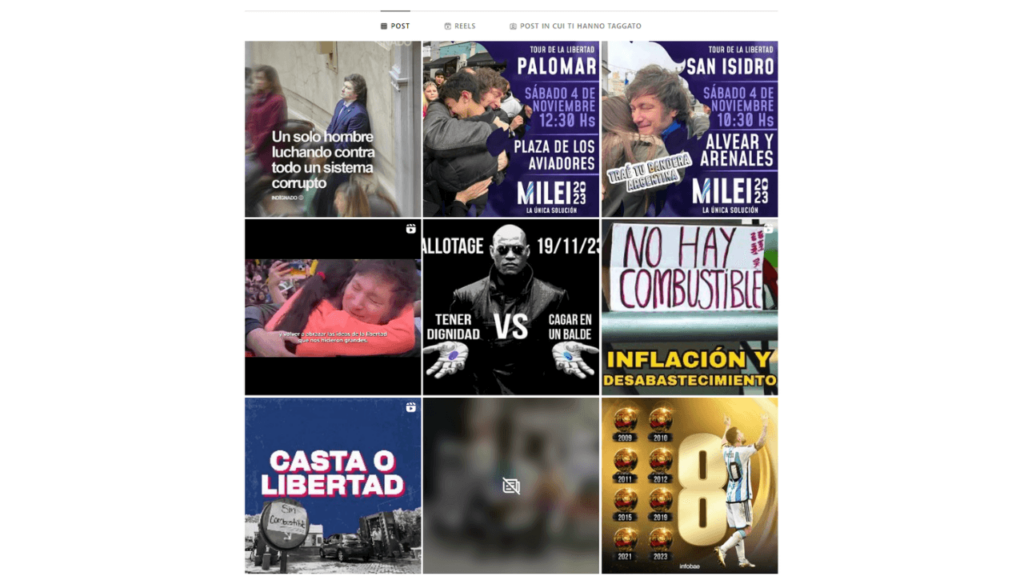 However, the post with the most likes (over 1 million) is a cartoon depicting a lion holding a goose with the Argentine flag.
It is a drawing that celebrates Bullrich's support for Milei: the lion Milei takes Bullrich (and all other anti-Kirchnerism) under his protection to lead Argentina into a new era of prosperity.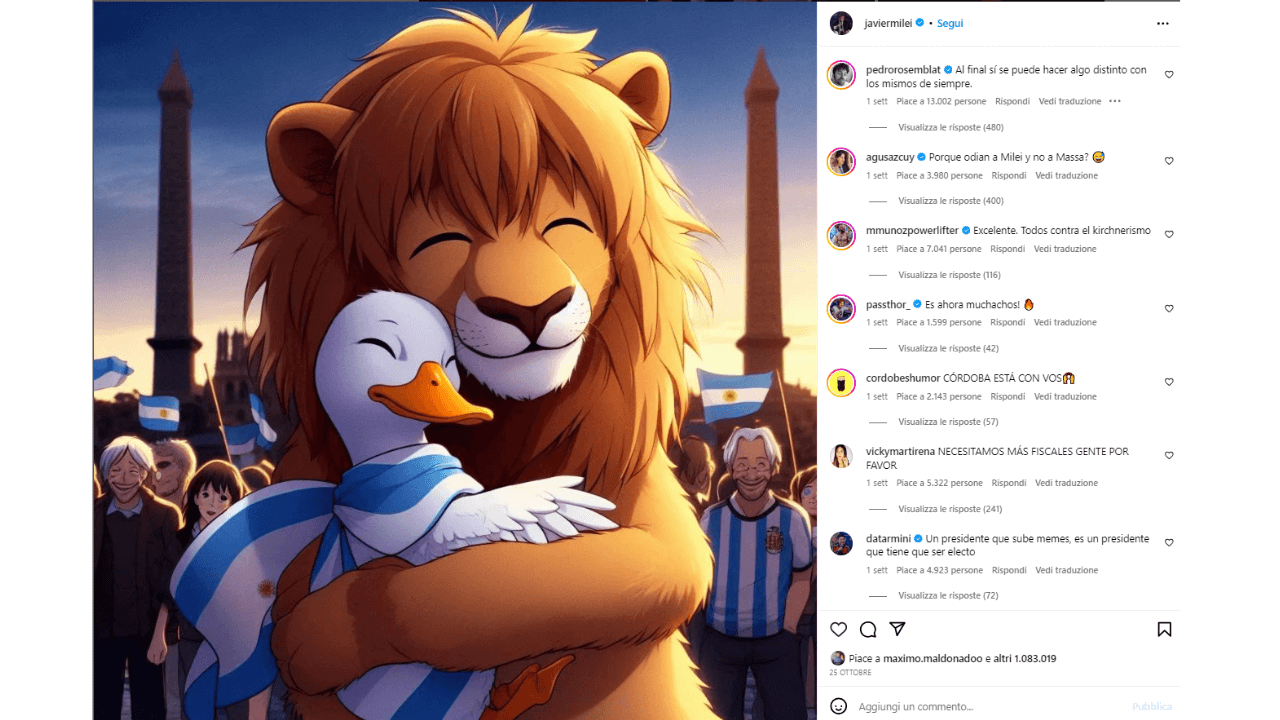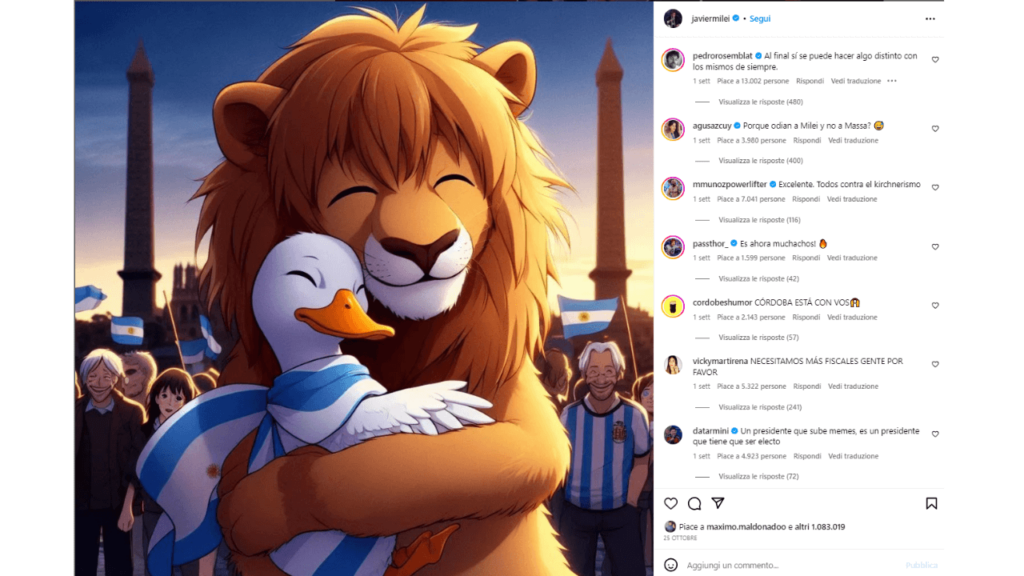 The huge number of likes was taken by Milei as voter support for this endorsement.
In a recent interview, when it was pointed out to him that likes do not necessarily translate into votes, Milei replied that he was sure that Argentines would understand the urgency of this alliance as the only measure capable of defeating Kirchnerism.
Javier Milei on TikTok
Javier Milei's strategy on TikTok demonstrates the size and importance of integrating these new platforms into any political strategy.
With 1.5 million followers and 13 million likes, the official account @javiermileii is a social phenomenon.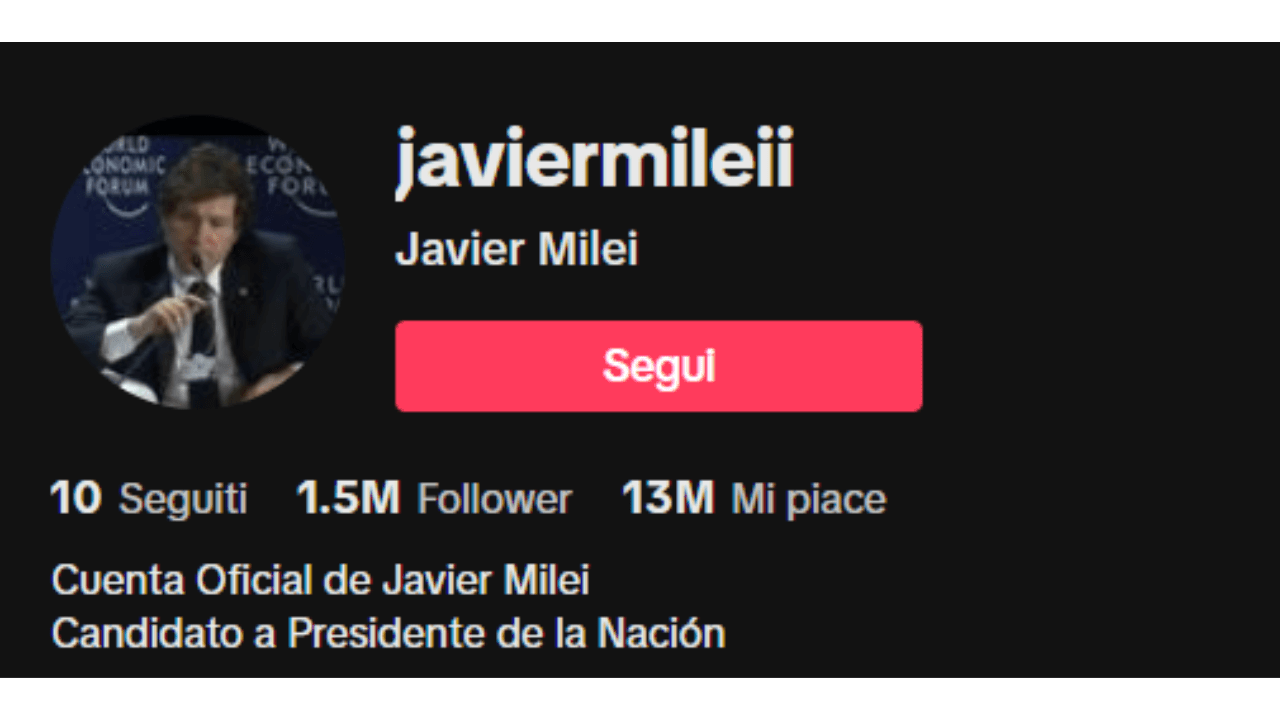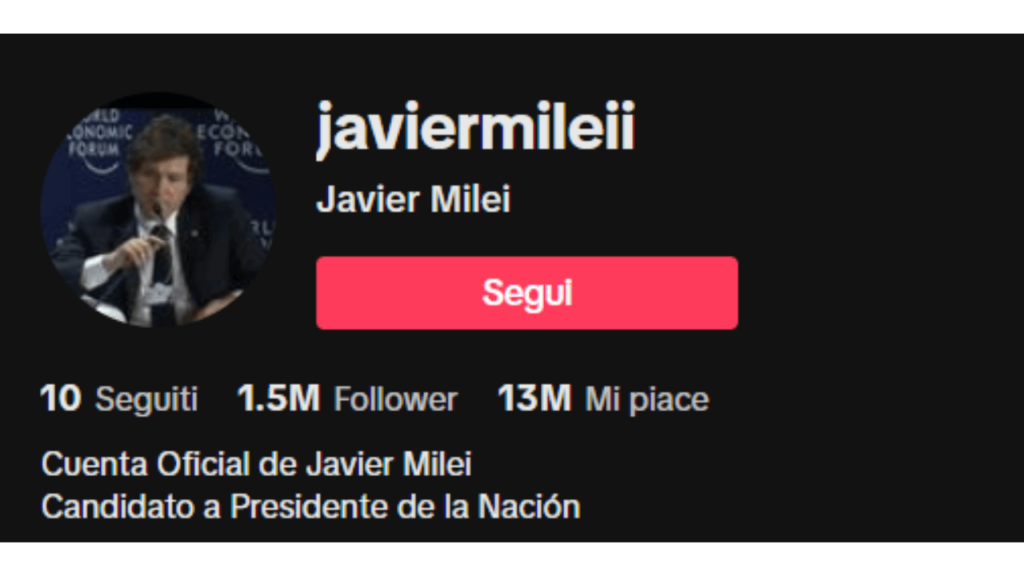 Short videos, looking directly into the camera, a few very pithy sentences, often in response to a direct question.
The social strategy is proving to be complementary to the offline one: the Milei character already exists and his characteristics, such as they are, are perfect to be used on social media to conquer a huge audience.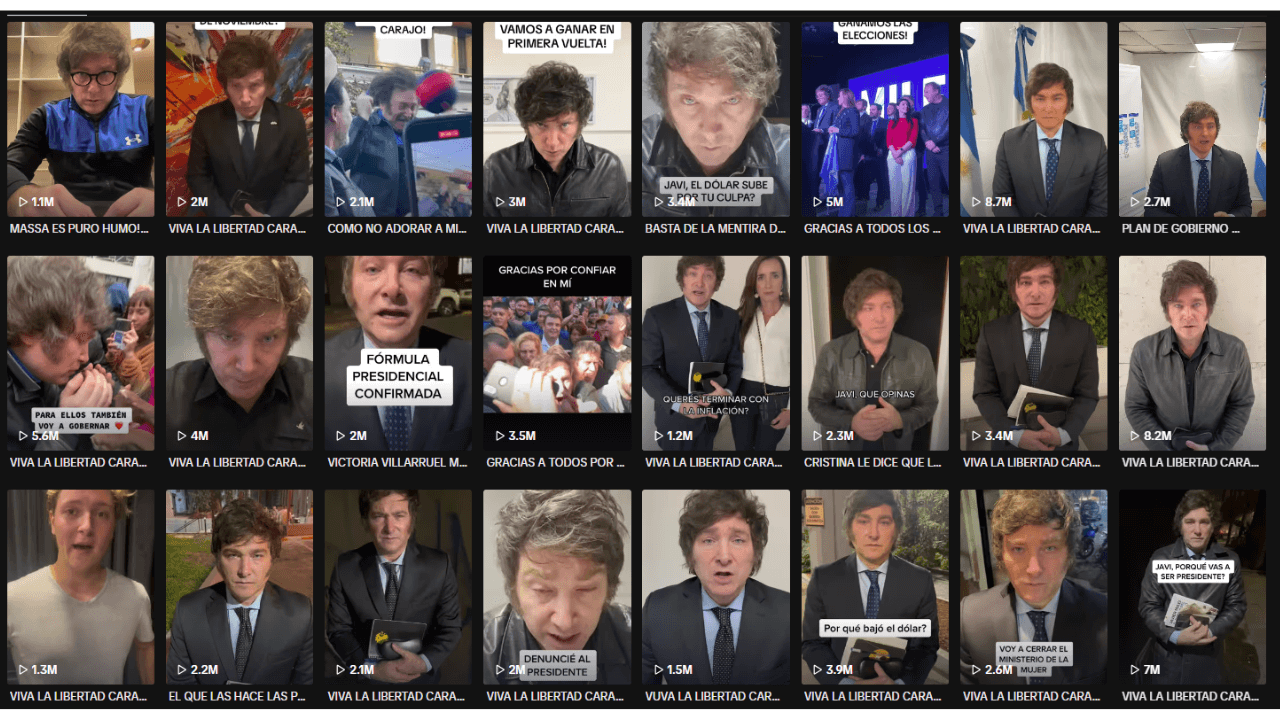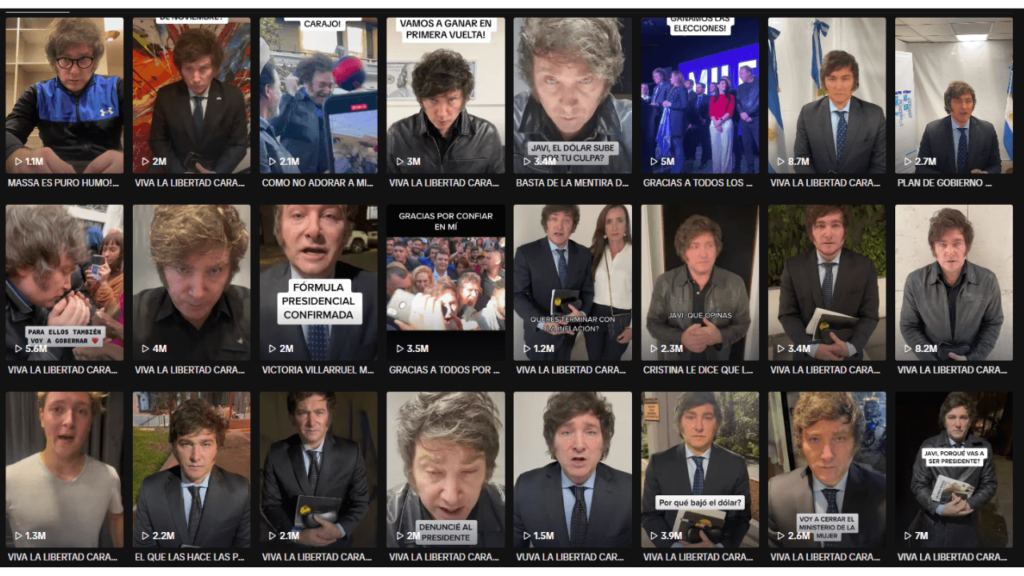 In addition to the official profile, Milei's communication campaign also relied on a second account: @elpelucamilei.
With 2.4 million followers and 44.7 million likes, this profile is used to strengthen Milei's online image and appeal to her digital audience through the dissemination of less official but more powerful videos.
These are short videos that highlight the most difficult part of Milei.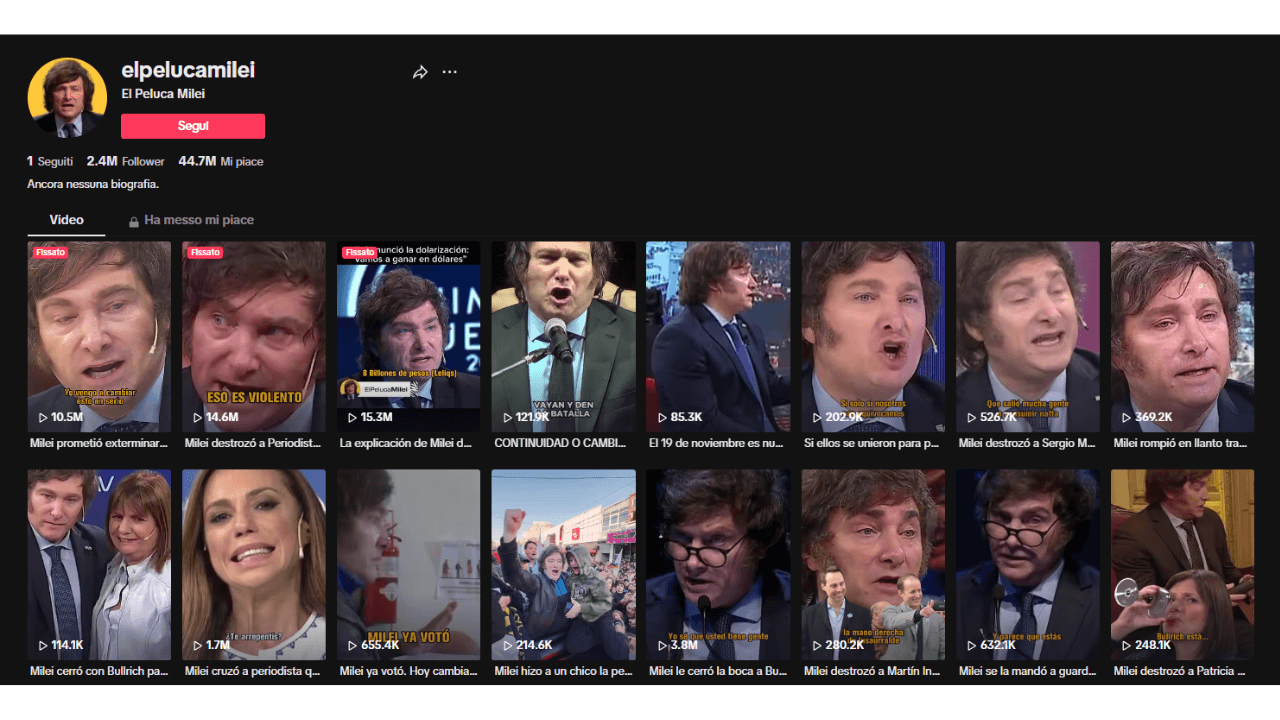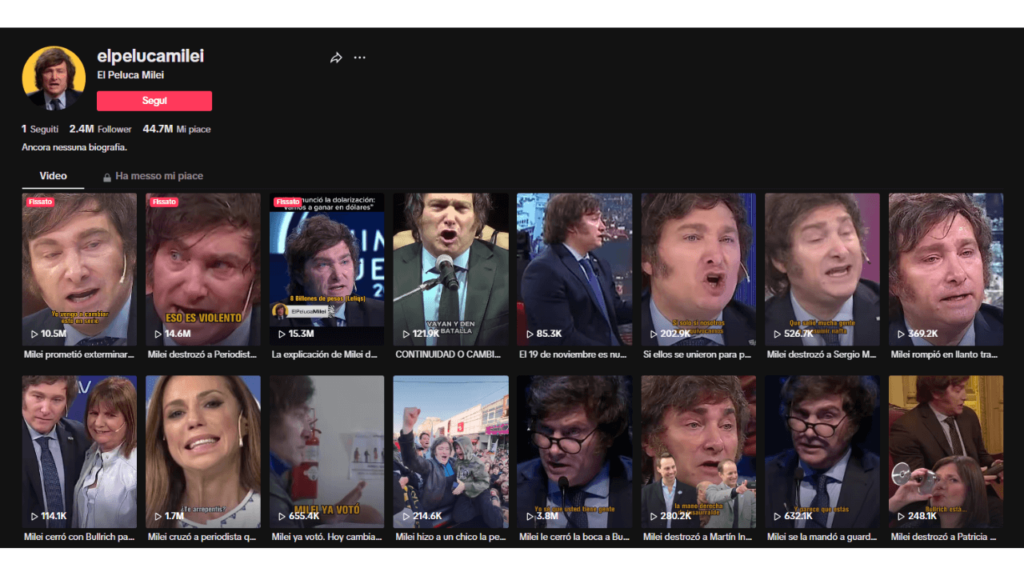 Behind this strategy, which is also proposed on Instagram (but with fewer followers), there is a team of very young people led by the 22-year-old influencer Iñaki Gutiérrez, who has already worked with Macri and Bullrich.
Javier Milei offline: the strategy in the classic campaign
In its offline activities, Milei follows an approach similar to the offline one, to which it adds the classic phases of an on-site campaign.
The features of this strategy are:
Public events and meetings: Milei actively participates in events where he can interact directly with the public.
These events are often characterized by impassioned speeches that highlight his charisma and oratorical skills and galvanize his supporters with stadium chants and slogans;
Populist approach: on the ground, Milei adopts a populist style, seeking to create an emotional connection with ordinary people.
His rhetoric in public speeches often focuses on the daily challenges of Argentines, from fighting poverty and inflation to criticizing political elites;
Traditional media: Milei does not hesitate to use mainstream media to reach a wider audience.
His appearances in television and radio interviews allow him to reach segments of the electorate that may not be active online, especially older generations.
Javier Milei's communication strategy clearly shows how the politician has been able to make the most of both digital and traditional channels to build and maintain a solid base of supporters, constantly fueling his personal reputation and visibility.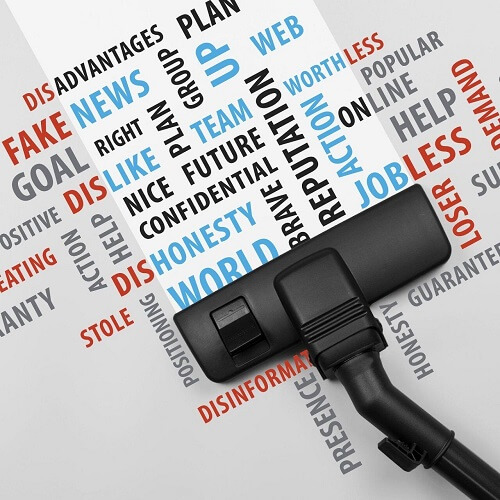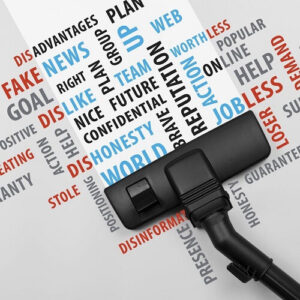 Do you want to protect your reputation from haters and fake news?
You risk losing 22% of your revenue if potential customers find a single negative link on Google's first page
Differences between Milei and Massa communication
Massa, Javier Milei uses a completely different style, which can be summarized in these points:
Milei uses provocative language to elicit strong reactions; Massa prefers a more sober and diplomatic tone;
Milei uses social media intensively to spread his message and establish a direct relationship with his supporters.
Massa, on the other hand, has a more institutional and measured approach to the use of social media;
Milei's messages focus on the need for radical change and harsh criticism of the political establishment.
Massa, on the other hand, focuses on continuity, stability and experience;
Milei focuses more on economic issues, such as reducing public debt and liberalizing markets.
Massa emphasizes a broader range of issues, including social security and welfare policies.
In essence, the differences in approach correspond to the differences in vision and political approach.
Javier Milei: the analysis
To the online reputation monitoring of Javier Milei, our analysis focused on the dates from October 27 to November 3, in the period following the first round of the elections.
The following parameters were examined:
Results over time;
Sentiment analysis;
Emotions;
Trends.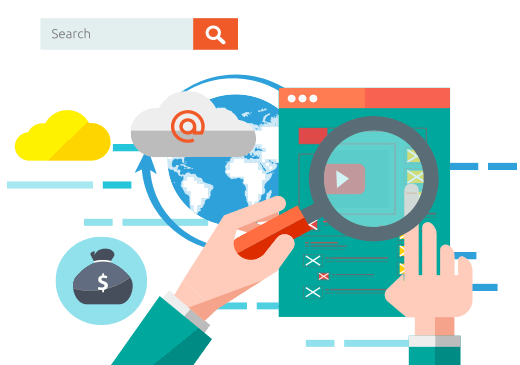 Do you want to spy on your competitors and their strategies?
Access the RepUP Monitoring Tool platform and find out how to beat the competition.
ReputationUP uses reputation monitoring software, the RepUP Monitoring Tool, which analyzes everything said online in real time, combining big data and artificial intelligence.
Results over time
Over the selected time period, the number of online mentions of Javier Milei decreased from 6.12 million to 3.17 million, a decrease of 48%.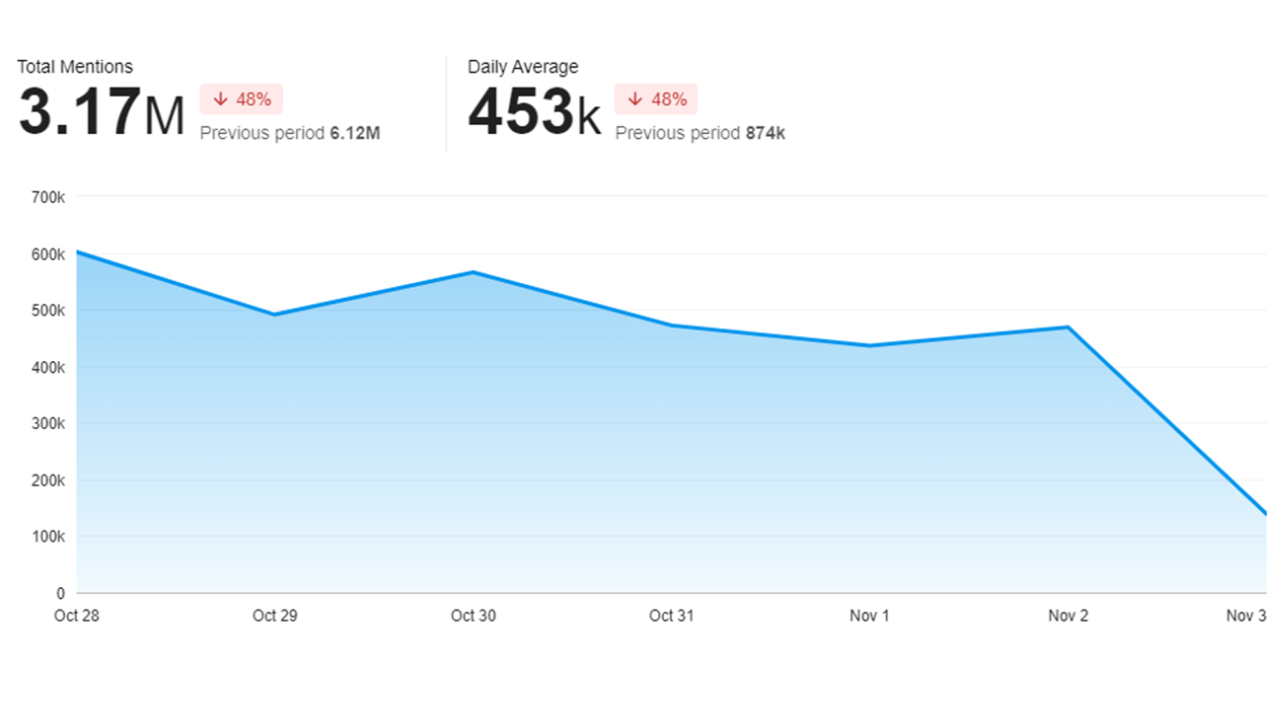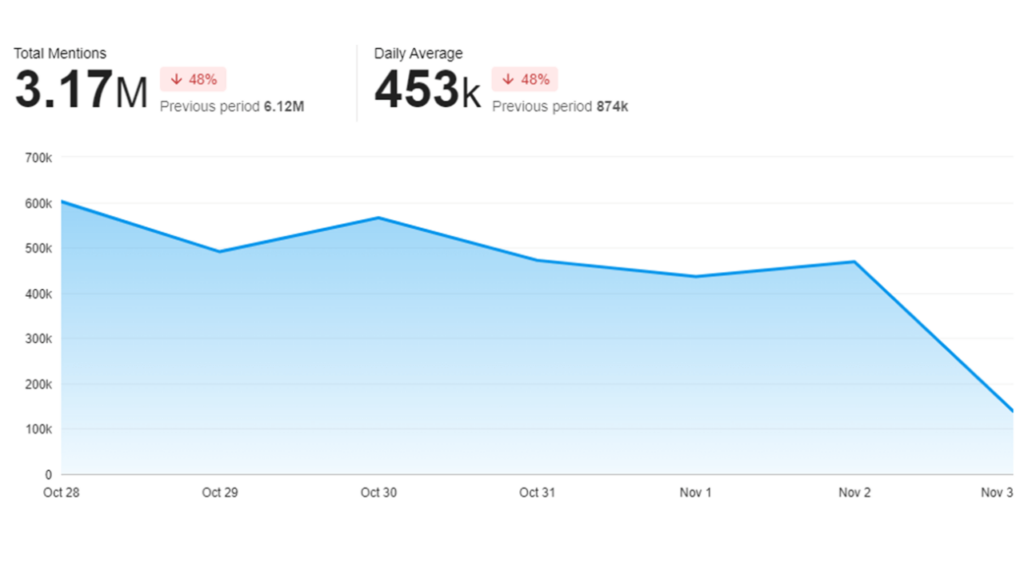 After the boom of mentions following the first round of the elections, the online presence decreased, inversely proportional to the publications made by Milei on social media.
In fact, these have intensified in the last few days, as has the television presence.
As expected, the last cards are being played before the start of the last round of elections in order to gather the greatest number of supporters.
Related keywords
Among the keywords most present online are all those that characterized Javier Milei's political campaign:
Jobs, because of the employment crisis in Argentina;
Government of criminals, which is what Milei calls his opponents currently in power;
Lack of fuel, which is what the citizens are facing due to the protective measures adopted by Massa and Fernandez;
Argentines well, which is how Milei refers to his electorate to distinguish them from the criminals.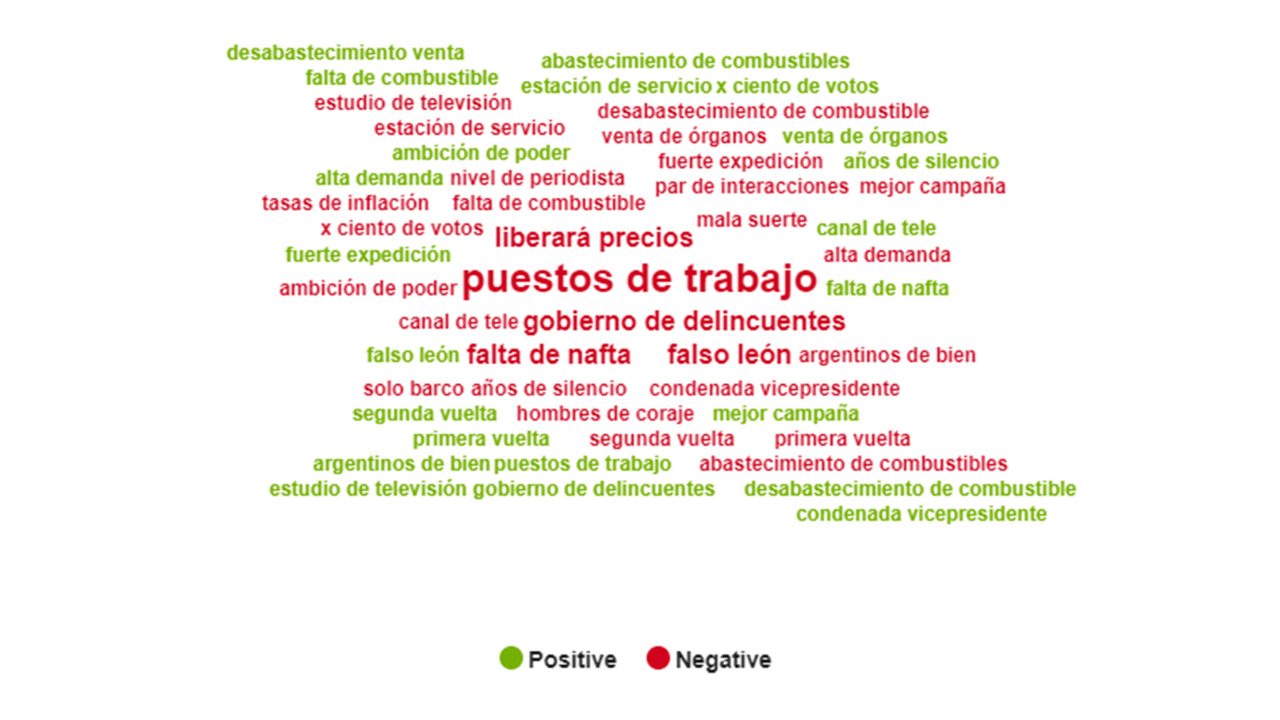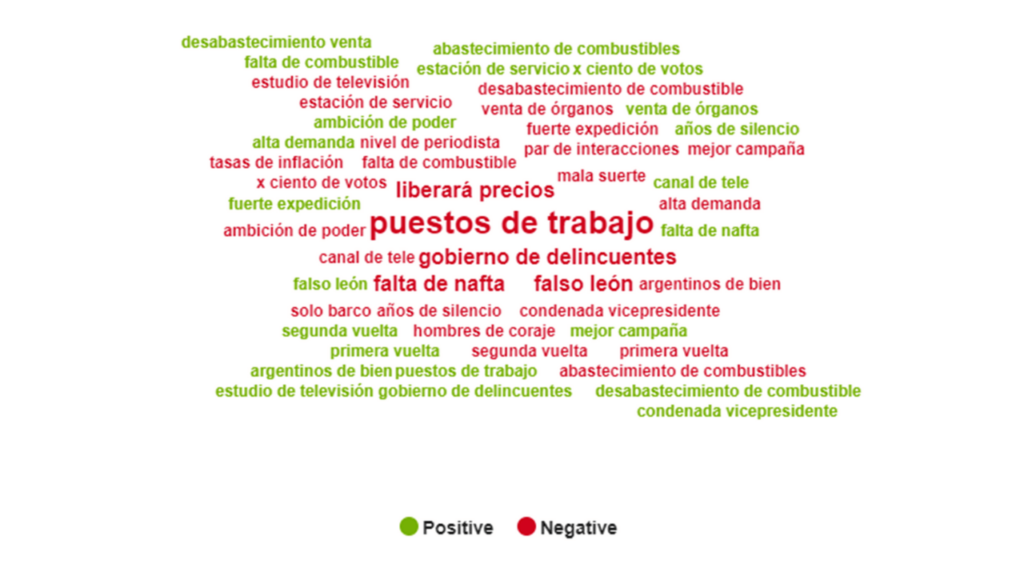 As can be seen in the graph, the same keywords have both positive and negative meanings.
This is due to the fact that the same themes are also used by Milei's opponents to attack the candidate and discredit his positions.
Sentiment
Sentiment analysis calculates the percentage of sentiment, positive or negative, generated by users in social networks.
For Javier Milei, negative sentiment prevails, accounting for 29.1% of the mentions.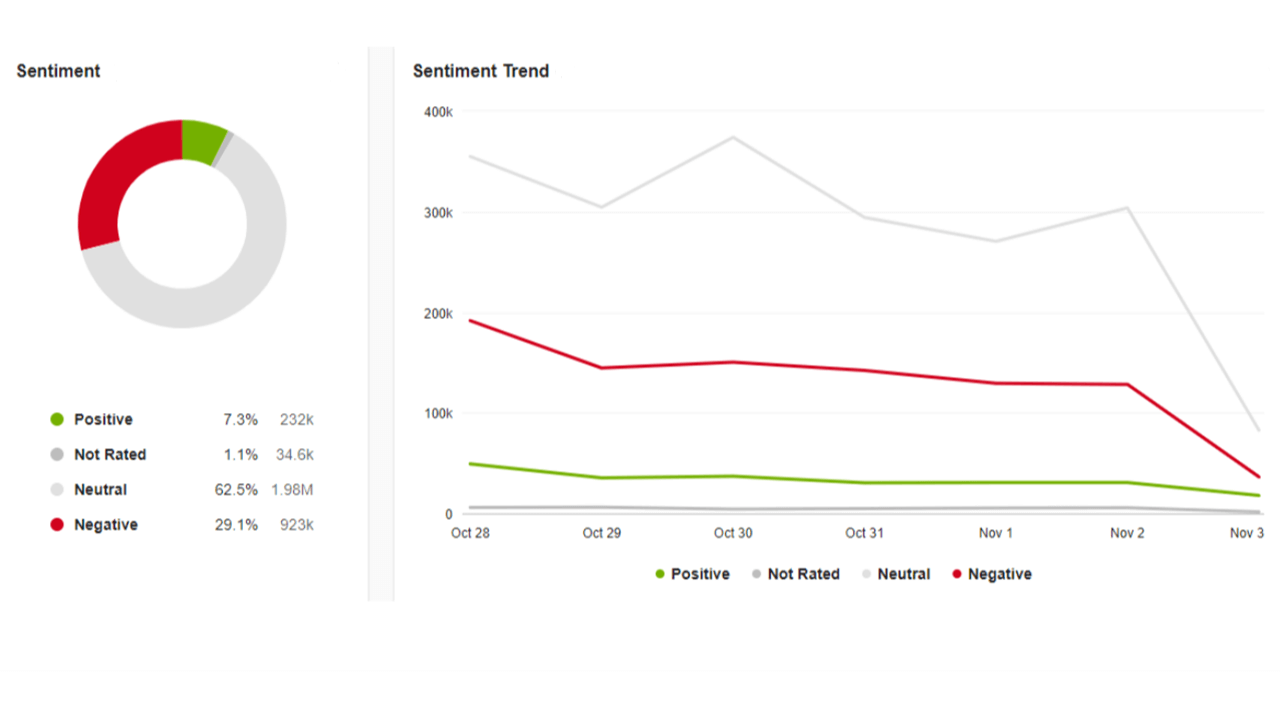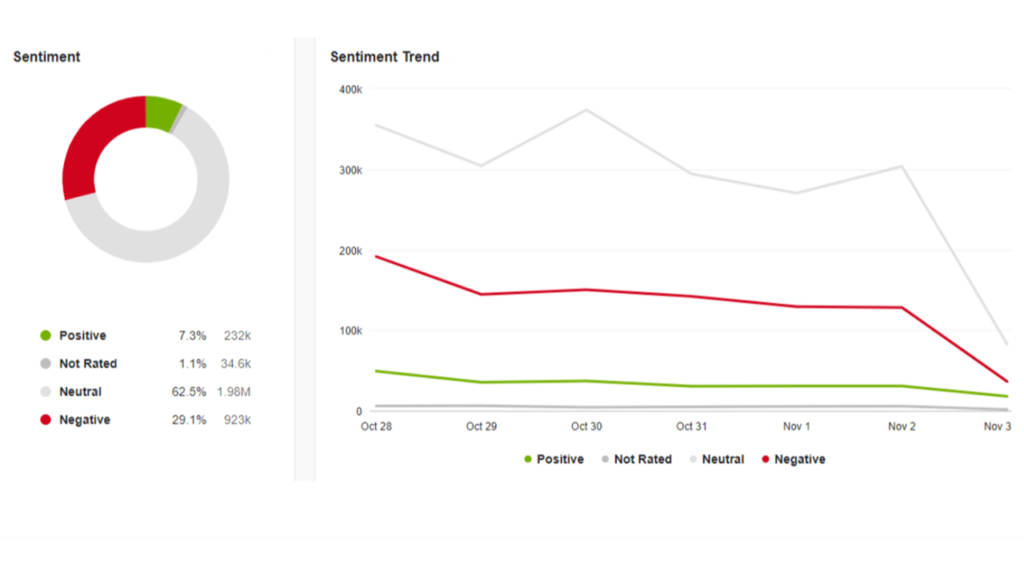 Positive sentiment, on the other hand, is around 7.3%.
In any other analysis, these data would indicate a severe reputational damage.
In Milei's case, however, this argument does not apply, since he has used this "bad reputation" to advance his political discourse from the beginning.
Emotions
What has been said about sentiment also applies to the analysis of emotions.
In fact, if we look at the following graph, we can see that the predominant emotion among the audience is love, followed by anger and sadness.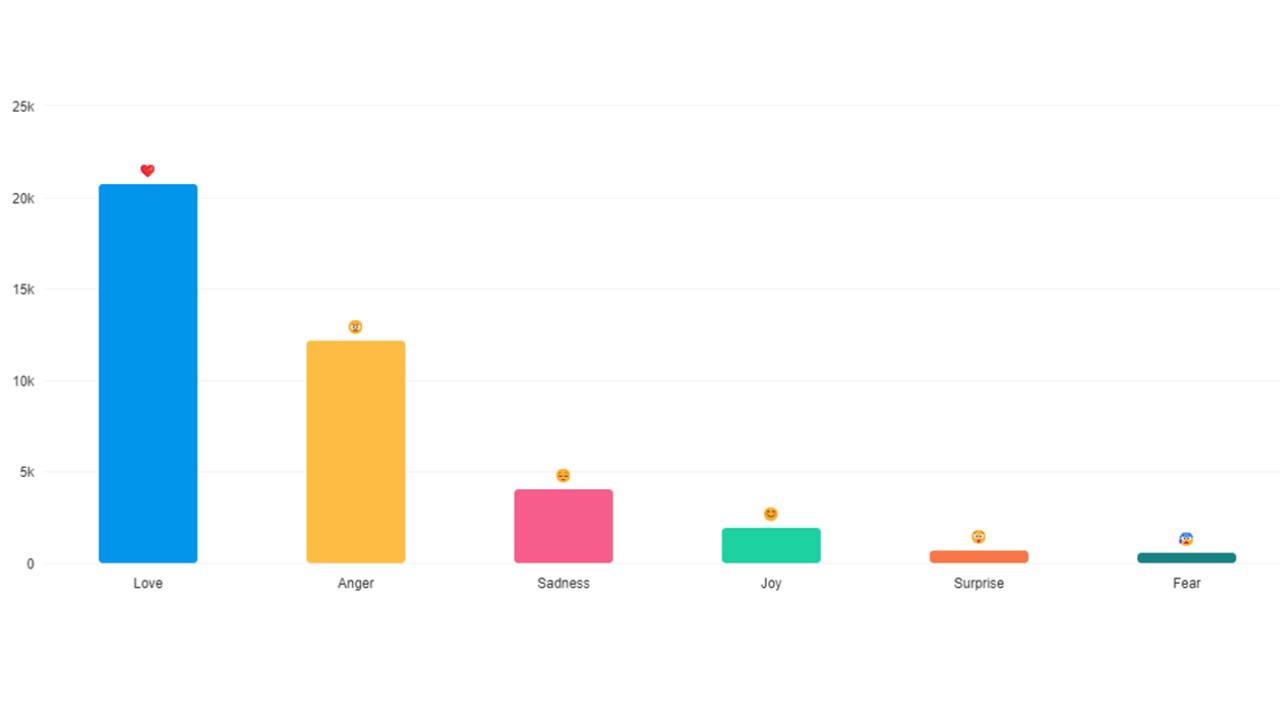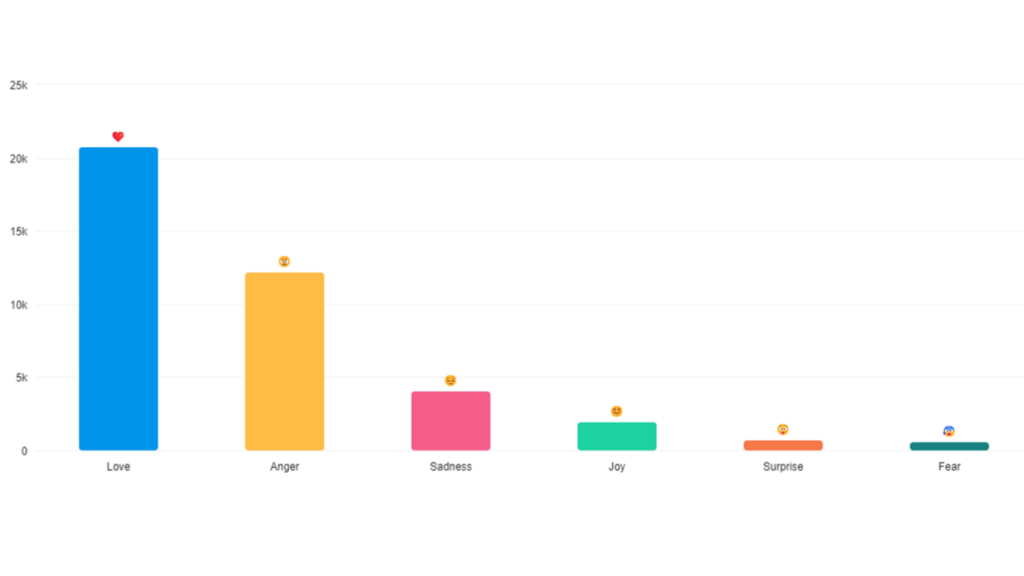 In general, this data can be read as an expression of support for Milei.
In fact, even the anger can be traced back to a feeling that Milei generates in response to key themes of his campaign.
Thus, according to the discussion so far, Argentines are not angry with Milei; on the contrary, he has aroused an anger in them that he wants to channel into a vote against the caste.
Conclusions
The ReputationUP Study Center has conducted a detailed analysis of the online reputation of Javier Milei, candidate for the presidency of Argentina.
The following conclusions can be drawn:
Javier Milei has an online presence clearly superior to that of his direct opponents, Massa and Bullrich;
Online mentions of Javier Milei went from 6.12 million to 3.17 million, a decrease of 48%;
Among the keywords most present online are all those that characterized Javier Milei's political campaign;
A negative sentiment prevails for Javier Milei, which concerns 29.1% of the mentions;
The positive sentiment, on the other hand, is around 7.3%;
Affection predominates, followed by anger and sadness.
Javier Milei's controversial political positions make it difficult to define his online reputation in terms of positive and negative.
On the other hand, his massive presence on social networks is undeniable.
This, as ReputationUP experts have always argued, demonstrates the growing need to incorporate these tools into a political campaign.