What is the difference between SEO and SEM? How to combine them in your digital marketing strategy and the parameters to consider.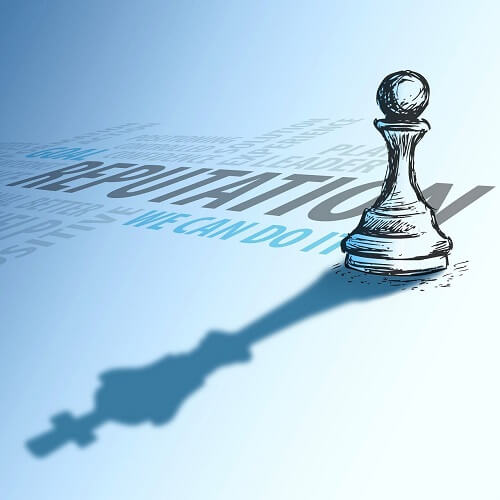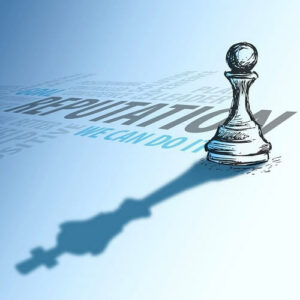 Need help managing and improving your online reputation?
60% of users say they don't trust people or businesses who receive negative comments or reviews
SEO and SEM definition
With the growth of Internet usage, having an excellent online reputation does not only depend on how good your website is; it must also rank high in search engine results.
Many factors determine the positioning of your site in the SERP (Search Engine Results Pages), and here SEO and SEM come into play.
According to the Cambridge Dictionary, SEO is the acronym for Search Engine Optimization and refers to:
"Methods of making sure that the address of a website is shown near the top of the list of results of an internet search."
SEM stands for Search Engine Marketing and is a marketing strategy using paid advertising on search engines to drive traffic to a company website.
Microsoft defines SEM as:
"A powerful marketing technique that helps make it easier to reach a larger consumer base […] to ensure that people are seeing your ads and web pages as quickly as possible."
SEM is the most popular form of digital marketing that helps drive traffic to a website at a relatively low cost.
It also allows companies to reach more potential customers.
SEO and SEM strategies apply to all search engines.
However, Statista shows that Google is the most popular search engine in the world, used by almost 84% of users; Bing ranks second with less than 9% market share.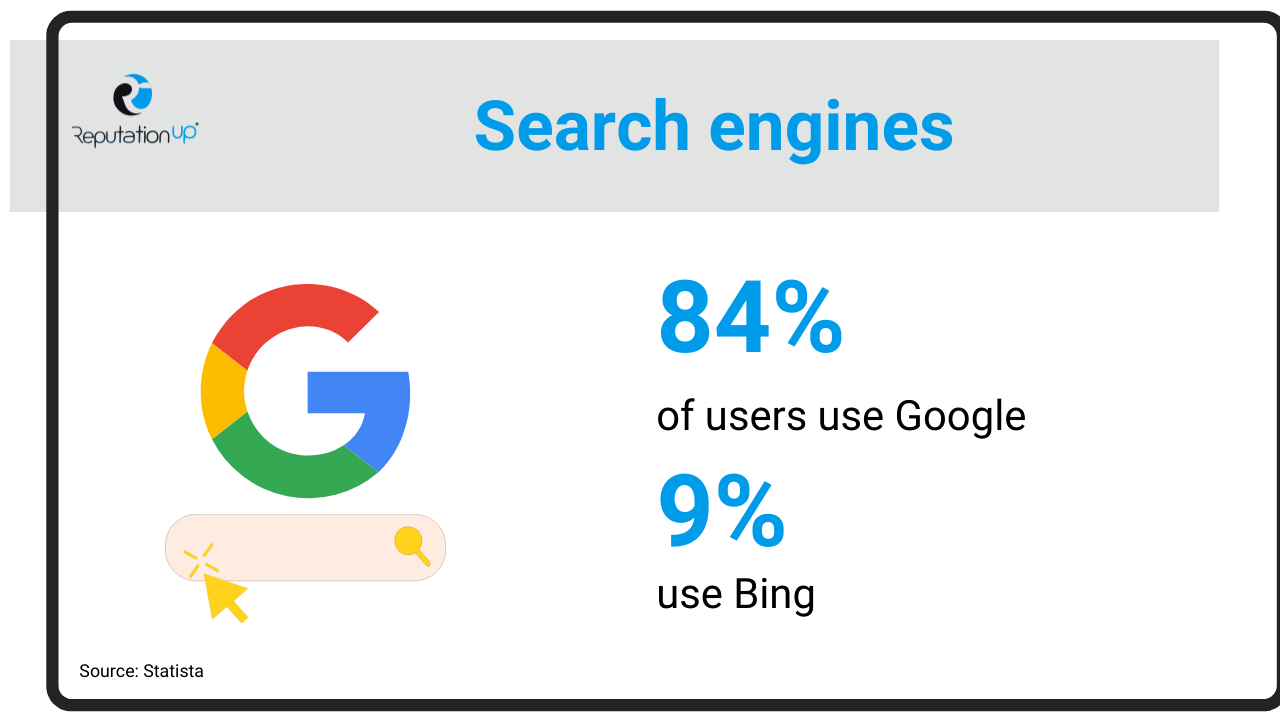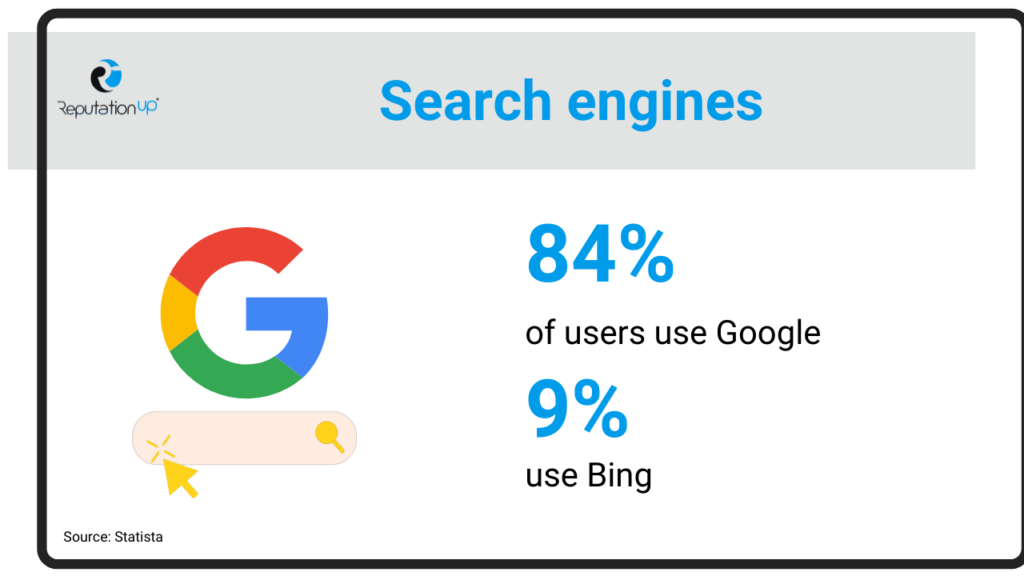 Keeping in mind this data, when talking about SEO and SEM on search engines, we mainly refer to Google.
What is SEO?
The search engine optimization (SEO) process improves the visibility of a website or webpage on search engine unpaid results pages.
They are also called "natural", "organic", or "earned" results.
This reputation management strategy enhances the digital reputation in the rather broad spectrum of digital marketing.
SEO aims at improving a website or webpage ranking to increase traffic and make it more visible to Internet users.
Which are the basics of an SEO strategy?
Here is a list of seven techniques to improve SEO:
Create more relevant and valuable content;
Optimize your website for search engines
Use social media to reach new audiences;
Publish relevant and high-quality content consistently;
Measure results and make necessary changes;
Develop a long-term plan keeping your marketing efforts focused;
Make sure you use the right tools to support your efforts.
These multiple strategies help achieve your goals and increase web traffic.
What does SEM mean?
SEM is a form of marketing that involves the promotion of websites by increasing their visibility in search engine results pages.
There are four different types of SEM:
Pay-per-click (PPC);
SearchEngine Optimization (SEO);
Native ads;
Rich Media Advertising.
In any case, the objective of SEM is to improve the positioning of your name or brand, thus improving your digital reputation.
What is the difference between SEO and SEM?
SEO and SEM are not interchangeable terms.
SEO focuses on improving the organic positioning of websites by making them more visible through various methods such as link building, content optimization, and keyword search.
SEM focuses on generating leads through paid ads and other marketing tools such as display ads and social media posts.
Insider Intelligence reports that investments in display ads will increase by 14.9%, reaching $86.7 billion in spending.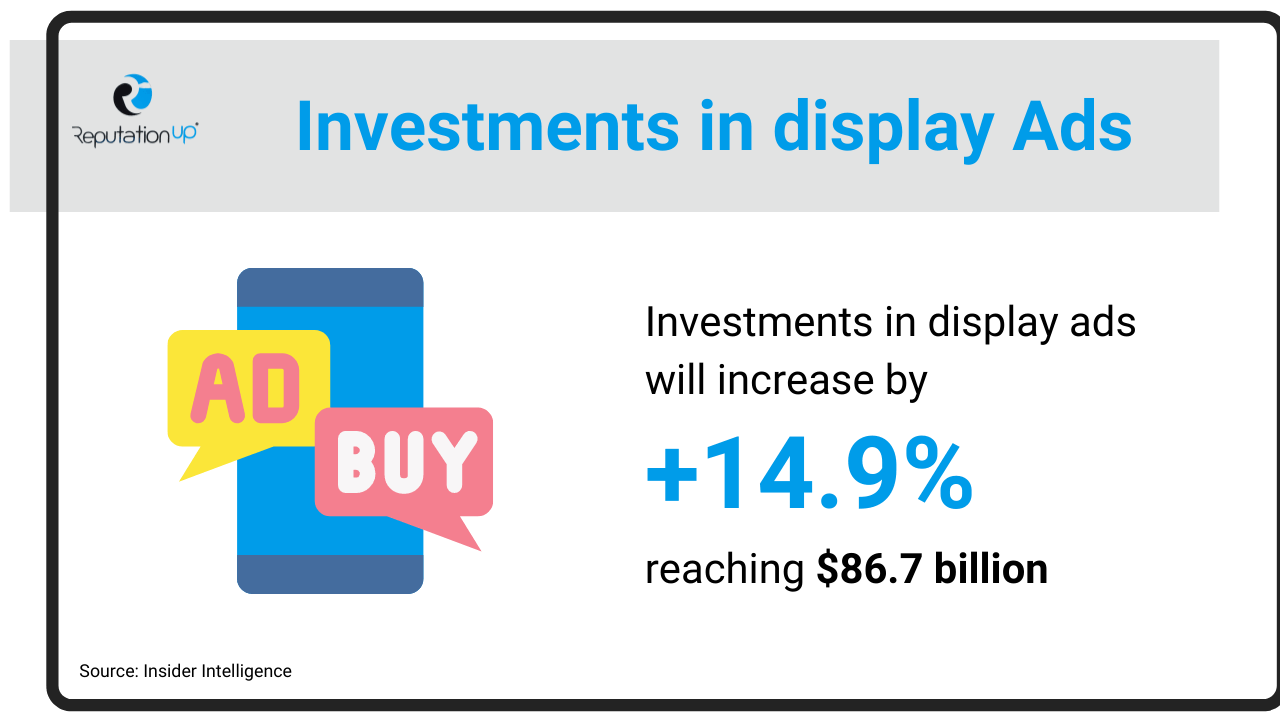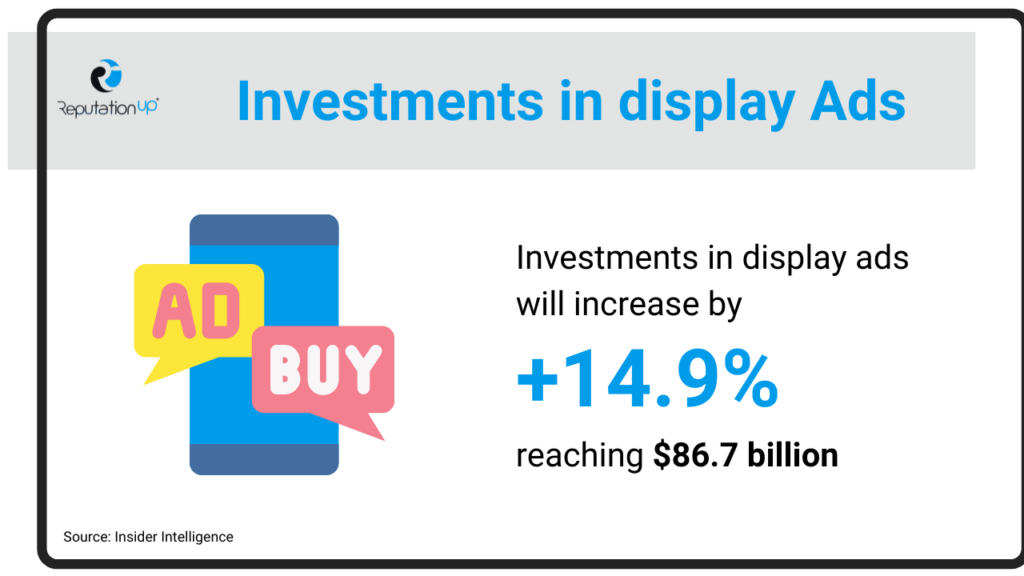 Investments inmobile and social display ads have increased by +17.6%.
Apart from these differences, SEO and SEM are complementary strategies to improve brand reputation.
What is the difference between SEO and SEM search results?
When searching on Google, you often find some results recognizable by the word ʻ ANN ʻ standing for paid advertising.
Those search results are the effect of an SEM campaign.
SEO is the organic optimization process of improving a website to make it appear in organic or natural search results by using specific keywords.
SEM is a way of advertising a website or product through paid ads such as Google Adwords, Bing Ads, Facebook ads, and so on. According to a Search Engine Journal survey, organic search generates the highest ROI for a website.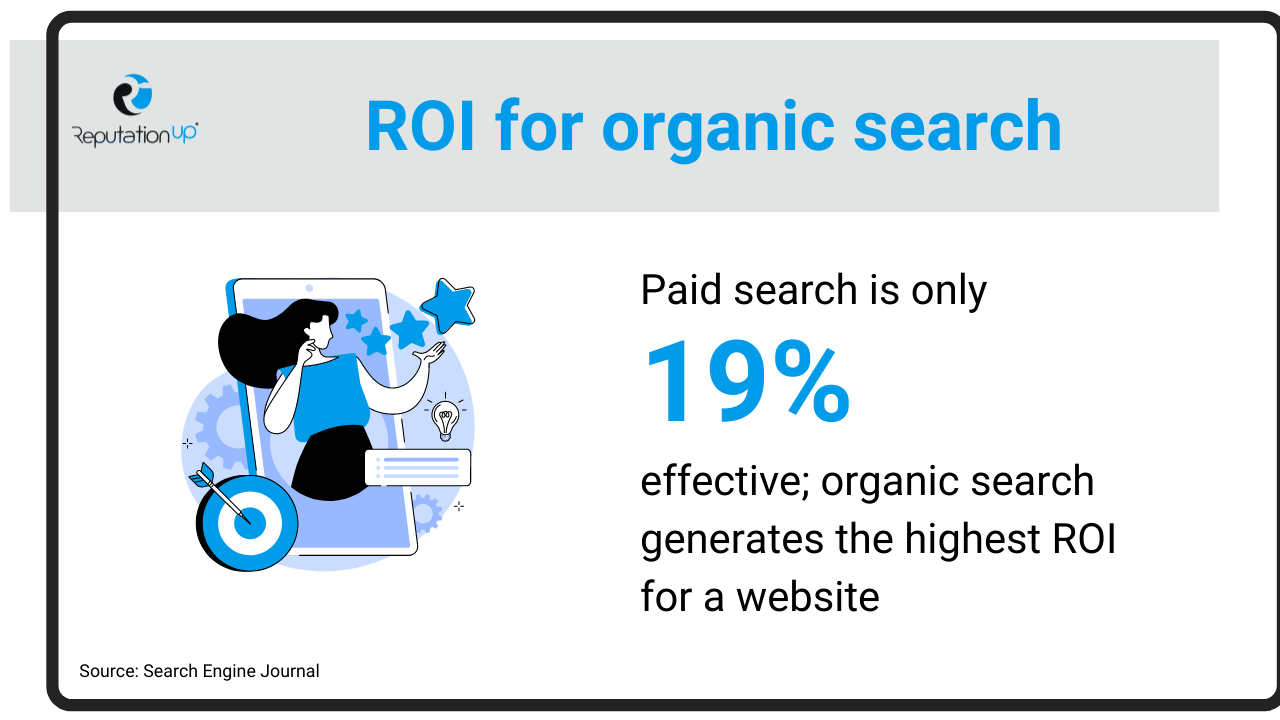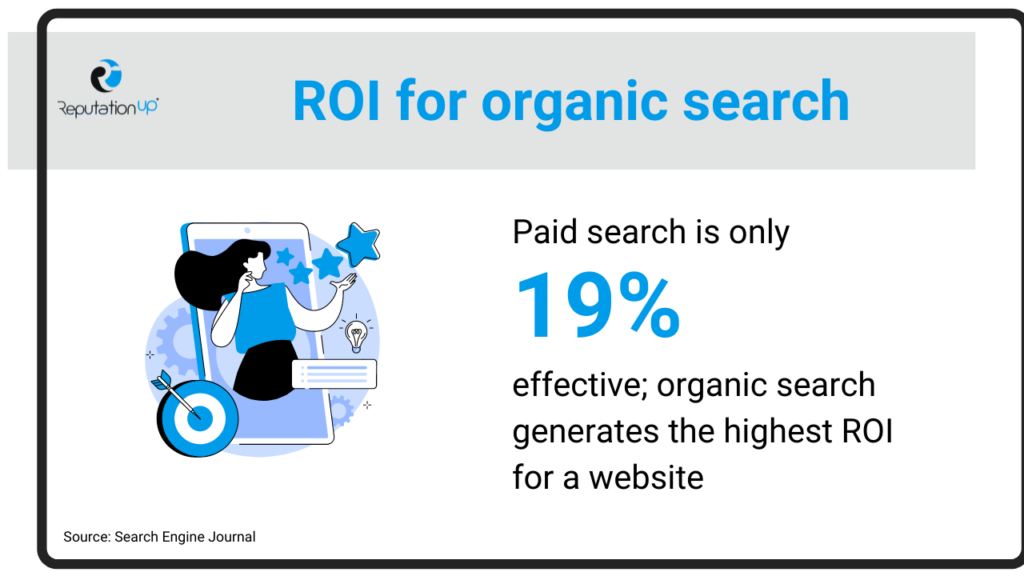 Paid search, on the other hand, is only 19% effective.
Where do SEM ads appear?
SEM includes advertisements in the SERP and on social media platforms such as Facebook, Twitter, YouTube, LinkedIn, etc.
SEM ads are usually placed above organic lists or at the bottom of a search results group.
Users can click on a picture or icon to access when looking for a website.
The purpose is to convince consumers to click on one of these ads to visit a company webpage.
What is the difference between SEO and SEM in SERPs?
SEO and SEM search results are different depending on how you implement them.
SEO is a long-term strategy focused on organic search results while SEM is a short-term strategy based on paid search results.
SEM is more focused on advertising, which means it will cost more than SEO.
However, this also means that the company can get an immediate response to its marketing efforts which could lead to higher customer conversion rates.
Although SEO does not rely on paid advertising, it does rely heavily on backlinks and content quality to rank in SERPs.
Thus, SEO has a less immediate impact but provides more long-term benefits for businesses.
It ensures positioning on the first pages of search engines long after an advertising campaign has ended.
What are SEO strategies?
SEO strategies are a set of methods you can use to improve your brand's digital reputation.
They help your website rank higher in search engine results pages.
These techniques help enhance the webpage content, design, and structure so that search engines can find it more quickly and visitors are more likely to click on it.
There are many different SEO strategies, each with its benefits and drawbacks.
The most popular ones include:
Link Building
Social Media Marketing
Creating a good user experience (UX) for websites, mobile apps, etc.
In brief, everything that helps attract more visitors and potential customers to your website or app.
It is the first step of the pipeline if your website or app has low traffic and you want customers to do the next step: buy something from you.
As stated in its report, Brightedge Research found that organic search (SEO) is 1000% higher than organic social media.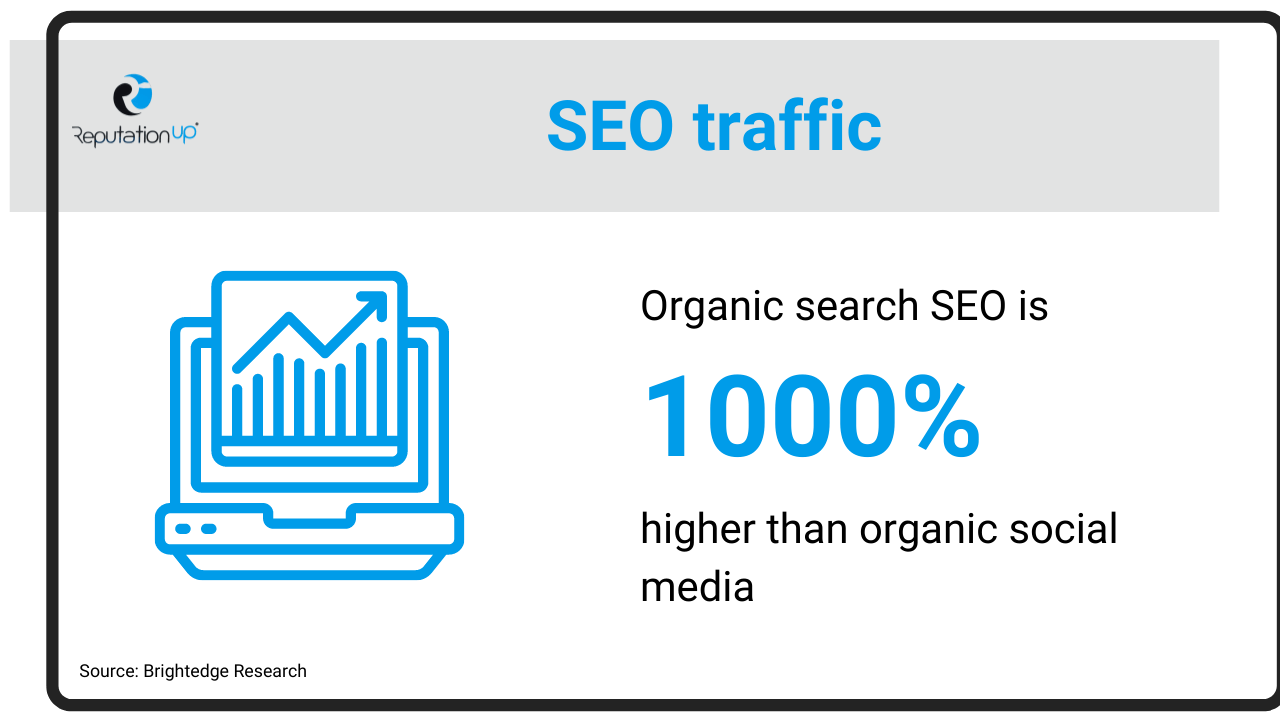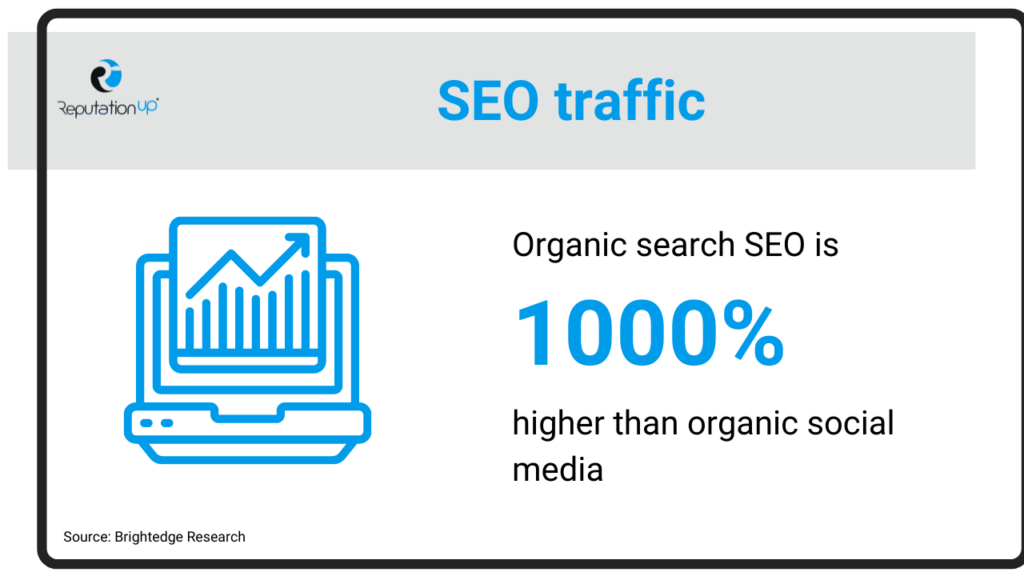 Technical SEO or on-page technical optimization includes operations like URL structuring, server performance, removing duplicate content, and other technical implementations.
Companies use this technique to optimize their website that consumers can easily find and access.
Off-page SEO focuses on strategies outside a company website or apps, such as search engine marketing, social media marketing, public relations, or brand protection.
How to make SEO step-by-step
SEO is a process that includes many different techniques and strategies.
Understanding where to start or how to do it successfully might be challenging, so let us see below how to do it step-by-step.
Keyword research

The first step of SEO is understanding what keywords people use when they search for your product or service.
Make sure to target the right keywords so that users who actively search for them can find your content.

On-Page optimization

Once you have found the right keywords, you need to optimize them throughout the page content to make them appear in search results when users make a search query.
In other words, add them in heading tags, titles, descriptions of images or videos you upload, and in your post or page content.

Off-page optimization.

Do not forget to monitor everything that happens off-site.
Build backlinks by using links from one similar page on a website to your page.
In other words, craft a successful link-building strategy.

Social media promotion.

The last step includes sharing content on Facebook, Twitter, LinkedIn, etc.
Content customization with relevant hashtags and captions is essential for those platforms.
How to do organic SEO?
An SEO strategy does not involve a one-time job but an ongoing effort to keep your site at the top of the Google search results and avoid any reputational risk.
The idea behind organic SEO is to create content for internet users, not for search engines.
The Terakeet study shows that search engine optimization can increase the value per blog visit by 429%.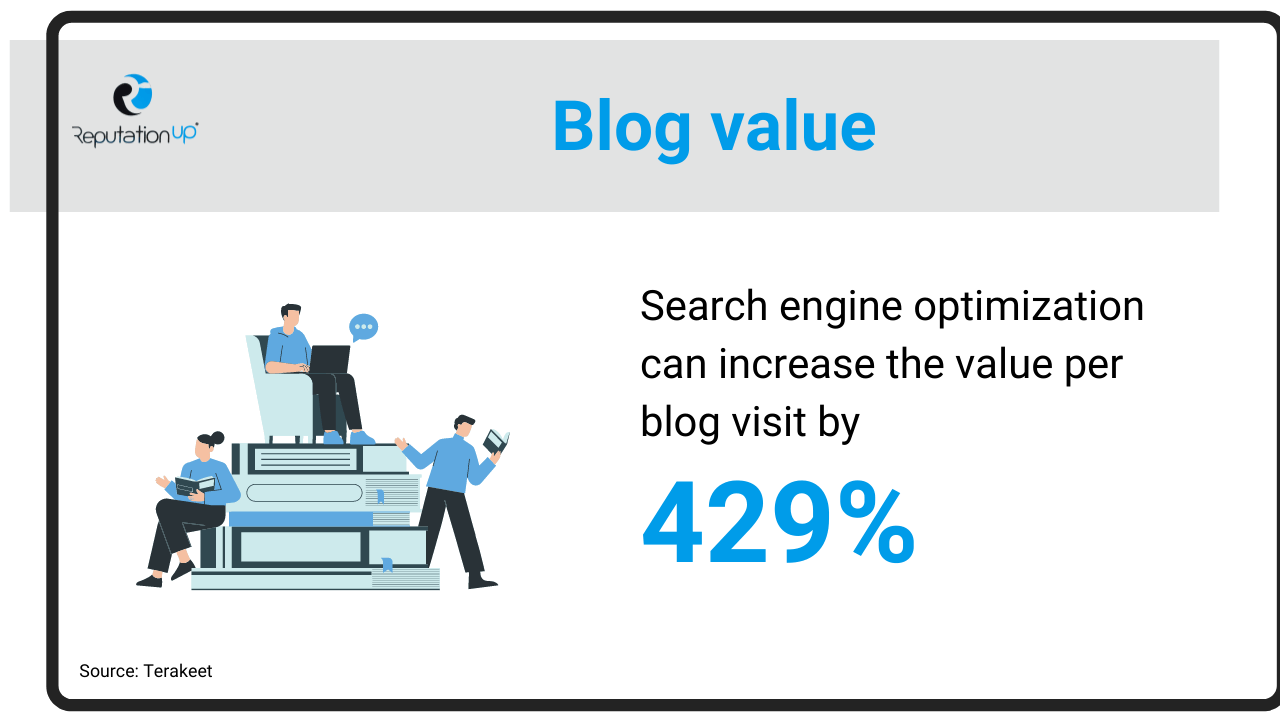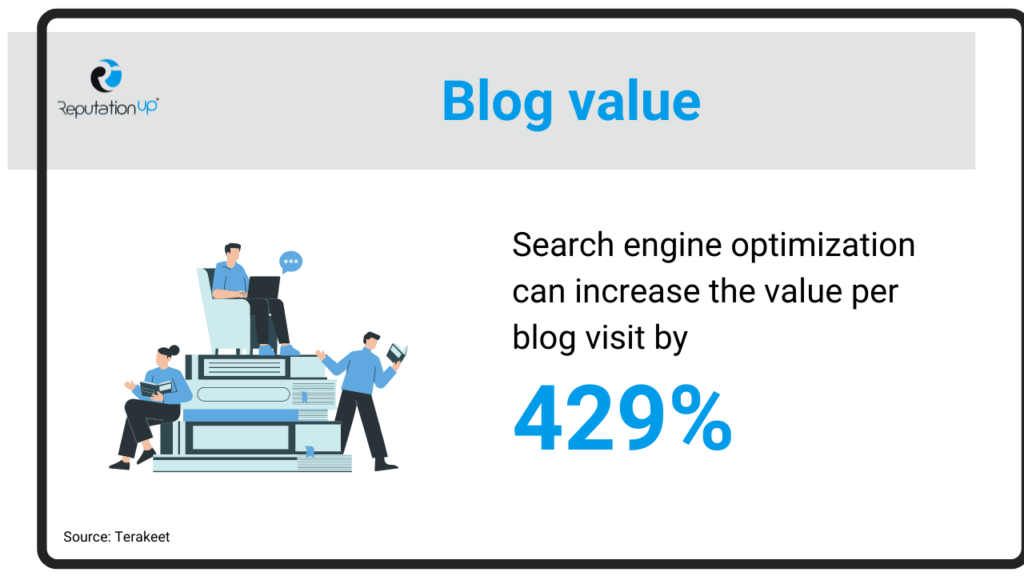 If your purpose is to optimize Organic search, it is vital to create relevant, high-quality content and make it attractive to readers.
It must be original, well-written, and engaging.
To rank higher in organic SERPs, you need a lot of traffic from relevant sources such as social media platforms, blogs, or other websites.
You can also use keyword search tools like Google Adwords Keyword Planner or SemRush to know what people are searching for online and how they conduct their research.
How to do SEM on Google?
There are many ways to do SEM on Google.
Any strategy, however, must start targeting customers and branded keywords.
ReputationUP uses patented software that combines Big Data and Artificial Intelligence to analyze what the internet says about your company or brand.
The RepUP Monitoring Tool is the ideal support to start any marketing strategy.
Keyword targeting can focus on generic terms such as "reputation" or more specific terms such as "corporate reputation"; but also locations, such as "US marketing companies".
According to Search Engine Roundtable, 46% of Google searches have a local intent for nearby businesses or services.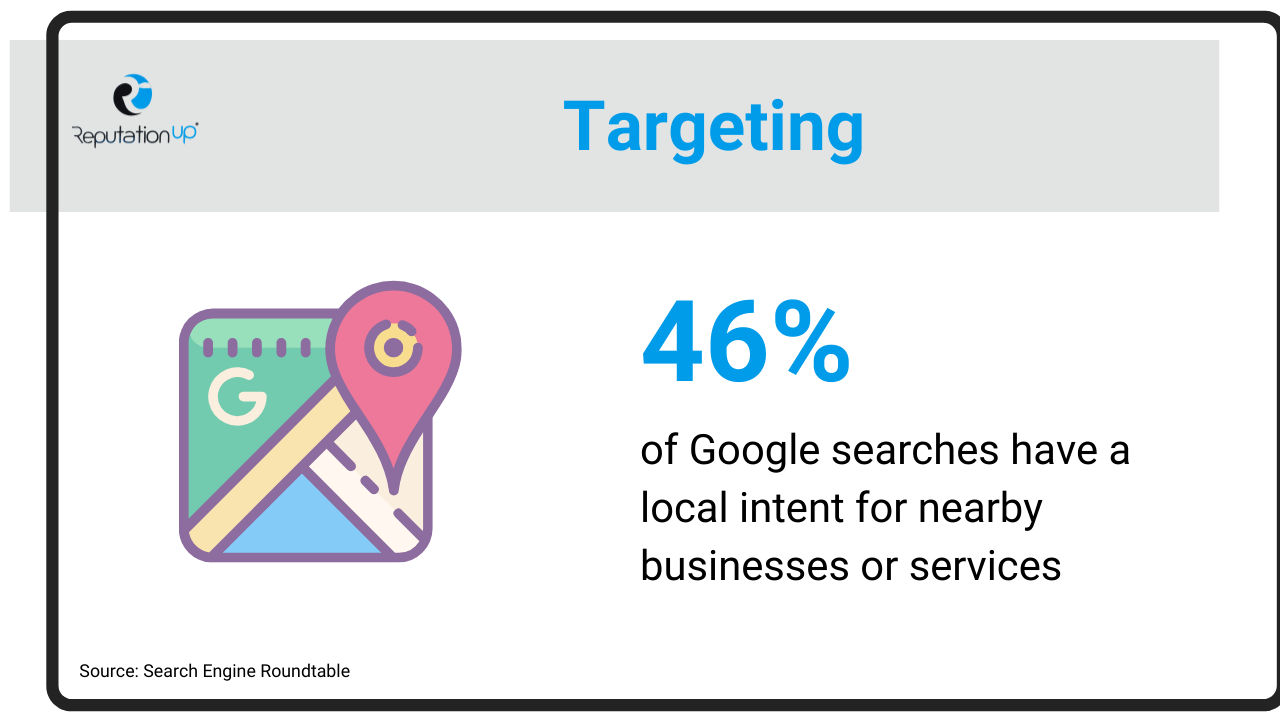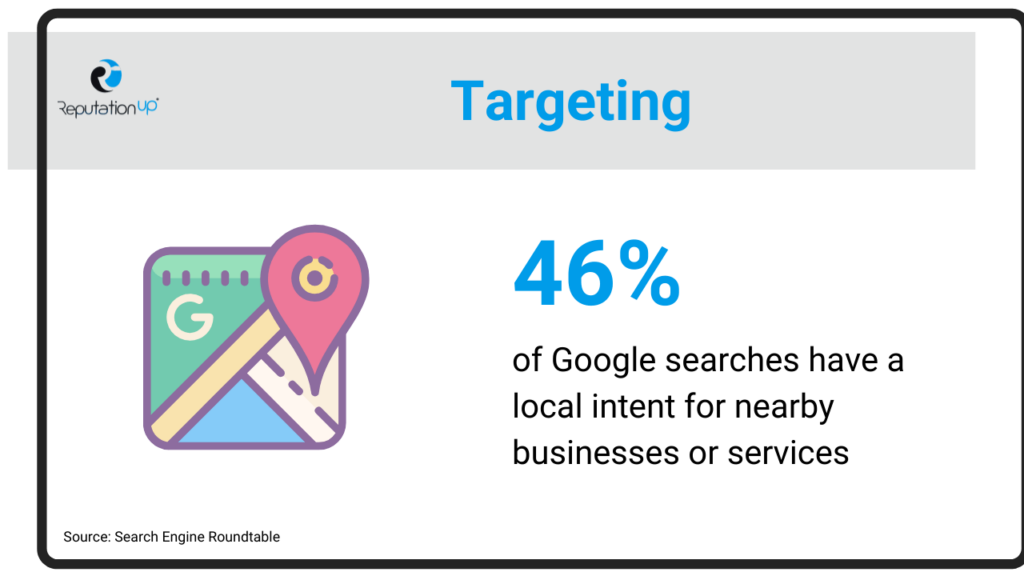 Targeting may include demographic targeting, which highlights the users' age group and gender.
Keyword targeting consists in:
Identifying the keywords related to your business that are relevant to your target audience;
Defining which demographics are related to your potential keywords;
Using demographics to start creating your ad campaign.
Direct marketing tools like MailChimp help create email marketing campaigns.
You can also use these tools to target specific geographic locations, interests, or behaviors, just like Facebook advertising does.
What can you do with SEM?
Some people believe that SEM is just a way to create ads on Google, but it is much more.
SEM has been around since the 1990s. Today, it is one of the most widespread and effective global marketing strategies to reach consumers interested in purchasing products or services.
SEM can reach consumers through the online results of paid and natural search engines.
Advertisers can also use search engine marketing to help your website appear in a Google search result when making a search query through keywords.
Marketers use SEM to boost brand awareness or generate demand for a product or service.
Moreover, it can also apply to your personal online reputation since these strategies can help you increase your brand visibility.
Advertisers should collaborate with SEO experts specialized in quality content creation and search engine algorithms to run a successful SEM campaign.
How does SEM work on Google ADS?
Google provides users with AdWords, a dedicated platform to implement their SEM strategy.
Google explains the procedure:
Choose your objective: receive more calls, get more customers, or drive users to your website;
Decide where to publish your ads, whether globally or locally, so that you reach the right target audience;
Create your text: highlight the most important aspects of your brand, create eye-catching banner ads;
Set a budget amount for this strategy.
Your ads will be visible online, and your corporate reputation will benefit.
Moreover, you will only pay for the results, for example, if a user clicks on your advertising.
You can also do SEM via Facebook or other platforms such as Bing Ads, LinkedIn Ads, and Twitter Ads, which work similarly.
According to Statista, investments in social media advertising will reach $153 billion in 2022.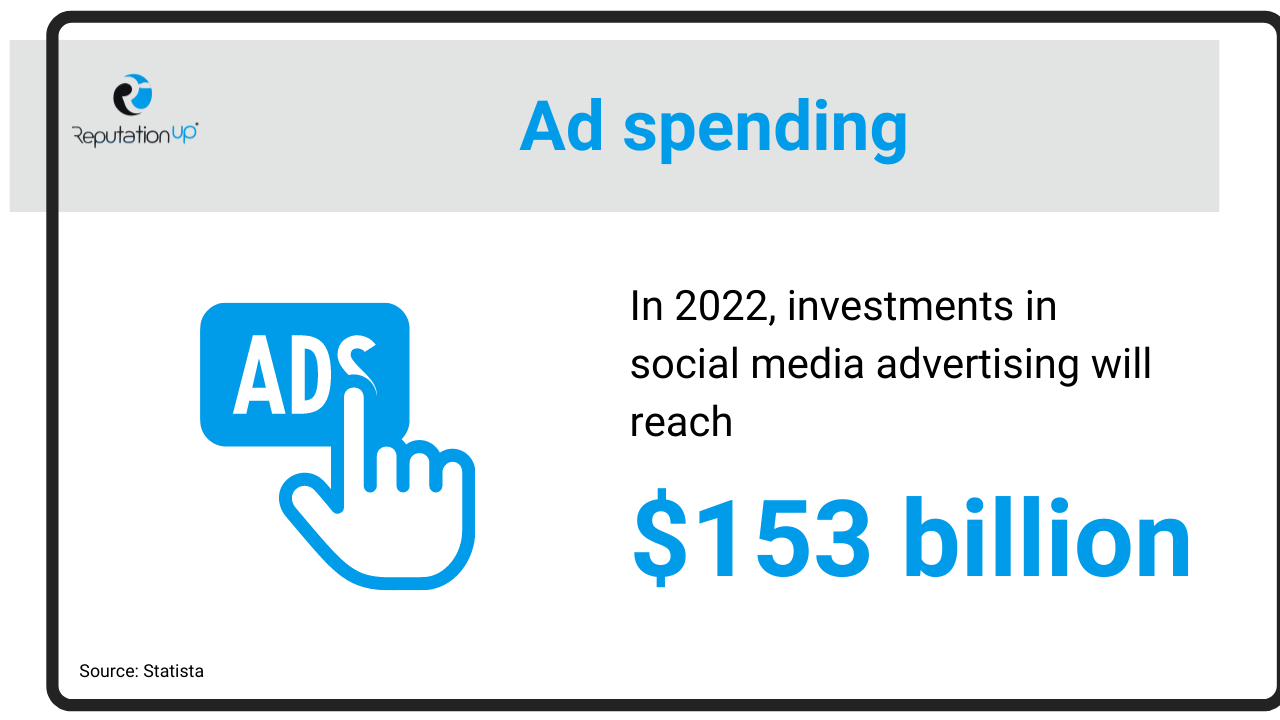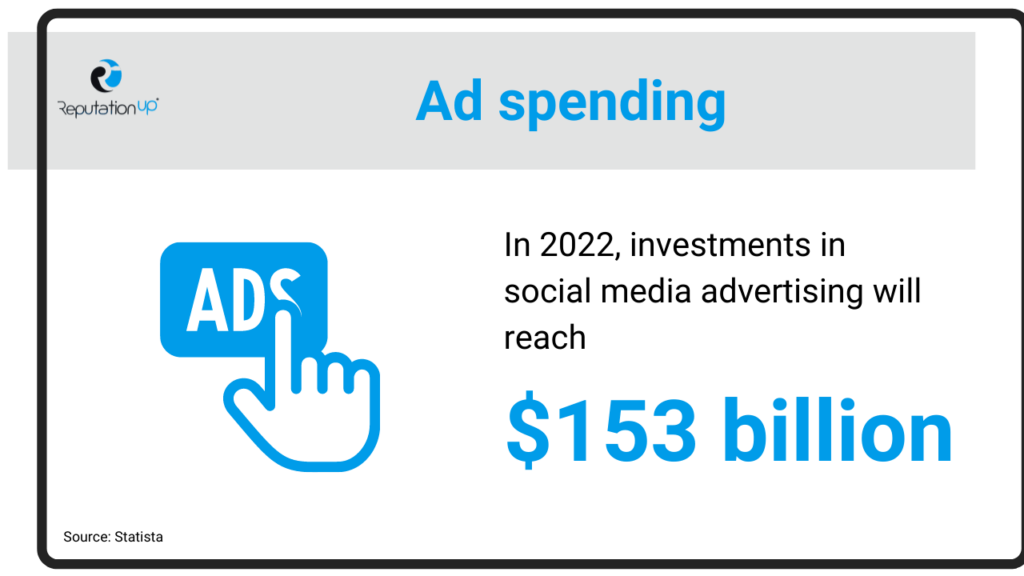 The forecast for 2026 is that they will rise to $252 billion.
It is the second advertising market immediately after search engine marketing.
How can we improve SEM?
Advertisers should have a good knowledge of SEM to achieve their goals effectively and efficiently.
There are many things we can do to improve SEM.
One of the options that people rarely take into account is to remove information from google search.
The most common is to make our website easy to navigate.
We can also optimize our content to appear at the top of search results, driving more traffic to our website.
You can improve SEM by increasing the number of quality targeted keywords.
One option is to focus on long-tailed keywords that get less search traffic but have a better return on investment.
You can also improve SEM by investing in content marketing, one of the best ways to increase organic traffic from search engines.
How to combine your SEO and SEM strategies
Nowadays, SEO and SEM are essential in digital marketing because they help companies reach their target audience at the right time with the right message.
SEO and SEM are key factors forsuccessful businesses to maintain their online reputation management.
Both have their unique set of advantages and disadvantages.
As already said, search engine marketing must combine off-page and on-page strategies.
Off-page is about improving the ranking of a website in SERPs by targeting some keywords or key phrases with PPC or SEO.
On-page strategy deals with improving the positioning of a website in SERPs by optimizing its content to make it more relevant to keywords or key phrases.
On-page optimization includes strategies such as SEO for content, speed optimization, user experience, and value creation in the form of content.
The traditional approach of combining SEO and SEM is to use the same keyword on both channels or use different keywords on each channel.
However, this approach has proven ineffective as search engine technology has become more advanced over time.
The new approach of combining SEO and SEM is to exploit the differences between them using relevant keywords according to the channel to reach a specific audience.
Can I avoid SEO and focus only on SEM?
Yes, you can, but you should better not if your goal is to protect your reputation online.
SEO and SEM strategies must work together to create a successful marketing campaign.
Avoid focusing on one strategy only, and make sure that your SEO strategy generates positive results before investing in SEM campaigns.
Investing in an SEM campaign is not helpful if your site and content are not attractive to users.
Moreover, an SEM strategy only ensures results for as long as the paid advertising lasts.
Consider the SEM strategy as complementary, not a substitute for SEO.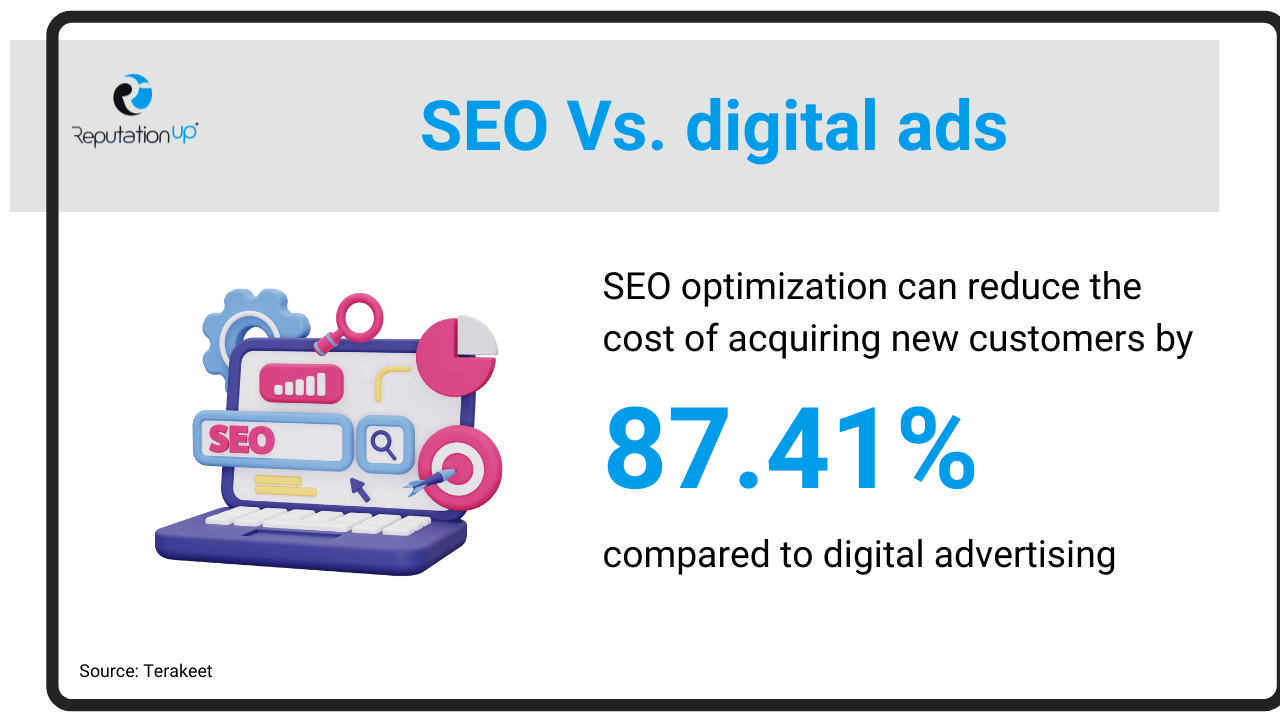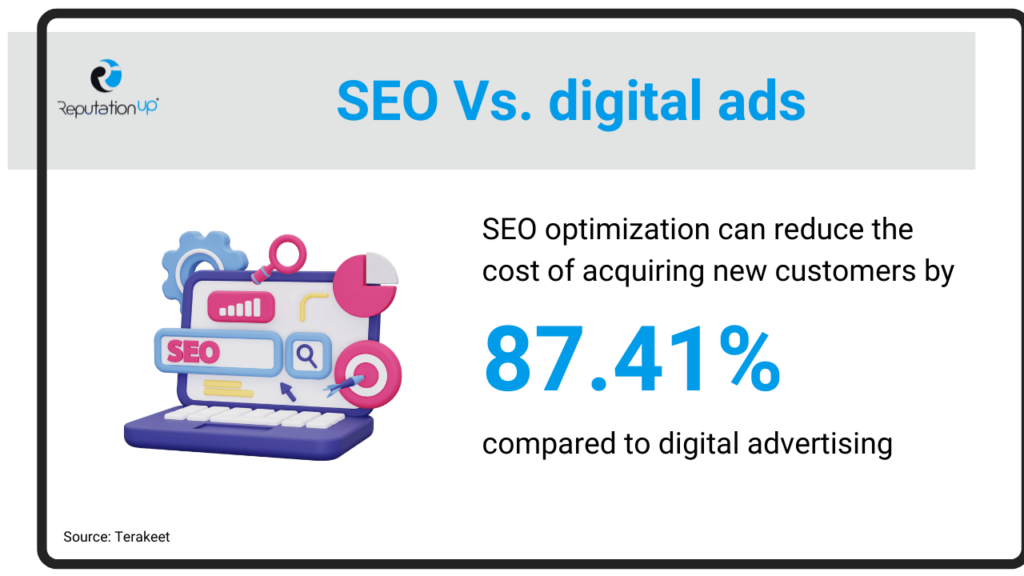 As reported by Terakeet, SEO optimization can reduce the cost of acquiring new customers by 87.41% compared to digital advertising.
When can I use SEM?
You can use SEM in many different ways at any stage of a marketing plan but also when developing a crisis management strategy to:
Generate brand awareness;
Generate leads and create new customers;
Increase sales through conversion optimization.
It aims at providing information about your company, product, or service to potential customers.
It is a convenient way to present yourself or your business.
You can apply it at every stage of the customer journey, also brand awareness.
SEM campaigns can help provide your customers with valuable information that traditional advertising channels, such as TV advertising, do not offer.
This technique can help you reach a wider audience who may be more receptive to your ads.
Is SEO cheaper than SEM?
Both SEO and SEM have their advantages.
In economic terms, SEM is more expensive than SEO because brand optimization relies on paid strategies.
SEO, instead, is a low-cost practice focusing on target audience analysis and content improvement.
For this reason, SEO is considered more expensive in terms of effort and time.
However, SEO ensures a longer-term result, while SEM concentrates on the campaign duration.
Once you position yourself on Google, maintaining your ranking is less expensive.
SEO Vs. SEM: parameters to consider
If you are wondering how to improve your online reputation, keep in mind that there are several factors to consider before deciding between SEO or SEM.
Andrey Lipattsev, a Google Search Quality Senior Strategist, explains that links, content, and RankBrain are the factors that most impact Google search results.
However, going into detail, you should include the following parameters, and analyze them later on:
Number of keywords;
Costs;
Time and visibility;
Flexibility of changes;
Click-Through Rate (CTR);
Contents;
Changes in ranking;
Measurement.
We will see them in detail In the coming paragraphs.
Number of keywords
When thinking about an SEO campaign, consider that you should work on a limited number of words.
It depends on the amount of content and pages inside the website.
Usually, you work on a small number of keywords per page; otherwise, you risk not being able to place any.
Wordstream reports that 50% of search queries contain four words or more.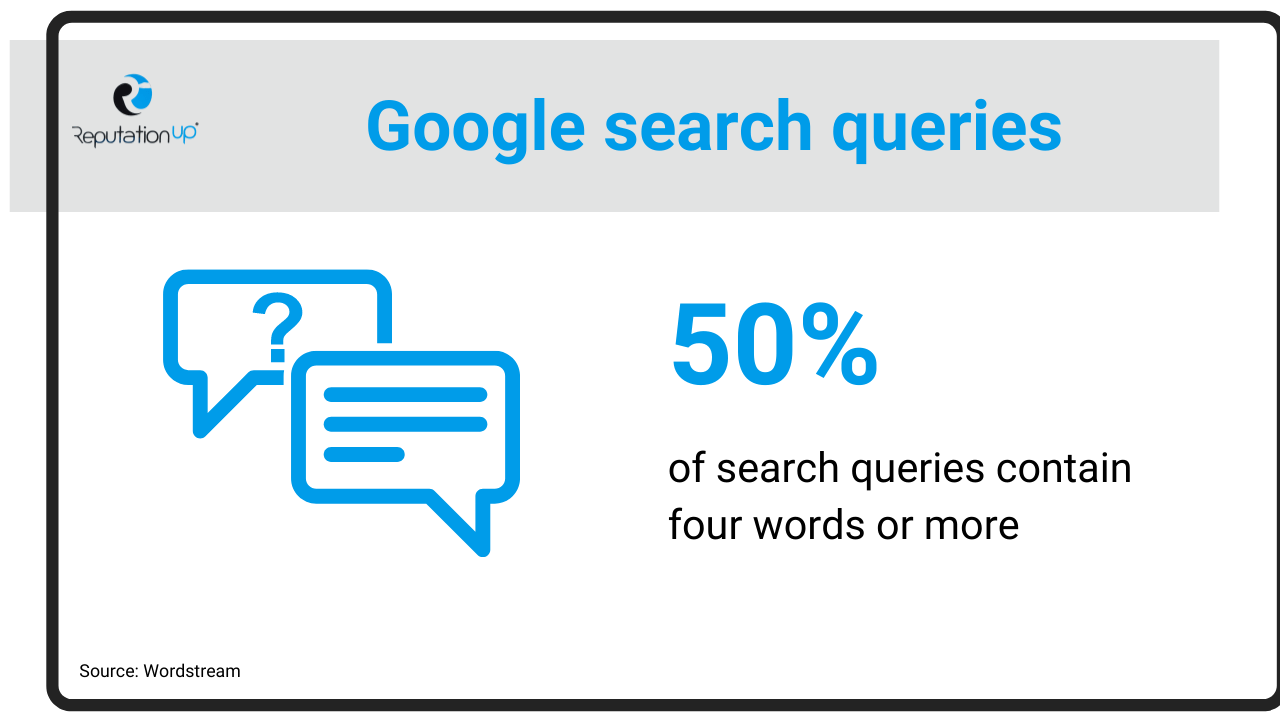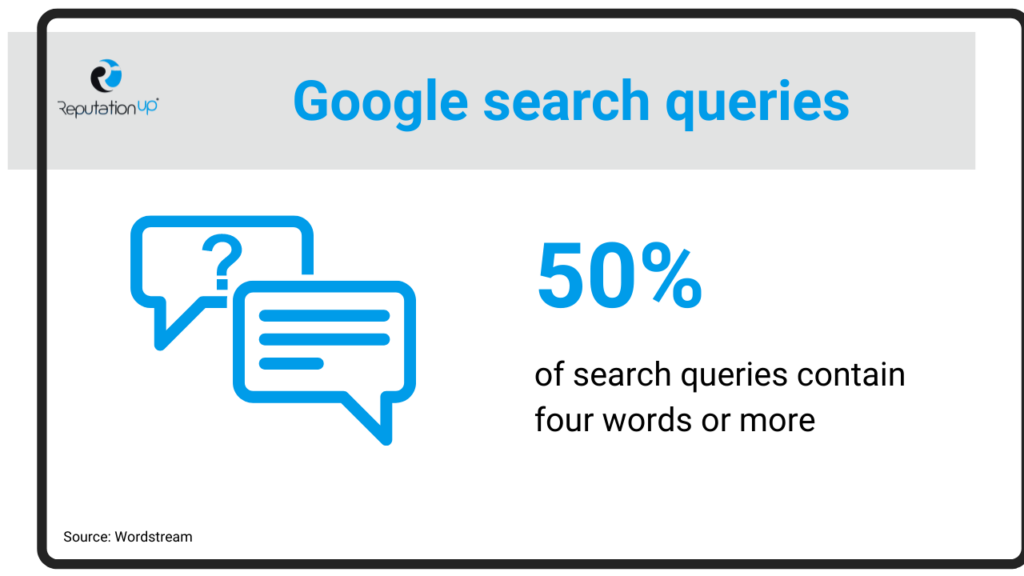 An excellent option to implement the SEO strategy is to start a blog.
When implementing an SEM strategy based on paid tools, we can choose all the keywords that will help boost your website ranking.
However, you should carefully choose the keywords: if you try to position irrelevant keywords, the search engine will make positioning more difficult and expensive.
And if you try to place words that reach a wide range of users, you risk receiving many low-quality clicks that will increase the cost of the campaign and lower results.
Costs
The costs of both SEO and SEM strategies are relative.
In both cases, the best option is to rely on a company specializing in optimization.
Contact ReputationUP: with over twenty years of experience in online reputation and Online Reputation Management, they help customers meet their needs by implementing customized strategies.
Time and visibility
In principle, the results of an SEO campaign are visible mainly in the long and medium term.
An SEM campaign, on the other hand, guarantees immediate results.
Another distinction is that the outcomes of an SEM strategy are related to the period of your investment.
Instead, an SEO strategy ensures more visibility over time.
SEO is effective if you work persistently and calmly; on a long and uninterrupted path of improvement this will pay off in the long run.
Flexibility to changes
The SEM strategy certainly offers more flexibility.
Changing a keyword for Google ADS is undoubtedly easier with a more immediate result than changing the keyword in a text and waiting again for its positioning.
Click-Through Rate
The click-through rate, or CTR, is explained by Google Ads Help as the number of clicks that your ad receives divided by the number of times your ad is shown.
ʻ Click ÷ impressions = CTR. For example, if you had 5 clicks and 100 impressions, your CTR would be 5%.ʻ
For SEO and SEM, the click-through rate decreases as you lower your SERP ranking: the lower you are on Google pages, the fewer clicks you will receive.
First Page Sage reveals in a study that the Google first search position has a CTR of 39.6%.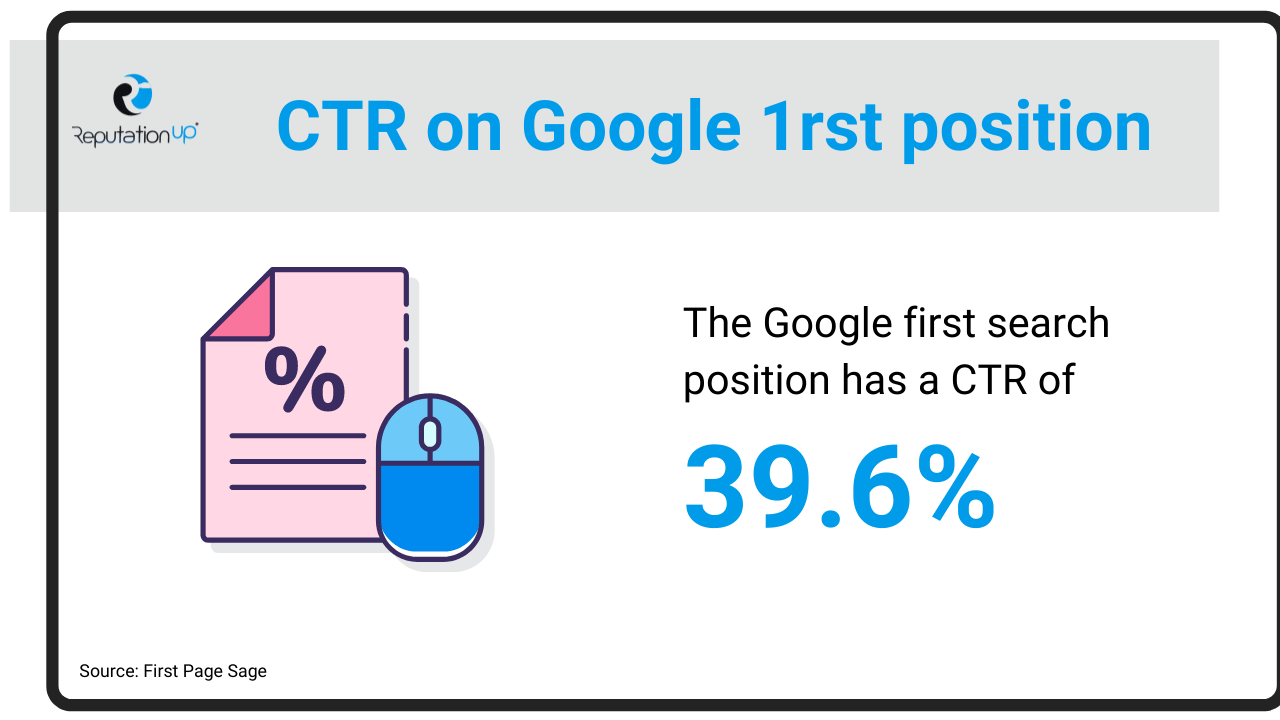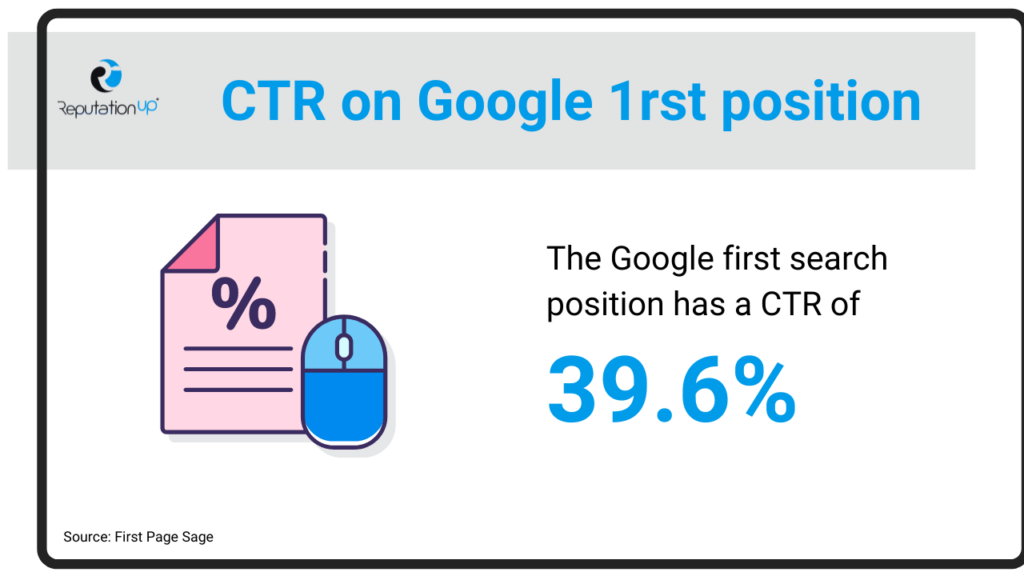 The second position has only an 18.4% chance of being clicked, while the CTR drops to 10.1% for the third position.
These results do not apply to paid searches.
Users avoid links marked as ads and prefer to click on organic results.
The first position result receives only 2.1% of CTR. The second and third positions stop at 1.6% and 1.4%.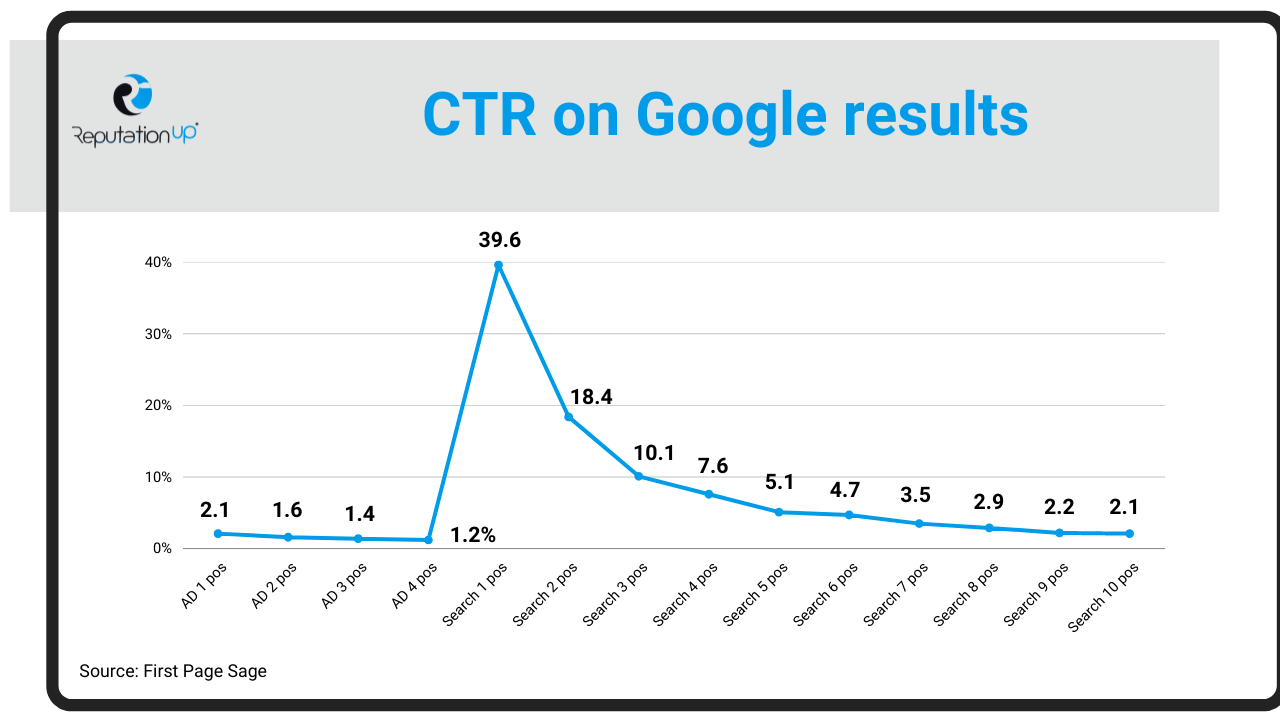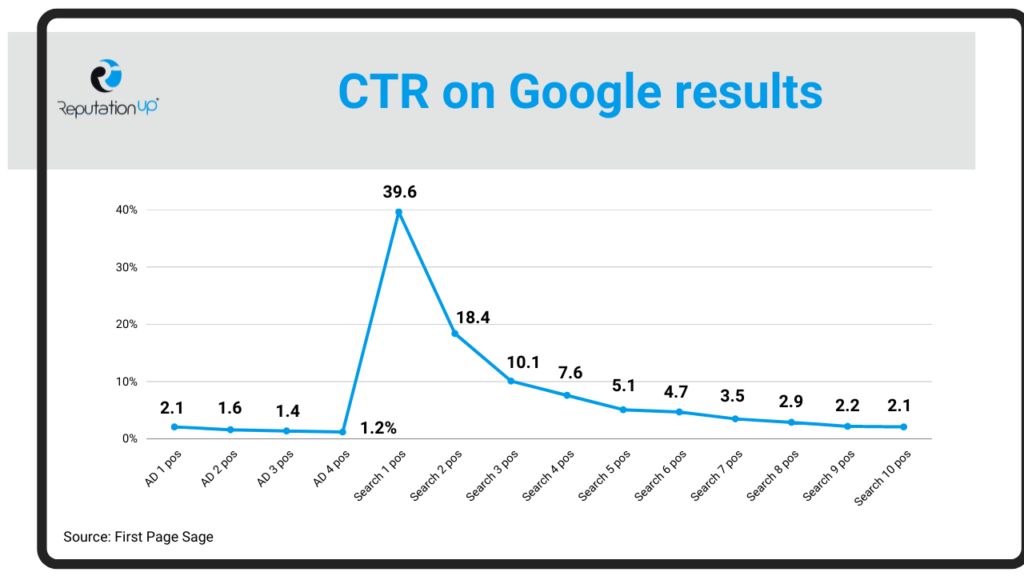 Contents
According to an SEO strategy, the content must be original, have the correct extension, and be relevant.
SEM strategy is most effective if you create relevant content because it helps develop relationships.
In other words, SEO helps users get to the content they most need.
Instead, the SEM marketing objective is to convert the visit to the website into a profit for your company.
Therefore, combining SEO and SEM strategies is essential for businesses.
An optimized page with appealing content, placed at the top of the search engine results page, will incentivize consumers to buy your product or service.
Along with publishing content, you should think about deindex a page from google that damages your image.
Changes in ranking
The SEO strategy ensures fewer changes in positioning.
Once your page ranks at the top of the search engine results, it is unlikely to radically change ranking unless there are significant changes in the Google algorithm.
According to Backlinko data, Google uses more than 200 ranking factors in the algorithm it uses to boost website positioning.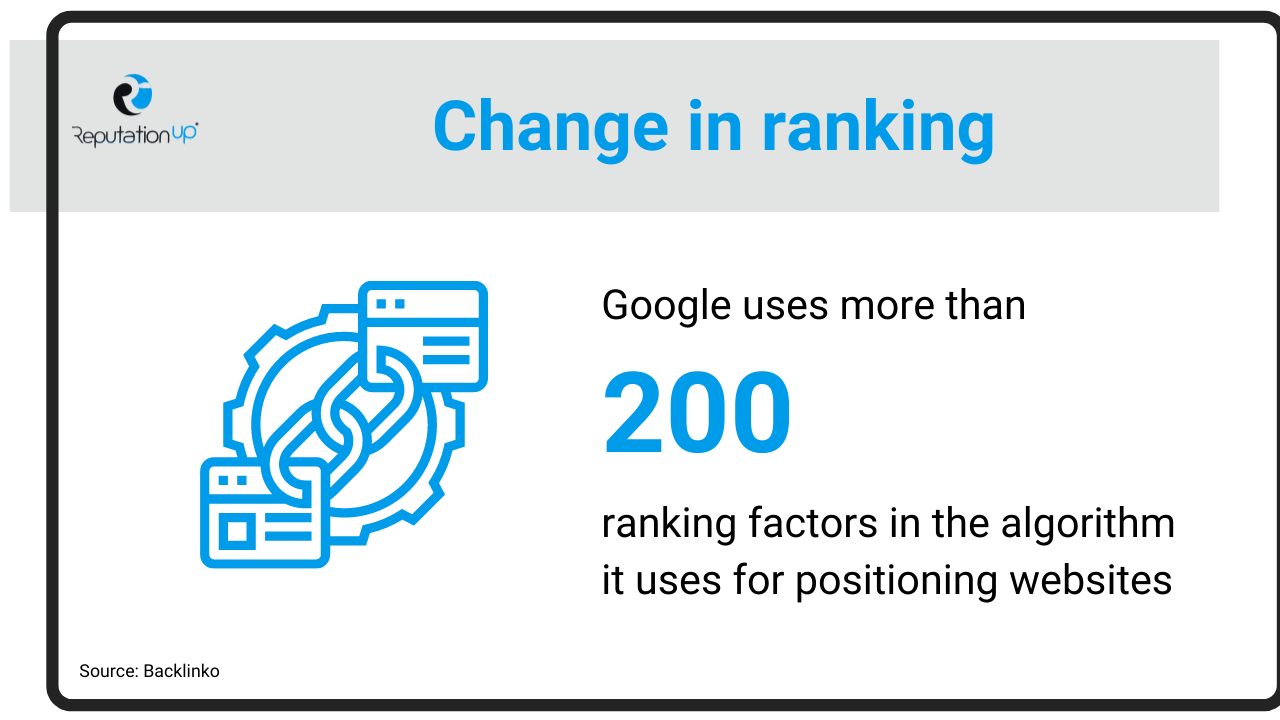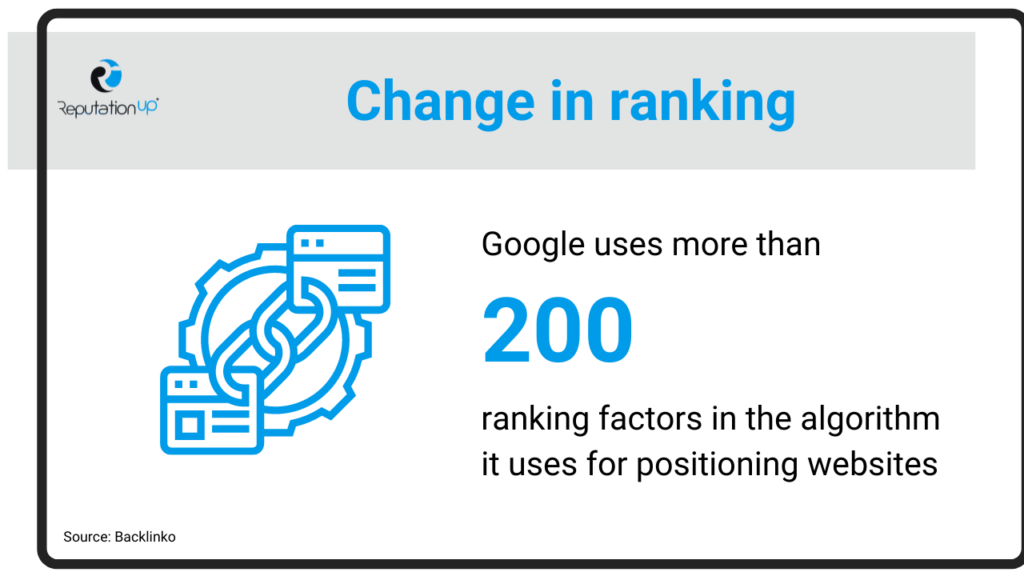 With an SEM strategy, however, the change in ranking is frequent.
The position depends on the investments or changes in the ads campaign.
Measurement
We can use the Webmaster tools offered by search engines to measure SEO positioning results.
For example, Google Search Console allows you to view keyword positioning.
As for SEM optimization, it delivers much more reliable and accurate data to measure effectiveness by providing specific tools designed for this purpose.
Google Analytics app provides you valuable information.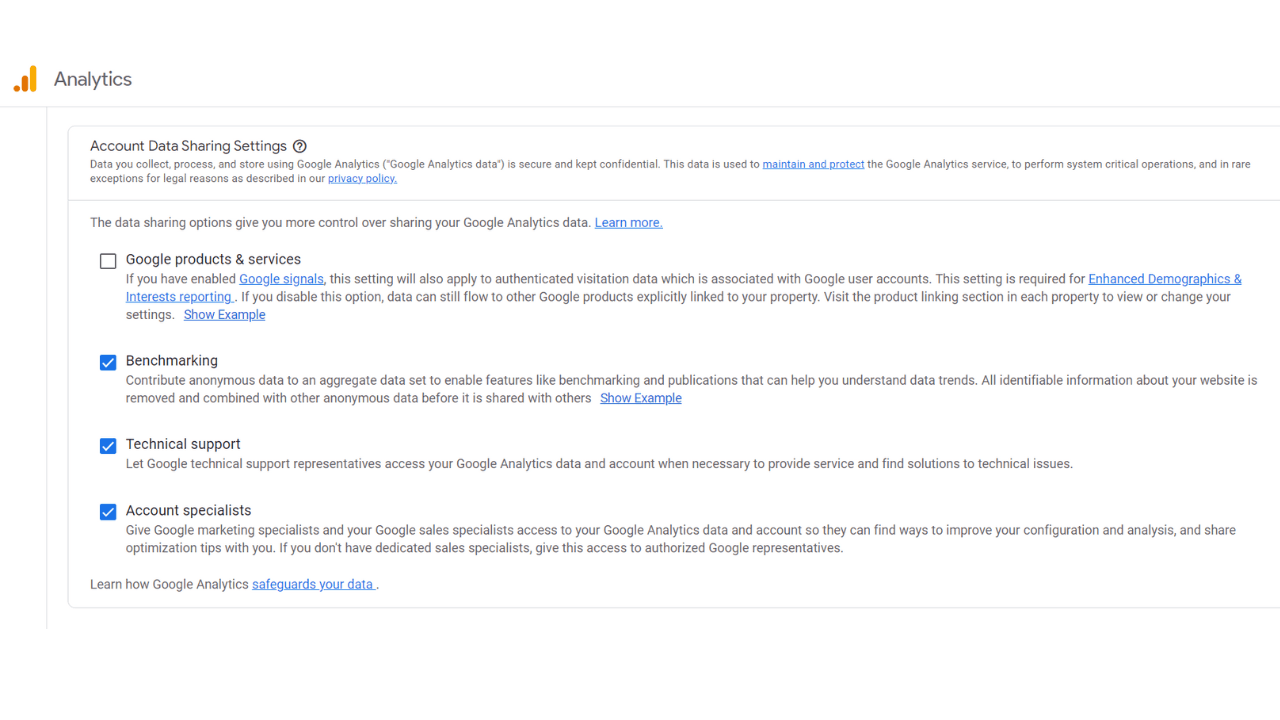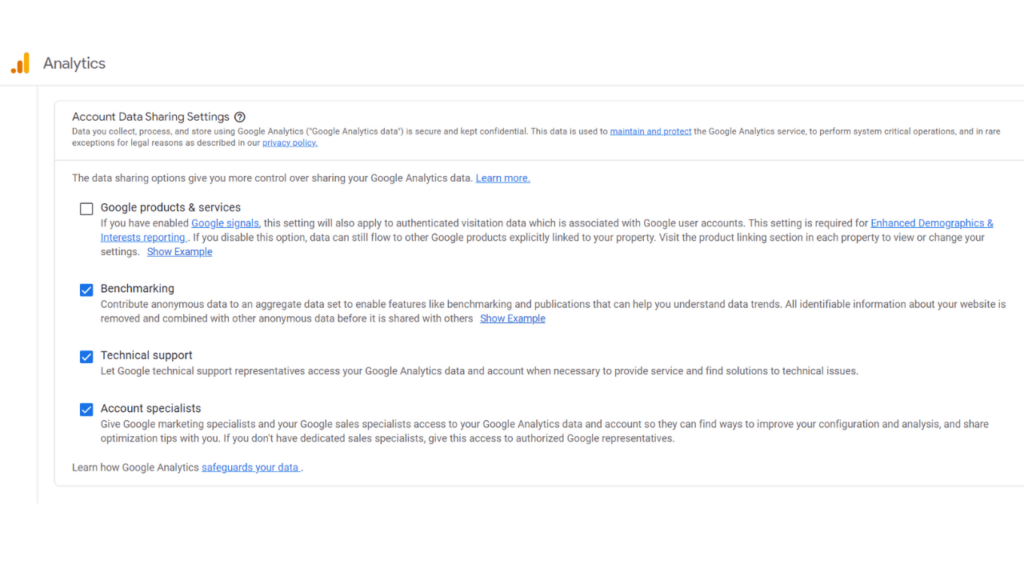 Another tool that the search engine offers is Google Alert.
It is an auxiliary tool that you can use to track your brand mentions.
SEO and SEM examples
SEO and SEM strategies are a form of marketing focused on bringing your content to the right audience.
Both consider the reputation analysis as a starting point.
Indeed, this type of marketing on search engines uses keywords and other factors to place your content on the correct search results pages.
There are many different types of SEM strategies which include:
Pay Per Click PPC Advertising
Native display;
Paid ads;
Paid listings;
Crowdsourcing;
Social ads.
Similarly, you can use various types of SEO strategies to increase the visibility of your online page.
As a result, it is essential to combine these methods with online reputation monitoring.
The most common strategy is keyword optimization by including keywords and meta tags in your content.
However, overusing keywords is not a good idea since search engines could penalize your website.
The other key strategy involves building links on other sites and social media platforms to increase the authority and popularity of your site for internet users.
You can do this in many ways:
Writing content by keywords;
Designing a site map;
Optimizing images and other media files;
Using meta tags and title tags on web pages, etc.
The combination of these strategies helps reach an optimal result.
Why is it important to use SEO and SEM strategies?
Search engine optimization and search engine marketing – SEO and SEM – techniques help websites improve their ranking on search engine results pages.
These techniques help optimize the website content or technical elements users find on search engines.
SEO helps improve the organic ranking of a website, while SEM helps generate traffic from paid ads.
SEO and SEM strategies are vital to companies since they help make a company more visible and boost conversion rates.
Is SEO better than SEM?
SEO and SEM are the best ways to market a product or service.
Some experts argue that SEO is better because it is more natural while others assure that SEM is better because it is more direct.
There is no unique answer to this question, as it depends on your company's marketing objectives and budget.
SEO might be the best option to get consumers to look for your product or service.
If you want to reach consumers who actively search for products or services like yours, SEM might be the best option.
SEO is a natural process that needs time to show results; it is slow, but it is also the best way to create backlinks and position yourself on search engines.
Blogspot states that companies that invest in blogs receive 97% more backlinks.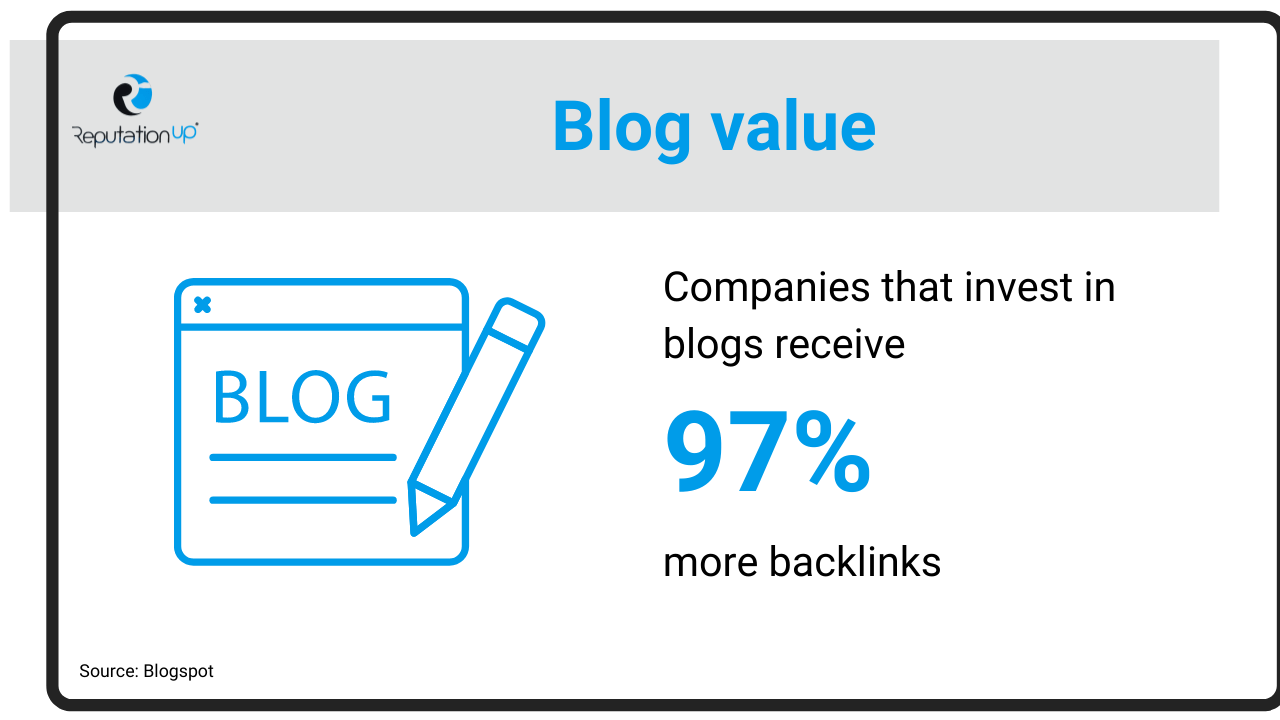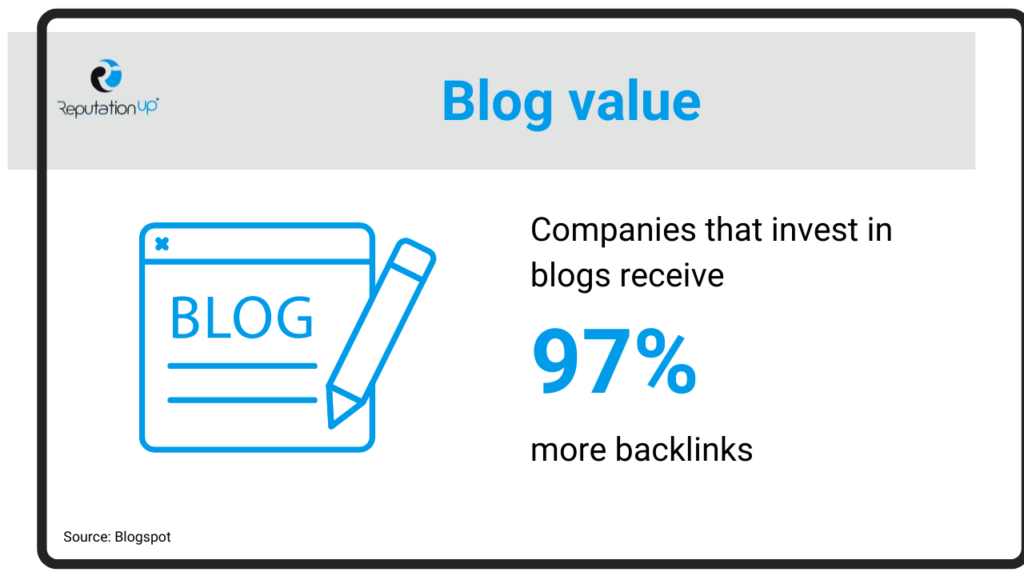 SEM can deliver faster results at a lower cost, but it is not as efficient as SEO in a long-term perspective.
Can we combine SEO and SEM in a digital marketing strategy?
SEO and SEM are two different approaches to online marketing.
Some experts believe that SEO and SEM do not work together because they focus on different goals, but it is not.
SEO creates awareness for your business, while SEM brings conversions or leads to your business.
SEO and SEM are related to search engine optimization to create a positive result for the online positioning of your website.
You can achieve this objective through:
High-quality content;
A structured website;
Consistent links to other websites and sources;
Detailed meta descriptions and URLs;
Social media networks that promote your business;
The use of quality web design;
Easy navigation for users.
At the same time, SEM will focus on qualified conversions by users and can be used alone or in combination with SEO.
Conclusions
This article will show you everything about SEO and SEM, the differences between the two strategies, and how they work.
Below you can read the conclusions:
Many factors determine the positioning of your site in SERPs; this is the reason why SEO and SEM strategies are essential;
SEO affects the visibility of a website or page in the organic results of a search engine.
SEM is a type of marketing that involves promoting websites by increasing their visibility in search engine results.
Organic search generates the highest ROI for a website, while paid search is only 19% effective;
SEM shall appear in the form of advertising on the SERP;
SEO and SEM include many different techniques, therefore combining them ensures the best result for online reputation;
As reported by Terakeet, SEO optimization can reduce the cost of acquiring new customers by 87.41% compared to digital advertising.
You should contact specialists to get the most out of SEO and SEM strategies.
Contact ReputationUP, a company specializing in Online reputation management and reputation crisis management with experts providing 24/7 full support.