What is SEO, why do we need to rank, and how do search engines work: strategies and tools.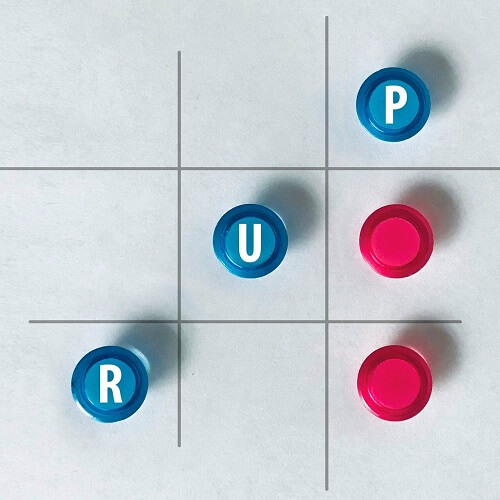 Do you want to grow your brand's online reputation?
97% of entrepreneurs say online reputation management is the main key to success for their business
What is SEO or Search Engine Optimization?
SEO stands for Search Engine Optimization.
It is an essential marketing process you have to be familiar with to know how to protect your brand reputation.
In fact, it affects the visibility of a website or a web page in the SERP organic results.
The term 'organic' refers to unpaid search results, also called 'natural'.
According to the 2021 CMO survey, 74% of companies have invested in SEO strategies.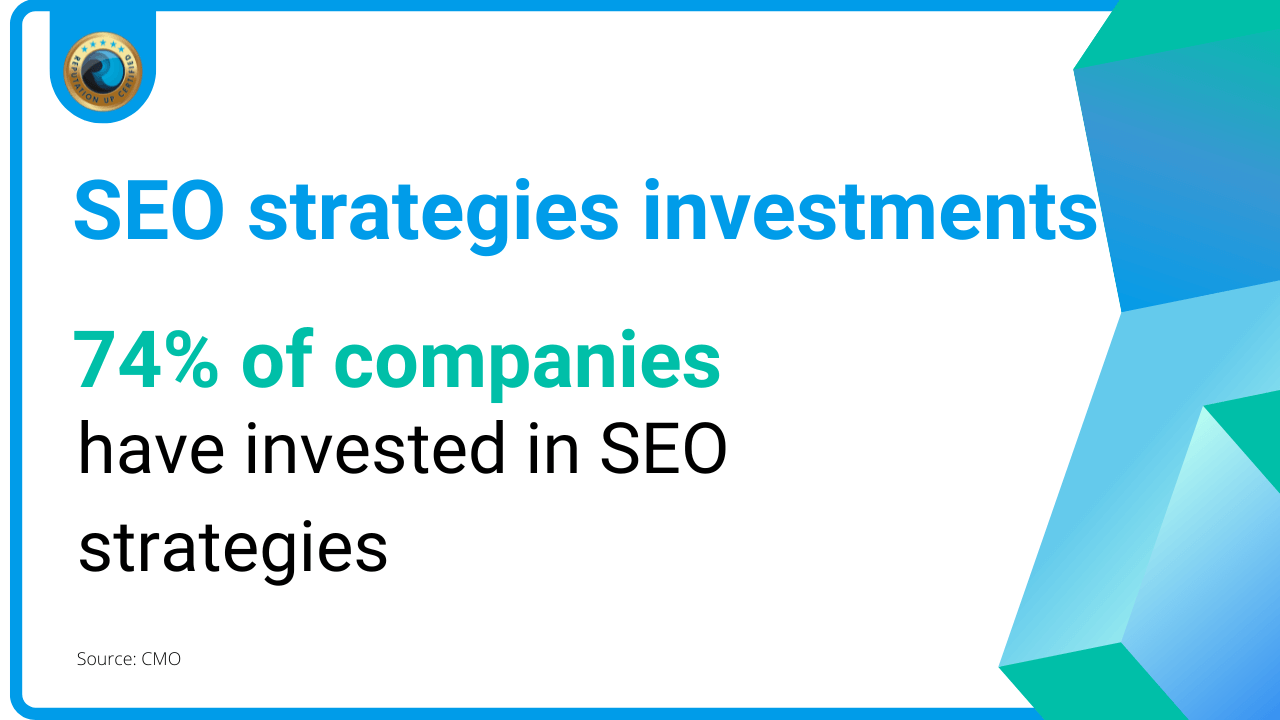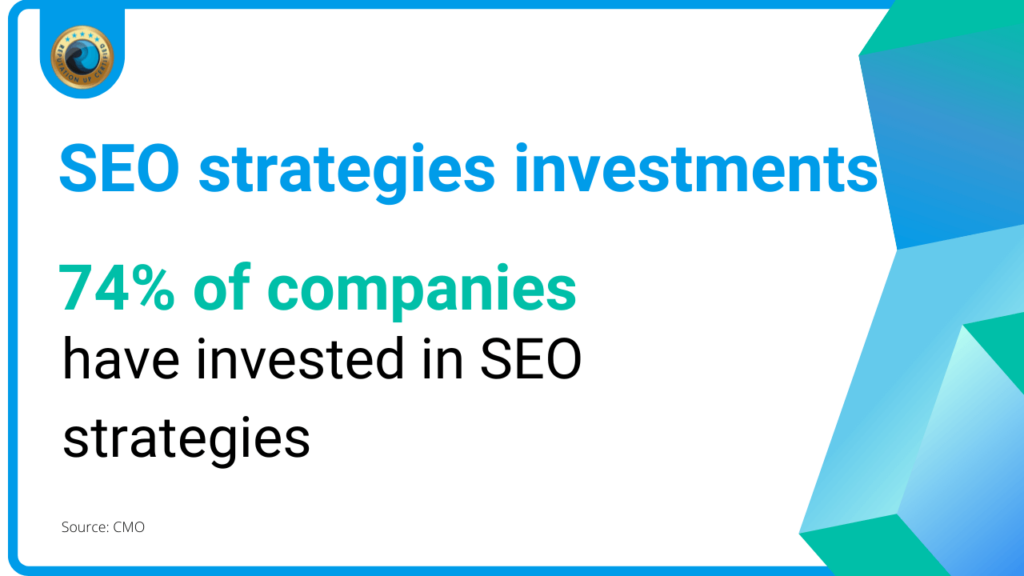 SEO practices are critical because the higher the site ranks in search engine results, the more traffic the company can expect.
To position oneself among the first search results, SEO uses several techniques that include:
Content optimization;
Link building;
Social media engagement.
These are just some possible strategies, and we will analyze the others shortly.
What is the purpose of SEO?
The purpose of SEO is to make sure that people find your website when they search for your products or services.
Depending on your main interest, you can use different strategies, for example, lead generation or increasing sales.
You can use organic or paid marketing methods.
Paid marketing techniques are part of SEM (Search Engine Marketing) and include sponsored links and social media advertising.
An optimal marketing strategy involves combining SEO and SEM.
To develop this strategy, you should rely on specialists such as the ReputationUP experts who handle all aspects of online reputation.
Where does SEO come into play?
You can do SEO for all websites, regardless of the scope of your business.
These marketing strategies boost the online reputation of your web page, allowing it to meet the requirements of the Google algorithm for first-page ranking.
SEO allows you to work on keywords, links, backlinks, and social networks.
When did SEO first start?
SEO strategies date back to the 1990s.
In the 1990s, some webmasters realized that it was easy to rank their web pages with some search queries.
1998 marked a turning point, as Google entered the market with its PageRank algorithm.
As explained in the paper released by its creators, Lawrence Page and Sergey Brin, this innovative algorithm prescribed a value to each web page depending on the quantity and quality of backlinks:
"However, unlike at document collections, the World Wide Web is hypertext and provides considerable auxiliary information on top of the text of the web pages, such as link structure and link text.
In this paper, we take advantage of the link structure of the Web to produce a global importance ranking of every web page. This ranking, called PageRank, helps search engines and users quickly make sense of the vast heterogeneity of the World Wide Web."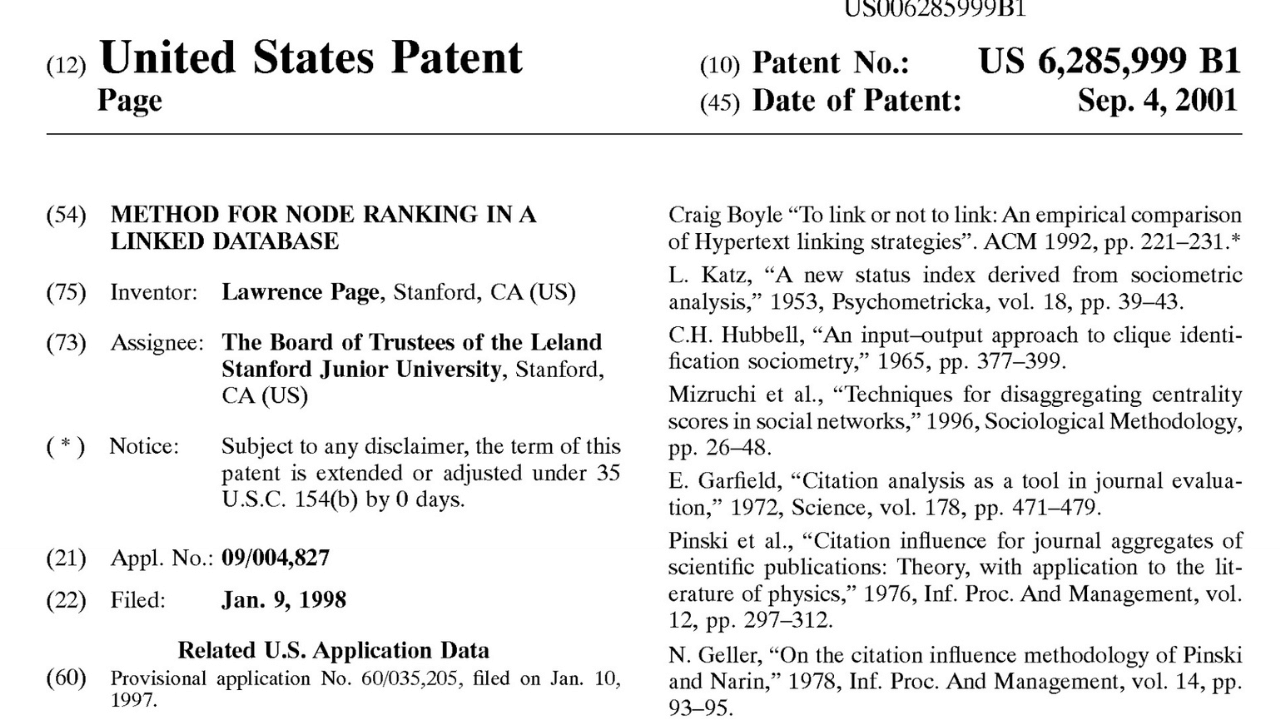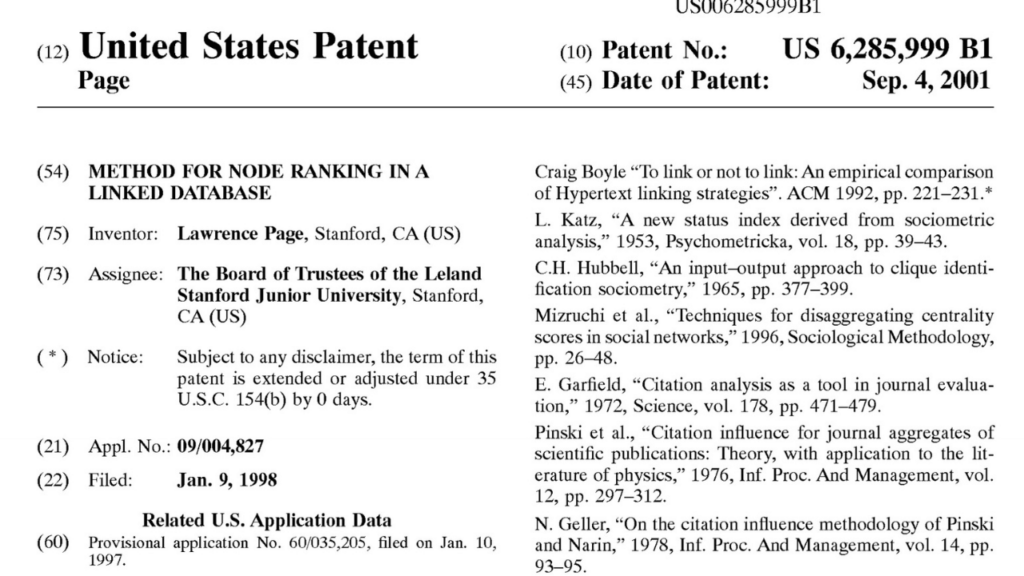 Since then, Google has stood out as the most popular search engine.
According to SemRush, 4.3 billion out of 4.72 billion Internet users worldwide used Google in 2021.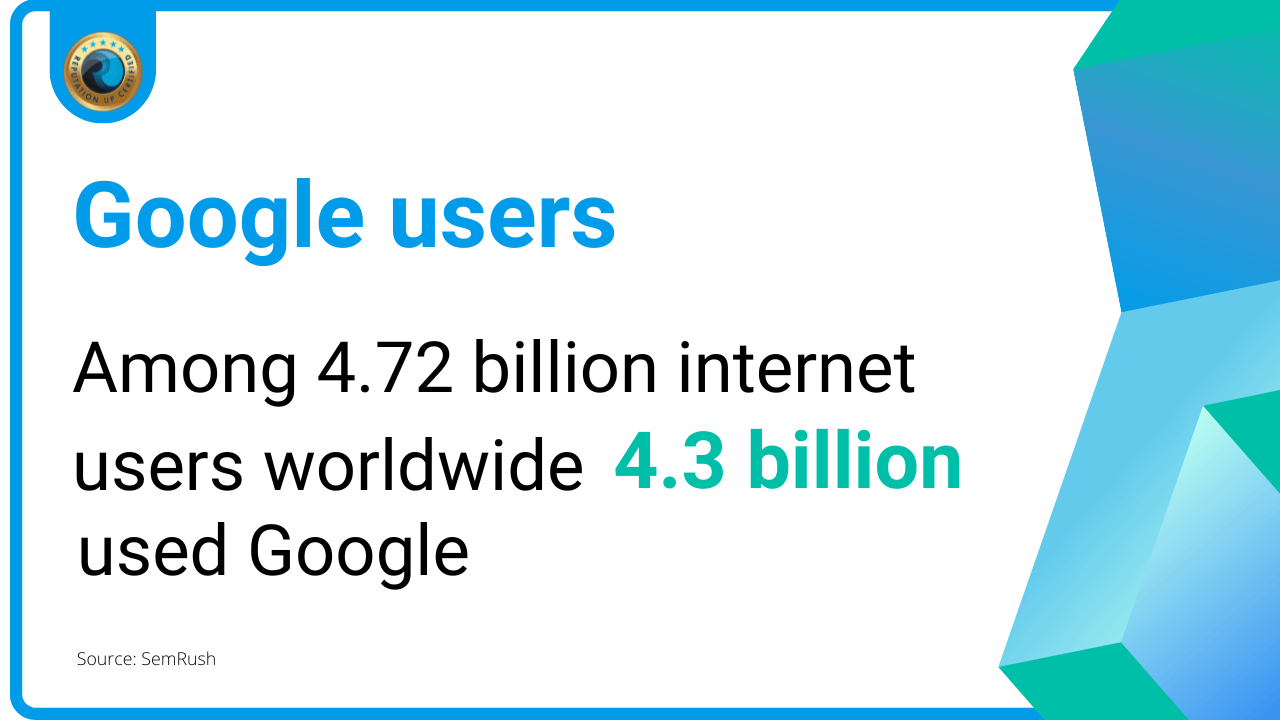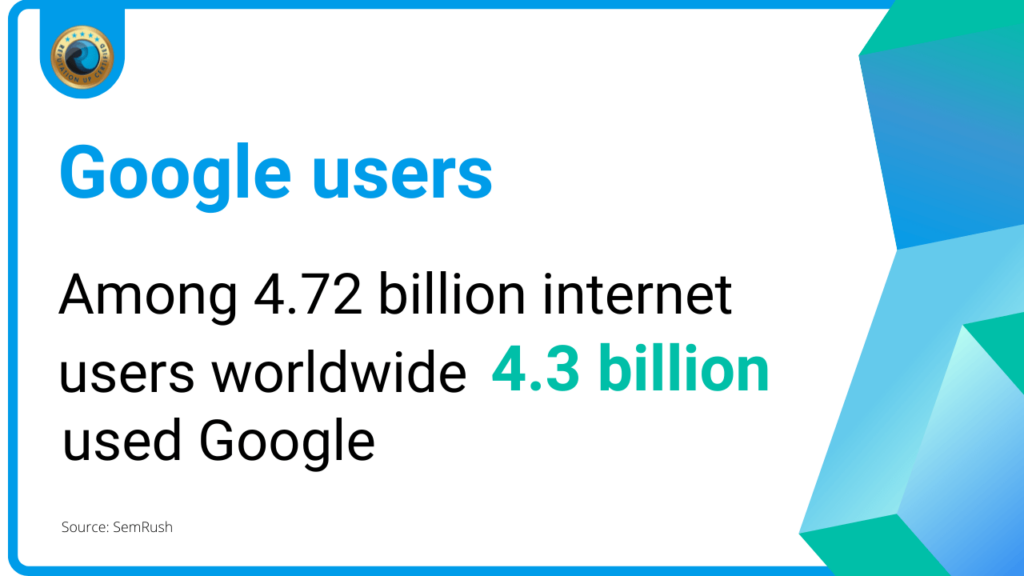 Further changes occurred between 2011 and 2013, optimizing Panda, Penguin, and Hummingbird algorithms.
We will analyze them in detail in the following paragraphs, along with other major Google algorithms.
Panda was another step forward to rewarding high-quality sites.
Panda and Penguin have reduced the number of low-quality sites in SERPs, penalizing them for their artificial link-building methods through external links.
Hummingbird, on the other hand, focuses on search queries: Google can better understand search queries and, thus, returns better results.
In the summer of 2018, Google launched an EAT (Expertise, Authoritativeness, Trustworthiness) update.
It added new ranking selection criteria to reward high-quality sites.
Indeed, they used some components attesting to the expertise, such as:
Banners and pop-ups;
Backlinks and guest blogging;
HTTPS.
Today, we should talk about Search Experience Optimization since it does not only refer to search engine optimization but the entire user experience.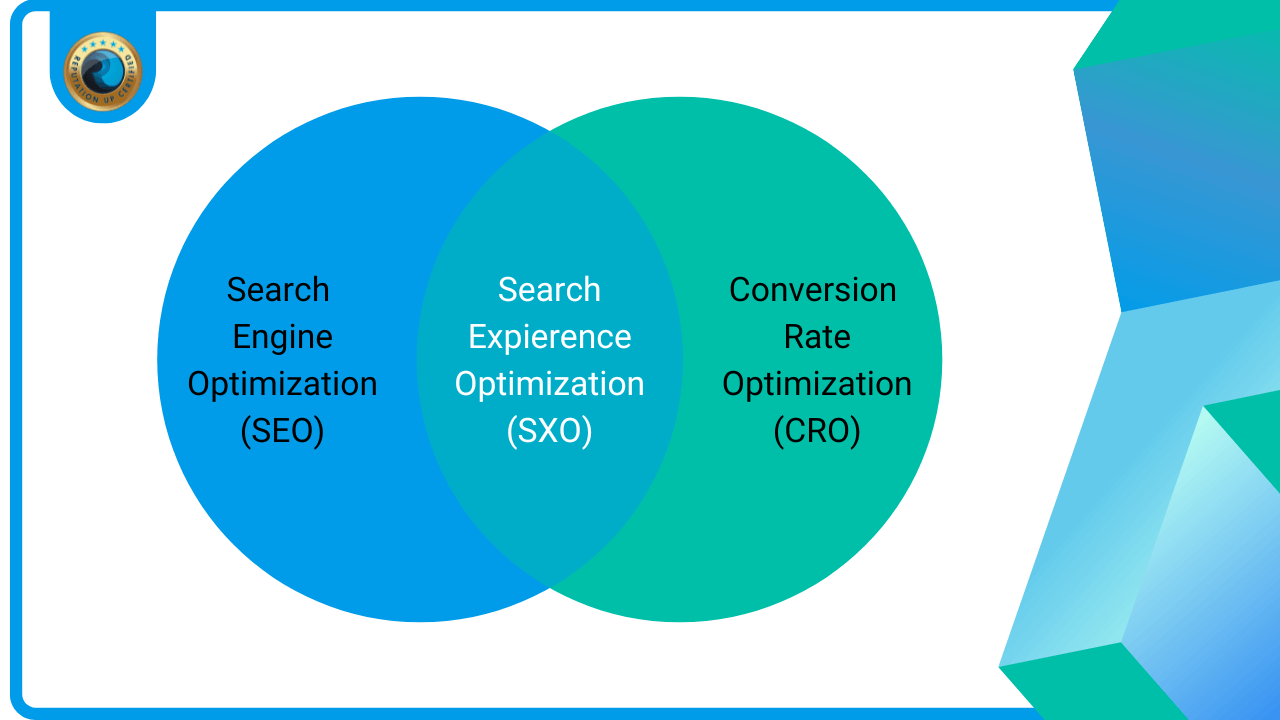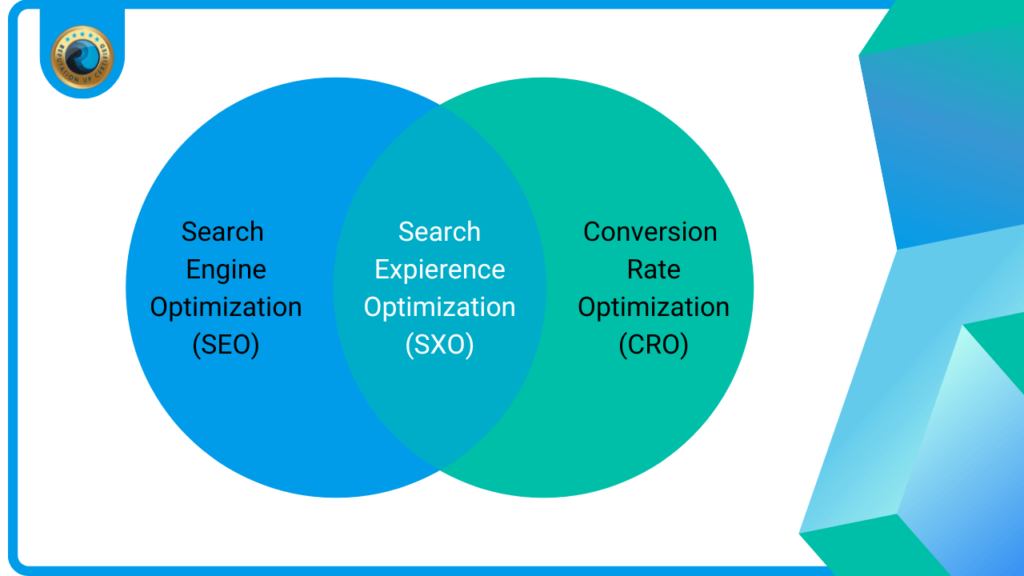 Search Experience Optimization (SXO) is the point of intersection between SEO and CRO.
How do search engines work
Nowadays, search engines are a vital technology.
They have become an integral part of our lives, and billions of people use them to find information, products, and services.
The primary purpose of search engines is to provide a list of web pages that match a query or request.
Google explains how search works, dividing the process into three stages:
Crawling: Google downloads text, images, and videos from pages that may contain a response to the search query;
Indexing: the system classifies the pages found according to their relevance to the query;
Serving search results: users display the results in the SERP.
Let us see how the first two phases take place.
Crawling
Since there is no central registry of all web pages, Google must constantly search for new pages to update its list.
This process consists of 'URL discovery'.
The search engine scans the URLs using the Googlebot crawler to inspect the content.
Googlebot only checks some pages because sometimes the site owner denies this operation.
During the crawl, Google displays the page through rendering and runs any JavaScript it finds.
Thanks to rendering, Google can view content that users might not see.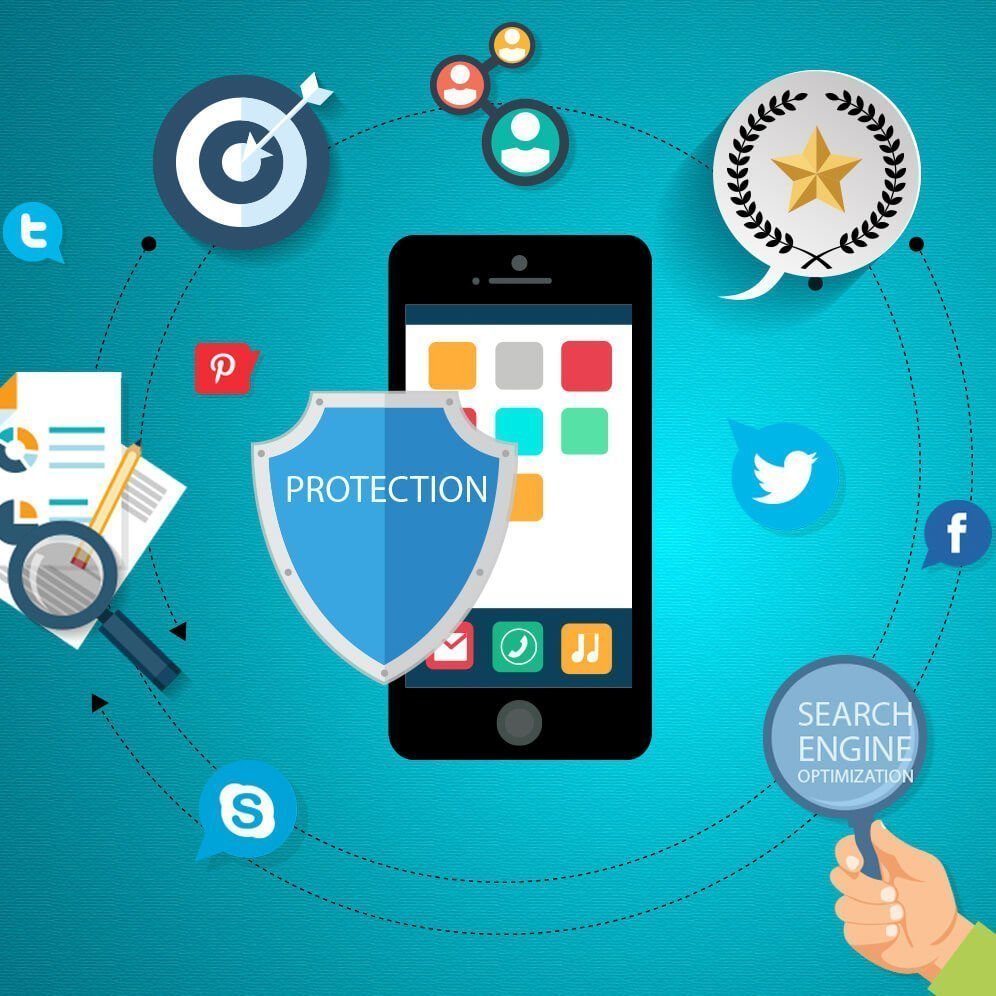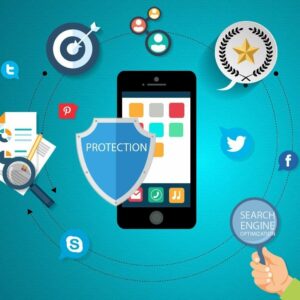 Need help protecting your online privacy?
ReputationUP guarantees the elimination of any private and personal information (name, number, address, photo, video) from any Internet platform
Indexing
The next step is indexing which helps Google evaluate the content of each page.
It includes processing and analyzing the textual content, key content tags, images, and videos.
During the indexing process, Google determines if a page is a duplicate of another page or canonical.
Only the canonical page shows up in search results.
At this stage, Google collects signals and uses them to build the SERP.
Reverse process: de-indexing Google allows you to remove unwanted content from the search engine index.
Please note, however, that Google does not index all the pages it scans.
Google Algorithm Updates
The Google algorithm is a system used by Google to classify search engine pages.
It is one of the most relevant factors in determining how high your website will rank on the SERP.
The Google algorithm has two main features:
Relevance, which refers to how well your content matches what people search for;
Authority, which determines how authoritative and reliable your website is.
The more relevant and authoritative your website is, the more likely you will rank high on the list.
Through the rigorous testing section, Google informs that they made 4336 launches in 2021.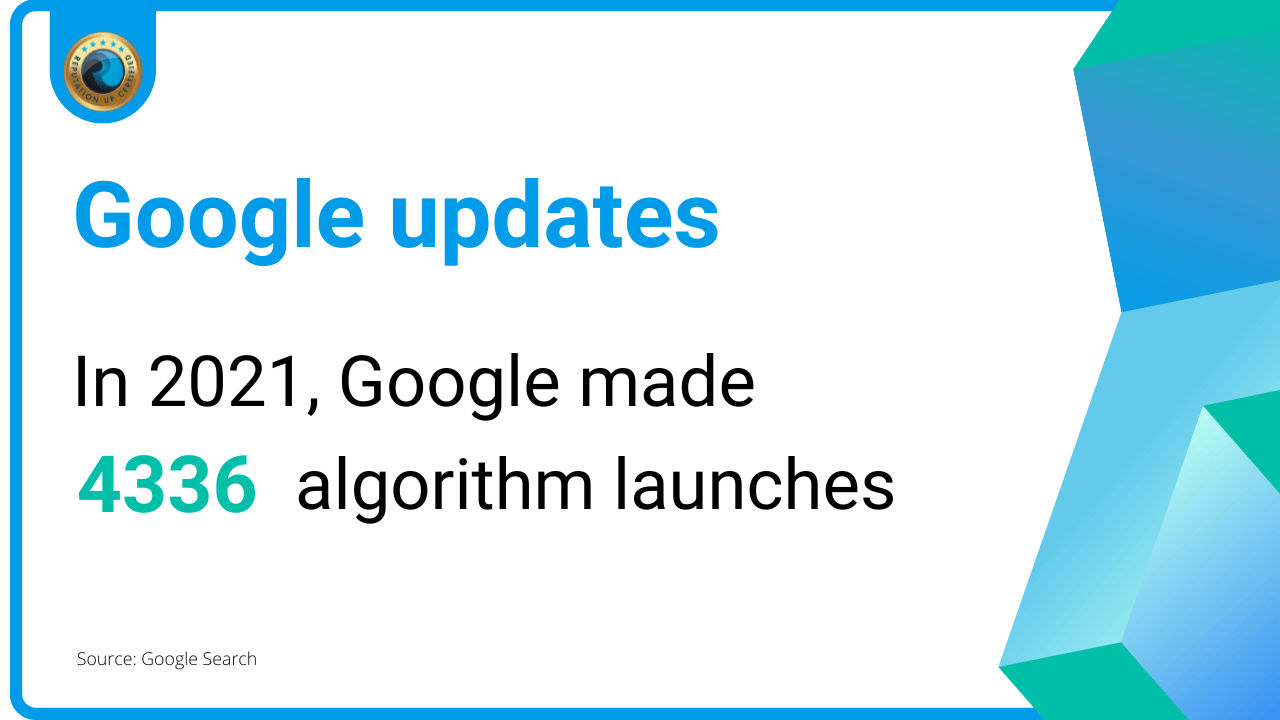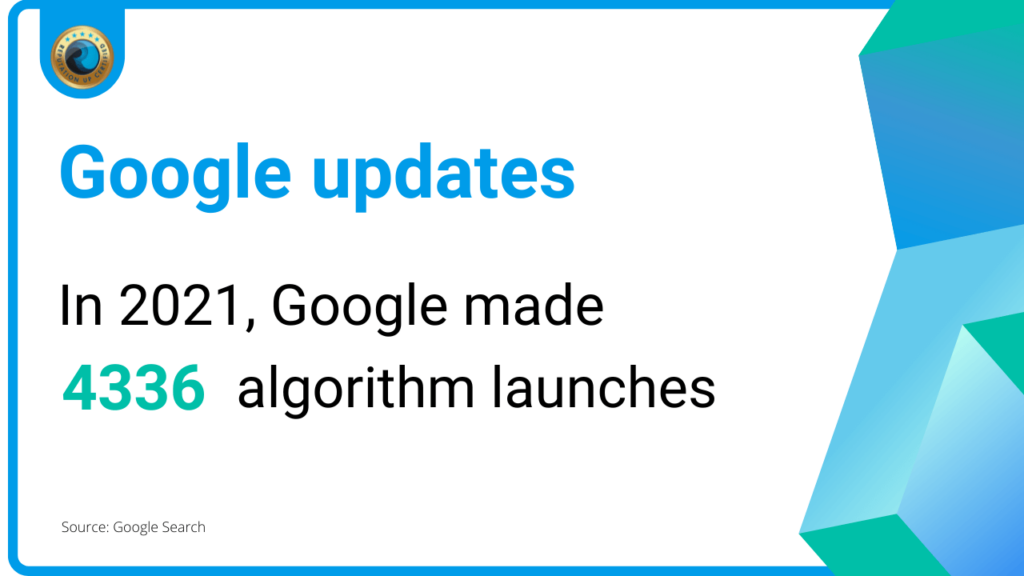 Of these, only a few were accepted, and only some significantly affected the user experience on the search engine.
We see below those who made history.
Google Panda
Panda is an algorithm that Google uses to classify pages on the Internet.
Google Panda was released in February 2011 and designed to penalize sites with poor content.
The algorithm considers duplicates or almost duplicated pages with low-quality or little original content.
According to the Google blog, this change affected 11.8% of their queries.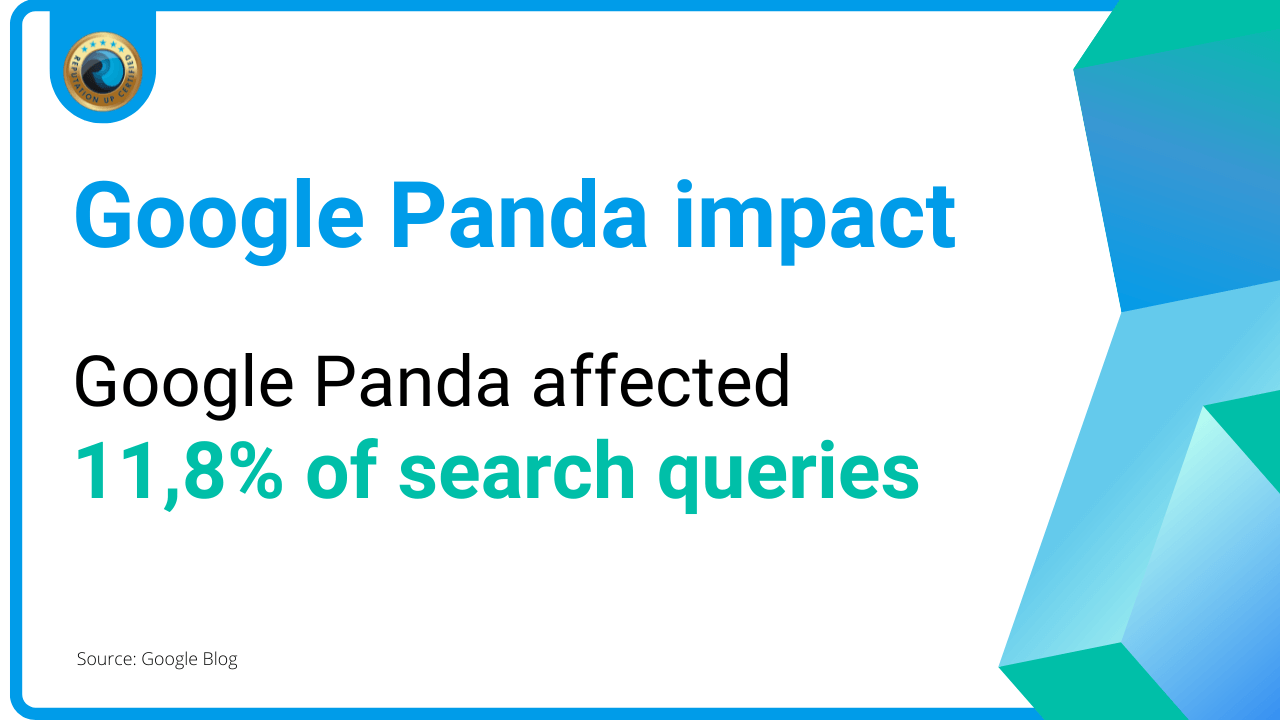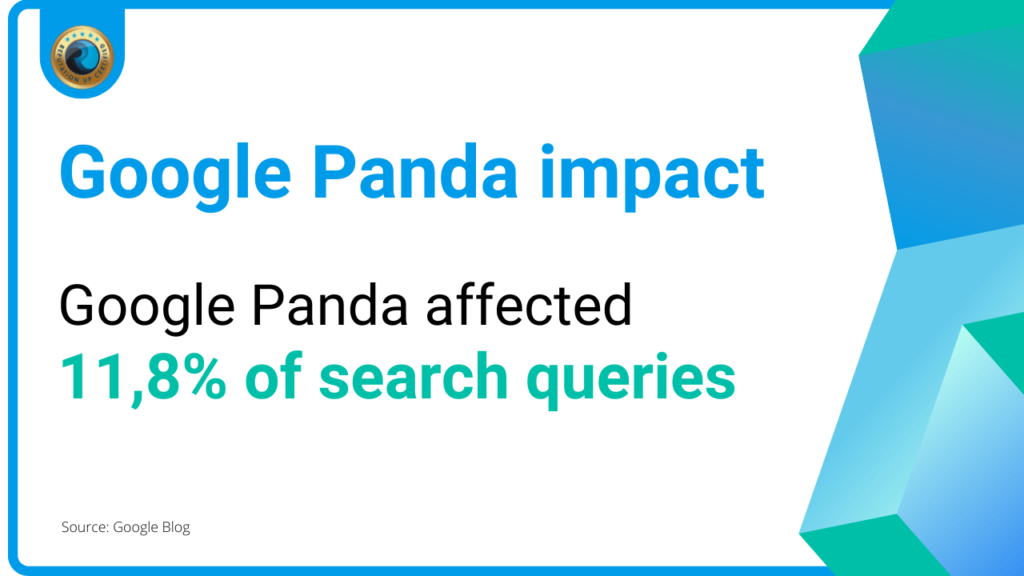 Google's objective was to reward high-quality sites that produce unique and engaging content, punishing those that do not.
Google Penguin
Penguin is a Google algorithm designed to reduce web spam.
Google Penguin was introduced in April 2012 and targets sites that use black-hat SEO techniques such as keyword stuffing, cloaking, and doorway pages.
It is important to note that Penguin concentrates on spam links rather than spamming content.
Google Hummingbird
Google Hummingbird is an update to the Google search algorithm announced on September 26, 2013.
The goal was to make Google more natural and intuitive for users.
Hummingbird aims at better understanding the intent in contextual search.
In the video released shortly after its launch, a former Google Software Engineer, Matt Cutts, explains that Hummingbird influences 90% of ranking searches.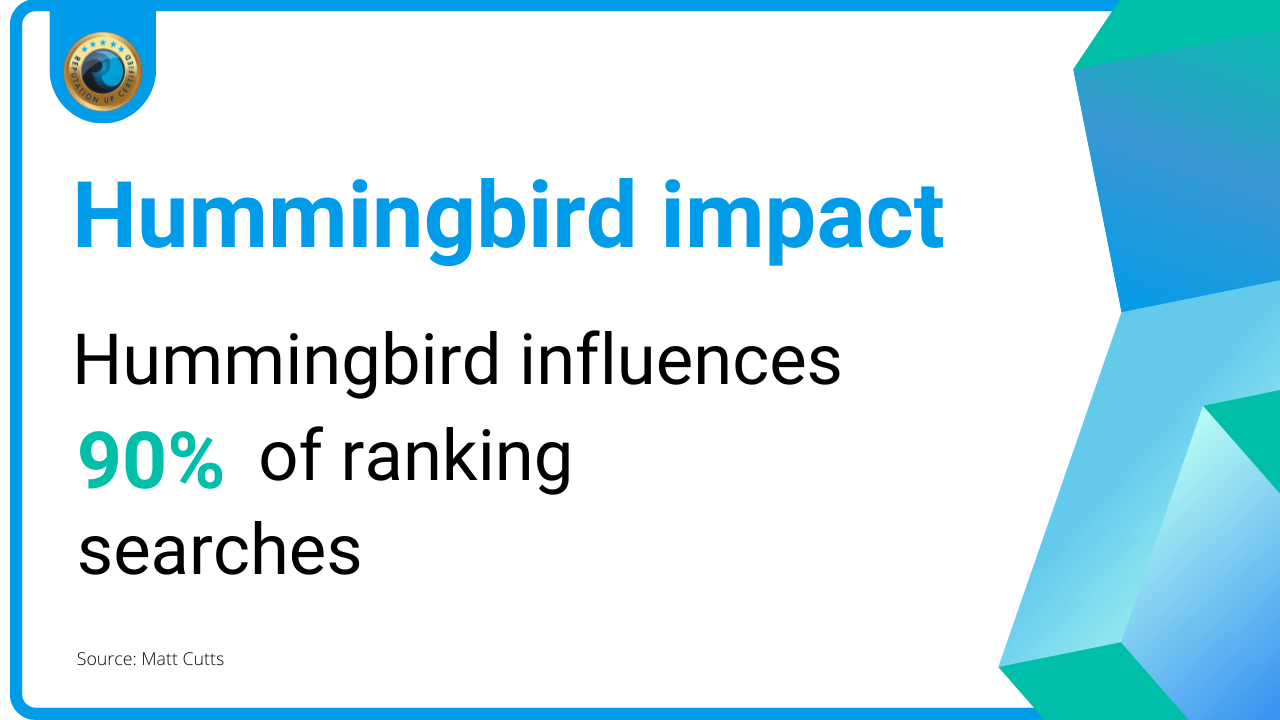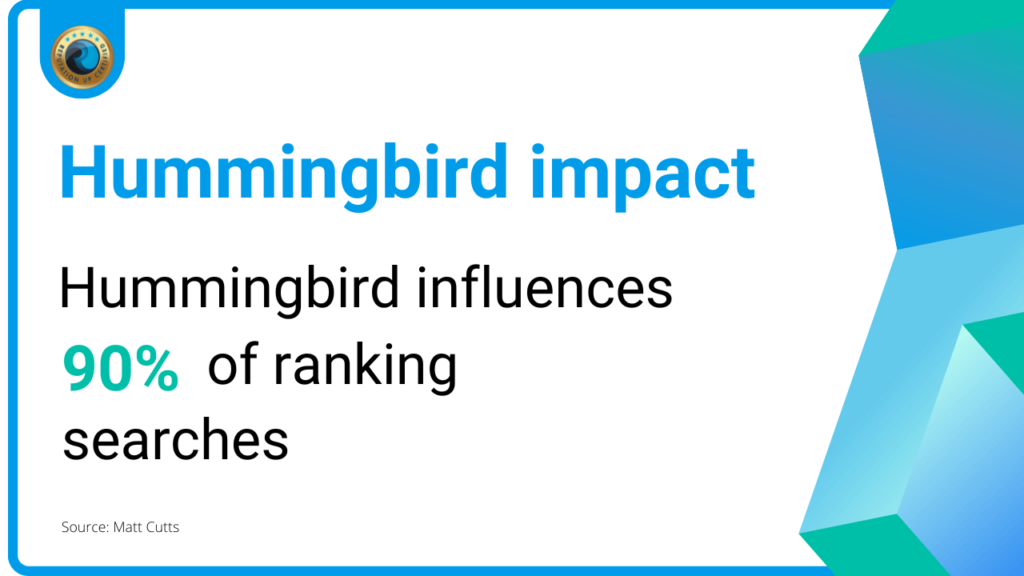 The algorithm, which focuses on semantic research and natural language processing, answers previously unanswered questions.
Google Pigeon
Pigeon is the algorithm developed by Google to improve search results for local searches.
Google Pigeon has been around since July 2015 and is still evolving. This new algorithm is to help users find the best nearby places.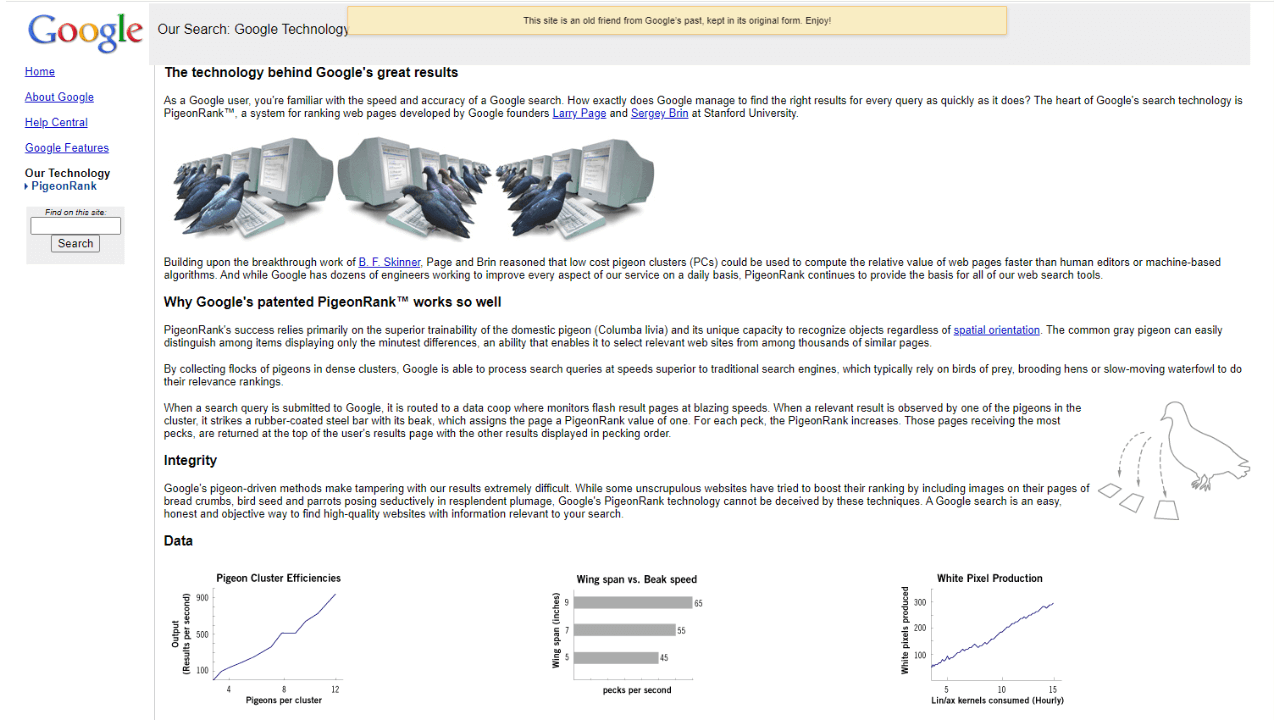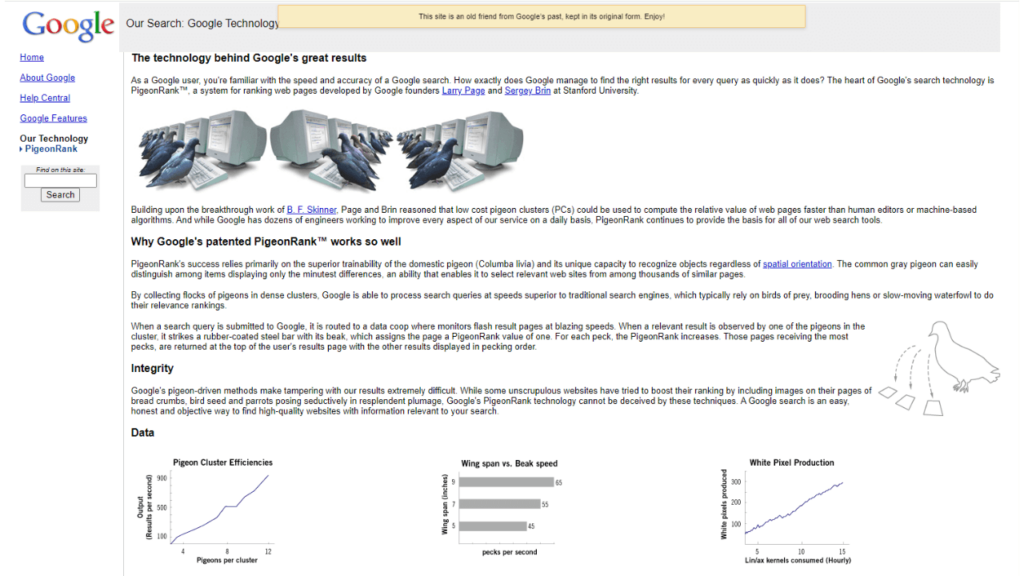 It also has an impact on a company's digital reputation, as it allows for a more equitable and balanced ranking in SERPs, which does not only favor large brands.
Google Mobilegeddon
Mobilegeddon is a term coined by Eric Engein April 2015 to describe the update of theGoogle algorithm that significantly increased the importance of mobile compatibility.
The update helps web page optimization for mobile devices.
This algorithm is essential since web traffic from mobile devices has increased exponentially worldwide.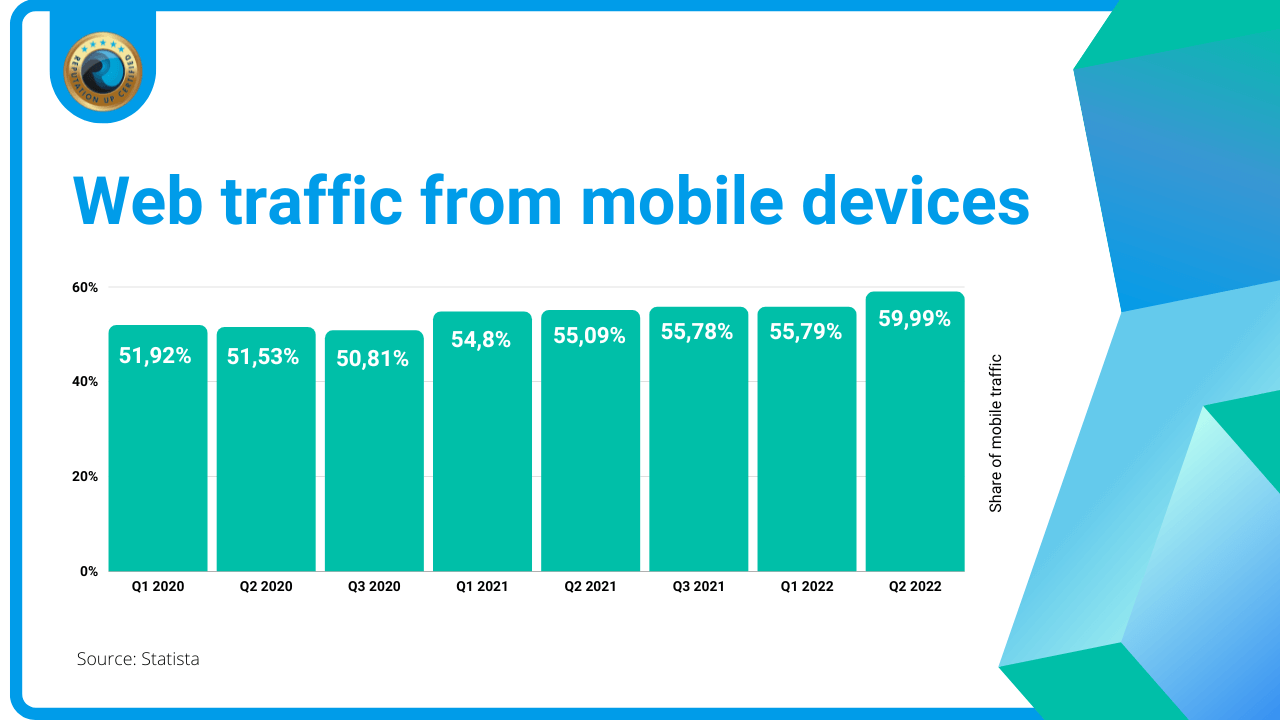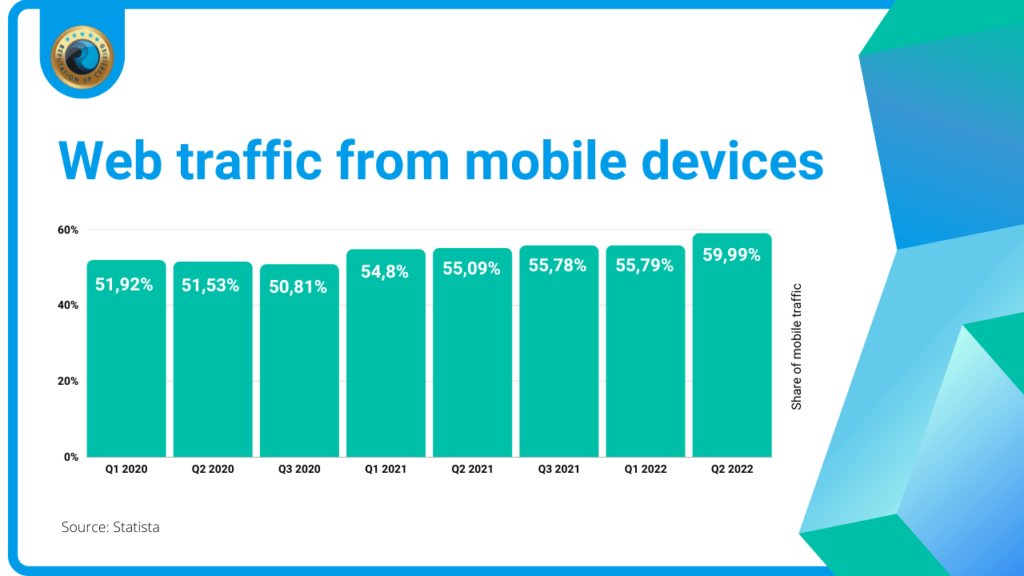 Statista's infographic shows it increased from 31% in the first quarter of 2015 to 59% in the second quarter of 2022.
Google RankBrain
RankBrain is a machine learning system that Google uses to search and process queries starting in October 2015.
According to Andrey Lipattsev's statement, RankBrain is the third most important signal used by Google to rank pages based on links to a site and site content relevance.
The search engine tested it on the billions of searches carried out over the years and constantly analyzed new model searches.
RankBrain was coined to emphasize that it is not just an algorithm but an entire system of algorithms that work together.
The system consists of four algorithm components:
The 'Feedforward Neural Network' (FNN):

It is responsible for making predictions about users' intent when searching.

A summary engine:

It helps organize the various contents into coherent topics that the FNN receives and uses in the decision-making process.

The 'Learned Vector Representation' (LVR):

Uses vector representations of concepts to provide answers that make sense for both humans and machines.

RankBrain's 'Tabulator':

It learns from user feedback to make better predictions based on user behaviors.
This algorithm also includes voice search.
What are SEO strategies?
SEO strategies are the most significant aspects of digital marketing and the key to a successful digital marketing campaign.
You can use several SEO strategies to improve your company's web reputation and help your website rank higher.
Some of them include the following:
Keyword research;
Backlink creation;
Content optimization;
Social media optimization;
Website design;
Blog creation;
Use of images and videos;
Mobile optimization
Poorly optimized websites can make it hard for people to find what they are searching for online.
In short, a website that is unappealing to users can cause you to lose traffic, which means lost profits, affecting your financial reputation.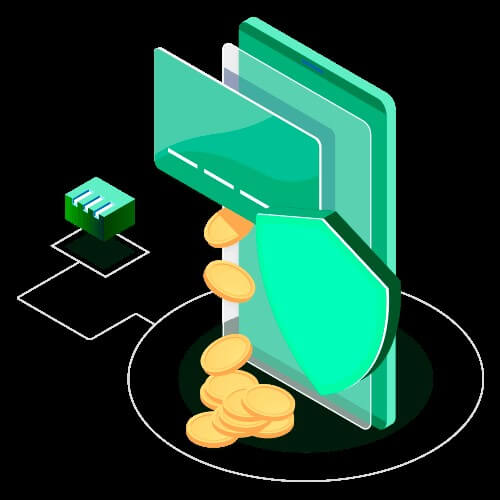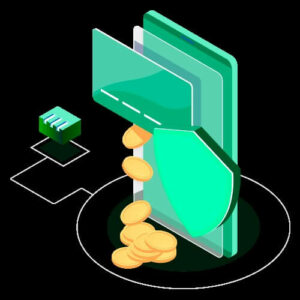 Do you want to protect your financial reputation from any scandals?
ReputationUP protects your financial reputation from illegal operations and possible media scandals
How to do SEO for businesses?
SEO for businesses is also called B2B SEO or business-to-business.
This optimization strategy,used by businesses that sell to other companies, responds to more specific needs than 'normal' SEO.
Another difference is that it also focuses on low-search volume keywords.
This strategy involves working on a niche positioning and is capable of generating a significant conversion capacity.
These techniques have a much higher ROI because they target a specific audience.
The same applies to local SEO, which is fundamental for businesses.
As reported by Milestone, organic search and local drive 73% of page views.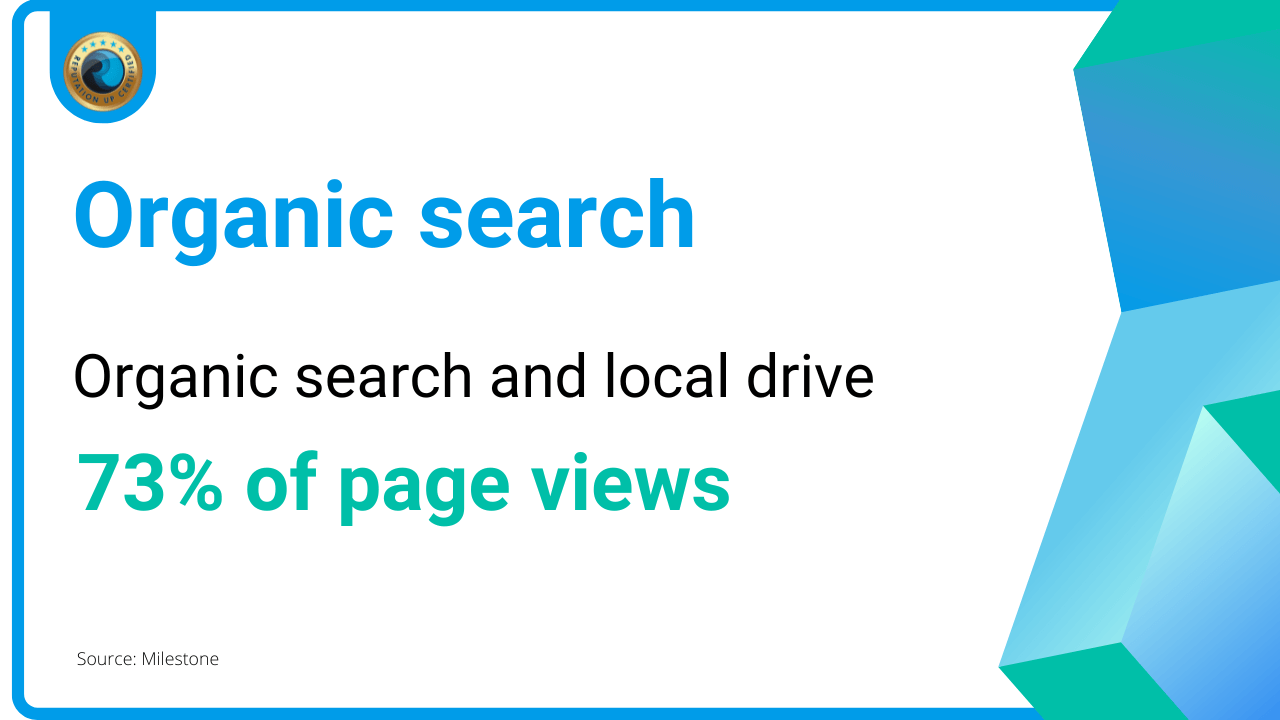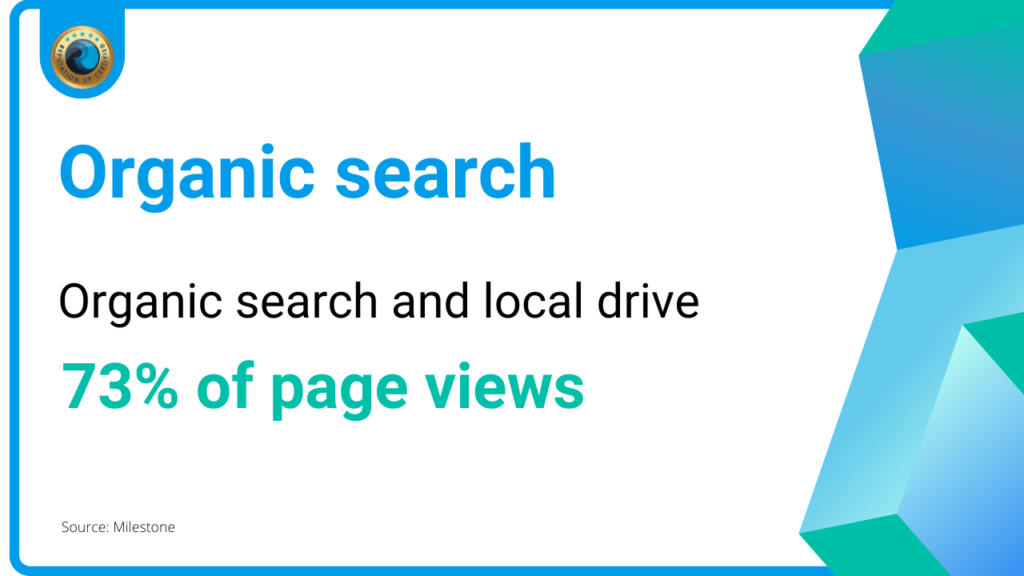 Keyword Strategy
The first step of SEO strategy is the search for keywords.
This process helps find out what people are looking for on Google.
You can find this information using the Google free search engine tool, Google Adwords.
Keyword optimization also includes on-page activities adding keywords in:
Title;
Meta description;
Images;
Headings;
Body of text format;
Internal and external link building.
Having the keyword in each of these components helps improve ranking.
URL optimization
URL optimization is a process that ensures that your page or website has a good URL structure.
In other words, URLs must contain keywords you can read and recall more easily.
URLs are vital as they are the only way for people to find your site on the Internet.
Search engines use URLs to rank your website, so their optimization is essential.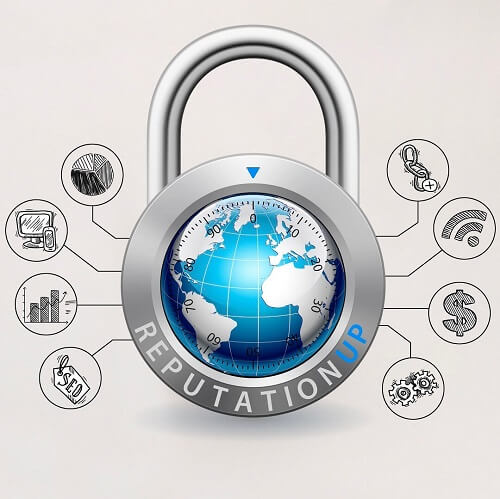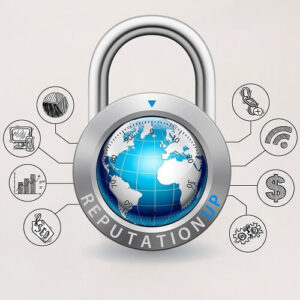 Need help protecting your reputation?
Remove all negative content against your brand and publish positive content that re-launches your digital image
Heading structure
H1, H2, and H3 are the most used headings to structure your content up to H6.
Headers or headings have a double function:
They help readers move through your text to find the information they need;
They explain to Google what you are talking about (and if your content matches the query).
H2 tags typically contain the article's main topic, whereas H3 headers include subtopics or auxiliary information.
H1, on the other hand, is unique on the page, and, to make it as effective as possible, it must:
Contain the keyword;
Be a summary of what the content of the text is;
Have a maximum length of 50-60 characters.
These are some simple but helpful tricks to have a good SEO score.
Measure loading speed
A web page that takes too long to load is underperforming, and users will leave it.
As reported in the Google Search Central blog, the page loading speed affects the ranking in the SERPs.
In addition, according to a study conducted by Radware, one user out of four abandons a website that takes more than 4 seconds to load.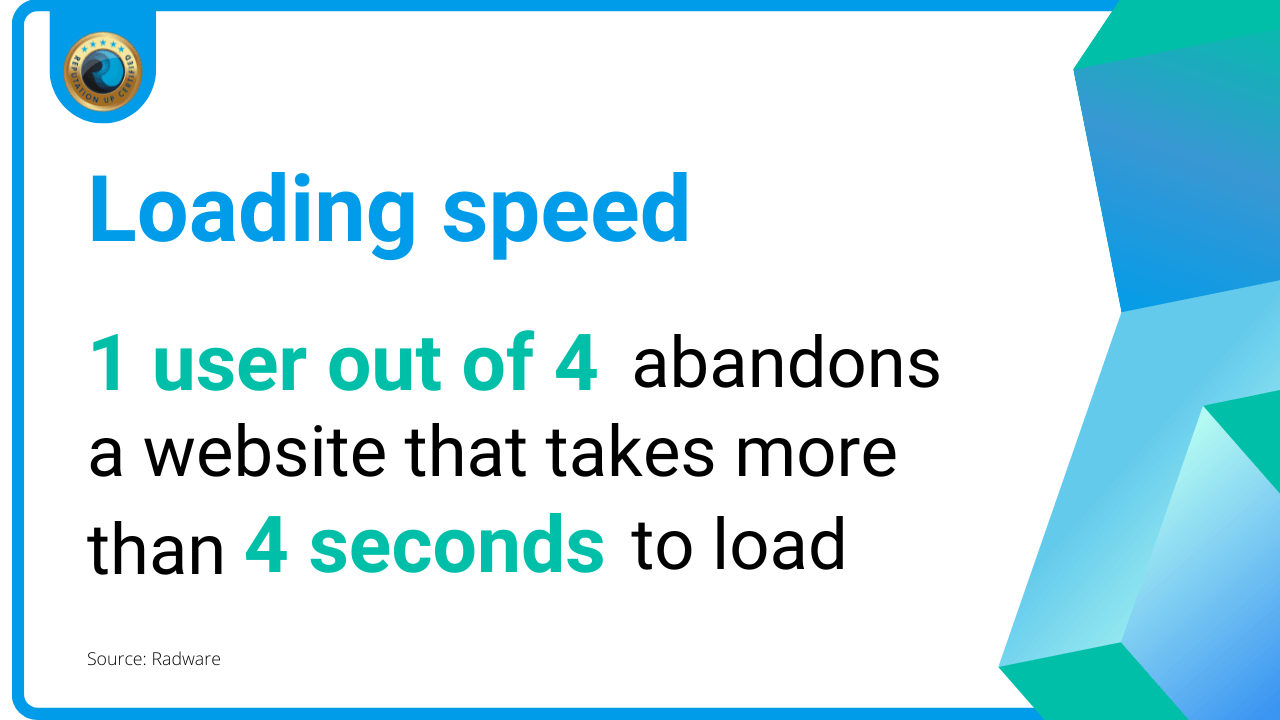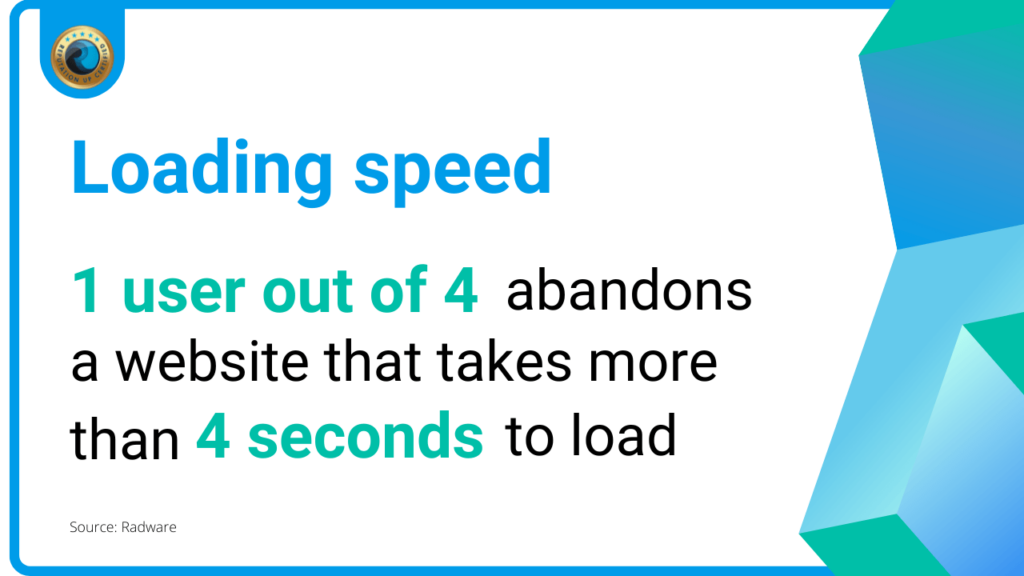 To speed up the loading time, follow these tips:
Improve the mobile version of your website;
Compress images;
Get rid of render-blocking elements;
Avoid redirects;
Reduce HTML, CSS, and JavaScript.
The optimal loading speed can influence your corporate sentiment and improve the perception of your brand.
Create quality content
One of the most significant steps in SEO is quality content creation.
Indeed, search engines like Google rank websites based on their content.
If your website has poor-quality information, it will have a low ranking in SERPs.
Quality content means content that is:
Relevant and unique;
Informative and helpful;
Well-written, well-structured, and correctly formatted;
Precise but not too long or repetitive;
Adequate for the target audience;
Easy to understand.
Content creation should always be entrusted to specialists.
Contact ReputationUP: a leader in online reputation that combines digital marketing techniques with the Right to be Forgotten for content removal.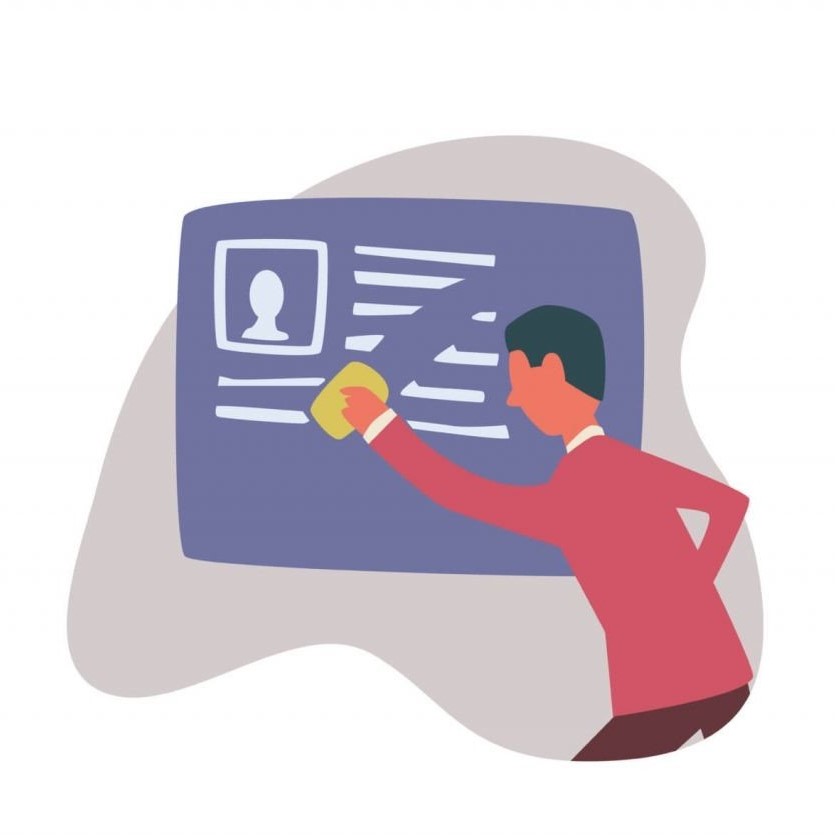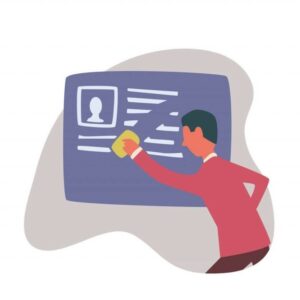 Do you want to remove outdated news from the web?
ReputationUP guarantees the elimination of any obsolete news (links, photos, videos, comments, content, reviews) from any platform
Quality Links
You can create four different links for SEO purposes:
Internal links: they point to another webpage;
External links: they refer to pages on other sites;
NoFollow Links: they are links that do not pass the link juice but can still help improve positioning;
DoFollow links: they pass along the link juice, help boost your ranking and get more backlinks.
To create quality links for SEO, you need to understand better how search engines work
Graphics and video marketing
Graphics and video marketing are the best way to convey a message.
Especially in the digital age, when people search for information, graphics and videos can help them understand your message more effectively.
According to data reported by Hubspot, in 2022, 94% of marketers agree that videos have helped increase user understanding of their product or service.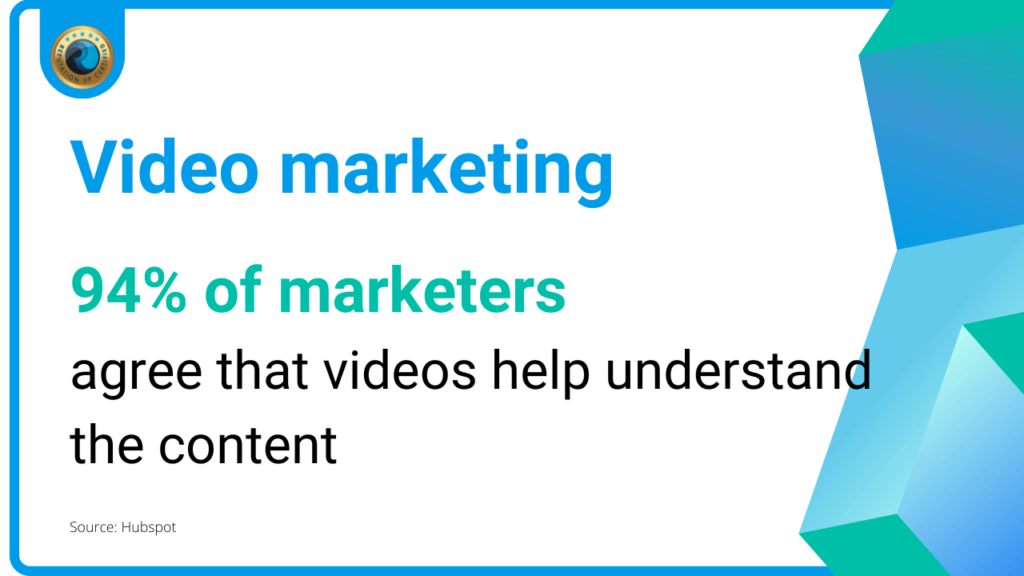 Moreover, videos and images facilitate indexing on the search engine.
The use of graphics and video marketing has grown considerably in recent years.
One of the reasons is that people are increasingly consuming information via mobile devices, preferring content in a more agile format rather than just text.
Guest blogging
Guest blogging is a marketing strategy that can help you build relationships with potential customers and reach a new audience through link building.
You create a blog post for another page in exchange for a backlink and increase your audience and Google visibility.
Choose a blog or business influencer who uses a similar theme and speaks the same language as you to make this strategy more effective.
SEO types
There are various types of SEO.
The most popular are on-page SEO, off-page SEO, and Inbound Marketing; we should also add local SEO. According to the report published by Hubspot, 75% of the SEO consists of off-page SEO, while only 25% is on-page.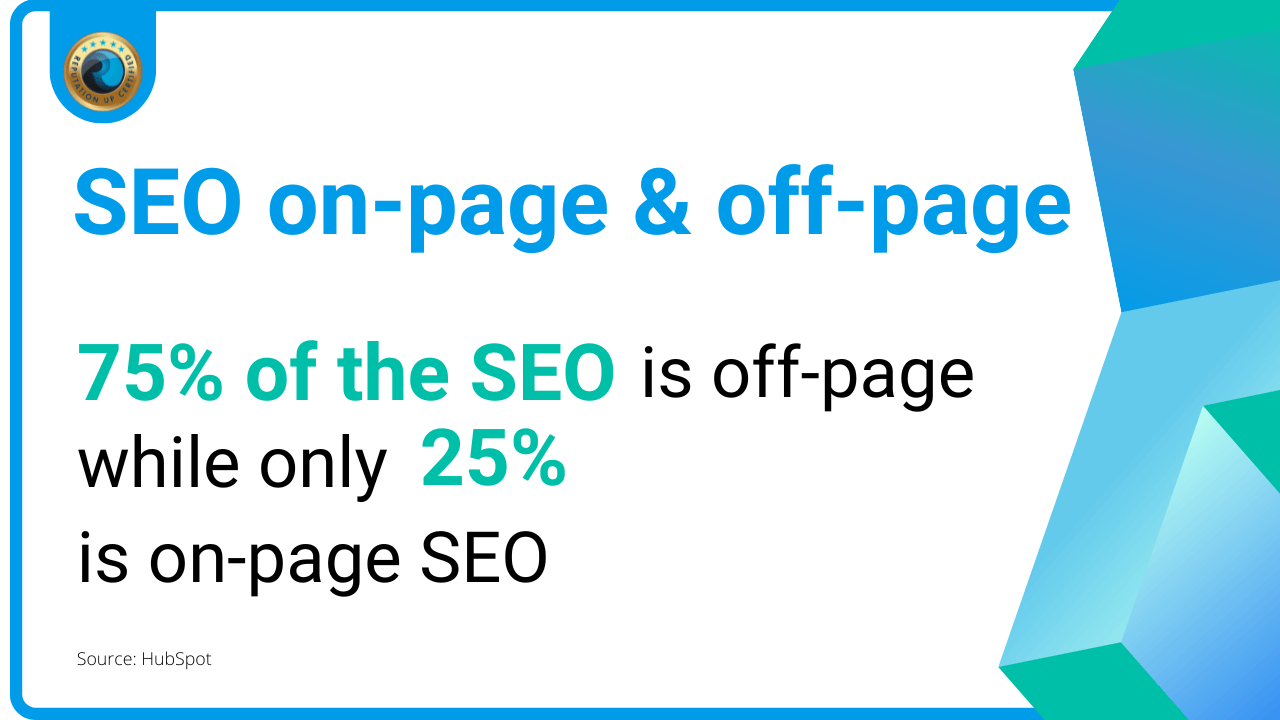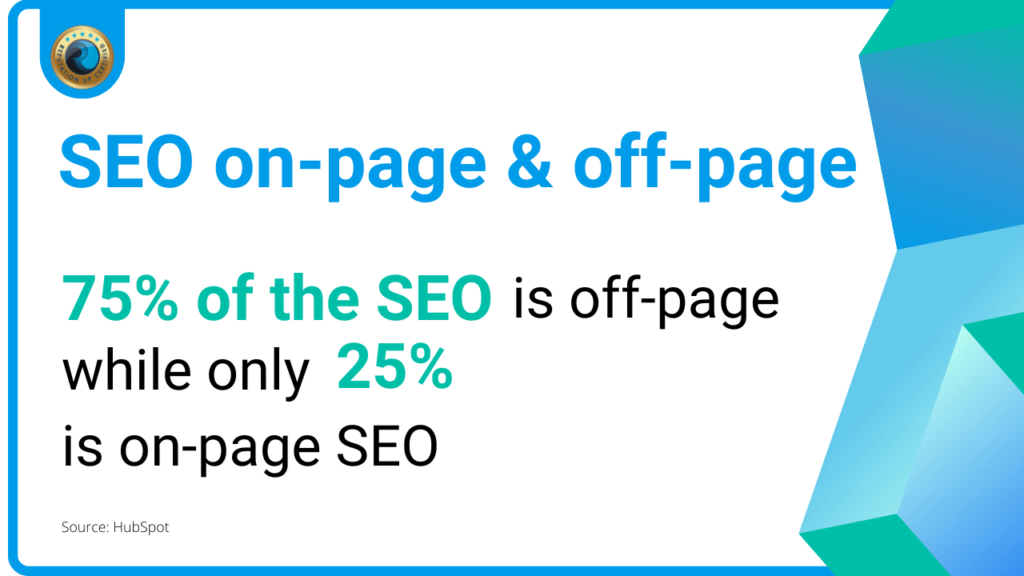 Let us see them in detail.
On-page SEO
On-page or on-site SEO techniques improve the website's visibility and positioning in the SERPs by optimizing its content.
It focuses on all the elements within the website and each page that composes it.
On-site SEO aims to make your site more visible to search engines, increasing organic traffic.
Off-page SEO
Off-page or off-site SEO is a set of techniques used to classify websites on search engines.
These techniques do not include on-site optimization, such as keyword placement.
It concerns, instead, working outside the web page, for example, through external links.
In other words, it is part of the broader online reputation management strategy.
Off-page optimization involves improving brand perception, authoritativeness, and trustworthiness.
Inbound Marketing
Inbound marketing combines SEO and SEM strategies with email marketing and social network management.
It aims to attract visitors interested in your product or service and convert them into leads.
It is all about convincing the right audience to visit your website and guiding them through the purchasing process with content, offers, and call-to-actions.
The Search Engine Journal reports that inbound marketing costs 61% less per lead than outbound marketing.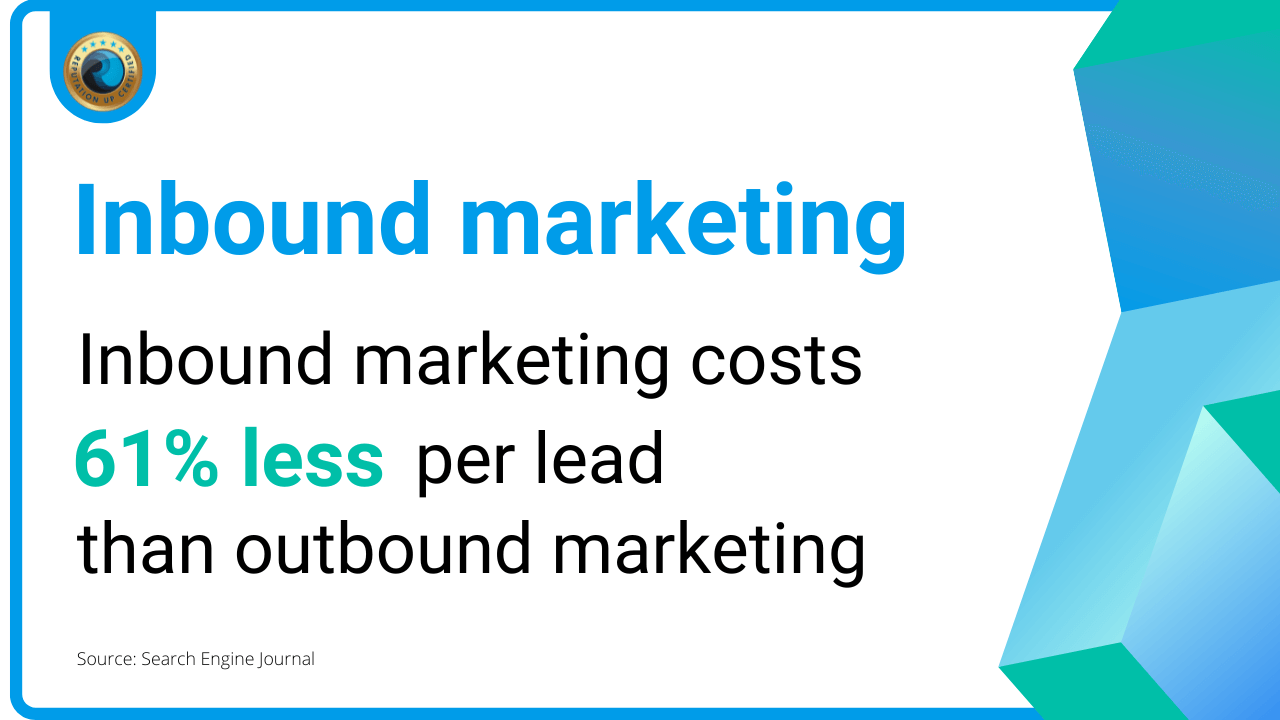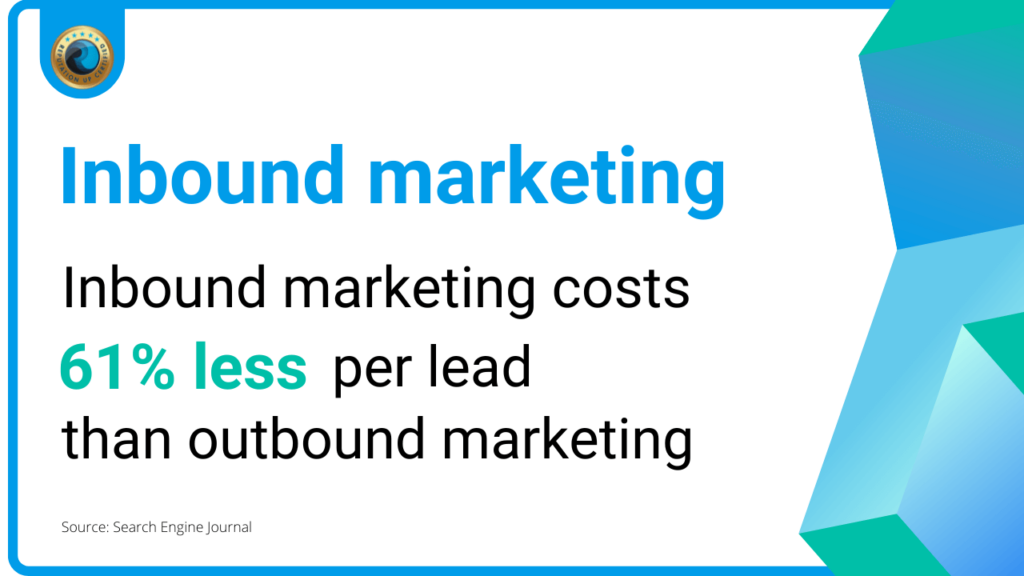 This form of marketing is based primarily on social media campaigns, SEO, blog creation, and email marketing campaigns.
What is Local SEO?
Local SEO is a technique that businesses use to rank higher on search results pagesrelated to specific geographical areas.
This SEO technique helps small and medium-sized enterprises (SMEs) outperform large companies in local search results.
As reported by Safari Digital, the first result of local business searches collects 24.4% of all clicks.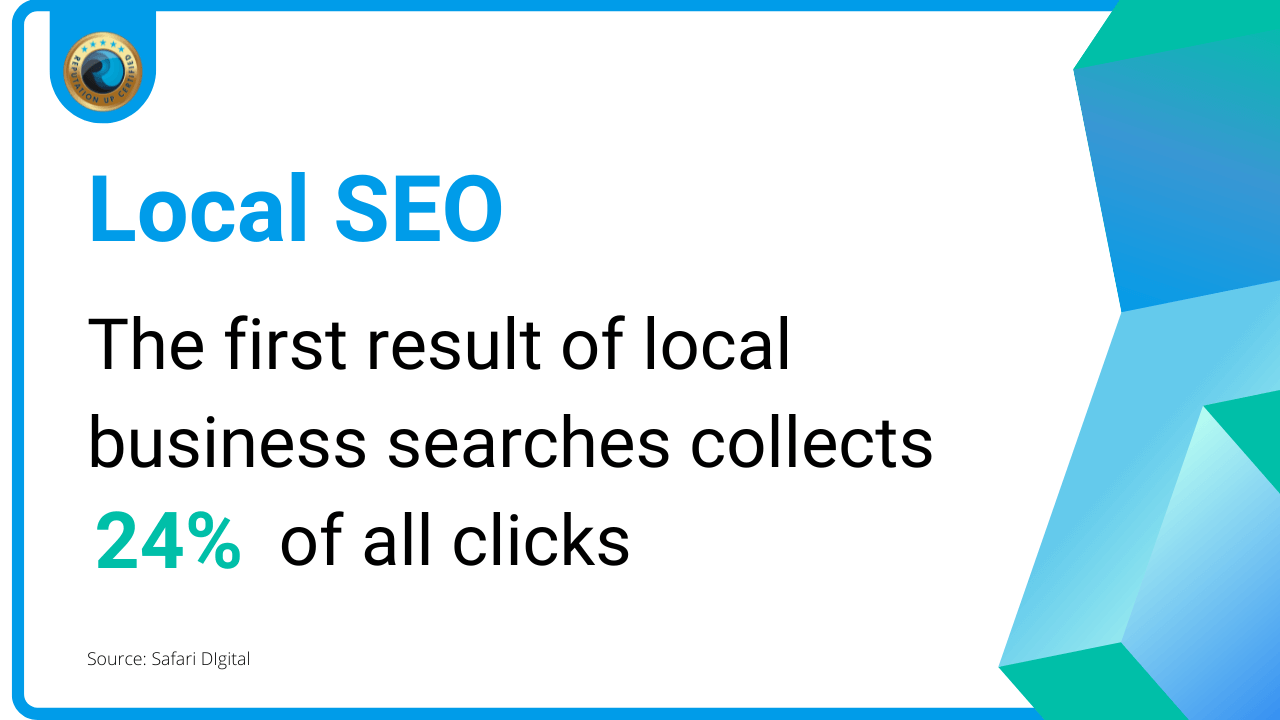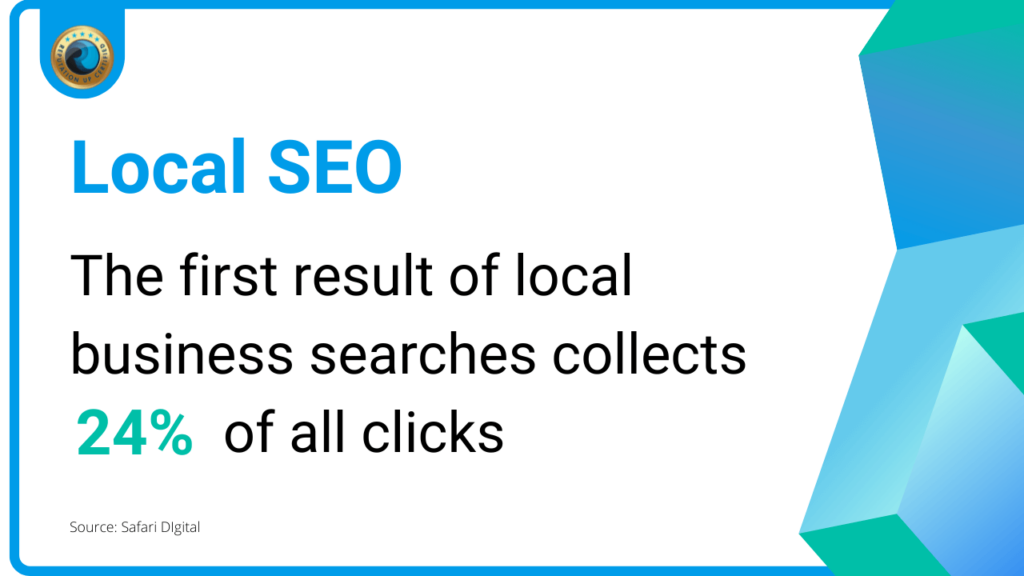 Companies can drive more traffic and increase conversion rates if they rank higher.
This strategy to enhance your brand's corporate reputation is a great way to attract more customers nearby.
Blackhat SEO Vs. whitehat SEO
Blackhat SEO is a technique that uses unethical methods to manipulate search engine rankings.
Blackhat techniques typically include:
Web spamming with low-quality, irrelevant, or spam content;
Keyword stuffing by inserting a large number of relevant keywords into a page or content;
Paid links.
Whitehat SEO is a technique that uses ethical methods to rank high in search engines.
It refers to previously mentioned SEO activities complying with the company code of ethics.
Why is SEO ranking important?
SEO ranking is crucial as it may have significant effects on your business.
First and foremost, we should remember that a good SEO strategy necessitates extensive and ongoing work.
It takes time and effort to get a good ranking and maintain it.
A website ranking high on search engines means more traffic and higher conversion rates, which means more revenue for your business.
Enhance your visibility
The fundamental idea behind SEO ranking is to improve website visibility.
That is driving more visitors to your page through search engines like Google.
To do this, you need to make your content more visible on Google SERPs.
SEO ranking aims at positioning your site on the top 10 results when users search for keywords related to that content. According to Zero Limit Web, the second and third pages of Google get only 5.59% of clicks.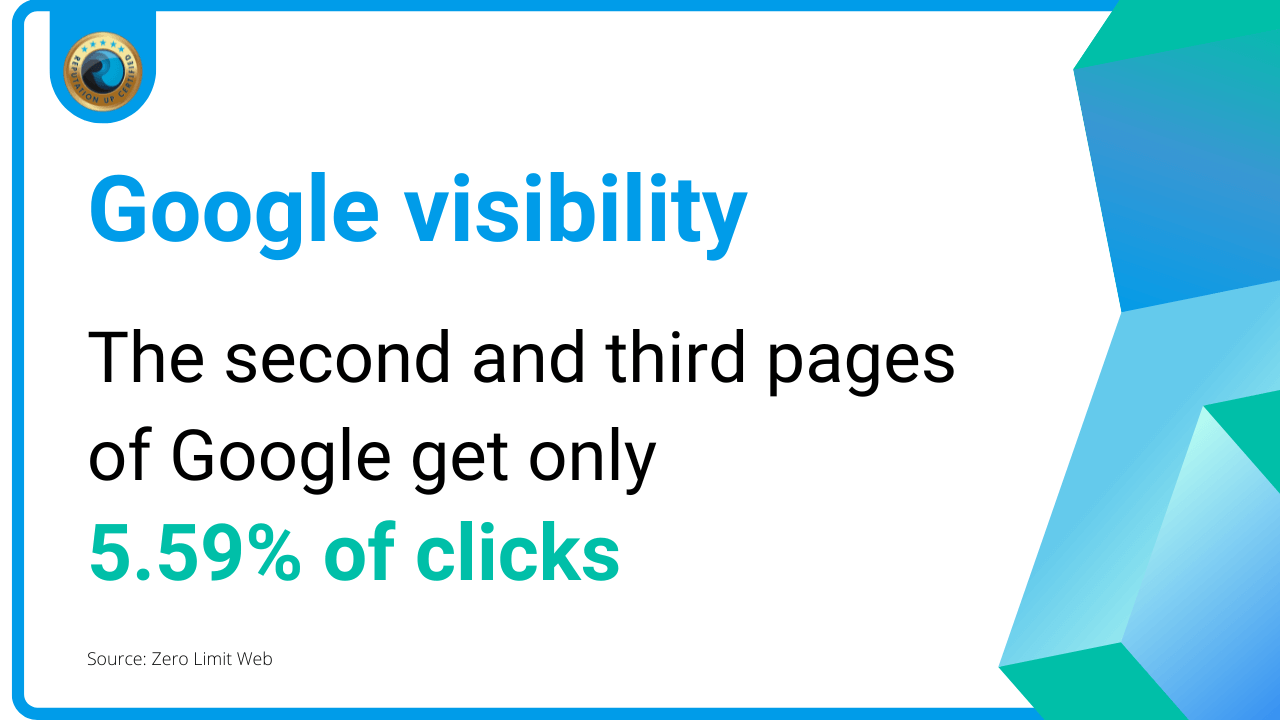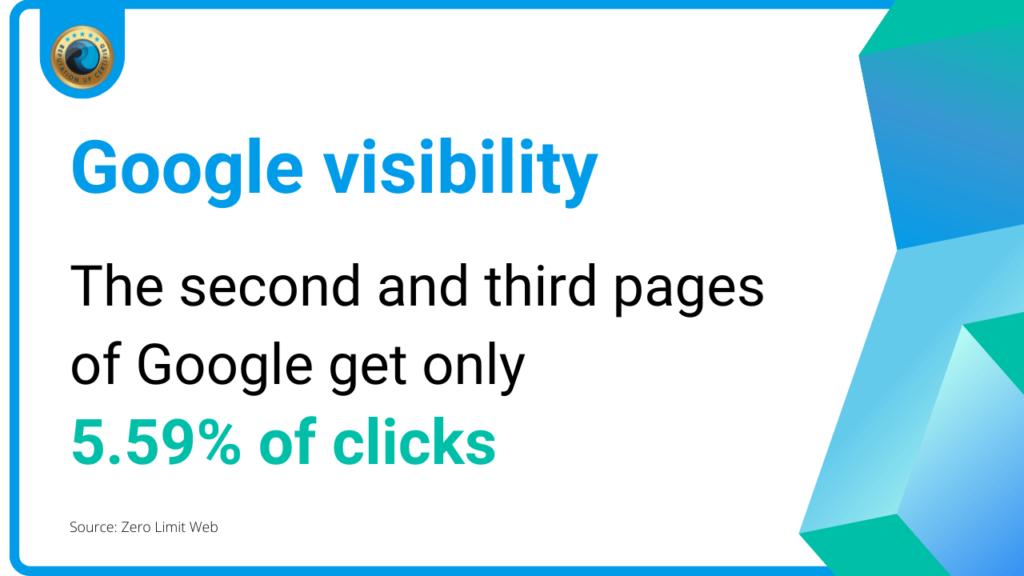 Therefore, search results beyond the first page have little chance of showing up.
You can avoid this by using the correct keywords and metadata in the website content, such as titles, headings, and meta descriptions.
Improve the website and make it profitable
Being on the first page of Google increases the likelihood that users will visit it and decide to buy your products or services.
A high ranking on the Internet and social media pages allows you to generate leads and, as a result, potential customers.
Long-term investment
SEO strategies are effective, but not in the short term.
All on-site and off-site operations must be considered over a long time.
It helps build solid and lasting support for your company: once you are on the first page of Google, it is challenging for your site to go down.
Increase impact on social networks
Social networks are popular. Considering only Meta products (Facebook, Instagram, Messenger, WhatsApp), Statista reports that monthly users in the second quarter of 2022 reached 3.59 billion.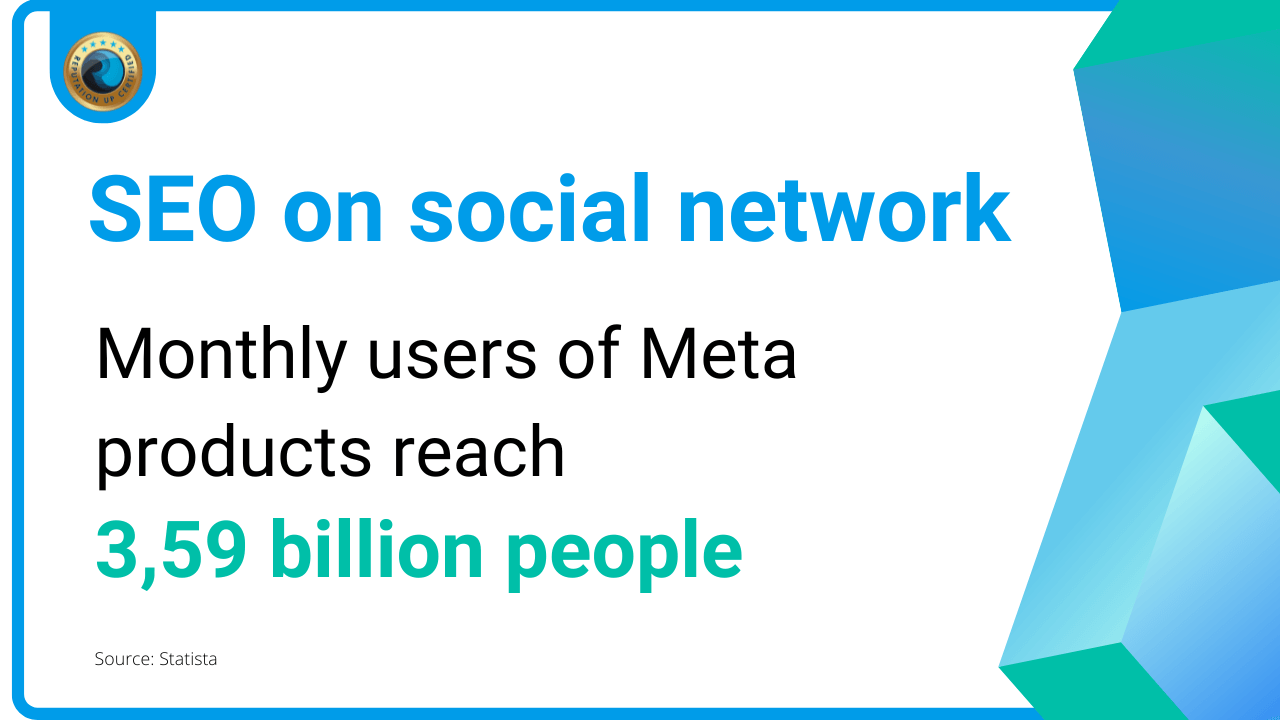 You can share your thoughts, ideas, and interests on social media and enhance your brand image visibility.
Build trust and credibility
Building trust and credibility is a process that takes time and effort.
However, you can use various key tactics to build your reputation with SEO:
Provide high-quality content on your website;
Be transparent with your customers;
Ensure that all content you post is original and complies with Google rules and the GDPR;
Answer user questions on your blog and social account.
Building trust also means replying to customers' negative reviews and resolving them favorably if they are true.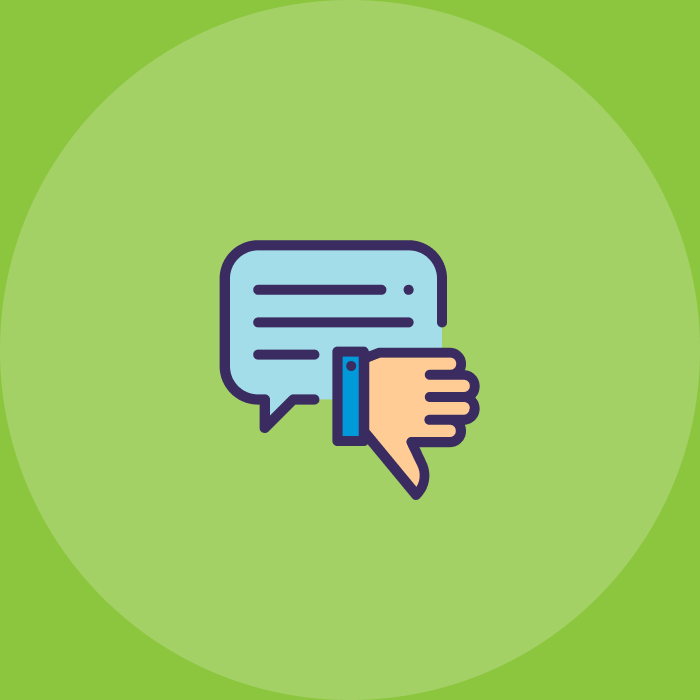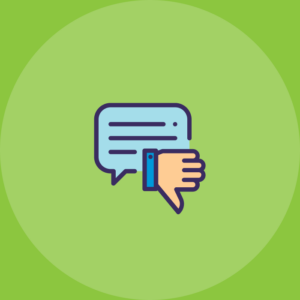 Need help deleting negative reviews?
ReputationUP guarantees the elimination of any false or defamatory negative reviews from any platform
You can measure and optimize
There are many ways to measure SEO.
Here are the most important key performance indicators (KPIs) available:
ROI;
Conversions (sales and leads);
Organic visibility;
Organic sessions;
Branded and non-branded traffic;
Keyword ranking;
Backlinks;
Organic CTR;
Bounce rate;
Average time spent on a page;
Browser performance;
Page load time.
Another metric is the number of visitors to a website.
A website with multiple visitors will likely rank higher in search engines like Google.
Search engine optimization tools can also help you analyze your site and determine how many keywords appear on the Google SERP.
The more keywords a site ranks, the more likely it is to rank higher on Google SERPs and obtain more traffic.
Furthermore, you can increase SEO by using backlinks and guest posting on very authoritative sites.
For example, Wikipedia reputation management will boost your ranking and personal or brand image.
SEO Tools
SEO tools are essential for measuring the SEO performance of a website.
Google provides various tools, such as the Google Search Console, to manage your business and Google Analytics, to analyze the data on your site.
Other well-known tools are:
Semrush: it helps users with keyword search, competitive analysis, backlink management, and content marketing;
Ahrefs: a free SEO tool that assists users in analyzing which domains have visited a website; it also allows you to view the links they have produced and their impact on a page ranking;
Majestic: another free tool that allows users to measure how well their website is doing compared with similar sites.
No tool can measure all SEO metrics; you must combine free and paid ones.
SEO Examples
To get a practical and easy example of how the SEO of a web page works, let us consider a content management site like WordPress.
As explained many times, content is one of the most critical components of SEO.
For this reason, using a blog among the pagesof your website is vital to the reputation management of your brand and its ranking.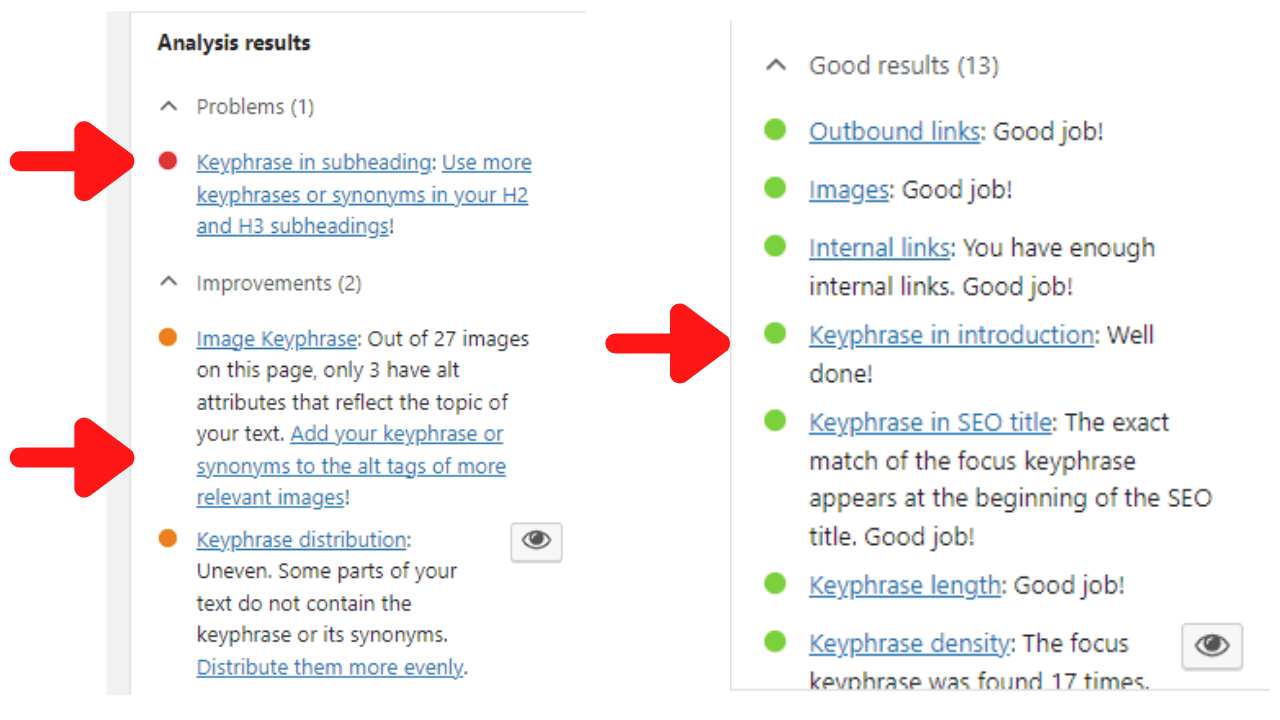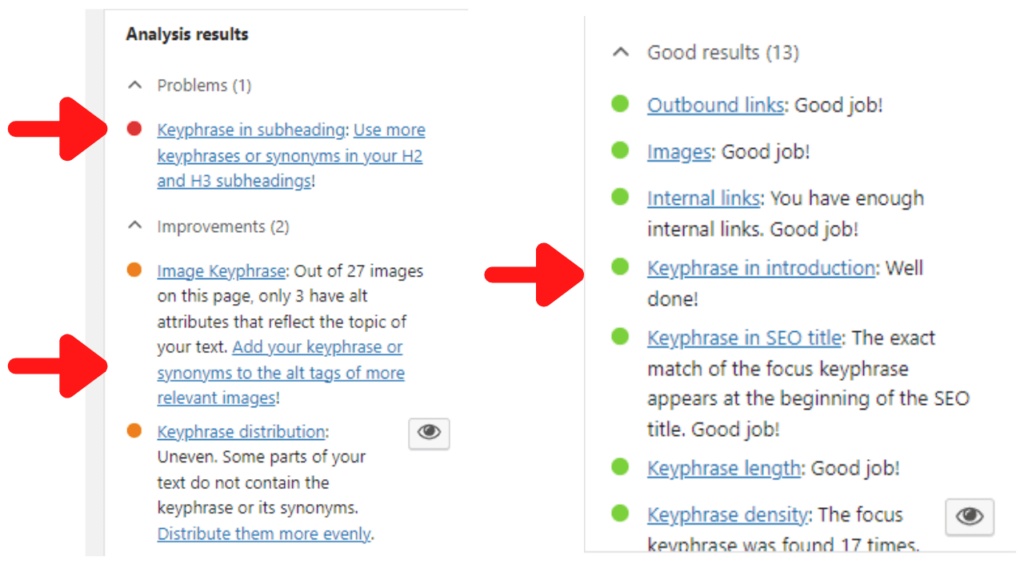 When uploading a text, you can view in the bar on the right which are your strengths and what you need to improve.
It helps to have an overview and watch out to:
Optimize title tags which should not exceed 60 characters;
Use relevant keywords for your audience;
Use H2 and H3 to organize the internal structure of paragraphs;
Choose long-tail keywords that do not necessarily have exorbitant search volumes;
Create an index at the beginning of the text;
Optimize the meta description;
Write paragraphs of 150-300 characters;
Enter relevant keywords without repeating them;
Create engaging content to capture the user's attention.
Also, pay close attention to the pictures and insert creative CTAs (call-to-action).
Conclusions
This SEO guide will reveal everything about strategies to optimize your website.
You can draw the following conclusions:
The purpose of SEO is to increase your website's ranking in the top search results;
Google is the most used search engine, with 4.3 billion users;
In 2021, 74% of companies invested in SEO strategies;
SEO Strategies date back to the 1990s
The search engineswork in three stages: crawling, indexing, and serving search results;
Organic and local searches represent 73% of web page views;
The most popular types of SEO are on-page SEO, off-page SEO, Inbound Marketing, and local SEO.
You must have a solid SEO strategy if you own a business and want to improve your brand's reputation.
Having control over all the parameters listed in this article is not easy.
For this reason, it is crucial tocontact specialists such as ReputationUP to develop a good SEO plan within a complete Online Reputation Management strategy.
ReputationUP, specializing in online reputation and removal of malicious content, offers expert 24/7 support.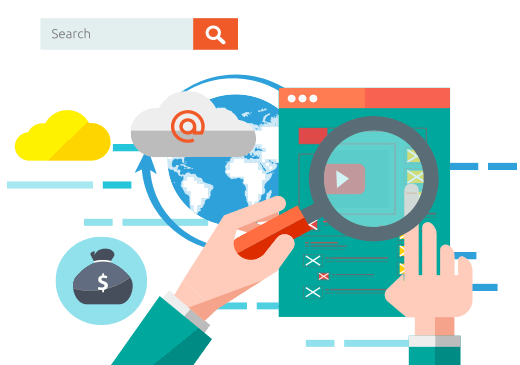 Do you want to spy on your competitors and their strategies?
Access the RepUP Monitoring Tool platform and find out how to beat the competition.
FAQ
How can you do SEO?
You can use various techniques and strategies to make SEO depending on your knowledge in this field. Combining specific skills and ad hoc tools is essential to achieve optimal results.
How to improve SEO for a website?
A website's SERP ranking will improve as a result of better SEO. To accomplish this, keep an eye on keywords and include internal and external links, images, videos, and a simple URL.
What is the purpose of SEA?
SEA stands for Search Engine Advertising, a category of digital marketing. This portion of marketing strategies mainly includes paid ads for a better site ranking on the search results.
What are SEM operations?
Paid advertising to increase website visibility in the SERPs is what Search Engine Marketing is all about.
What are helpful Google tools for SEO?
Google provides the user with numerous free tools to implement an SEO strategy. The most important are: Google Search Console; Analytics; Trends; AdWords Keyword-Planner.